"A dynamic long weekend of gallery, arts & culture programming across Joburg", reads text on the landing page of FNB Art Joburg's website, describing the fair's newly launched initiative called Open City. Taking place from October 28 – 31 2021, Open City will be a four-day art-centred weekend taking place across the Rosebank precinct with especially curated pop-up exhibitions and programming.
Speaking about sentiments driving the weekend's conception and intentions, Founding Director of FNB Art Joburg Mandla Sibeko shares, "We've partnered with various curators, galleries and restaurants, to present a weekend of immersive art experiences and gallery hopping for the people of Joburg to once again safely occupy the spaces we enjoy.
Johannesburg is the cultural and economic capital of Africa and with this year's initiatives, FNB Art Joburg not only wants to reaffirm the city's position but aims to make a meaningful contribution to the city's economy."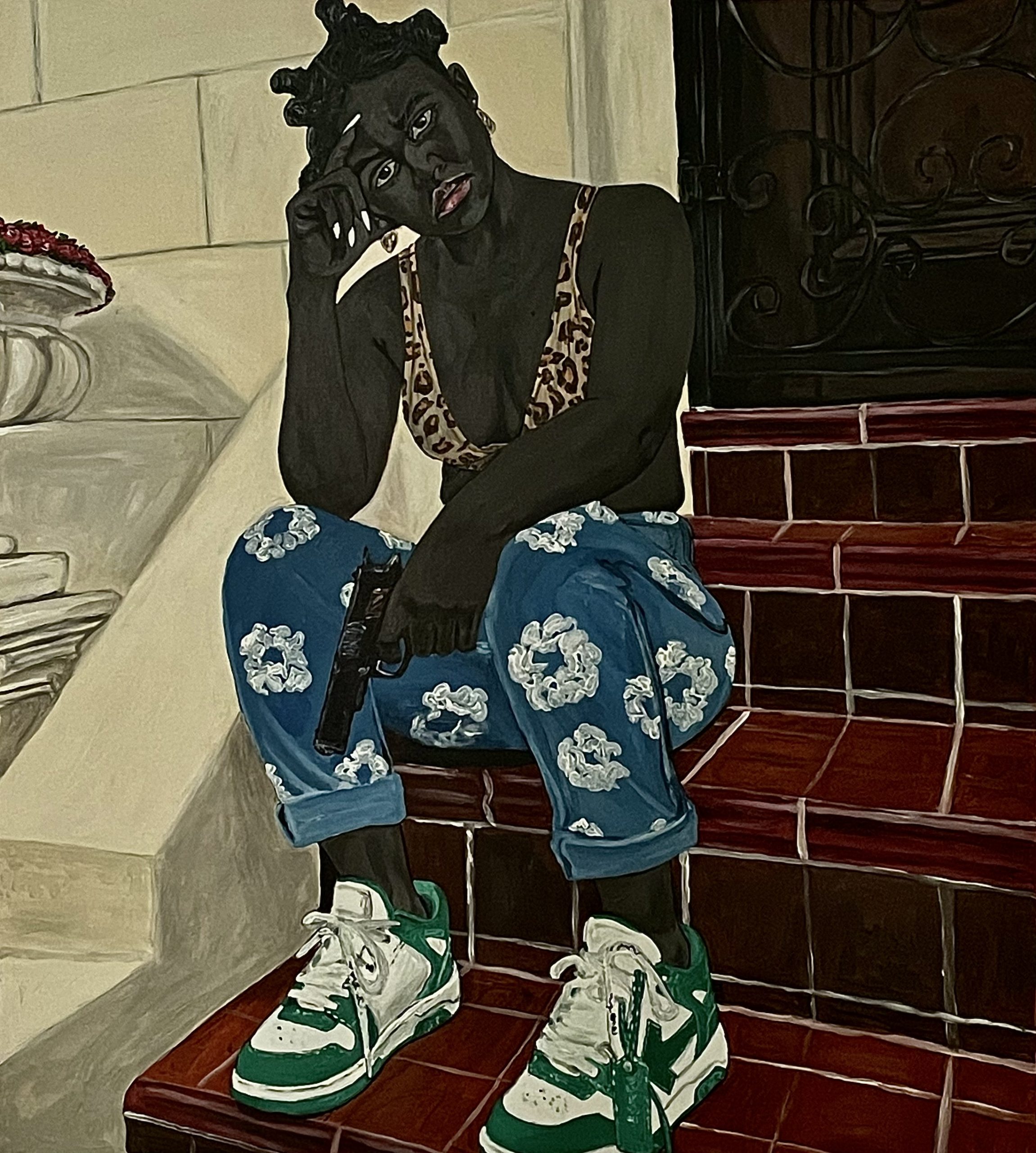 Sphephelo Mnguni, Neighbourhood Watch; 2021.
Now, 'city' being prefixed by 'open' in FNB Art Joburg's weekend programme name, catapulted my mind into a tizzy of thought — the first, being a signalling towards a 'closed city' the art fair weekend exists in relation to. Is it an 'open' that is imagined in relation to how the COVID-19 pandemic has forced whole cities and their people to close in on themselves; to fold and retreat within, solitude our lingering companions?
Or is it an 'open' that is imagined as existing in relation to the closedness of white cube art institutions and spaces in sprawling urban metropoles such as Joburg — where although the creative and imaginative matter of art extracts from all life — only few are afforded the access through material privilege to engage with and consume it? These old tired white suits and Black diamond butterflies? I also think of a journal article titled "Arts in Cities – Cities in Arts" by Géraldine Molina and Pauline Guinard, particularly the assertion that:
The presence of cities in art and the presence of art in cities are two fields which have often been studied separately, be it by different disciplines (history, geography, sociology, etc.) or by various approaches within a single discipline (cultural geography or urban geography for example).
Nevertheless, the increasing visibility of culture in general, and art in particular in cities since the end of the 20th century tends to challenge this strict separation. Indeed, art is more and more understood as an integral part of the urban fabric in a post-industrial era.
Not only are the spaces and places of art in cities being redefined, but so are its functions and relations to the urban environment. Consequently, one can wonder to what extent art – in its various forms (sculptures, murals, performances, etc.) – is urbanised in that process and the degrees to which cities are subsequently aestheticised or "artialized" (Roger, 1997).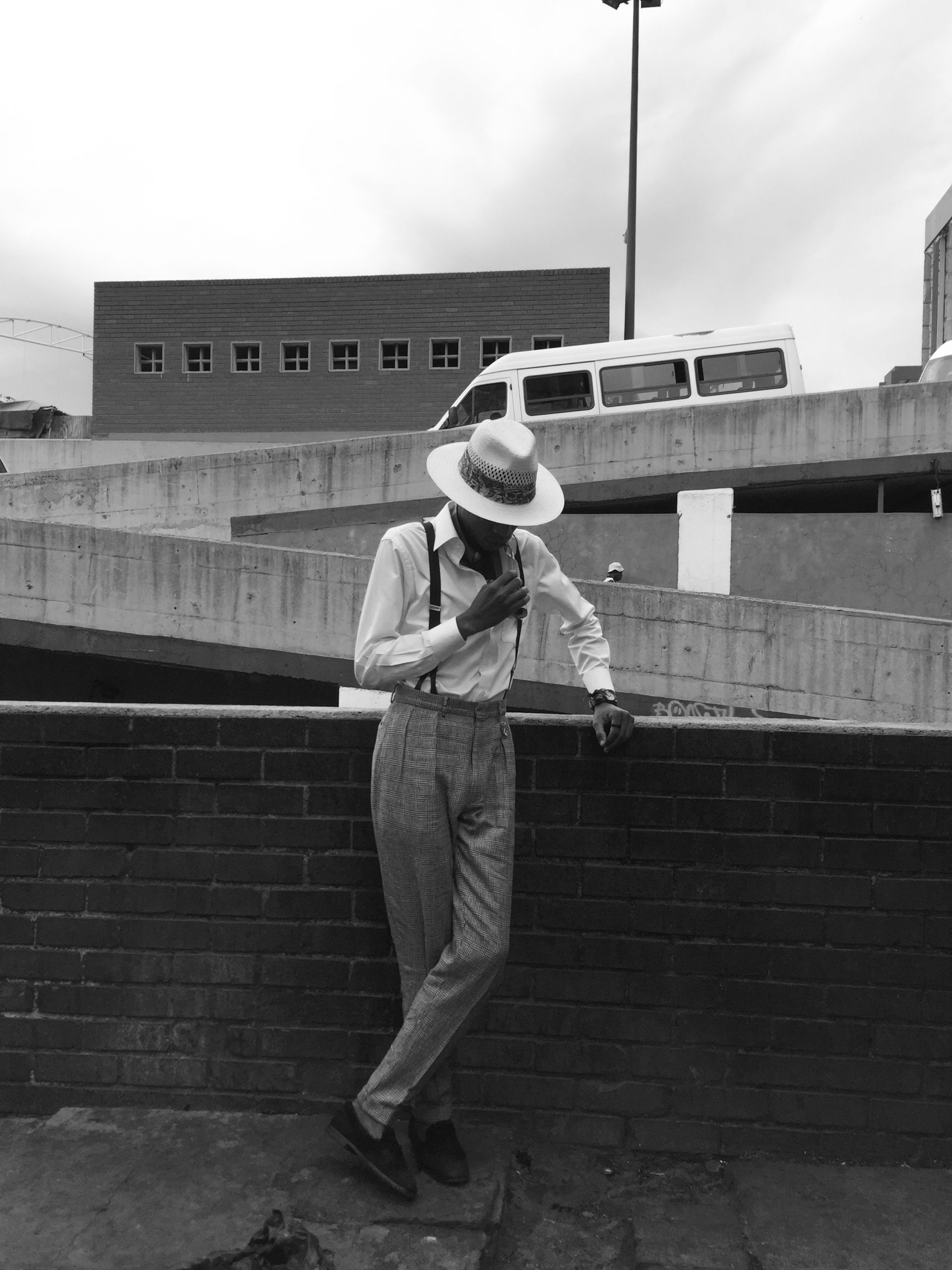 Nonzuzo Gxekwa, Bhut-Madlisa; 2017.
Open City's pop up exhibitions include Everything was beautiful and nothing hurt, a group exhibition exploring Black portraiture in the practice of painters from southern and west Africa, co-curated by Anelisa Mangcu of Under The Aegis and Jana Terblanche of African Artist Foundation (AAF).
Taking place at The Zone @ Rosebank will be of blood, sweat and data, co-curated by Studio Nxumalo and Through the Lens Collective — their collaborative exhibition of documentary photography engages the city of Johannesburg, its people and dynamic social structure through the mode of portraiture.
I'm interested to see what possible conversations and interrogations about arts in cities, cities in arts, and their future(s) could come out of FNB Art Joburg's Open City Programme. I'm interested to see how the 'opening up of the city' for art impacts who will be moving through, and in these space(s) of art consumption and engagement — whether the institutions who also form part of its fold, will call into question their own roles in the art ecologies of our cities, or if it will just end up mirroring more closed white cubes?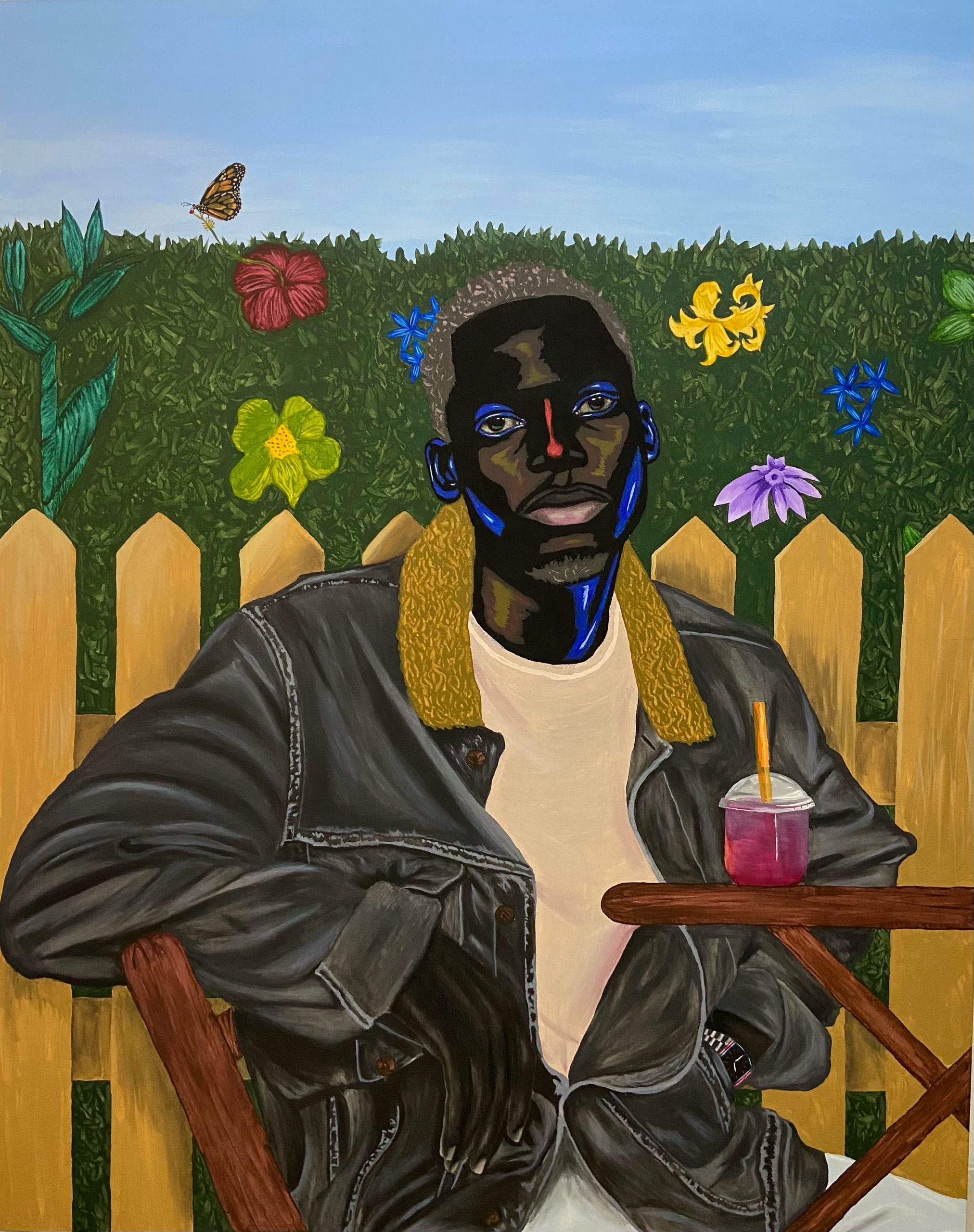 Adegboyega Adesina, By the botanical garden; 2021.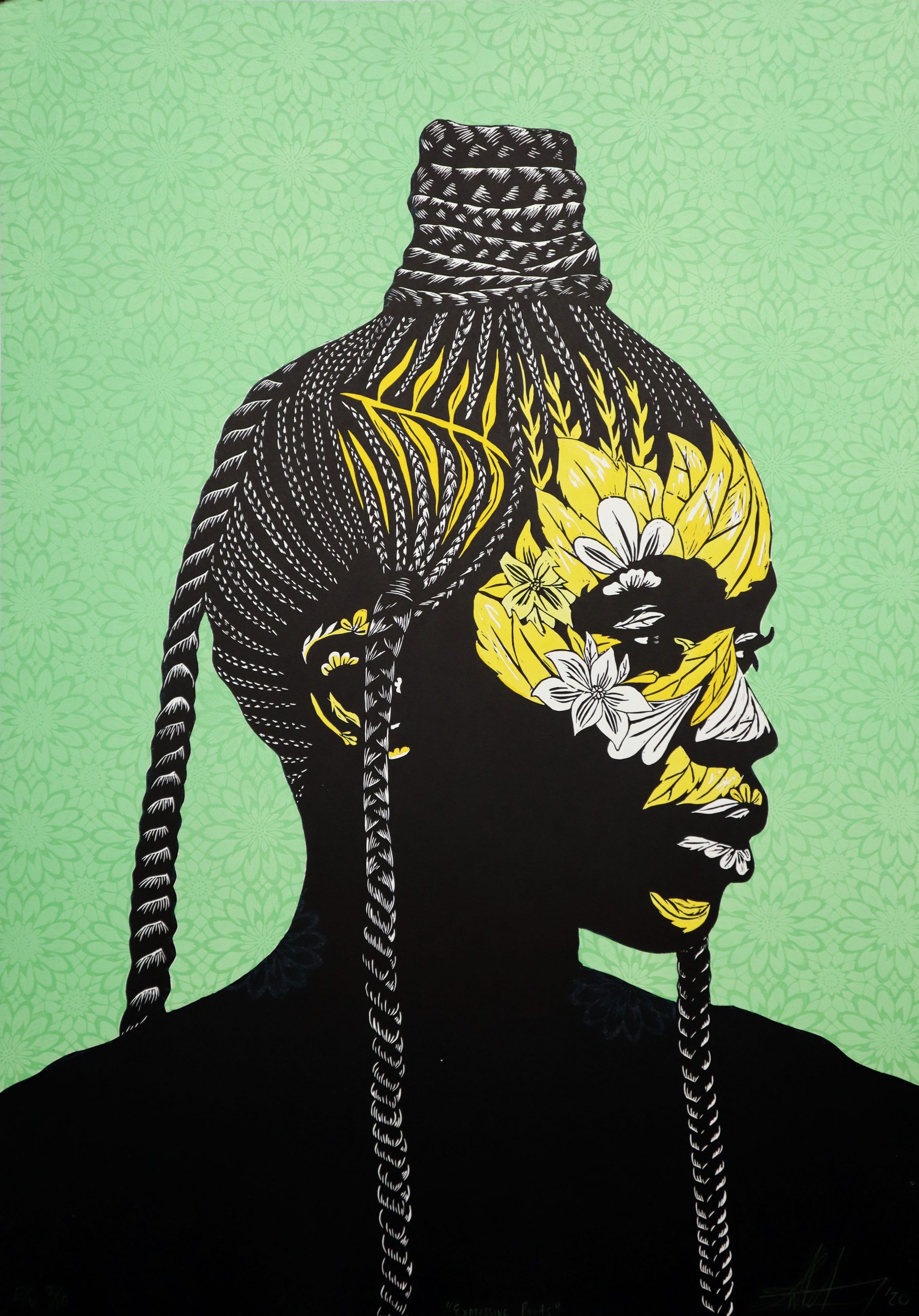 Lebohang Motaung, Expressive Roots; 2020.
This year's fair boasts 37 exhibitors from 14 countries, 2021 FNB Art Joburg exhibitor list (hosted on artsy.net):
Afriart Gallery Kampala, Uganda
Arte de Gema Maputo, Mozambique
Artist Proof Studio Johannesburg, South Africa
Barnard Gallery Cape Town, South Africa
BKhz Johannesburg, South Africa
blank projects Cape Town, South Africa
Bode Projects Berlin, Germany
CHURCH Cape Town, South Africa
EBONY/CURATED Cape Town, South Africa
Eclectica Contemporary Gallery Cape Town, South Africa
ELA Espaço Luanda Arte Luanda, Angola
Everard Read London, Johannesburg, Cape Town, Franschhoek
First Floor Gallery Harare Harare, Victoria Falls
Gallery MOMO Johannesburg, South Africa
Goodman Gallery Johannesburg, Cape Town, London
Guns & Rain Johannesburg, South Africa
hFACTOR/16BY16 Lagos, Nigeria
insofar.art Lisbon, Portugal
Johannesburg Art Gallery Johannesburg, South Africa
Kalashnikovv Johannesburg, South Africa
LouiSimone Guirandou Gallery Abidjan, Ivory Coast
Modzi Arts Gallery Lusaka, Zambia
MOVART Lisbon, Luanda
No Parking Lagos Lagos, Nigeria
October Gallery London, United Kingdom
Ora Loapi Gaborone, Botswana
Red Door Gallery Lagos, Nigeria
Rele Gallery Lagos, Los Angeles
Revolving Art Incubator Lagos, Nigeria
This is Not a White Cube Gallery Luanda, Lisbon
Sakhile&Me Frankfurt, Germany
SMAC Gallery Cape Town, Johannesburg, Stellenbosch
Stevenson Cape Town, Johannesburg, Amsterdam
The Plot Cape Town, South Africa
WHATIFTHEWORLD Cape Town, South Africa
WORLDART Cape Town, South Africa
Yebo Art Gallery Ezulwini, eSwatini