How we began to conceptually define these ideas in relation to the group exhibition was to gather a group of diverse artists who work and think through different mediums and have diverse approaches to process and the spaces in which they produce in. When we did this it was evident that the idea of what was "natural" for these individuals varied. This complicated the preconceived and often stereotypical idea of "the artist" as a recluse crafting in their "natural environment" which is often understood to be an enclosed environment isolated from society. This myth often denies artists a sense of personhood and humanity, elucidates Papi Oratile Konopi, curator and member of BKhz Gallery while walking me through some of the conceptual tenants and points of provocation the new group exhibition titled Habit at was figured in relation to. The online exhibition which launched this past Saturday the 20th June, presents the situations of a distinct amalgamation of artists — 13 in total — including the likes of Thebe Magugu, Cole Ndelu, Cow Mash, Earl Abrahams and Katlego Tlabela to name but a few, as they bring us closer into their processes and environments; their homes, their studios, their habits. What could be at first encounter easily dismissed as a straight forward collective visual mediation on notions of habitat, unveils itself as a far more complex visual poetics speaking to and interrogating discourses of habitat from the distinct enunciation position of each artist which then feeds back into a collective visual vocabulary that speaks to the viewer in different dialects that carry with them varying H/histories and situations- even modes of expression.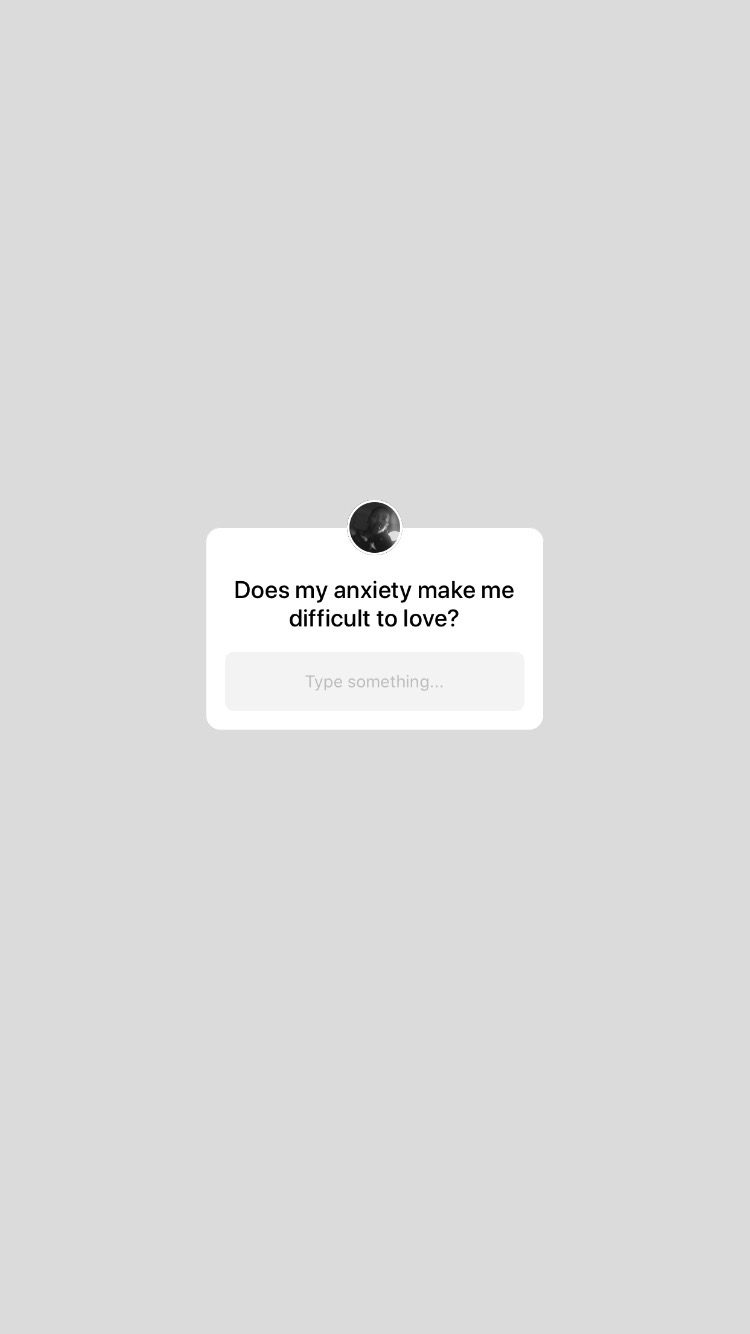 The Semiotics of Being in the 21st Century by Cole Ndelu
I believe critical suspicion is the only logical reaction to anything that presents itself from a point of being "natural" especially when it does so in relation to the structures, systems and "facts" of modern society. In ecology, a habitat is the type of natural environment in which a particular species of organism lives. It is characterised by both physical and biological features. This critical suspicion, one could argue, is made space for in the group show through the (mis)/naming of the exhibition as Habit at, thus creating interesting tension in several ways. The breaking up of the word habitat suggests "a there" — at — in which the "habit" is contained; a sort of historicising curatorial framework. These habitats where habits are made, are also radioactive with particular H/histories.
Through this exhibition we wanted to foreground their processes, feelings and thoughts [around] their current situation. A situation influenced by the social, political, historical and economic conditions taking place around them and around the world. This exhibition becomes a space in which we recognise artists not only as people drawing inspiration from their environment and personal histories, but as people who live everyday lives which have been interrupted by the pandemic and the current socio-economic climate. People who have had to reflect and reconsider themselves in relation to their environment as they negotiate their lived experiences and the work they make, shared Konopi. While thinking through the group exhibition in relation to the current global Covid-19 viral outbreak presents interesting provocations in relation to ideas of process, access to space thus to the privilege of still being able to still produce work in our current situation and the ever more porous relationship between private and public existence, it is the works that usher in even older H/histories which I found most challenging thus interesting to engage with. Particularly the works of Katlego Tlabela titled Tableau Vivant and Generational Knowledge.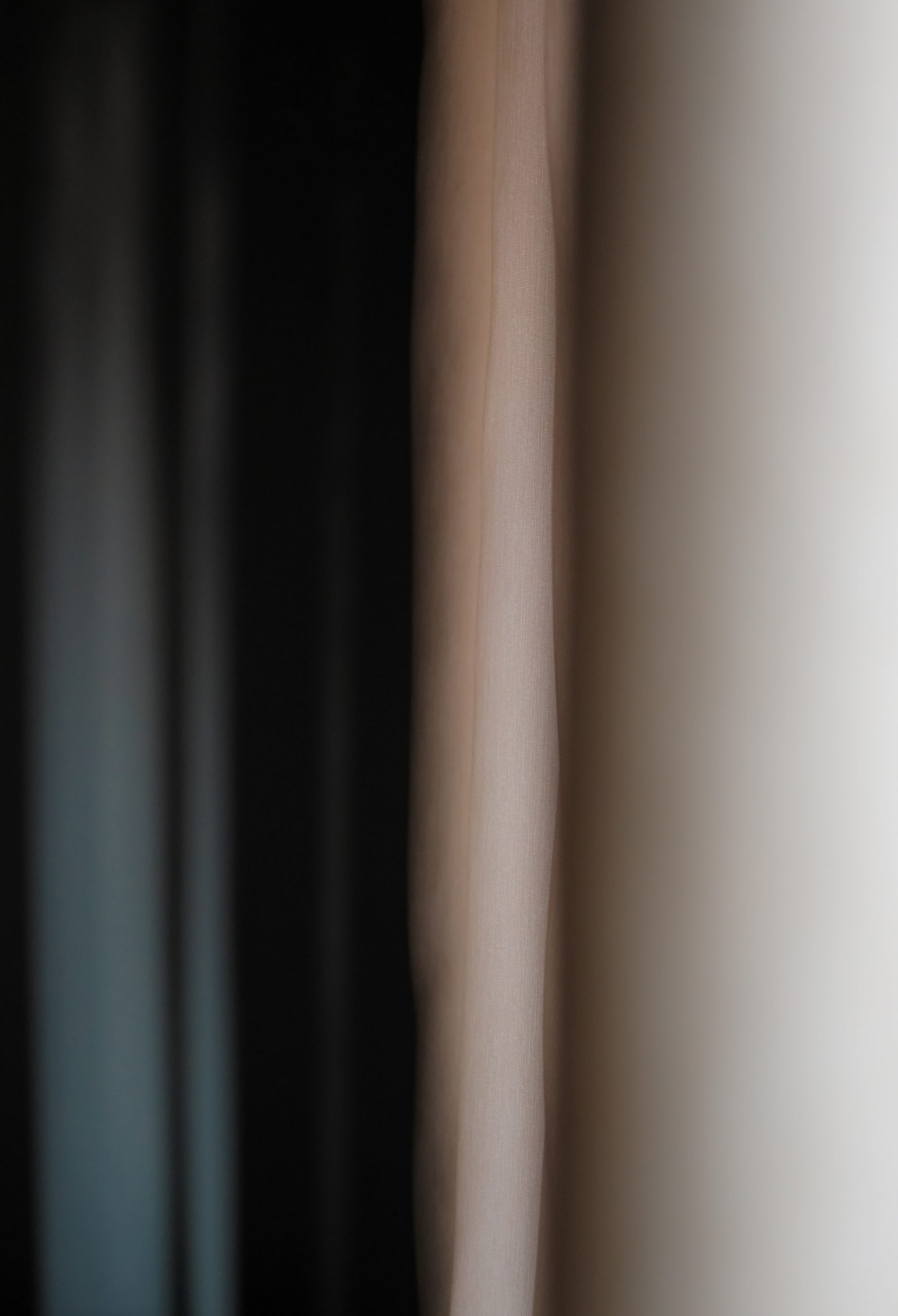 Untitled by Earl Abrahams
A tableau vivant (often shortened to tableau, plural: tableaux vivants), French for 'living picture', is a static scene containing one or more actors or models. They are stationary and silent, usually in costume, carefully posed, with props and/or scenery, and may be theatrically lit. It thus combines aspects of theatre and the visual arts. Here, Tlabela depicts a scene that is split up in 3 panels, each contributing to the tableau vivant; a brand new house, which extends into a home gallery and doubles-up as The Louvre. What is presented is a complex conversation with discourses and histories of material accumulation and aspirational Blackness, almost figuring as a snapshot of brush and stroke depicting the lives of the Black Diamond Butterflies; a prayer of manifestation in paint, an archive capturing new possibilities of access afforded to a small Black elite (our seat at the table) or something else entirely? I look at Tableau Vivant specifically, and in the same breath that I hear Roddy Ricch singing to me on "Ballin":
I remember hittin' the mall with the whole team
Now a nigga can't answer calls 'cause I'm ballin'
I was wakin' up gettin' racks in the mornin'
I was broke now I'm rich, these niggas salty
All this designer on my body got me drip, drip
I recall a tweet shared by Noname on instagram yesterday that read:
We don't need another Black wall street
We need liberation from the capitalist system
There's no such thing as "keeping money in the community"
There is no such thing as Black buying power
Black capitalists have white overseers who give them their allowance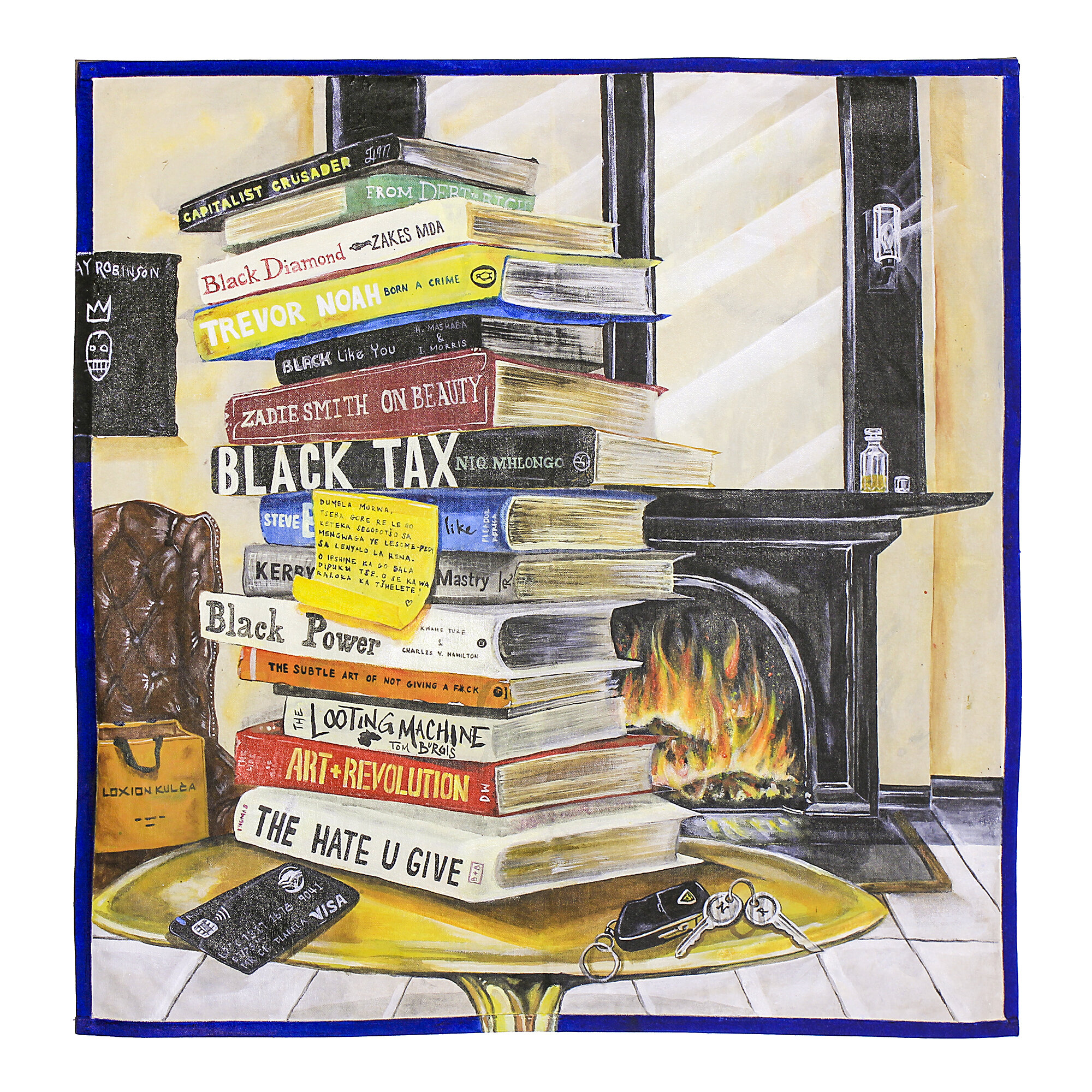 Generational Knowledge by Katlego Tlabela
This visual figuring of a particular socio-political and economic H/history in relation to Black subjectivities —the world over, "with no nation or state to protect us" — ushers in a complicated and uncomfortable conversation with Capitalism, "the last becoming first" and the tributaries of segregated economic participation and economies of extraction still flowing in our contemporary world. Histories of racial injustice form part of why, we as a people "don our Sunday best", for not so long ago this was one of the only small acts of resistance we armoured and remembered our humanity through our bodies. Asking Tlabela about the possibility of the work being encountered as problematic in its depiction of a Black future imagined through this lens of capitalist material accumulation the artist had this to say:
When you mention Black Diamond Butterflies, I am immediately reminded that a central tenet to my research was sparked by Ntate Zakes Mda's novel Black Diamond. Mda's Black Diamond details a story of the protagonist's journey in a Post-Apartheid South Africa after serving in exile. He finds himself longing for a luxurious lifestyle (a reality for his former comrades) which surpasses his mediocre career of a bodyguard for an ex-military security company. Ironically, even after a quarter-century of democracy since the end of Apartheid rule, most Black South Africans are striving to create their own social and economic wealth. This strife is not only evident within our parents' struggles and accomplishes, but also reflects vividly through ourselves, the youth. Most of us are not privileged enough to have been born into money let alone are able to reap the benefits of "old money" because, like our parents, we are destining ourselves towards a new dream of "new money". When I was conducting research for my ongoing body of work, "Nouveau Riche", I had to filter out certain depictions of wealth. Particularly obvious ones. I am looking at various ways to depict wealth, be it property, valued commodities such as art by Black artists, a solid Black family structure, and knowledge distribution. For me, these ideas resonate more than images of champagne and jewellery. I understand that bling-bling sells and is expected of us because of pop culture, but that cannot be our only goal. When I was in university, I had an interest in Afrofuturism. Back then, it was in its early stages of development and finding imagery that encapsulated that idea was difficult. The fluidity of Afrofuturism leaves so much room for interpretation. The work I am making now could be my own envisioning of Afrofuturism. We are now and aspiring towards an attainable and collective future.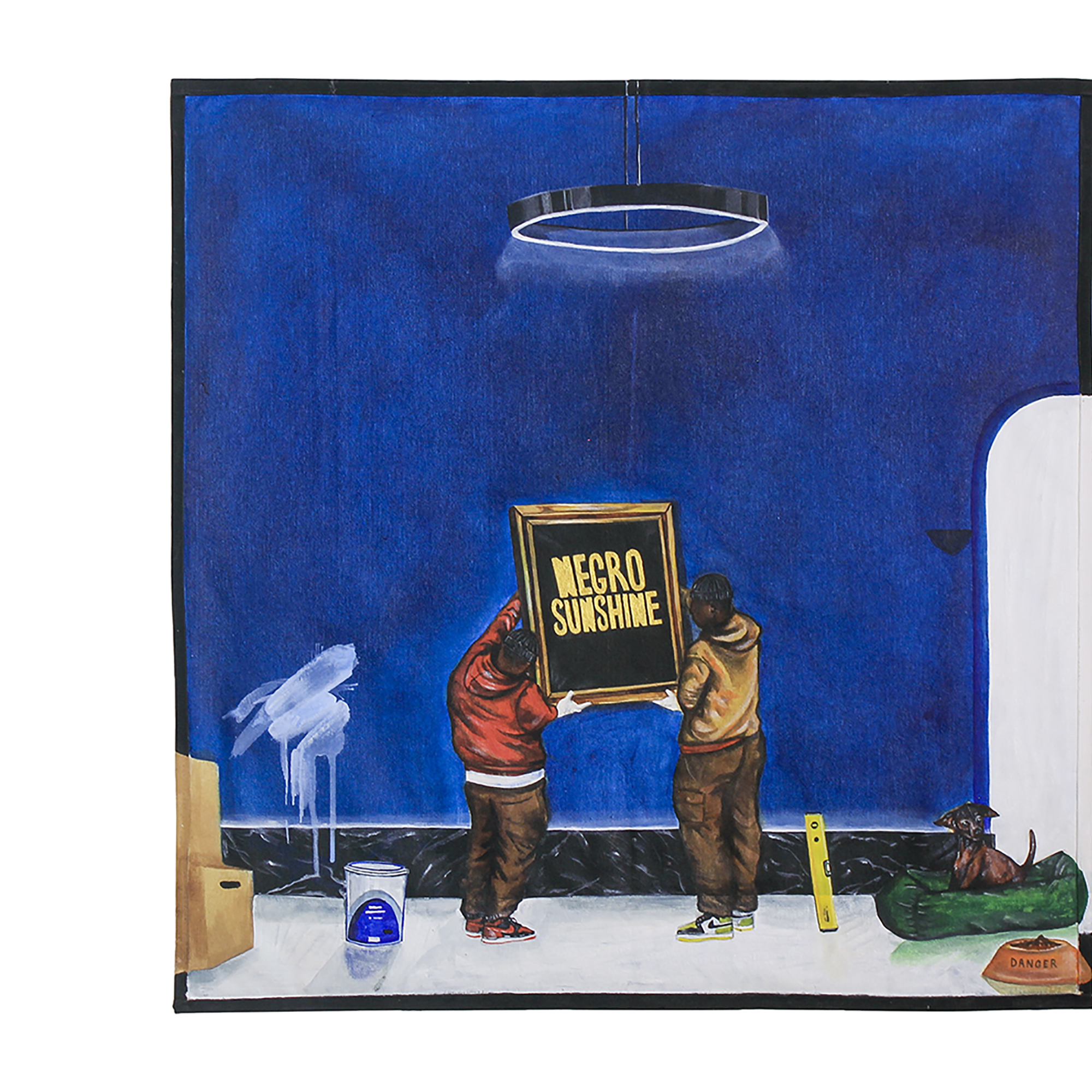 Tableau Vivant, Panel 2 detail by Katlego Tlabela
The memories, moments, feelings and people Katlego called upon for inspiration in creating the work are as many faced as the intersections of the H/histories and futures the works themselves speak to as he shares:
My earlier work delved into personal histories and that took a toll on my wellbeing. I felt too vulnerable. It didn't feel right making that type of work for university credits, and as Black students at Art school, we are usually pushed towards that way of thinking. Now, I am weary of including my personal history in my work, but it almost seems unavoidable. I have however found a way to work around it; I am more interested in the future I would like to build, whether it means owning a rug by MaXhosa, or having a retrospective at The Louvre or having children and a long lasting marriage. Over the past years I have collected over 1000 visual references for the body of work. They range from Instagram screenshots of Black people travelling to Greece, Kefilwe Mabote and Sarah Langa strutting the streets of London, the posture of my mother confidently sitting in a chair that was only meant for my father's enjoyment. Art I either own, love and honour. My favourite album covers. "Tableau Vivant" encapsulates most of my references. I live for the moments when the viewer recognises something that resonates with their own memory and lived experience. Those moments warm my heart and make the journey more fruitful.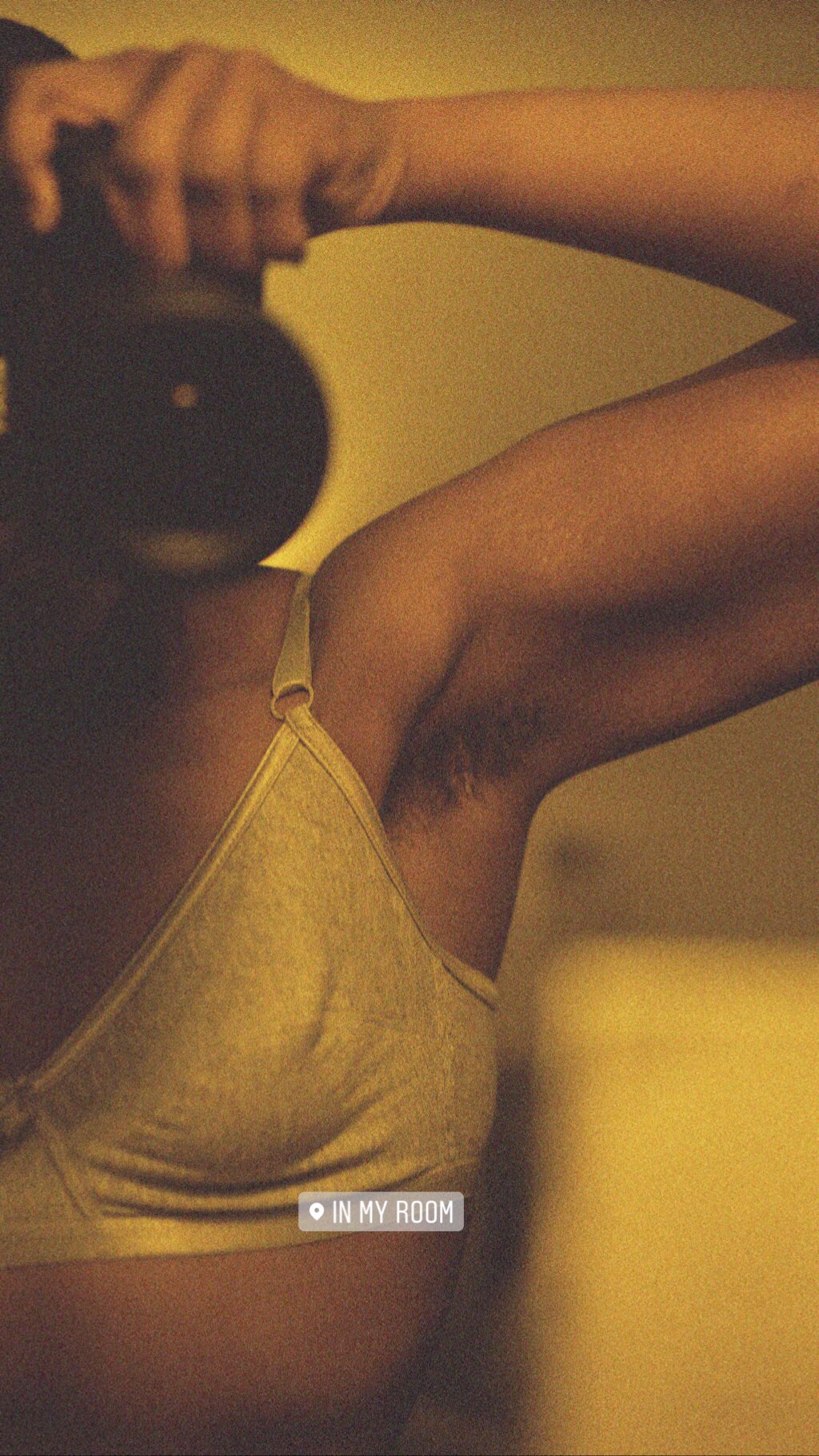 The Semiotics of Being in the 21st Century by Cole Ndelu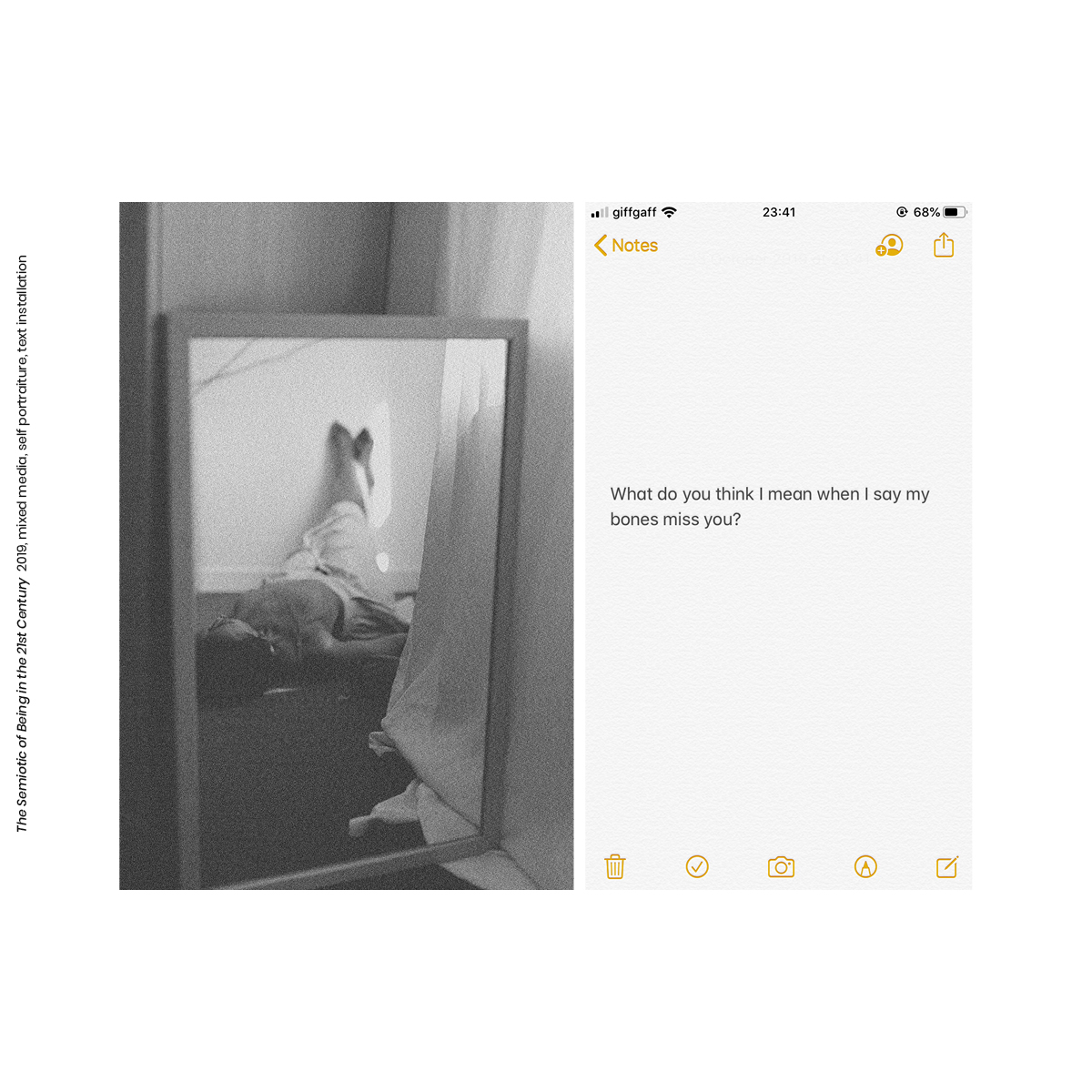 The Semiotics of Being in the 21st Century by Cole Ndelu
View the Habit at group exhibition here!