[in review] is an initiative taking place over 30 days in which 30 writers working in and around South Africa each wrote a piece reflecting on an artwork they felt resonated with them. The project, supported by Pro-Helvetia Johannesburg, is aimed at allowing art writers to have much needed breathing space and asked each writer to write whatever they liked in 500 words or less creating a platform for art writing by South Africans to be easily accessible online. These reviews provide us with writings that are more easy to understand than traditional academic writings and are also within a good word count. The different writing styles of each author pushes us to explore different forms of writing styles and in turn "addresses a real issue of the exclusionary language in the art industry.''
While some writers do a good job of looking at the technical aspects of art analysis staying true to form, medium, composition etc. others do well at conveying an emotional connection to their chosen artwork, and that is where this becomes interesting. We often think of writing about art to be pretentious; an undertaking by a man in an ivory tower who speaks only of Caravaggio or fresco. How do we start shifting how we think and write about art in South Africa? I interviewed Keely Shinners—the project coordinator—and spoke about intention, writing styles and informing a new tone of art writing in the country.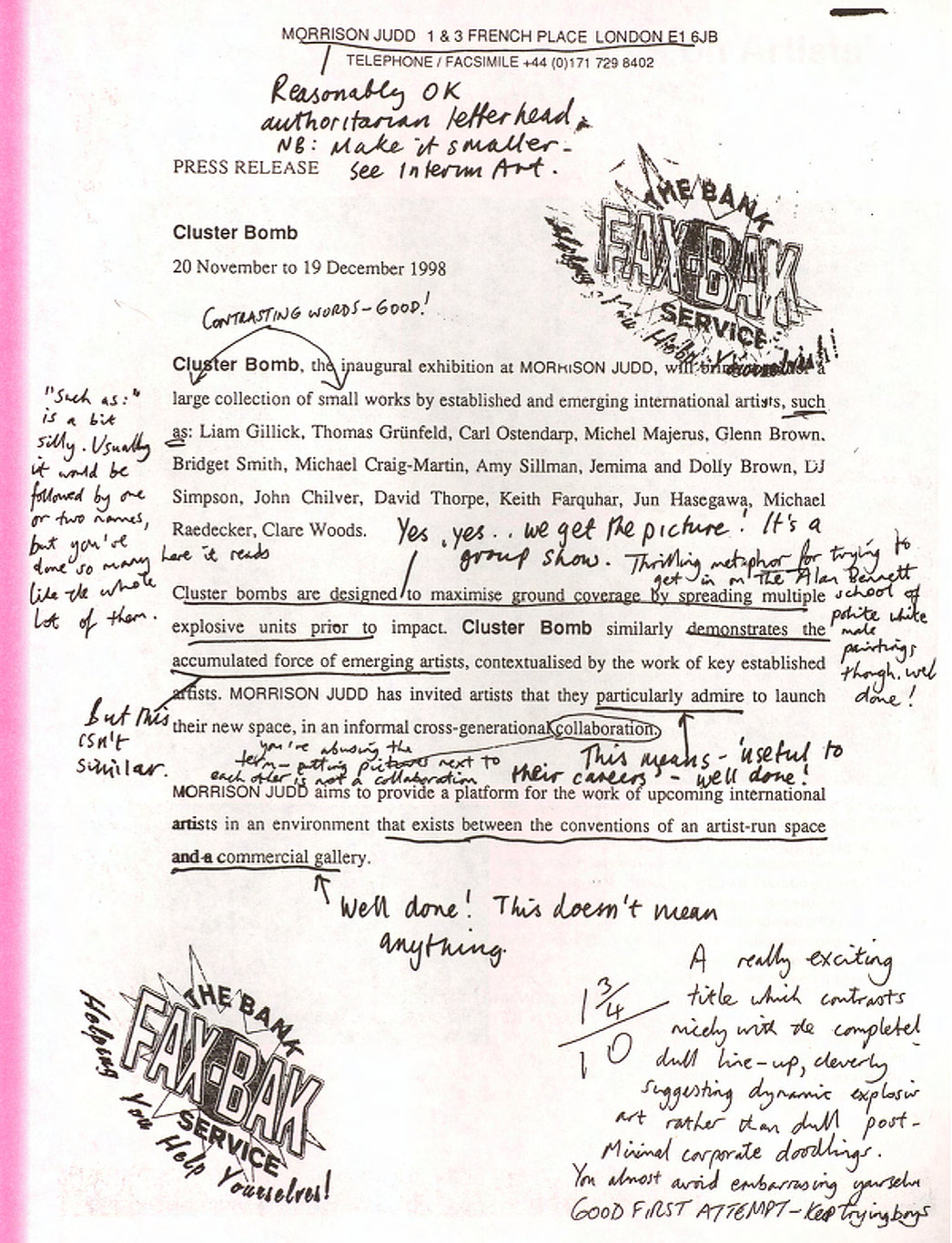 BANK, Fax-Bax (Cluster Bomb), 1998
Courtesy of BANK: Simon Bedwell, Milly Thompson + John Russell
What was the intention of the initiative?
Keely Shinners: The intention was to provide arts writers with some much needed breathing space. Stylistically, they could forgo traditional art-speak in favour of the meditative, reflective, lyrical, or experimental. They were not confined to the contemporary, the regional, or the institutional circuit. And in the midst of a pandemic—where the majority of relief grants go to artists and production—I wanted to make sure the writers got paid too.
How did you come to choose each writer? And was it intentional to have the writings released in the order that they were released in?
Keely Shinners: Our contributors comprise a range of disciplines. Some are poets, others academics, some are seasoned reviewers and others are at the start of their careers. What binds them is an appreciation of art-writing as a medium in itself. There were surprising through-lines between the pieces, and I've ordered the pieces along those threads. Ultimately, however, the publication side-steps category.
I found that the different styles of writing worked well to create an archive of writing about art by South Africans, do you think that this initiative has the potential to inform a new tone of writing about art in the country?
Keely Shinners: I'd hesitate to define these writers' styles against an always unstable concept of nationality. I'm taking cues from what Thuli Gamedze writes in her essay: "It's the bad maths, the non-dust solution, the differentiation nightmare that is bound to recur in any articulations of the thing when we still call it 'south africa.'" If anything, the tone I hear in this gathering of writers is one which shies away from criticism-as-critique towards criticism-as-curiosity. I like what Sean O'Toole wrote: "Art critics are scuba divers. An art critic's role, and I say this without obligatory finger wagging, is to plunge beneath the meniscus of the apparent, to get wet."
How does this initiative differ from other platforms which provide art reviews in the country?
Keely Shinners: Many platforms focus on what's regional and happening-right-now. Some of our writers have too: Vusi Nkomo on Thembinkosi Hlatshwayo, for instance, or Gemma Hart on Tammi Mbambo. Others have gone far out and into the past, like Lindi Mngxitama's piece on the Russian expressionist Chaim Soutine, or Sinazo Chiya's on Barnett Newman. Readers will also find meditations on artworks that might have otherwise been neglected by publications focused on visual art, such as Kopano Maroga on Jamila Johnson-Small's reinterpretation of post-modern dance, or Amogelang Maledu on BŪJIN's academic sonic glitches.
I find that using instagram as a platform for people to find these writings is innovative, what role did you intend for the app to play in this project?
Keely Shinners: I never imagined Instagram as more than a means to the publication. I tend to think of Instagram as the site where images are consumed (or where, more and more, images consume us). Interestingly, however, people seemed to engage just as much with quotes from the essays as they did images. Maybe it's canva-culture; maybe the readers are still out there after all.
How do these reviews begin to challenge the traditional academic style art reviews we are used to reading?
Keely Shinners: I'd say some of the essays make use of the academic style to great effect. For instance, Luvuyo Equiano Nyawose on Bob Gosani's photo of Dolly Rathebe, and Max Thesen Law on Lee Lozano's Dropout Piece. Both manage to use the academic style as a tool, not a crutch. Hopefully, these kinds of essays can sit comfortably alongside poem-reviews like Julie Nxadi's and personal reflections like Mmabatho Thobejane's.
Do you think an initiative such as this one allows us to shift from the elitist language and writing styles in the art world?
Keely Shinners: To quote Rebecca Solnit from her book The Faraway Nearby: Part of the opacity of visual art for so many people is that each work of art functions as a statement in the long conversation of art making, responding to what has come before by expanding upon or critiquing or subverting it. To walk into an exhibition can be like walking into the middle of a conversation that doesn't make sense unless you know who's talking and what was said earlier or know the language that's being spoken. I think criticism operates in much the same way. Part of its opacity—or perceived elitism—might be alleviated if more speakers, and therefore more ways-of-speaking, were invited to join the ongoing conversation. Whether or not [in review] is one of those instigators remains to be seen.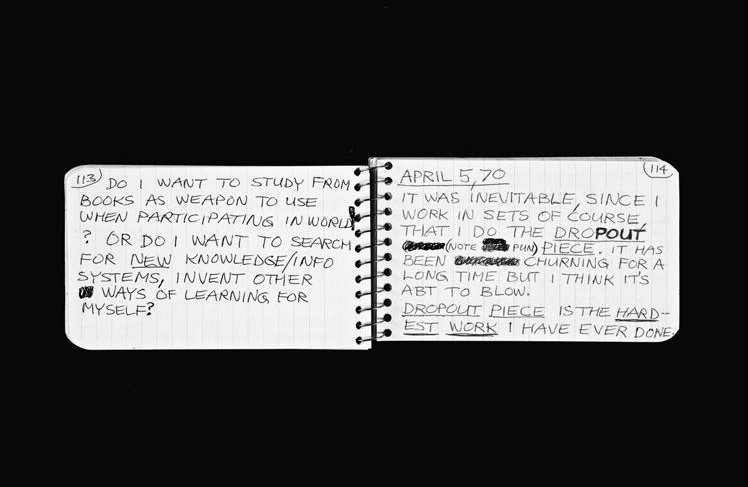 Lee Lozano, Pages from Private Notebook 8,1970
© The Estate of Lee Lozano. Courtesy of Hauser & Wirth
All of the writing pieces from [in review] can be found on their website.
Banner artwork by Billie Zangewa, in my solitude, 2018. Courtesy of the artist and Lehmann Maupin .