The braiding of black women's hair is no simple weekend outing. And as has been shown in more open, public discussions about black hair amongst black women, the process of going to the salon, choosing a style and applying the braids is also being recognized as a series of processes which are cultural, community-driven and the product of intergenerational knowledge and techniques.
Celebrated Zimbabwean interdisciplinary artist and educator Nontsikelelo Mutiti touches on these and a sea of other points in her umbrella project titled Ruka (to braid, to knit, to weave) – which blends the salon experience of braiding black hair with the digital and a tactile body of ethnographic work.
She collected salon business cards, spent time in salons both in South Africa and abroad, and unpicked the broader story about black hair, black women, and the intimate interactions between the two. A desperately needed conversation in the face of a lot of documentation which relegates braids to a technique, or a style to be appropriated as part of 'world culture'.
I spoke with Nontsikelelo to uncover the process and lessons involved in this body of work.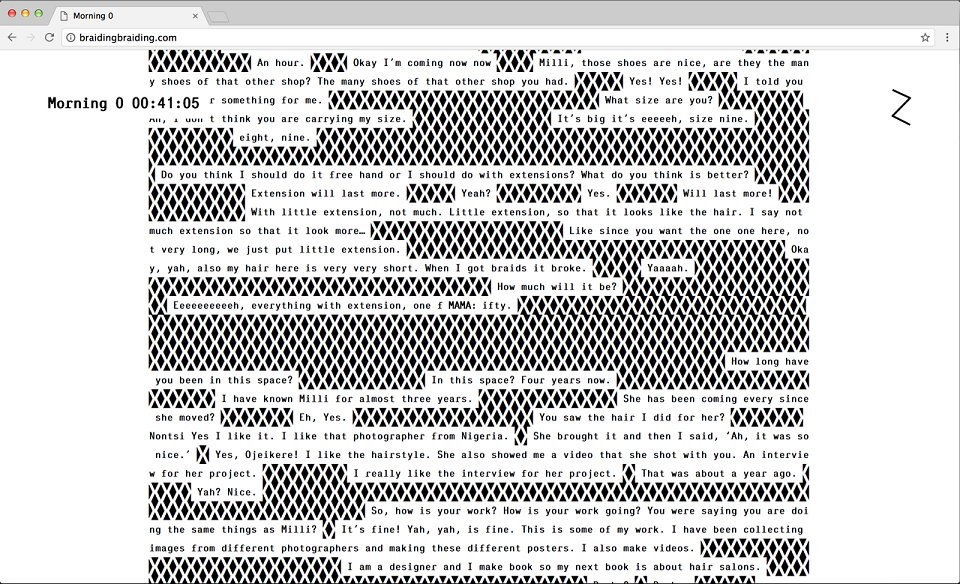 How do the different elements of Ruka (the algorithm conversation, dialogue in the salon, floor tiles, collection of business cards) all connect? What is the central research question?
Repetition; rule based image making, graphic aesthetic with mathematics at the foundation. How can my work expose the inherent scientific value to important cultural forms from African and other Black cultures such as Hair braiding?
Why the decision to have so many iterations?
As a visual maker I am working with a range of tools across spectrum of digital and analogue. Different technologies and aesthetics allow the work to move in different directions towards a range or audiences, registering at different pitch with each approach.
All the work is intended to interact and create a multifaceted conversation allowing for audience members to engage with the different aspects of the investigation which is a project that addresses, culture, tradition, innovation, migration, language as ideas around aesthetics, process and technology are being grappled with.
RUKA is a design project, it is social practice, it is anthropology, it is a diary, it is place making and experimentation. The work grows naturally as my interests and learning around the core subject of braiding increase. I don't have an end point in mind. Braiding is a practice of infinite possibilities and meanings.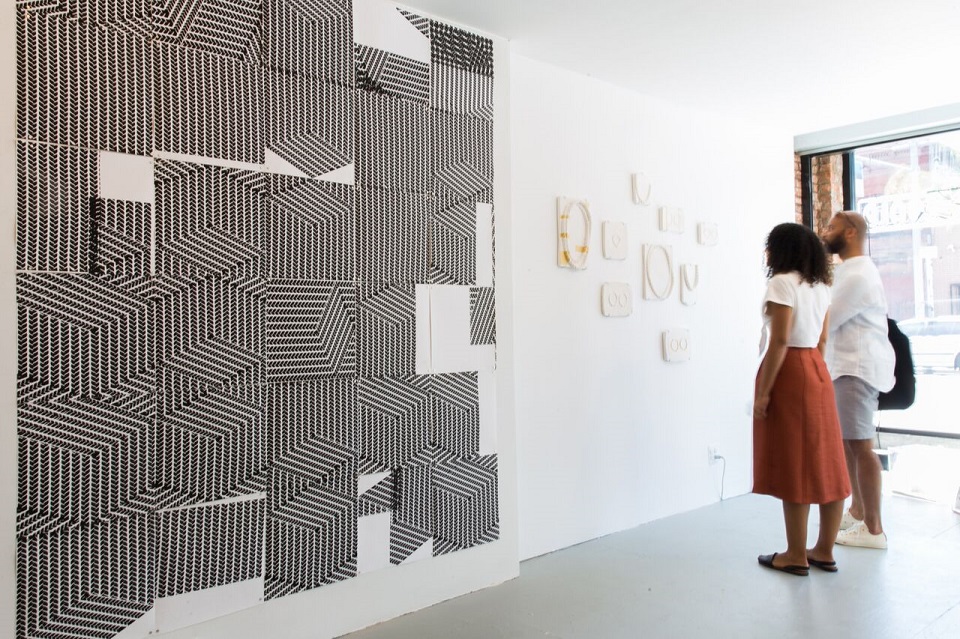 Who else was involved in creating this body of work?
A lot of my work is highly collaborative. I worked with a good friend and colleague Julia Novitch to produce Morning 0, or braidingbraiding.com.
Haja Jalloh, a former student who graduated with a Bachelor's Degree in Computer Science has helped me with running braiding workshops, as has Njoki Gitahi, another colleague and friend who is a phenomenal graphic designer. My work always refers back to my life and community.
What was the value of the project for you as a person?
I started this project to close a gap in my knowledge around a cultural practice that I wanted to learn for myself. I wanted to know how to braid. I wanted to work as a hair braider to earn money. I think a lot about Black African women as bread winners. We create economies that have complex layers. The project really started there and grew naturally into a visual a social experiment because of my natural inclination towards images and people. It is important to always reinforce the aspect of labour, time and care in the work, just like coding braiding has to be learnt, practiced, perfected. Braiders are skilled and valuable workers.
Elements of the work and further explanations are available to view on Mutiti's website.