Tapestry artist and Kutti Collective member Talia Ramkilawan's recent artwork captures seemingly ordinary everyday moments—creating a textured archive. At first the images of womxn depicted in her work were sourced from her imagination, but as her practice developed she found inspiration in photographs from her childhood or her friends. Contemporary scenes demonstrate her desire to immortalise memories and the influence of the digital world through composition and subject matter. Seeing these scenes through the medium of tapestry encourages a moment of reflection and alternative viewing. Talia was drawn to weaving as a way to find a process of healing through the act of making, as well as the desire to find an intimacy between her work and herself. "Weaving, working with wool and cloth is typically associated with womxn's work and I found it so intriguing that I would be doing something internally so powerful and disruptive with regards to my healing just by sitting in my apartment playing with wool all day," Talia shares. The process of making work is as much about contemplation and understanding as it is about producing an art piece. "My work also explores the intersections and binaries of my lived experience as a queer Indian womxn. Indian, yet not Indian enough, a daughter, a friend, queer, brown, tired yet so much more to give."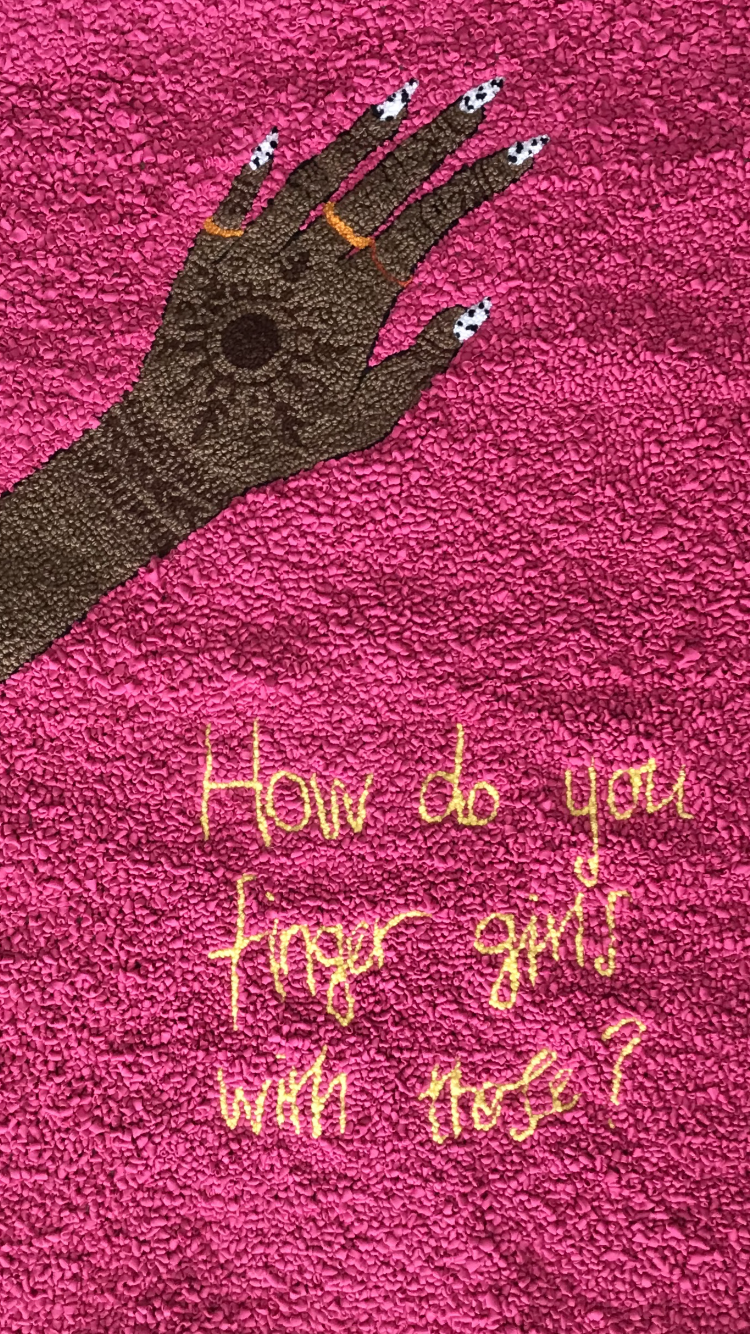 How Do You Finger Girls with Those, 2020.
Video, performance and installation are also integrated into her practice, with Talia expressing that her work needs to be experienced in real life. For her, the tapestries draw the viewer in with their familiar softness, but upon closer interrogation they become vehicles for narratives that express the unique intersections faced by the femme South Asian community. "South Asian narratives have been underrepresented in art spaces across South Africa. I have an important story to share and hope this will reach more people that look like me and encourage them to engage with art-making practices," she shares. Trans-generational trauma is a central theme in her work; with a particular interest in how coping mechanisms and responses to long-term subjugation are passed on and the consequences of this in an individual's life. "My work attempts to break the cycle of previous behaviours by acknowledging them and actively trying to redress past wounds. My practice is centred around healing. Firstly, for myself as the experience of making the works is an act of healing. And secondly, through bringing this idea of confronting past traumas and living in one's truth to my own community," Talia expresses. Her work attempts to depict the full scope of her own experience and that of a shared experience—subverting stereotypical readings of womxn of colour. Re-directing this, her work becomes acts of reclamation, disruption and moments to take ownership of her own narrative.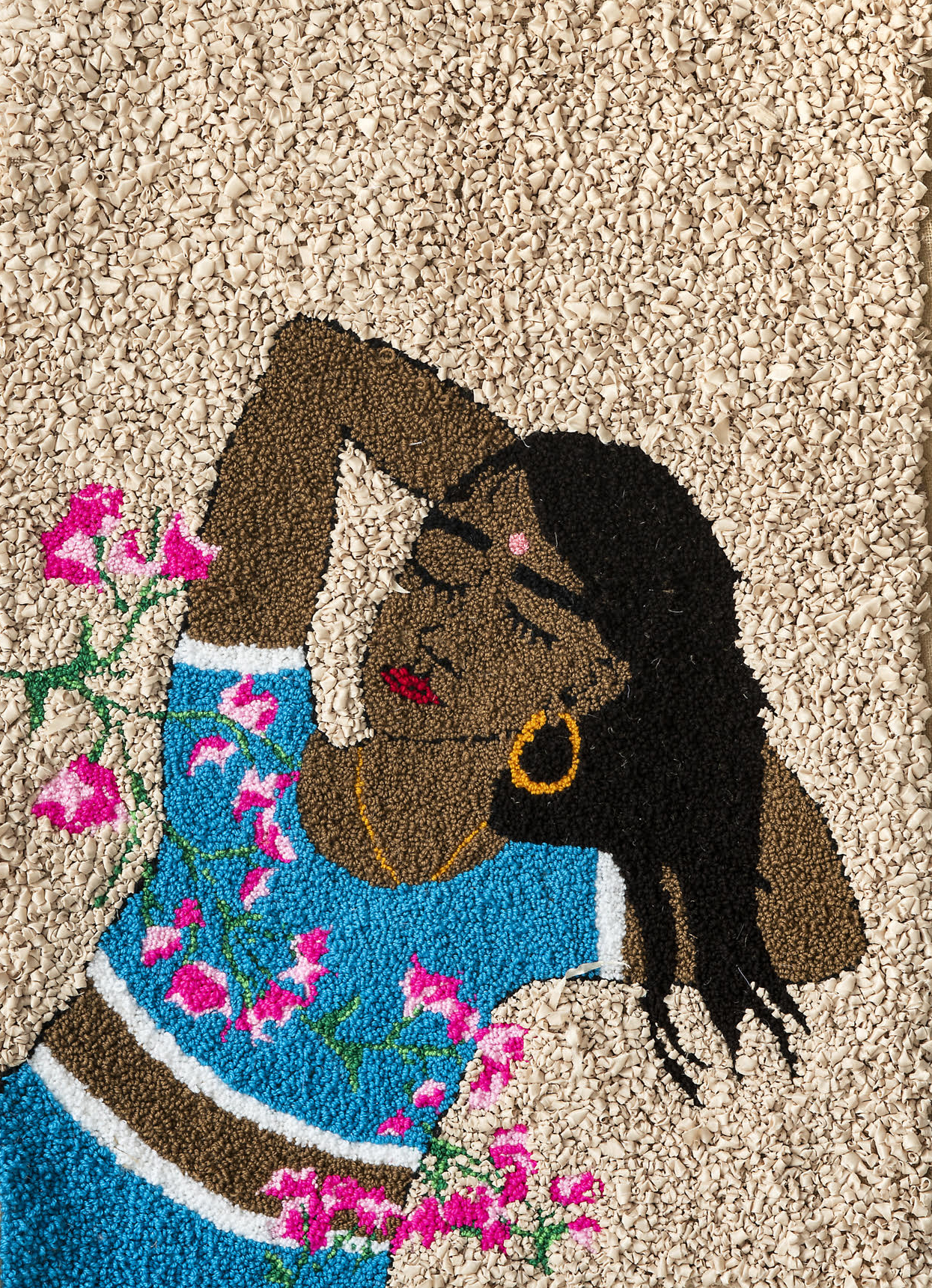 Untitled, 2019.
The works that Talia has produced during lockdown has seen text become an important element, bringing to mind how our phones and the digital world were sources of connection between friends, family and other aspects of life outside the home. "During this time, I found solace in my friendships and thus kinship and platonic intimacies are overarching themes in this body of work. I've been placing a lot more emphasis on friendships right now, and as I'm not really seeing people their words become important," she shares. Understandings of friendship get stretched through her work, creating a fuller understanding of what it can mean. Talia currently has work up as part of Pink's Not Dead! curated by Jana Terblanche for Apartment Vol.2 which can be seen at The Fourth Gallery in Cape Town. She is also part of the group show The Medium Is The Message curated by Azu Nwagbogu which will be opening on 2 October at Unit London.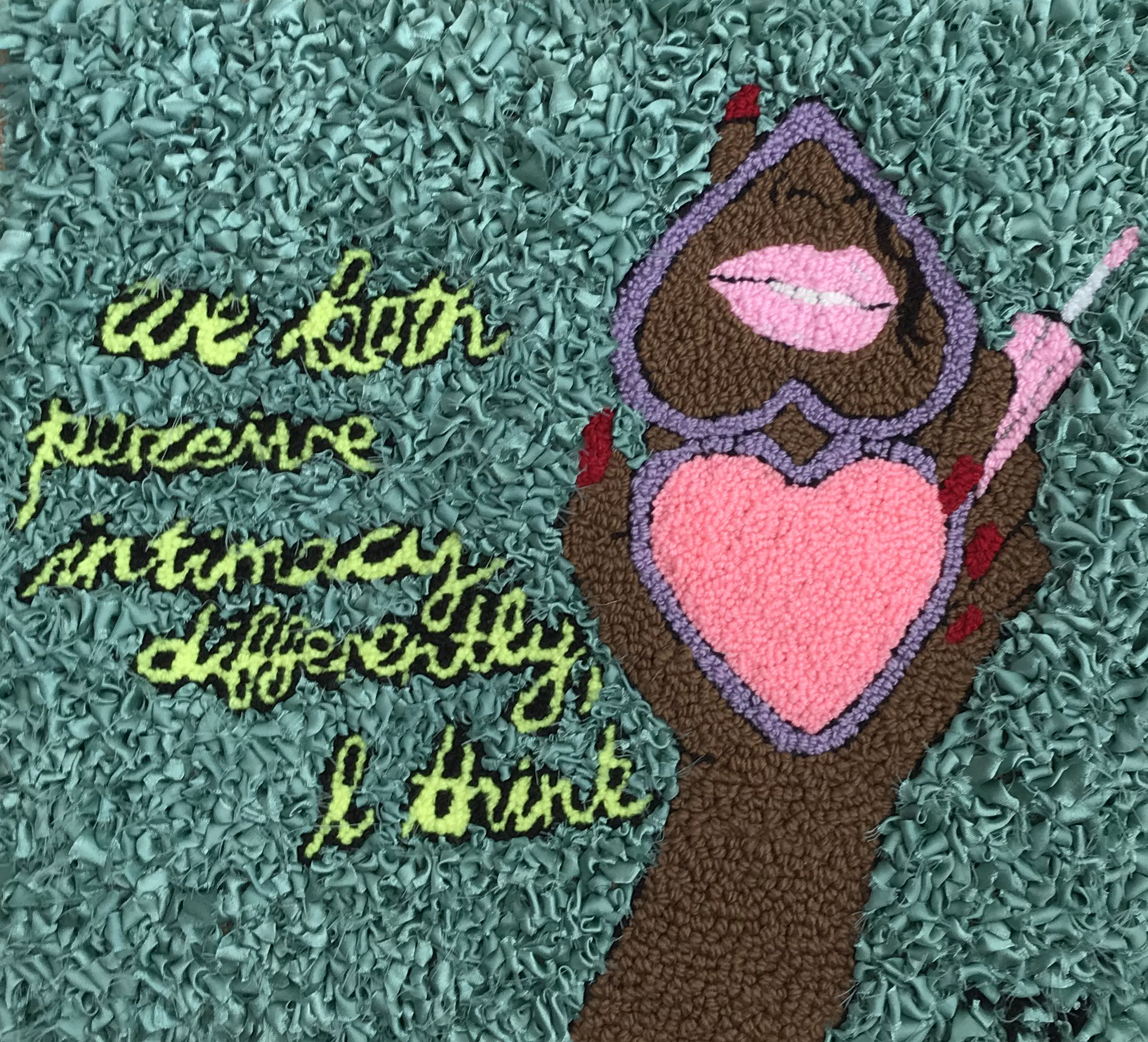 We Both Perceive Intimacy Differently I Think, 2020.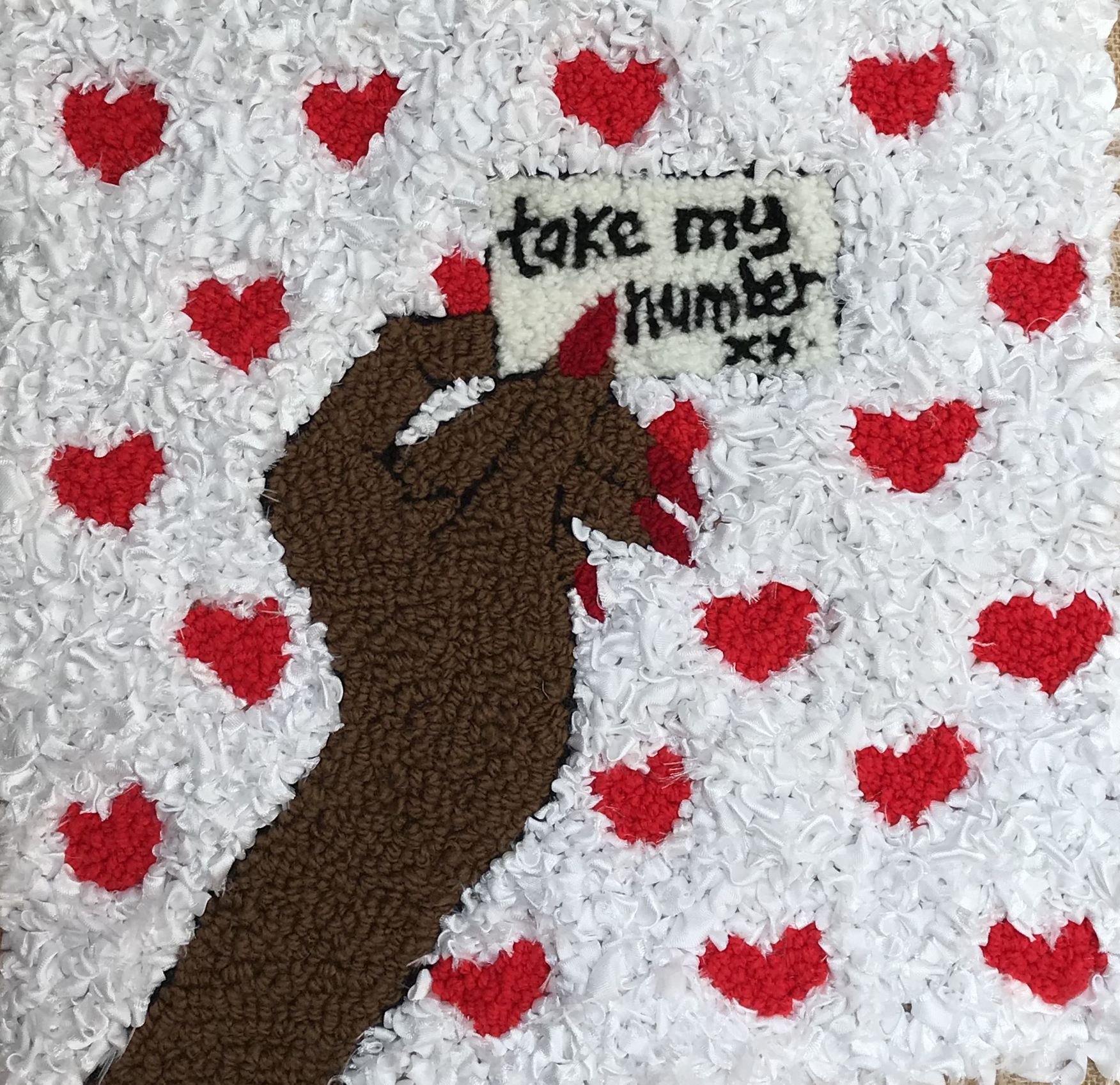 Take My Number, 2020.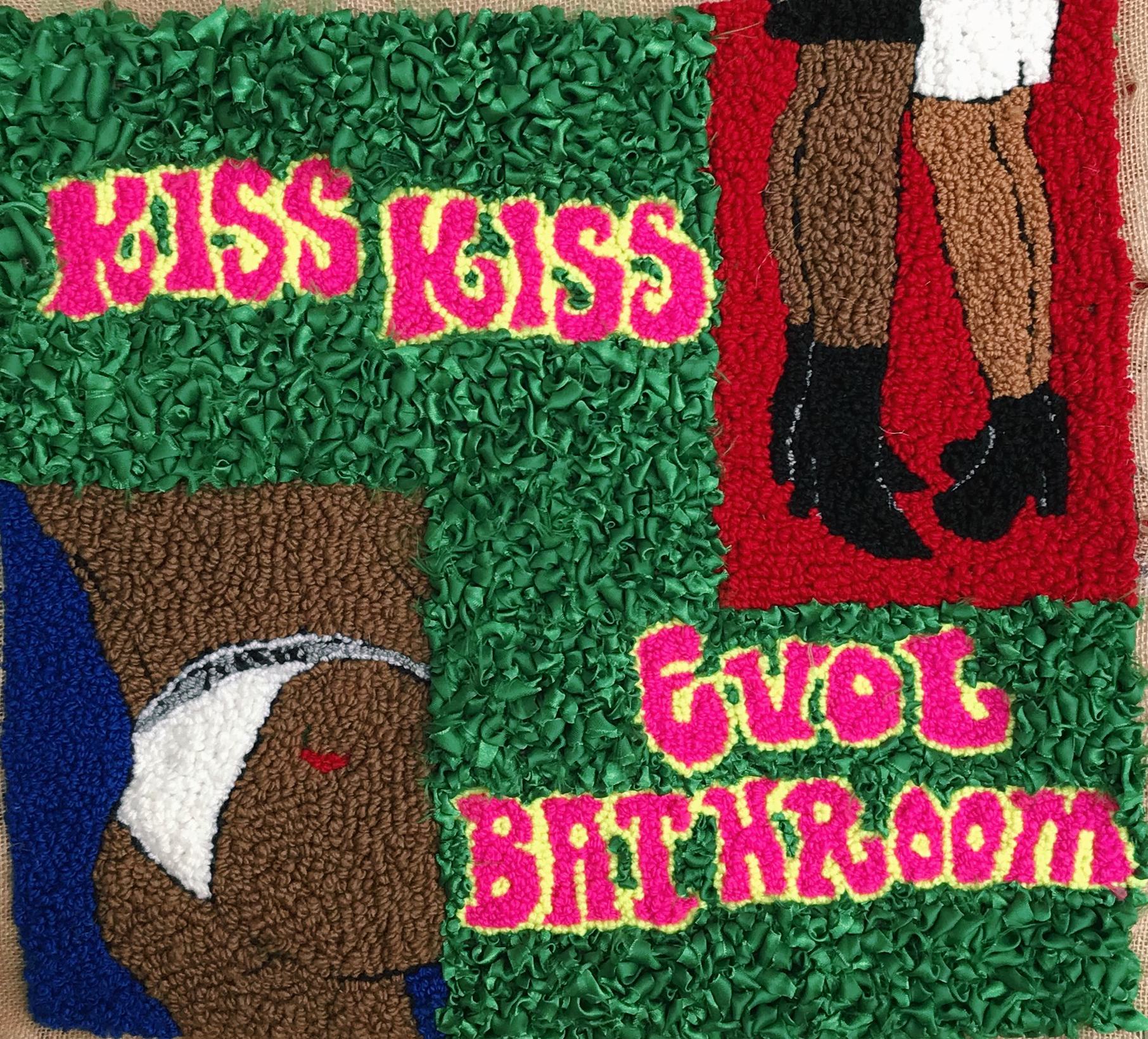 Kiss Kiss Evol Bathroom, 2020.