Pronounced Goo-vay-E-ah, the affluent streetwear brand adopts high fashion modes into its streetwear-infected Autumn/Winter '20 collection titled Umber9. The creative director, Simon Zikala, of Alexandra Gouveia studied industrial engineering and had planned to obtain a degree in the field but later opted to pursue a different path, however, in the same discipline of product design. In his third year at the University of Pretoria Simon then decided to fully pursue a career in garment construction and went on to drop out of varsity. The self-taught designer picked up tailoring in 2014 using an old sewing machine inherited from his grandmother. Simon set out to open a business and dubbed the operation Tailor Made, however, he soon rebranded the Tailor Made aesthetic for a new endeavour—enter Alexandra Gouveia— during the course of his varsity career and thus birthing the affluent streetwear brand around 2016. The name itself is a salut, of sorts to the designer's older brother and beloved late mother:
I had changed the name to "Alexandra Gouveia". The name is inspired and derived from people in my immediate family. "Alexander", which is my older brother's name but for the brand it is spelt "Alexandra" representing a female, and "Gouveia", which is my late mother's maiden name.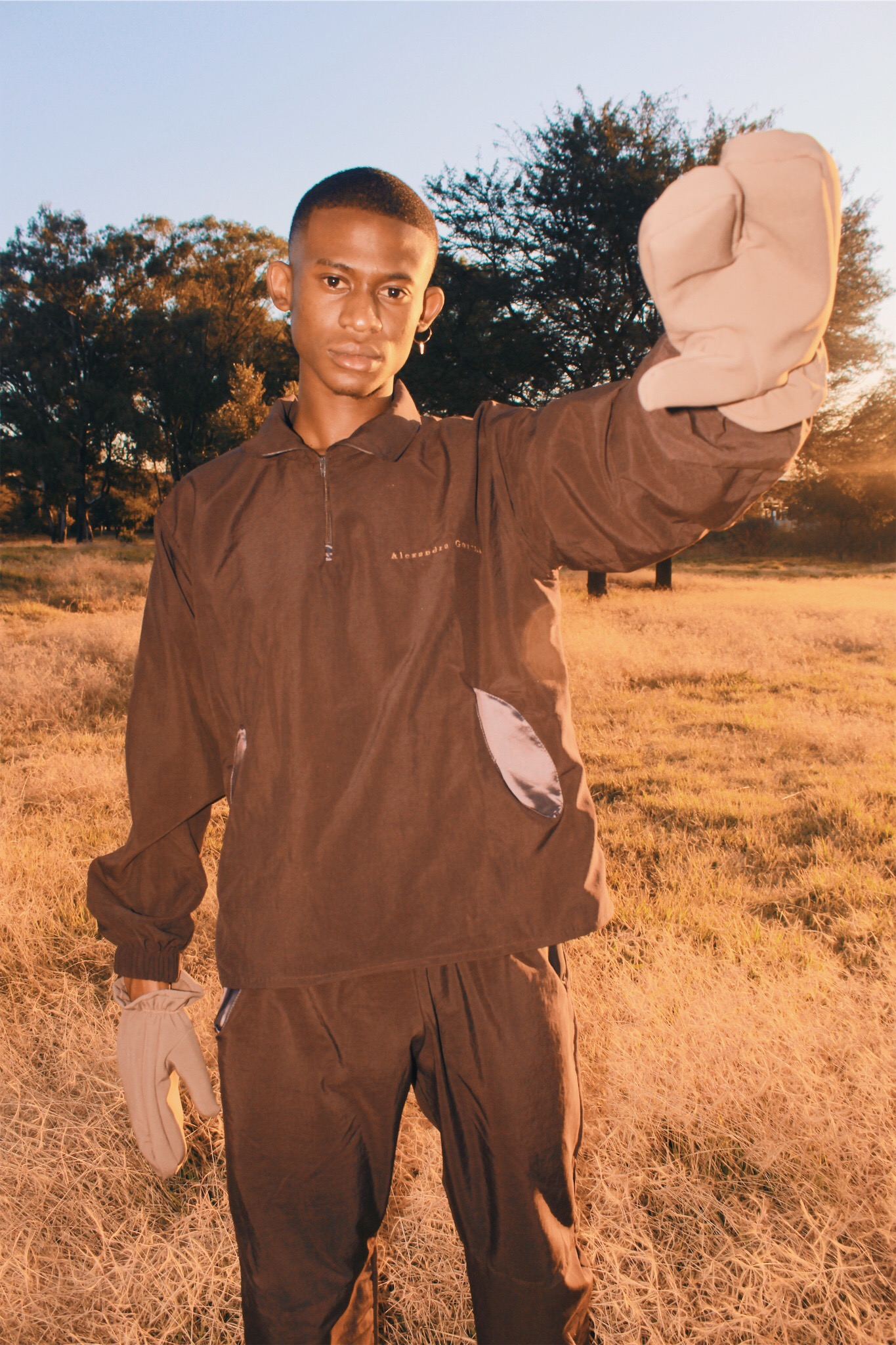 The brand's identity is rooted in family and community; family as community. Frequently collaborating with its creative community, spending time developing relationships with those collaborators and building a collective synergy along with some first rate names.In recent years the brand has secured a number of impressive collaborations, most notably with 3amlifewasneverthesame, "a streetwear brand for the streets. The partnership produced a collection of designer denim Jacket and was dubbed The 3am x Alexandra Gouveia Denim Design collection, debuting in the summer of 2017. Briefly followed by the military inspired two-piece offering from the duo, spotted in a multi strapped patch pocket finishing. The collection was highlighted by warm camo print fabrics and exaggerated pockets. Collaborations seem to be a vital part of the brand's DNA with it's already impressive reputation, these collaborations are used by Alexandra Gouveia as a vehicle for marketing that allow for the cultivation of new opportunities—for all parties involved—in complimentary markets that hold the potential for drawing in new consumers:
Usually when it comes to collaborative work, both the artist and I sit down and discuss and dissect ideas that will be beneficial to us both. We try incorporate both our signature touches to the design so that both our customers recognise and are familiar with the work. The final product is always a collaborative effort thought through by both parties.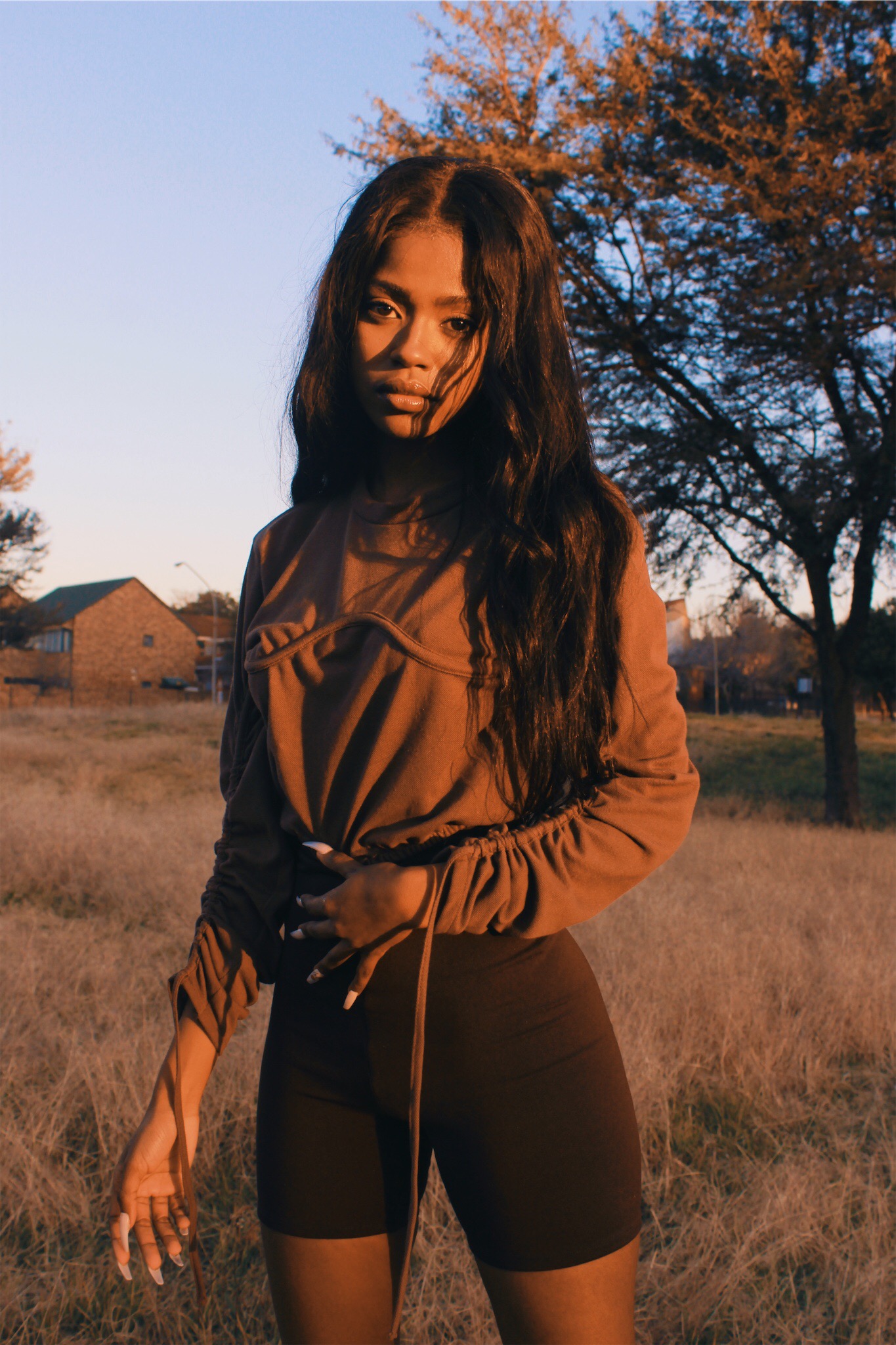 This is evident in his collaborations with the artist 45 Degrees, who features the designer' creations on his the visual campaign for his new EP Pinocchio Mode The same energy and design principle is carried through to the brand's latest collection of tonal apparel. This season's presentation arrive in a collection best described as "top-of-the-line-modern-space-wear" apparel. The dystopian-ish fashion settles in a distant future, on Planet Mars…maybe? To me, that would explain the reddish undertone mimicking the mineral rich planet. This collection is a woven hybrid of athleisure clothing  fabricated in styles that cater to various occasions. Named Umber9,  the collection is primarily characterised by muted colour palettes and space-age nods featuring fitted garments in soft colours of umber, brown and stretching out into shades of burnt reds and oranges. Each garment is handmade by the designer and his hired staff. The embroidery decorated the garments in neat placement of the brand's signature logo that its illustrated as a globe-like sphere resembling the Rings of Saturn, "the collection looks to aim at bringing a sense of new beginning, warmth and comfort – the colours reminding us that everything returns to the rich colours of brown, the ground", captioned an Instagram post.
Umber9, materialises fabrics such as micro-actives, oxfords, poly cotton, supima cotton, Satin and drimac all handcrafted in meticulous fashion. The collection explores distant worlds, settling on "Mars" in ivory toned down-filled puffers and mud-brown pullovers paired with sweats captured on a location similar to "Planet Red". Keep a look out for Alexandra Gouveia's SS collection as it will definitely be worth the anticipation but for now get in loser we're off to Mars!
Credits
Creative director: Simon Zikala
Assistant director: Khanya Soray
Photography: Omphile 'Chabz' Klein & slxck.93