The African/Black Renaissance is the theme for Wanda Lephoto's latest Autumn/Winter 2021 collection. The African/Black Renaissance is both a philosophical concept and political movement geared towards ending the centuries of violence, subjugation and poverty ravaging African people.
One of its aims is to use education as a tool for progress and to end further dividing elitism. This causes space for a pause where Wanda Lephoto's new collection is concerned; does this not make Wanda's appropriation of church uniforms — particularly those of the Zion Christian Church (ZCC) and the Shembe Church — appear contradictory? Christianity and the church have long been founding pillars in colonialism and white supremacy.
Even the seemingly peaceful missionaries, who arrived on the continent to educate and "save Black souls from damnation", distorted and painted our languages, beliefs and traditions as "backwards" only to have us assimilate to western ideologies. The violence in these holy missions reveals itself best in how similar church uniforms are to military uniforms, particularly British uniforms which Wanda explores in this outing.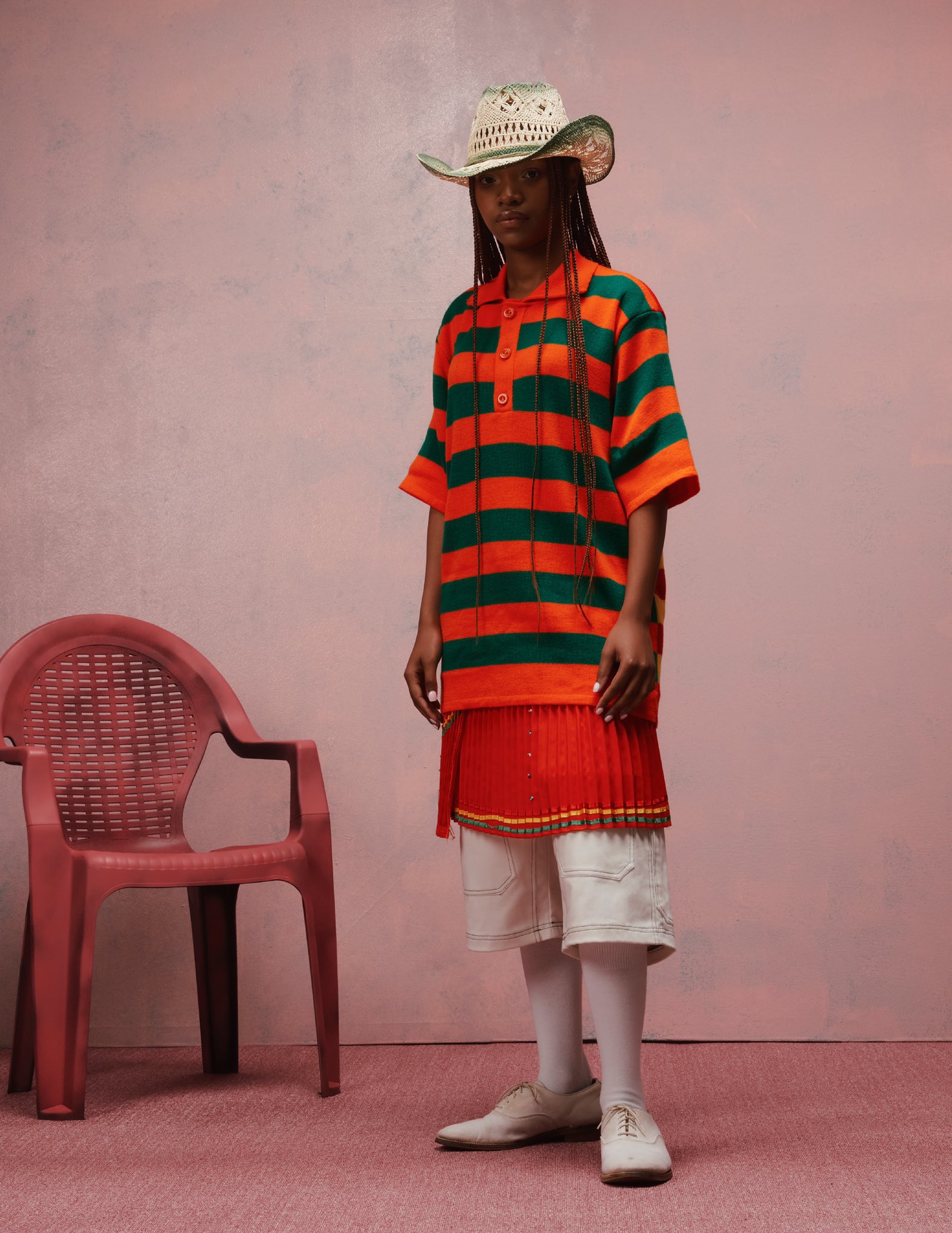 While ZCC is an independent African church, not an extension of any of the European institutions, the uniforms are very Euro-inspired. Demarcations of differences in age and gender, the uniforms feature the classic military markers: khaki colour palettes, button tabs at the shoulders, berets, tie clips, reversible collars, naval hats and deep, functional pockets.
With African Renaissance, Wanda Lephoto cheekily appropriates the khaki suits in a leather biker jacket embellished with baby blue flowers. The jacket is paired with the green and yellow trousers of the church and Lephoto places the look on his father, Clement Xaba, who stands holding hands with a little girl (Nebula Thobejane) in a light blue shirt dress, striped tie and the same baby blue flower appliqué as the jacket.
It's an interesting juxtaposition between the African and English/Christian, as well as the older generation and the next. The young girl has large cat-eye sunglasses and long braids spiking in different directions. African Renaissance is a collage of histories of tradition, imperialism and globalisation.
The church comes up again in another look inspired by the Nazareth Baptist Church (Shembe Church) where a model wears a dark blue double-breasted jacket, striped tie over a dress shirt and iBeshu while carrying a cane and reed mat.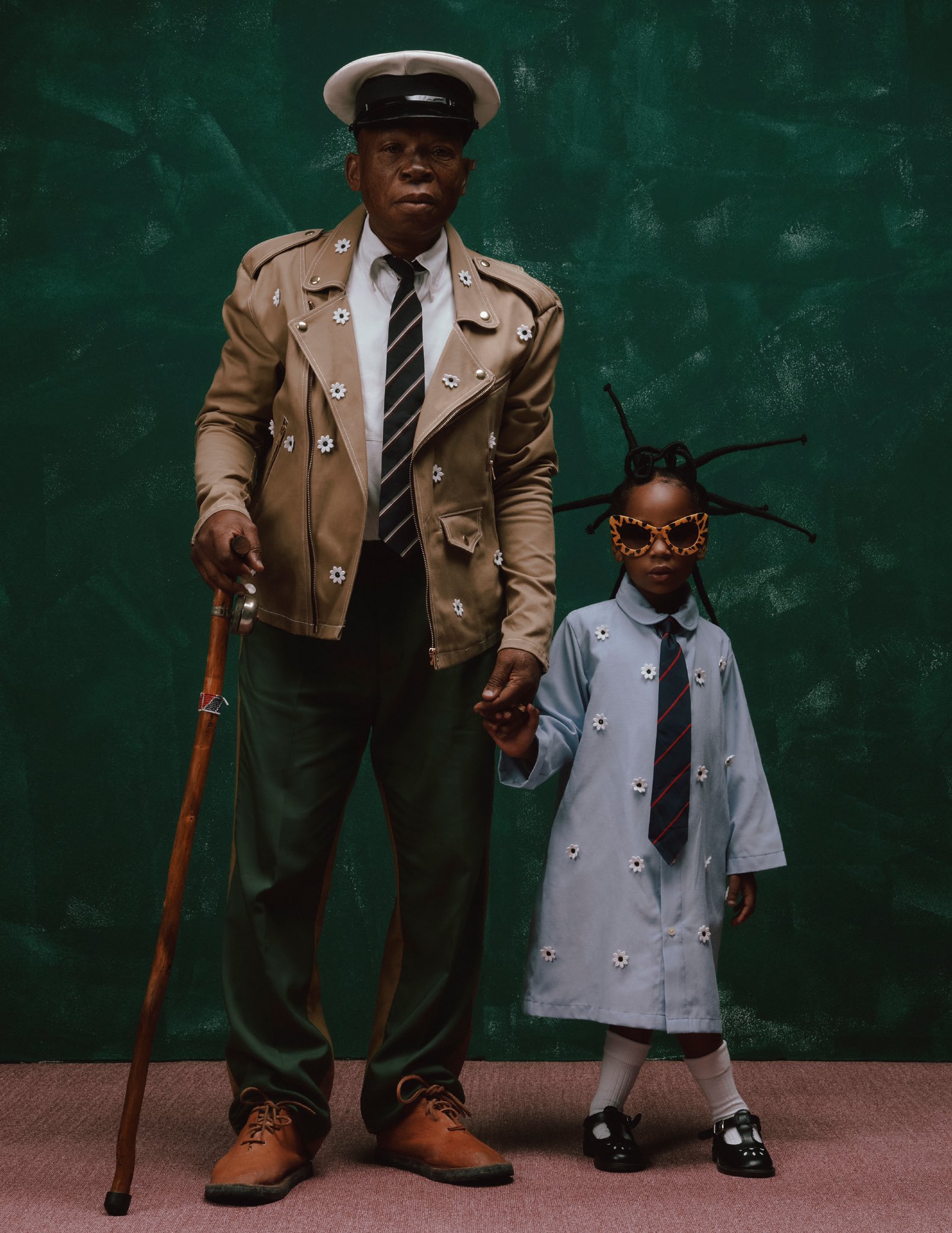 The strongest motif in Wanda Lephoto's work is the idea of a uniform. Now it's a focus on church uniforms, however, other pieces in this and past collections are also nods and appropriations of uniforms; school uniforms, rugby uniforms and mining uniforms.
In South Africa, school uniforms aren't solely the class identifier of private education and wealth. They're employed as equalisers in a country where children of all different socioeconomic backgrounds are to interact in the same classroom. This uniformity represents one of the misunderstood ideas of K-Hole's Normcore; that sameness allows people to unify and connect.
In this case, however, these uniforms aren't just about sameness. A rugby shirt paired with a pleated wrap skirt over khaki shorts, a utilitarian cotton twill suit with leather hide sandals, amasunzu and traditional braiding styles paired with mismatched plaid and ginghams. It's interesting how uniforms are employed in Black churches as equalisers when the inspiration from those uniforms are the people and cultures who've created that inequality.
The problem and the solution are so close together, they almost look identical and perhaps that is exactly what the African Renaissance represents.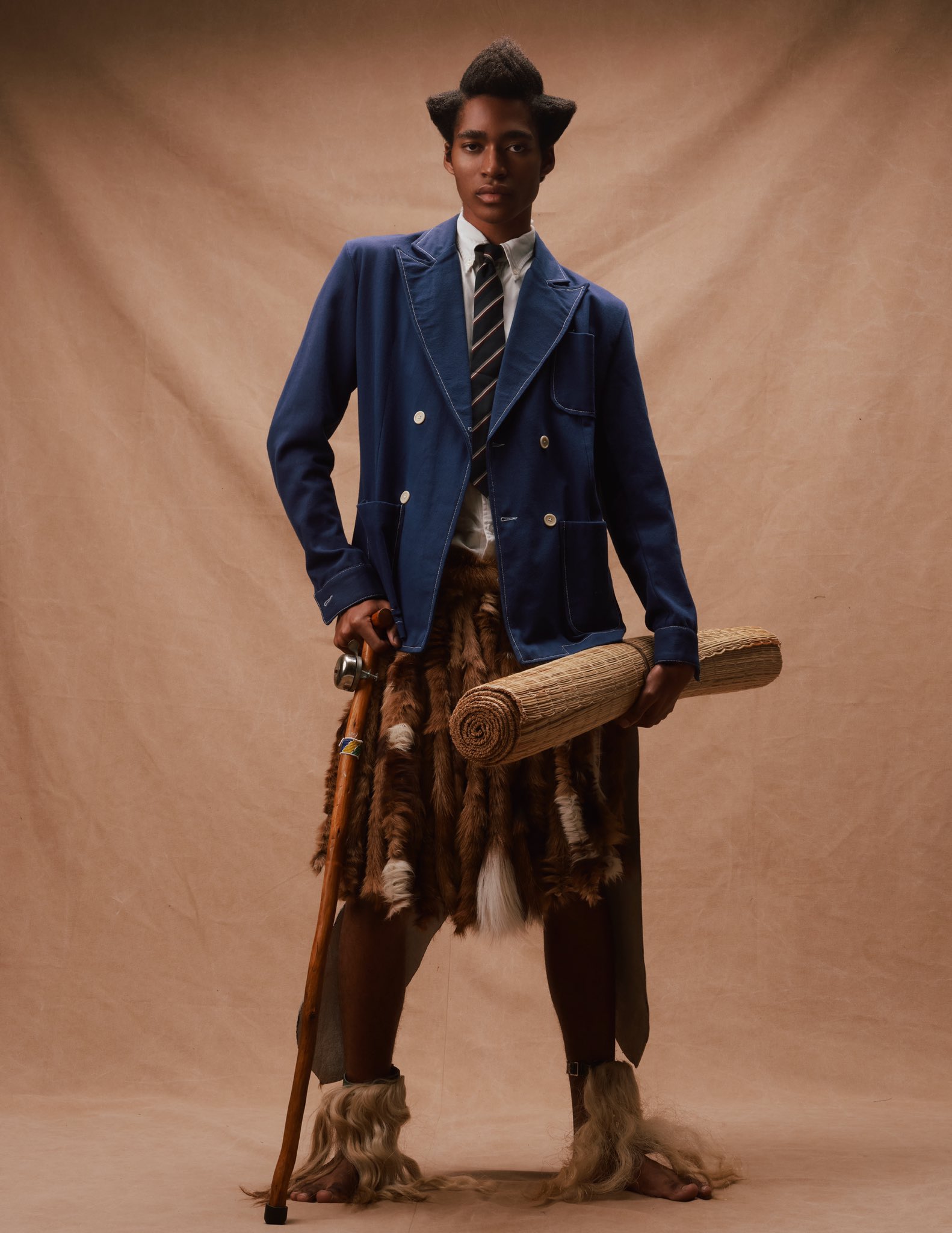 The use of Christianity and the church at first encounter, seemed counterintuitive to the aims of the African Renaissance but perhaps there is no "true return" to the African spirituality pre-1652?
While we have traditional dress and practices such as our xibelanis and isicholo, a lot of our cultures have evolved and been transformed because of the histories they have come into contact with, one of those being that of whiteness and colonialism.
In this collection, perhaps Lephoto is proposing that the church, the military and Westernisation have become so historically knotted with our cultures and customs, the work of separating them is not that neat.
The collection doesn't offer any definite answers, it's all just questions and investigations. It's a holistic look at everything we're influenced and represented by, finding the beauty in both the mundane and the violent. And what better represents the Renaissance than curiosity, connection and hope?
CAMPAIGN CREDITS:
Photography: Aart Verrips
Styling: Chloe Andrea Welgemoed
Art direction: Chloe Andrea Welgemoed & Aart Verrips
Hair: Mimi Duma Ncumisa
Makeup: Tammi Mbambo
Assistants: Oratile Moh and Lebogang Ramfate
CAST:
Nebula Thobejane,
Martha Lephoto,
Clement Xaba,
Nkuley Masemola,
Kgothatso Matlala,
Ketia Kalala,
Active Brian,
Gabriel Zenani