Art has always been a tool used to capture the textures of time. In an attempt to preserve their textures of their narrative, designer, Lwazi Madonsela reclaims pieces of furniture overflowing in junkyards—adding years to their lifespan and adding an artistic spin to them as found objects. The collection's title is derived from totems representing the evolutionary process of creation and its work-in-progress furniture creations have the simple purpose of adding value to space, functioning as aesthetic features that beautify rooms and gardens. Lwazi's project is deeply informed by preservation; collecting the pieces and treating them, all while maintaining the integrity of their original design. Mtimande is governed by sustainability, as the number of junkyards continued to grow so did Lwazi's own desire to experiment with building furniture pieces from that so called junk—searching through the junkyards for scrapes to use as materials to build the furniture line.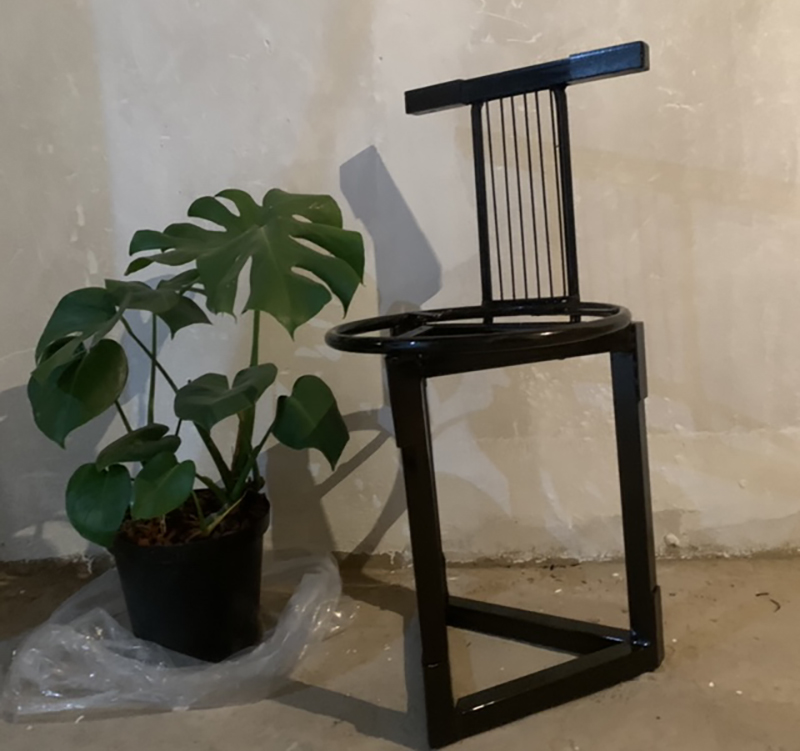 The Mtimande Chair collection is engineered with the basic design features of patio or outdoor furniture, typically made out of weather-resistant materials such as aluminium which is rust-proof. Although heavily influenced by geometry, Mtimande also integrates patterns of circular curves and organic shapes in its design principles which are driven by a DIY spirit. aesthetic, comfort and functionality. The project sees Lwazi create from a point of reference—working from the base seat and transforming the old steel and wire garden chair into a contemporary piece of furniture injected with modern nods. The made to order rigours physical construction is finished off with black paint, coated on the frame leaving the piece with a glossy finish. Some of the furniture from the collection draws from various references such as the classic furniture pieces of Duncan Phyfe (1768-1854) once considered the pinnacle of sophistication, and once hugely influential in terms of aesthetics in the domestic space of Black homes.
We have to integrate old staple furniture pieces from black communities and up-cycle them into art pieces. Sustainability was the core principle of my process. Like the fashion industry, old furniture pieces always come back into style—from early 1800s style Duncan Phyfe tables, Platform beds to the 1929 Barcelona Chair. Metal chairs were predominantly used as garden chairs in black communities so, I wanted to redefine their purpose and make them into art but still [maintain] a nostalgic feel.
Centring his own experience and ideas on sustainability and furniture design, Lwazi's desire is to preserve Black heritage thus rendering his furniture/homeware line as an instrumental key to bridge the gap between the past and present. A celebration of the pieces that occupied his living spaces growing up and that nostalgically remain prominent furniture staple in the Black community.