"Reduce, reuse, recycle" was a radicalising mantra for me when I was in grade three when I'd first learnt about conservationism, environmentalism and, holy crap, the planet's going to die! No industry more than fashion should have a better grasp of this concept yet today the textile and clothing sector is considered to be in the top five greatest contributors to pollution and climate change. Historically, fashion has always been about reducing and reusing. Before the advent of technology, textiles were laborious to produce so all construction techniques were meticulously zero-waste. It's long been the norm for clothing to be handed down or swapped around, to be mended, and altered into new and different items. Recycling, however, has been a little bit trickier. It's currently estimated that over 11 million tons of clothing go into landfills, with less than 13% of this being recycled. Most clothing is perfectly reusable and can be recycled, yet, there are more initiatives recycling paper, glass and plastic PET than there are for clothing. Even most recycled polyester clothing is made from plastic bottles instead of clothing waste. The make-use-dump business model has long been ingrained in textile production, and recycling requires skilled labour, expensive machinery and lots of human capital. These challenges are just as present in South Africa where the Cape Town based start-up, Rewoven, has chosen to tackle textile recycling. I spoke to founders, Esethu Cenga and Tshepo Bhengu, about the circular economy, the business opportunity and decolonising sustainability. At the end of 2017, Bhengu, Cenga and Lonwabo Mgoduso came together over their shared passion for fashion, sustainability and entrepreneurship. As young Black South Africans, they knew it was imperative that whatever they did had to have a purpose and address the context of inequality, poverty and unemployment.
We saw sustainable fashion, and recycling in particular, as a good opportunity to help with job creation and inequality in a way that fashion and development could work together. We started thinking [that through recycling], we could create jobs and [have a] product that you you can sell or export and take this industry, that's actually been in decline over a number of years, and this new great future could even be something that the industry could use to revive [itself].
From 2018 onwards, they joined an incubation programme where they learnt much about textile waste, received mentoring and eventually launched their first pilot programme with a small group of local manufacturers. Local manufacturers have been struggling to tread water for many years and it could not have been easy to sway them into this green approach. Of course, providing the data and proof around waste, emissions and sustainability in fashion is not easy as the global supply chain is so broad and disconnected and the industry has never had a tradition of tracking that kind of information. Speaking about this Cenga shares:
When you look at municipal records, they're saying it's between 5 and 8% of total textile waste but even then those estimates are really vague, it's unclear if it's post-consumer or pre-consumer waste. I think there is a lot of textile waste going by the number of manufacturers still operating in South Africa but in terms of [finding] actual figures, I think that work is starting now.
Bhengu confirms that the data is not as reliable as they'd hoped. "Last year was meant to be our big year in getting really good empirical data," but unfortunately the onslaught of COVID put much on hold.
I think this year will give more reliable data on what's actually happening on the ground. [Some manufacturers] have had systems in place for recycling but they're not efficient as their main focus is on selling clothes. We come in to help to deal with all of this fashion waste in a responsible way and you can keep focusing on selling. I think [manufacturers] are hearing about [sustainability] but it's not something that they care about. The most important thing to a manufacturer is the bottom line. For the first two years it was a bit difficult selling the concept to them, why they should be sustainable. We had to speak to certain cost incentives on their side but I think a lot of things are changing now.
The global conversation around climate change is growing more urgent and Cenga also thinks this new culture of consumer pressure, Joe Biden's election and government incentives will help with more changed behaviour in the industry. "We're cautiously optimistic." "In terms of equipment, that's still a challenge," says Cenga. "It's difficult to access the equipment that is needed." Adding to that Bhengu shares:
In our initial stages, we managed to develop a relationship with one of the manufacturers and they provided us a space that we could run our operation at a really small scale, and through that we were able to develop a small process that we could replicate on a bigger scale and that's where we're moving to now.
But even with that, Rewoven isn't able as of yet to recycle fabric fully in South Africa. Off cut and end-of-roll fabric is either sold to textile processors or, when developing their own products, they rely on an overseas manufacturer with the infrastructure required. "Our next big funding venture is to be able to have this recycling equipment and expertise localised."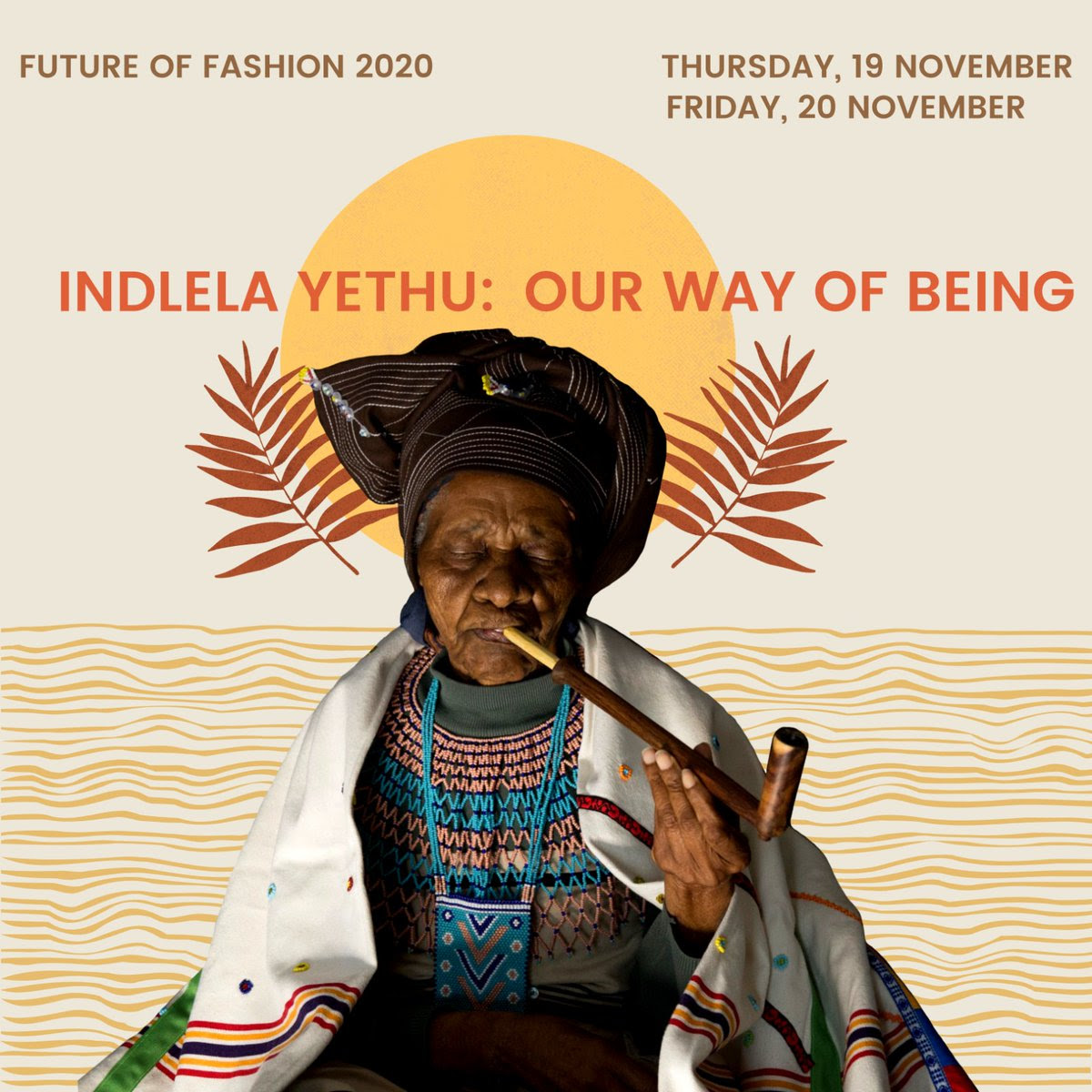 Previously, Rewoven had received support from initiatives like the E-Squared Accelerator Program and the H&M Foundation Global Change Award which has exposed them to Fashion Revolution panels, H&M Sustainable Africa Panel and the Swedish Institute with whom they recently partnered on Future of Fashion through which the fashion film, Indlela Yethu: Our Way of Being, premiered. A collaborative effort with Zizipho Ntobongwana, the film "explores the importance of caring about sustainability and climate change from a developing country perspective." "Coming [back] from Sweden, we had this feeling that there was so much about innovation and sustainability that we needed to bring back home," Cenga explains. "But the flip side of that was we realised we actually have things about sustainability that the Western, modernised world could learn [from us]."
A lot of the things that call to sustainability—resource efficiency, sharing and caring, being conscious of your impact on the people around you and your environment—those things are not too far from the things that Black and brown cultures have been implementing even though colonisation has tried to change that. That's always been a part of who we are.
So much of zero-waste and sustainability is already deeply ingrained in indigenous practice.
As Africans and designers, we don't shout 'hey, we've always been sustainable' because that's just always been a mode of living for us for thousands of years and it's time that the world learned from us. Removing that Euro-American face of sustainability, which is tech-driven, exclusive and unattainable.
"In taking on that approach," Bhengu adds, "we also felt that we need to make it cool locally. It's us driving the agenda of sustainability forward." "We need to speak about it in a way that's relevant, remind people that it's our way of being." The film also includes lessons from indigenous Swedish cultures but one has to wonder how many of these Western sustainability initiatives are aware that sustainability cannot be tackled without decolonisation. "It's acknowledged but not spoken about in great depth," Bhengu says of their time in Sweden and at Fashion Revolution. "I don't think it was identified around colonialism, it was more company specific." Cenga says, "I think that's why it's important as an African country to be participating in the fashion conversation and offering our perspective. When you speak about trying to make fashion sustainable, you're speaking about decolonising." Looking forward is the core of Rewoven's business and they're hopeful about the year going forward and the future in general. There's another Future of Fashion in the works, they're planning to retail 100% recycled fabric soon and they're going to continue to make sustainability more accessible and engaging.
I'd like to see more collaboration, not only between people within the industry, but cross-industry around sustainability. The principles and guidelines around sustainability apply to everyone. There's a lot that we can learn from each through working with each other. I'm very keen to see the circular economy being part of South Africa's development strategy, there are opportunities for jobs and addressing our developmental needs," Cenga adds. "As a developing country, we're going to be the most affected by climate change. The world is for us to live and it's our responsibility to create it the way we want.
Bhengu says of his hopes for the future.