The month of June ushered in the Menswear Spring-Summer 2022 season in "almost-usual fashion" — kicking off with London Fashion Week, followed by Milan, Paris, and Pitti Uomo towards the end of last month. Naturally, you could still sense a slight err of caution exercised by all four major fashion weeks going into the season, but luckily, we managed to experience a mixed batch of digital and live fashion shows.
Both South African and Nigerian-British fashion designers, Thebe Magugu and Tokyo James respectively, presented strong collections — laced with anecdotes of Africanism, as well as underlying commentary subtly expressed through their own personal narratives. A poignant example is the Thebe Magugu show — which managed to ooze satire whilst commenting on the negative state of leadership in contemporary South Africa.
Notable showings also came from the recently crowned BFC/GQ Menswear Fund Winner, Priya Ahluwalia of Ahluwalia, as well as the newly appointed Diesel creative director, Glenn Martens, for his Y-Project collection.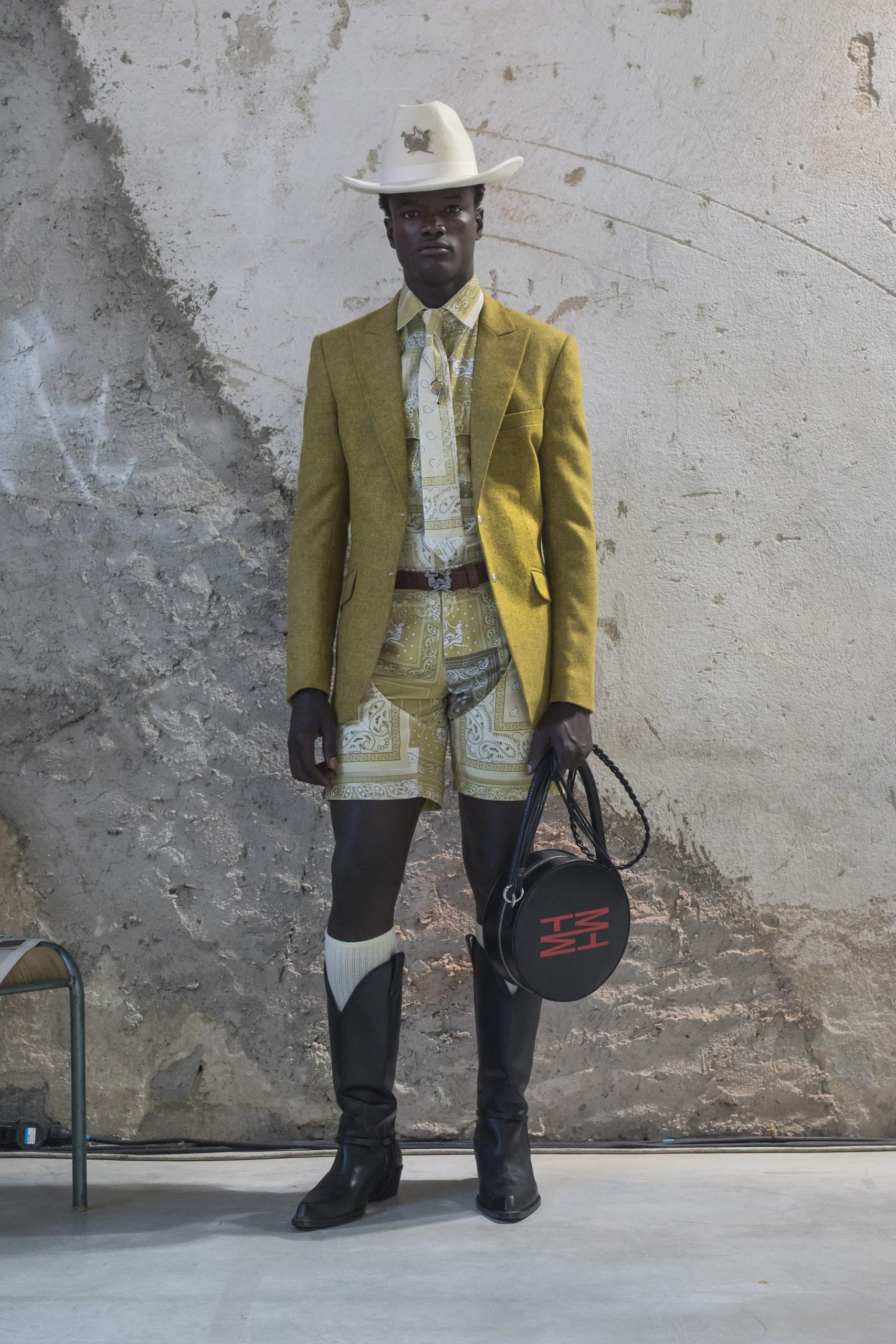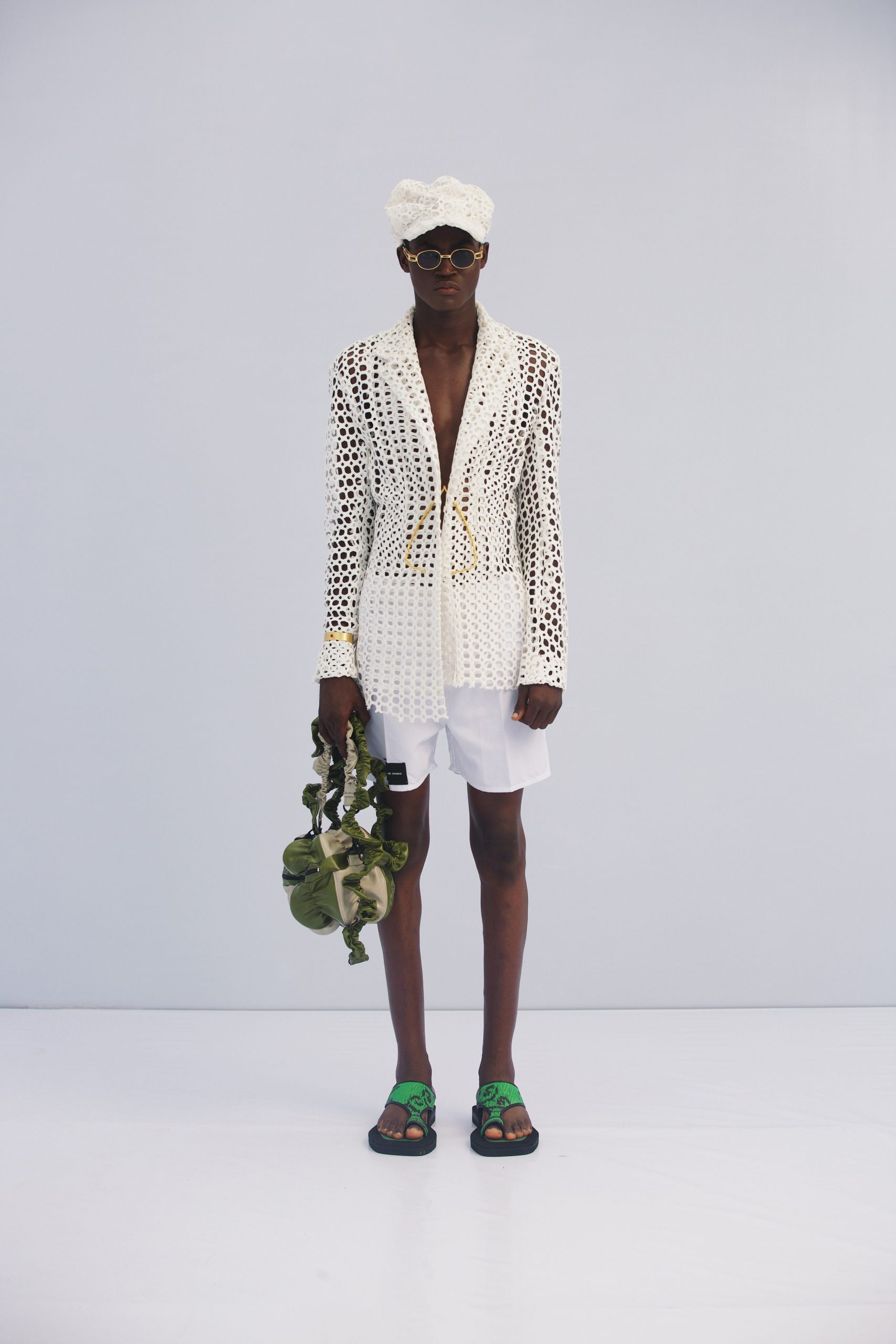 The latest Ahluwalia SS22 collection, titled Parts of Me, was presented as a short film (directed by Akinola Davies Jr.) during London Fashion Week. It forms part of a capsule collection in collaboration with Mulberry – a British heritage luxury brand, which is infamous for its leather goods. Mulberry are celebrating their 50th anniversary by emphasising contemporary design, hence the collaboration with Ahluwalia. This seemingly unlikely pairing managed to yield an exceedingly good outcome, as the collection introduced innovative garments and accessories, such as Portobello totes and organic silk scarves. These designs were largely influenced by Ahluwalia's Indian-Nigerian roots and heritage.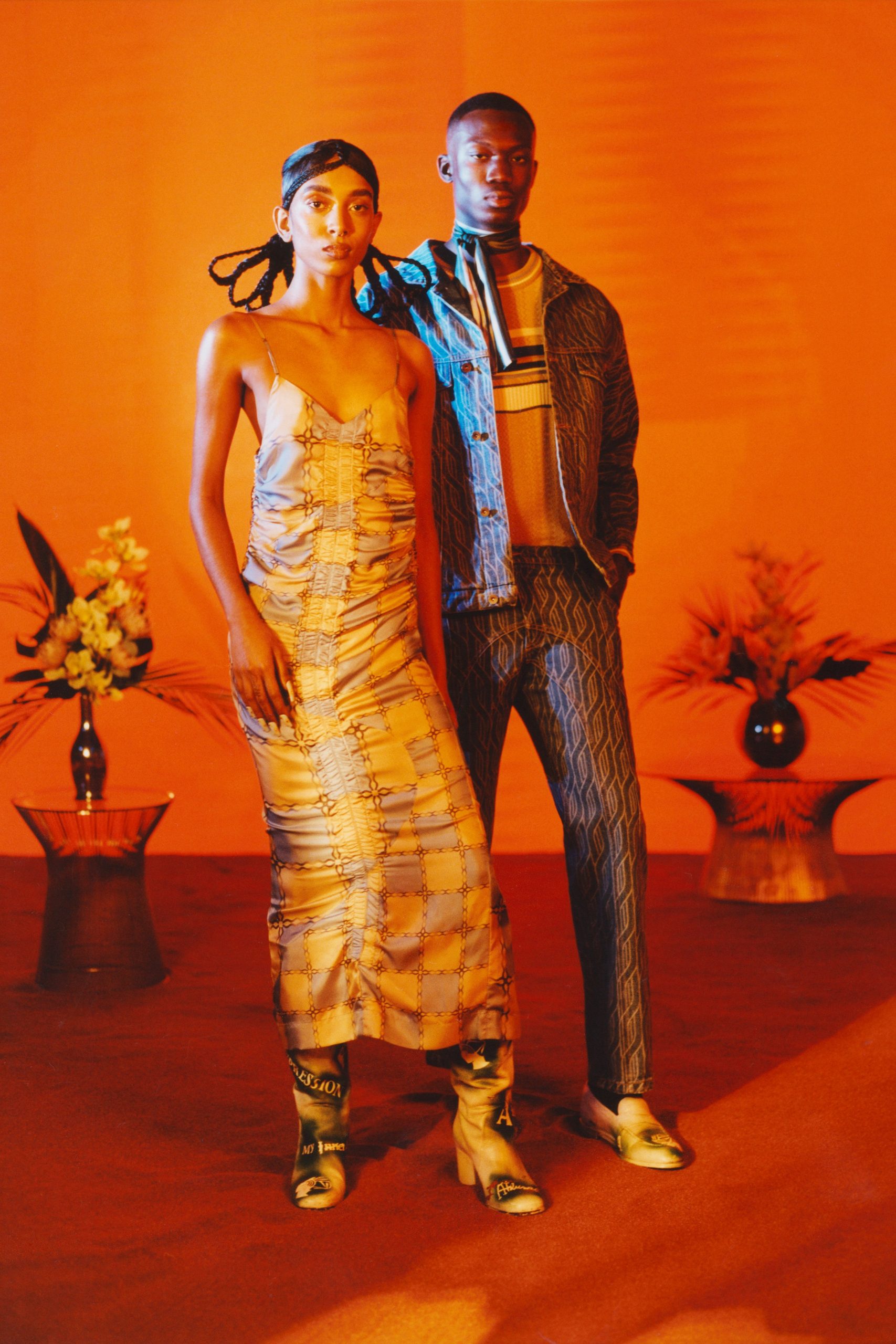 Ahluwalia
In an interview with British Vogue last month, the designer explained that she hopes that the collection can help people with insecurities about having Afro-Caribbean hair obtain some confidence, or feel special or celebrated. The collection was incredibly playful and imaginative – including deconstructed denims paired with knitted jumpers, Ahluwalia football shirts, knee-high Ahluwalia boots branded with the word "expression", and much more. The brand is also known for its strong sustainability roots, with a preference for utilising upcycled deadstock as opposed to other types of fabric. Reminiscent of the recent Martine Rose FW21 collection with its silhouettes and sportswear influenced motifs, this collection does a good job at injecting other cultures, and subcultures, into Mulberry's brand DNA to make the brand's offering more inclusive.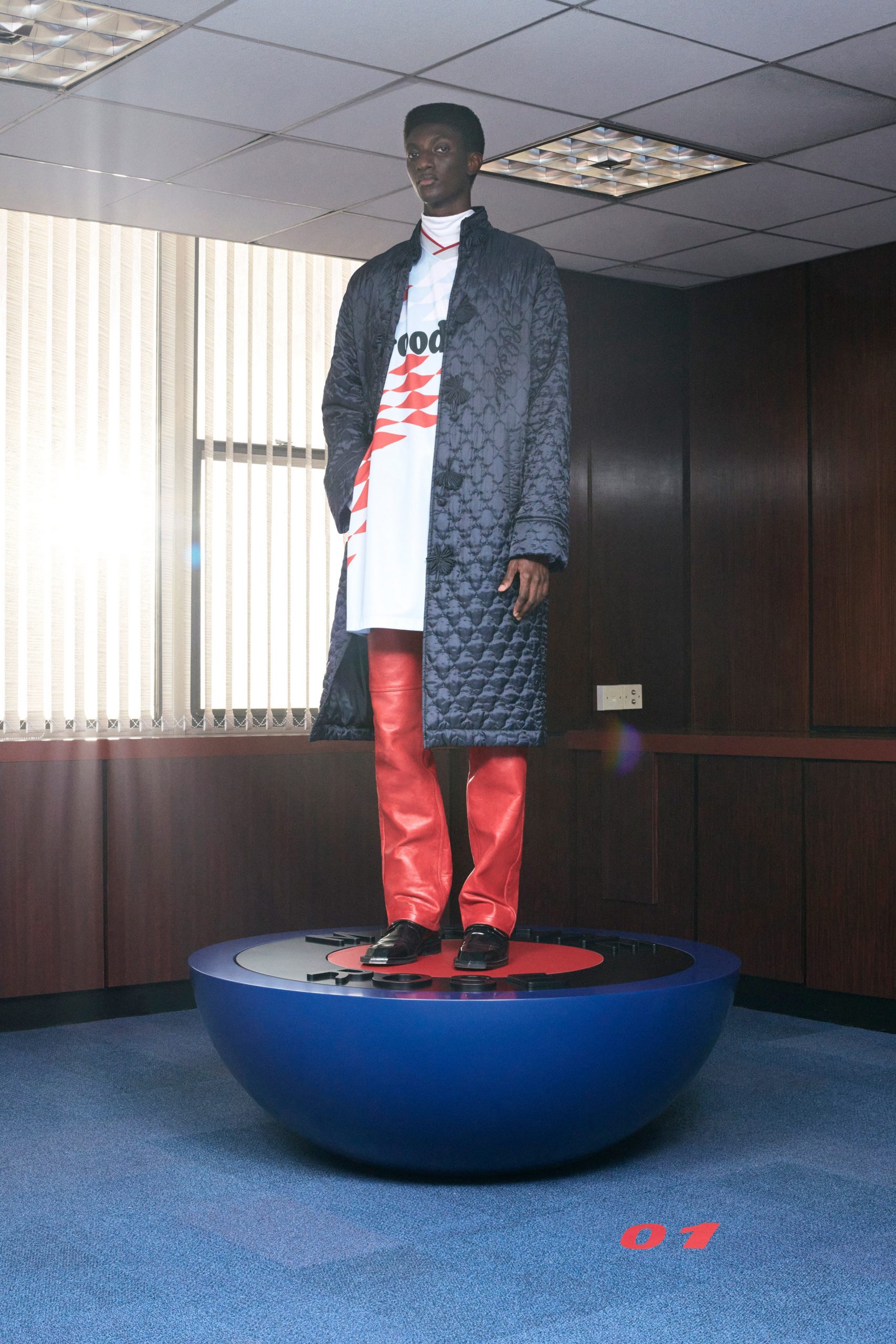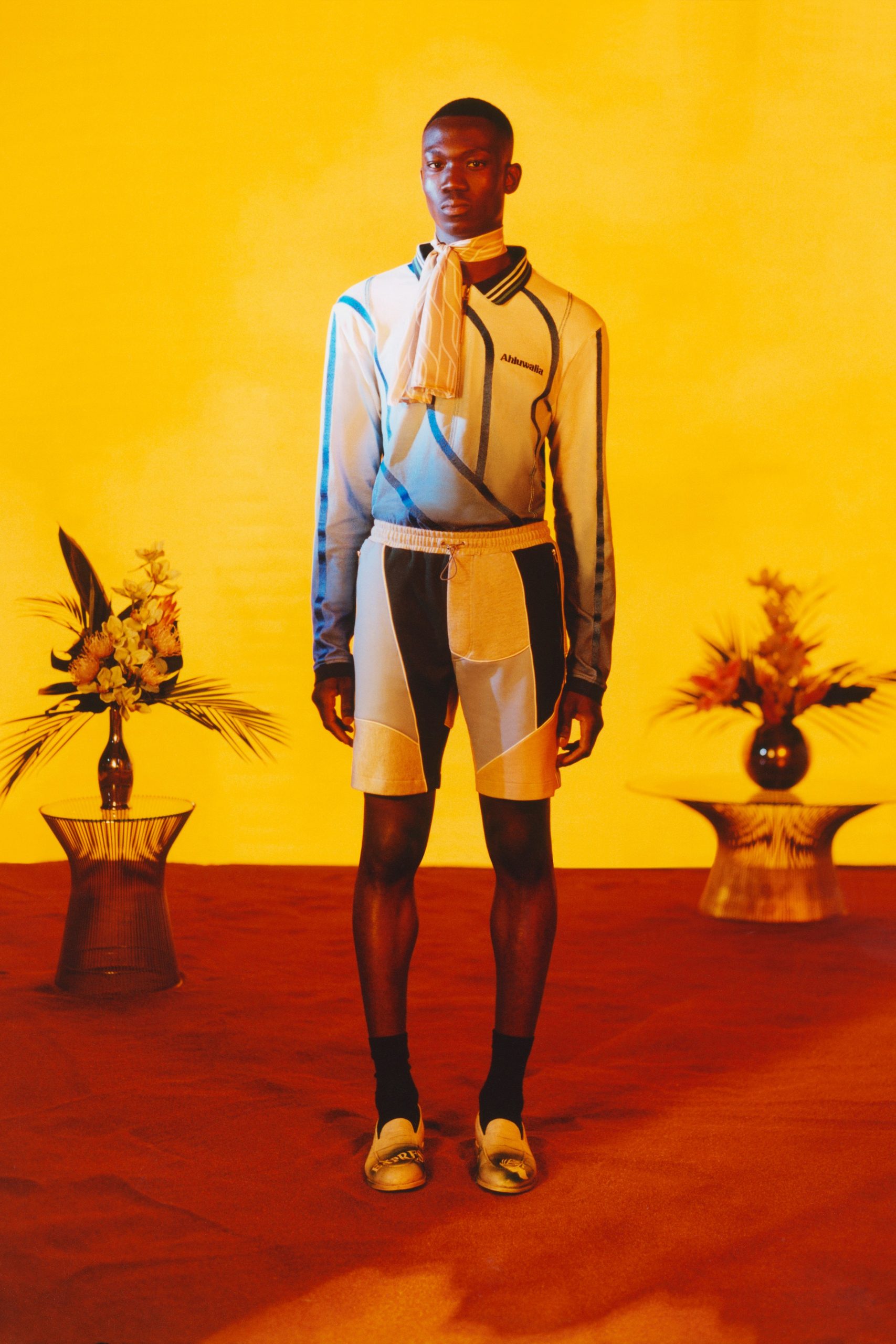 Ahluwalia
Showcasing live during the Milan Fashion Week calendar, Osu was Tokyo James' latest SS22 offering. The Osu's are actually a specific group within the Igbo tribe in Eastern Nigeria – defined by James as outcasts who are shunned by society and side-lined from all aspects of things. James' collection further evaluates "The Caste System" – which is an ancient practice by the Igbo's that discourages social interaction with Osu's. In this collection, he manages to succinctly define this outcast as his client – the Tokyo James Man – who is non-conforming and unwavering in his beliefs, regardless of what pressures society chooses to impose on him.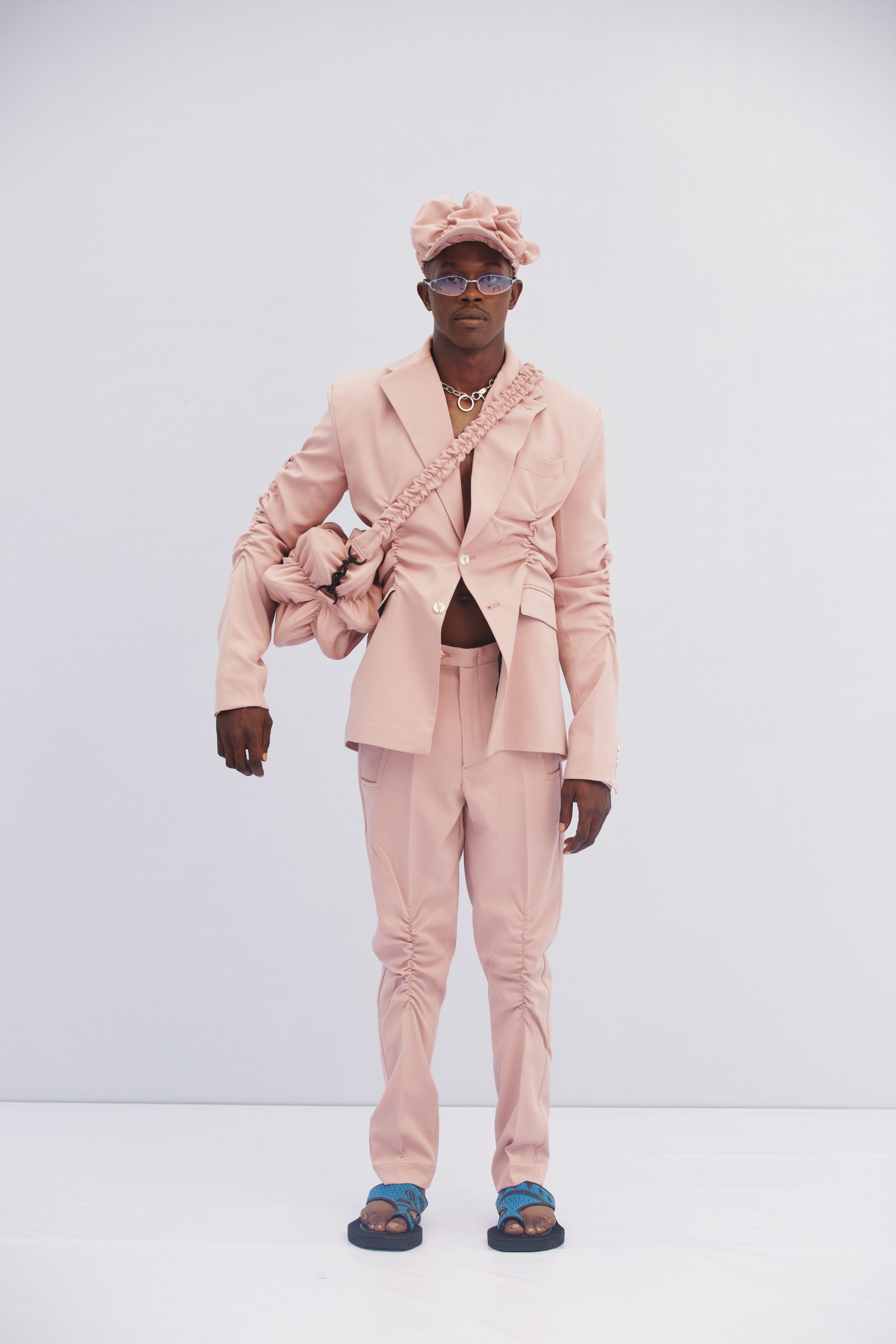 Tokyo James
This 32-look collection managed to express the brand's emphasis on originality, innovation, and cultural narratives. All looks were presented with different variations of bulky sandals, relaxed silhouettes, finished with quirky accessories. James frequently includes materials such as cord and lace within the collection, whilst also exploring feminine silhouettes within his menswear. There is an exceptional amount of artisanal detail within both garments and accessories – which are paired together in almost every look in the collection. There is also an introduction of a range of minimalist branded tees (in white and dusty pink) with the words "Tokyo Fucking James" – a fitting end to a fantastic outing by the designer.
A collection that remained topical throughout the whole menswear calendar is by Glenn Martens for Y-Project. The creative director of Y-Project (as well as recently appointed creative director of Diesel) delivered a SS22 collection at Paris Fashion Week which served as a masterclass in the art of collaboration – adhering to the fundamentals of Marten's deconstructed silhouettes, tailoring, and design footprint, whilst merging it with FILA's existing streetwear/ sportswear identity.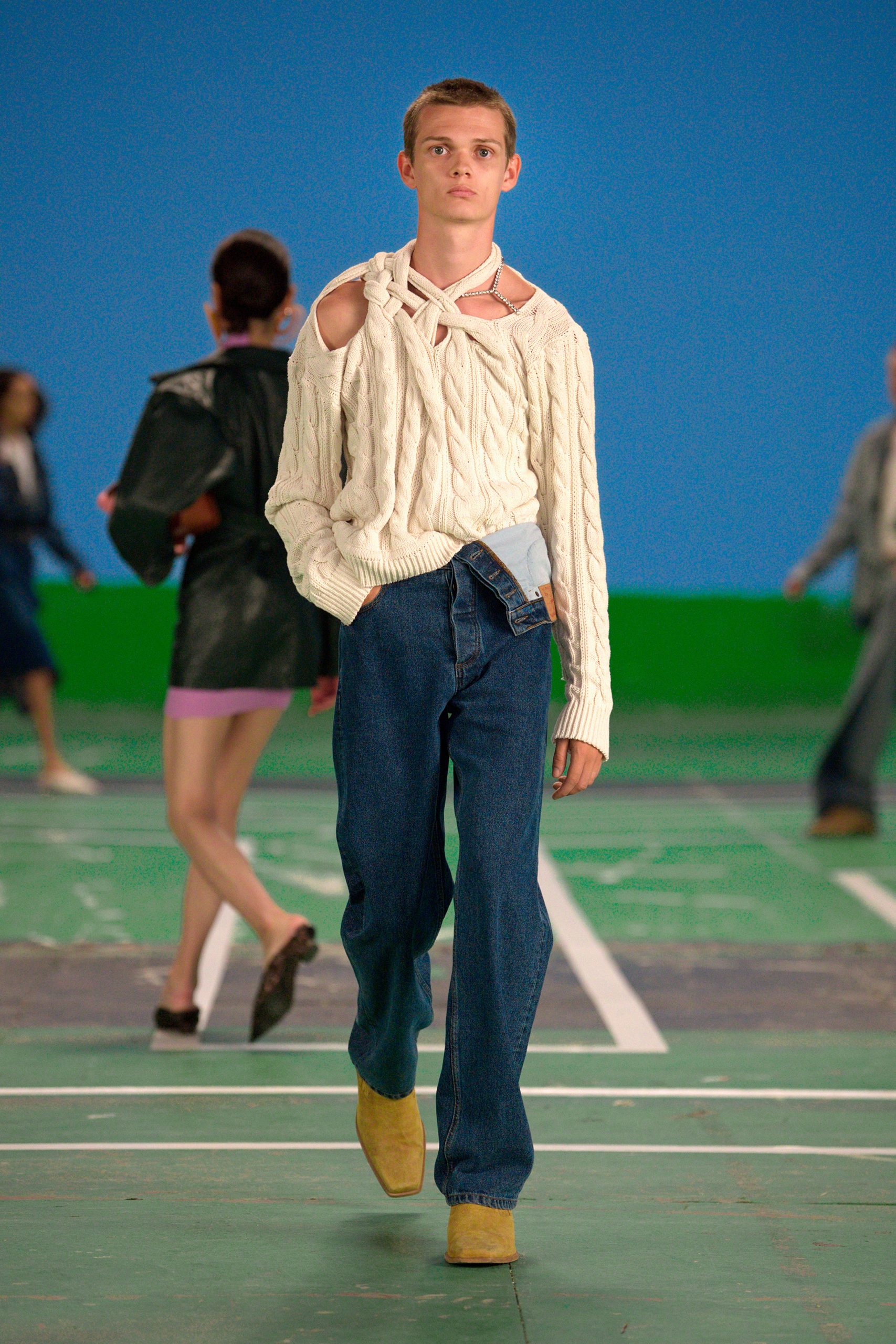 Y-Project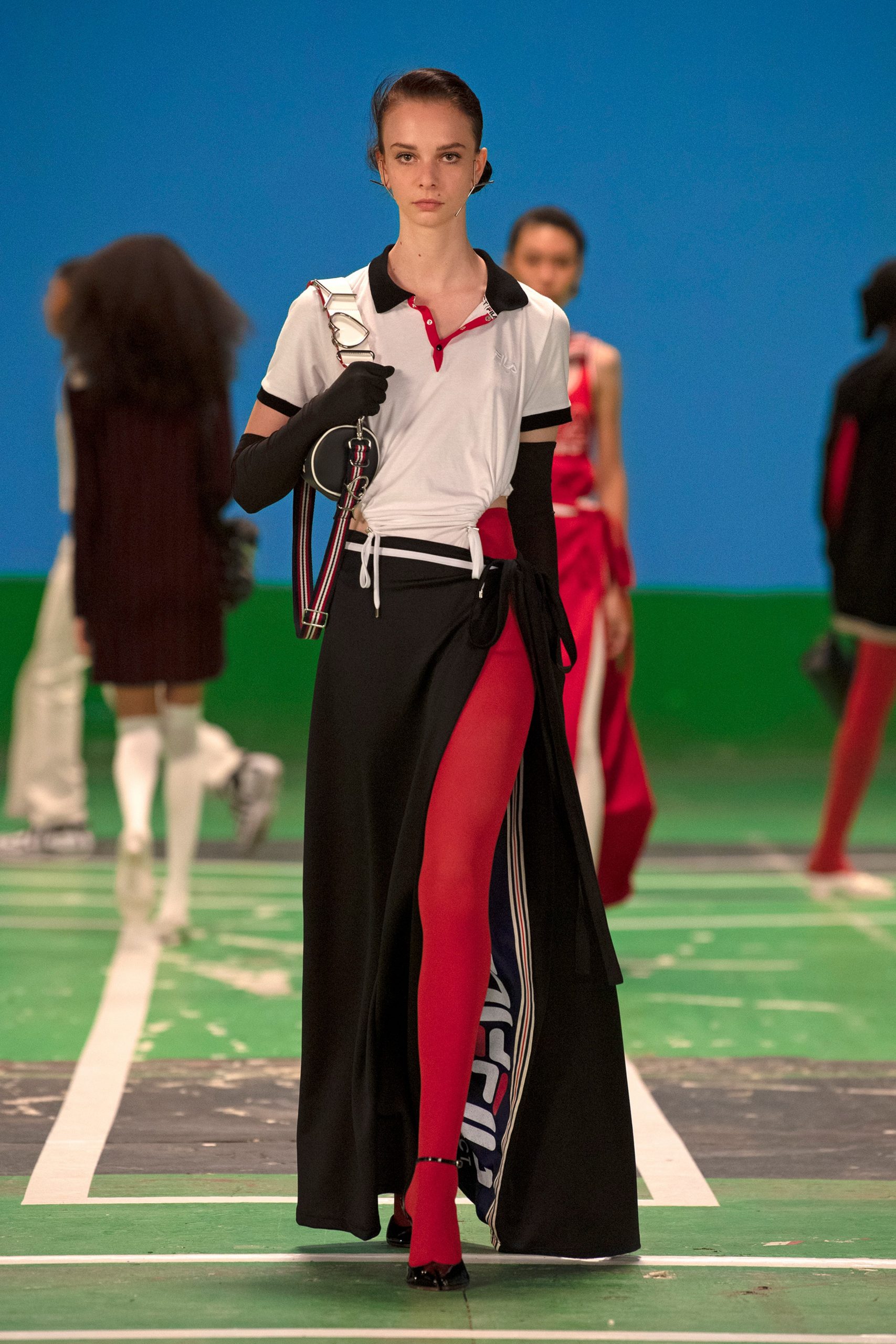 Y-Project x FILA
In a review of this collection, American Vogue writes a statement I find to be the perfect embodiment of my thoughts and feelings surrounding this collection, American Vogue writes, "Y/Project clothes are the Swiss Army knives of fashion, multifunctional, versatile, and highly handsome to look at – democratically experimental garments that allow the consumer to be just as creative as the producer." I find the statement to be the perfect embodiment of my thoughts and feelings surrounding this collection.
For this season's menswear outro, all eyes turned to Pitti Uomo – where the Kimberly-born designer, Thebe Magugu, would edge his name into the history books by presenting his first menswear collection, DOUBLETHINK, on the global fashion stage. Pitti Uomo Fashion Week had been absent for the past two seasons, so marking their return by inviting Magugu as the guest designer for the 100th anniversary of their international men's trade show reminds us of the South African designer's international prowess. This season, Magugu deep-dived into themes such as corruption and political greed in contemporary South Africa – drawing inspiration, and excerpts, from the book The Whistleblowers by Mandy Wiener. These excerpts were narrated by a few of Thebe's friends and creative collaborators, with the styling for the collection done by Chloe Welgemoed.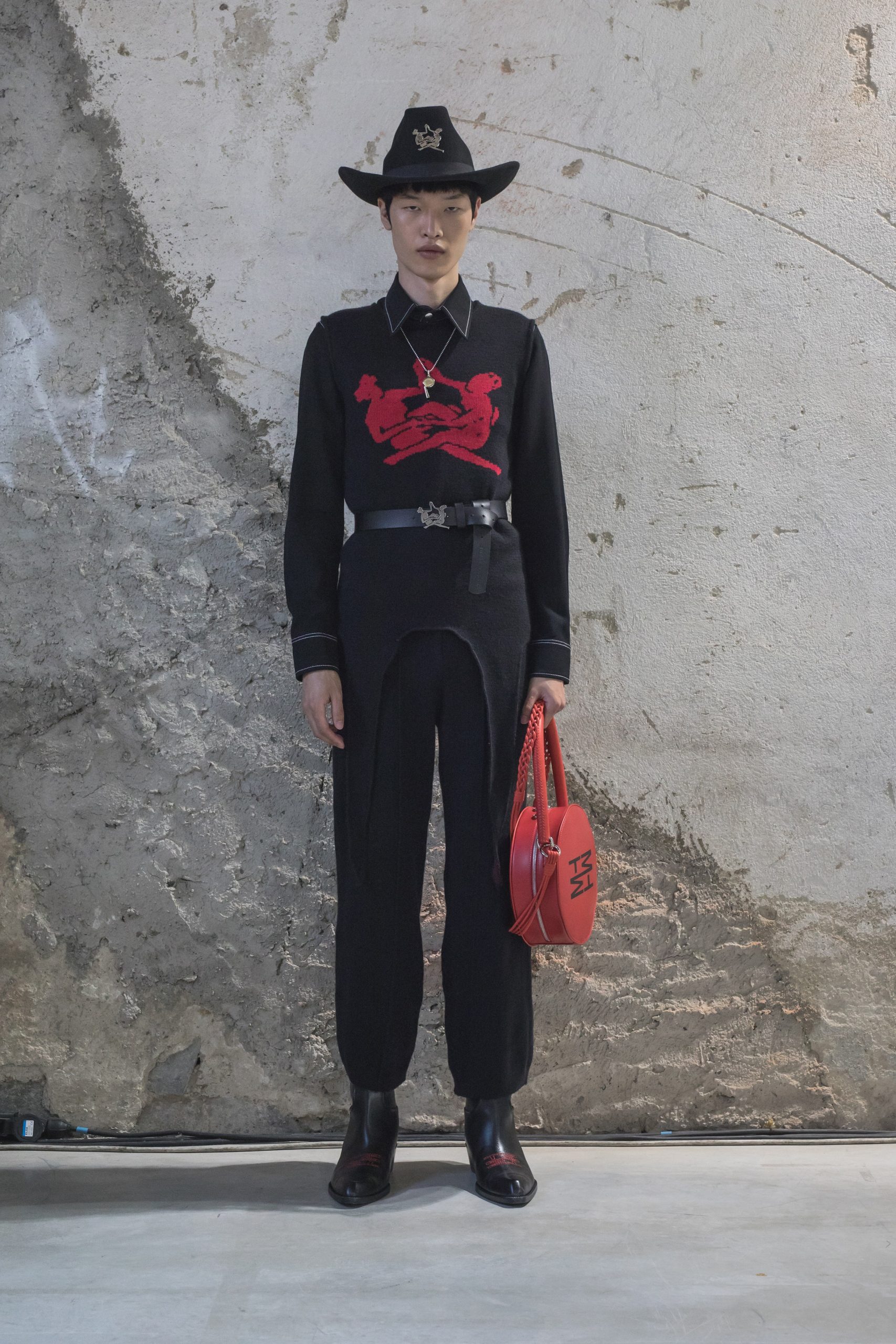 Thebe Magugu
Bashimane a bosigo, which is a Setswana translation for his collections Ultimate Midnite Cowboys wore cowboy themed Thebe Magugu attire – including staple items such as tailored two-piece suits, trench coats accessorised with colourful cowboy hats, ponchos, bags, belts and boots emblazoned with the official Thebe Magugu "Sisterhood emblem". With this collection, the devil really seems to be within the detail – with Magugu providing an interesting spin on the traditional western cowboy bandana print. The pattern is reworked to include the sisterhood emblem and to suit the colour pallet of the collection – another example of Magugu utilising familiar African motifs to re-interpret heritage westernised blueprints, opening up another dialogue surrounding the dichotomy which the contrast creates.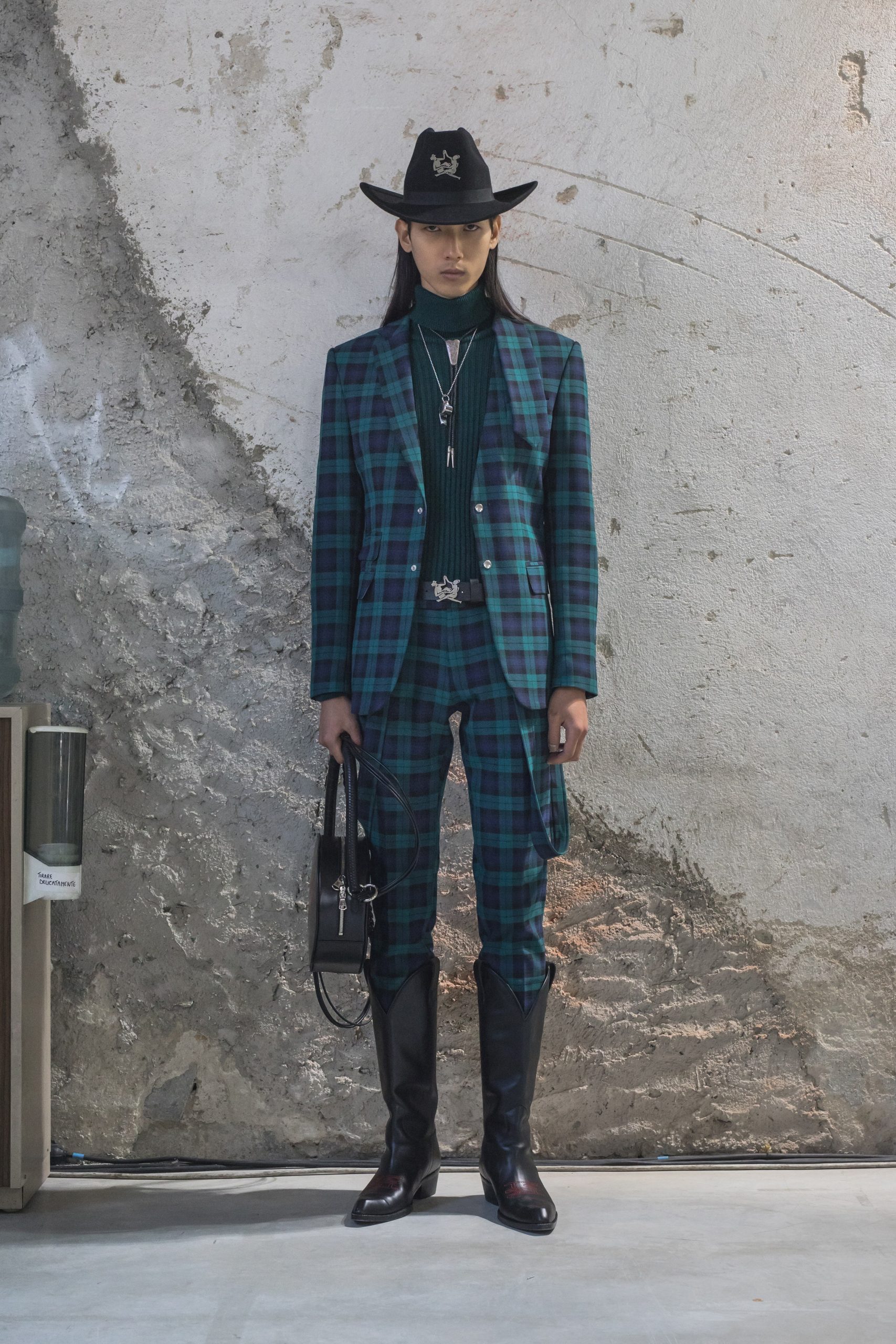 Thebe Magugu