Released in conjunction with Thebe Magugu's Autumn/Winter 2021 ready-to-wear collection, Alchemy, at Paris Fashion Week — Banyoloyi a Bosigo is a cowboy kung-fu telenovela. Described as "if Holy Mountain and Dikolong had a child", Magugu teamed up with frequent collaborator, Kristin-Lee Moolman, to bring us a love letter to the unique idiosyncrasies many South Africans grew up watching on television. Banyoloyi a Bosigo aesthetically fits so well into the martial arts and western movies showcasing almost ad nauseam on the SABC channels, as well as hitting the beats we're so accustomed to in iconic South African soapies such as Generations, Muvhango and Isidingo. The film plays on the enduring tropes of these multiple genres and the time periods from which they originate; jump-cut FX effects, fight scenes that are just dance battles in disguise, plot twist resurrections and of course — risking it all in the name of love. The film's story follows two lovers, Jade Fox and Lady Whirlwind, who are from rival gangs and who are outed to the leader of Jade Fox's gang, Big Boss Untouchable by fellow Jade Fox gang member Mouse.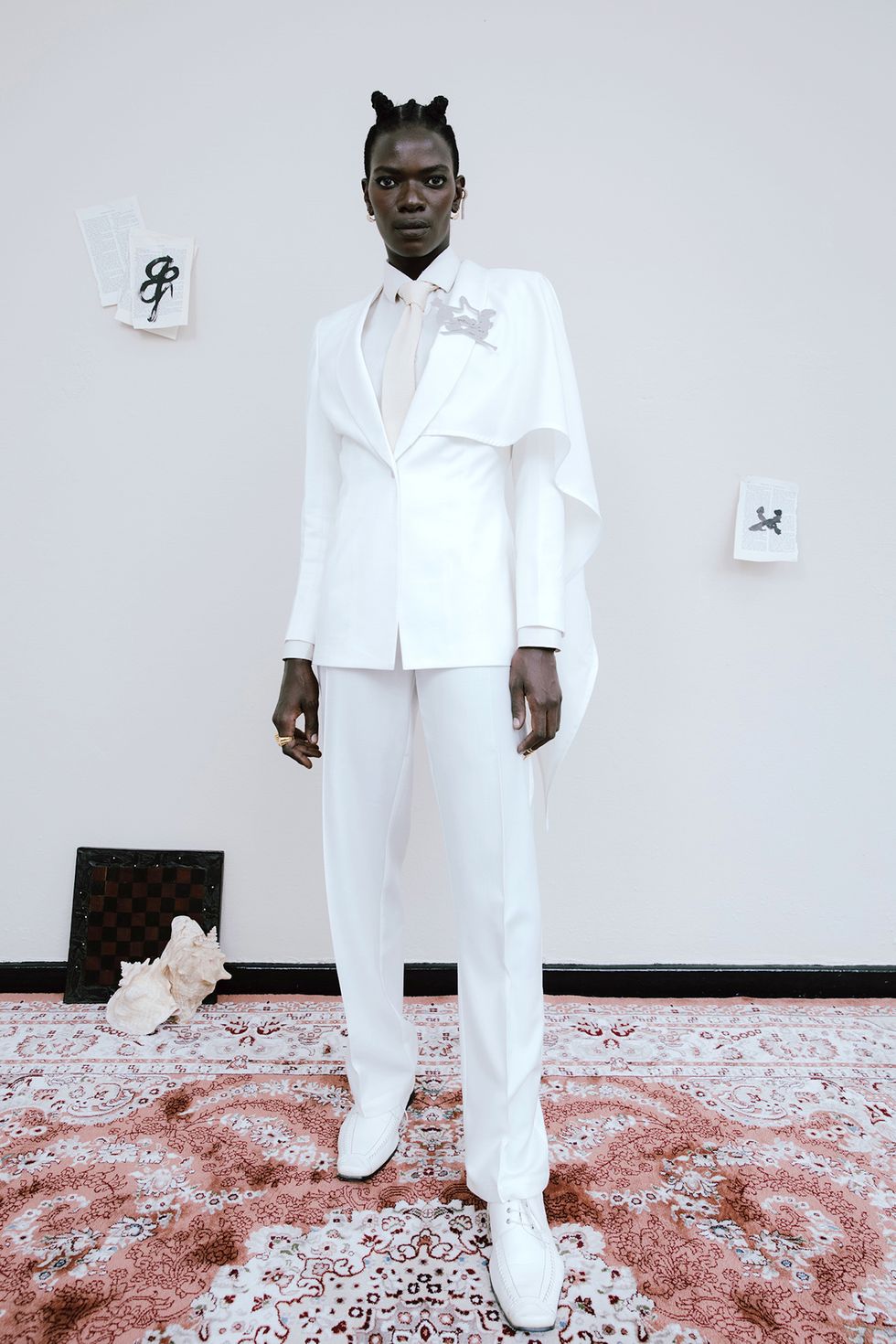 As a fashion film, it's a magnificent catalogue for Magugu's offering. Stylist and art director, Chloe Andrea did a great job providing each of the characters with distinct looks that spoke to their personalities even though they were all dressed from the same collection. The characters stomp through the mine dump background in an assortment of chunky black boots with a hat collection to put Erykah Badu's to shame and lanyard spring clips used as earrings. One of the highlights from the collection itself is a silky white suit worn by Big Boss Untouchable with a cape detail on the one sleeve, as Zama delivers a truly phenomenal performance invoking very best of Jack Mabaso. While parts of the short film are paint-by-numbers film tropes, the dialogue hints to deeper themes of femmeness and spirituality. "I was the fallen," Jade Fox tells her lover. "They took my wings, the silence was unbroken but there was still no stillness," to which the another character replies, "I stood alone in that limbo, machete in hand, eyes wide open.." There's almost a hymnal quality to the dialogue. This is further punctuated with the tonally dissonant intercuts of more conceptual tableaus which feature singular characters on Lynchian sets with bouncing light and shadow, such as the first scene which introduces us to the film's big bad Big Boss Untouchable.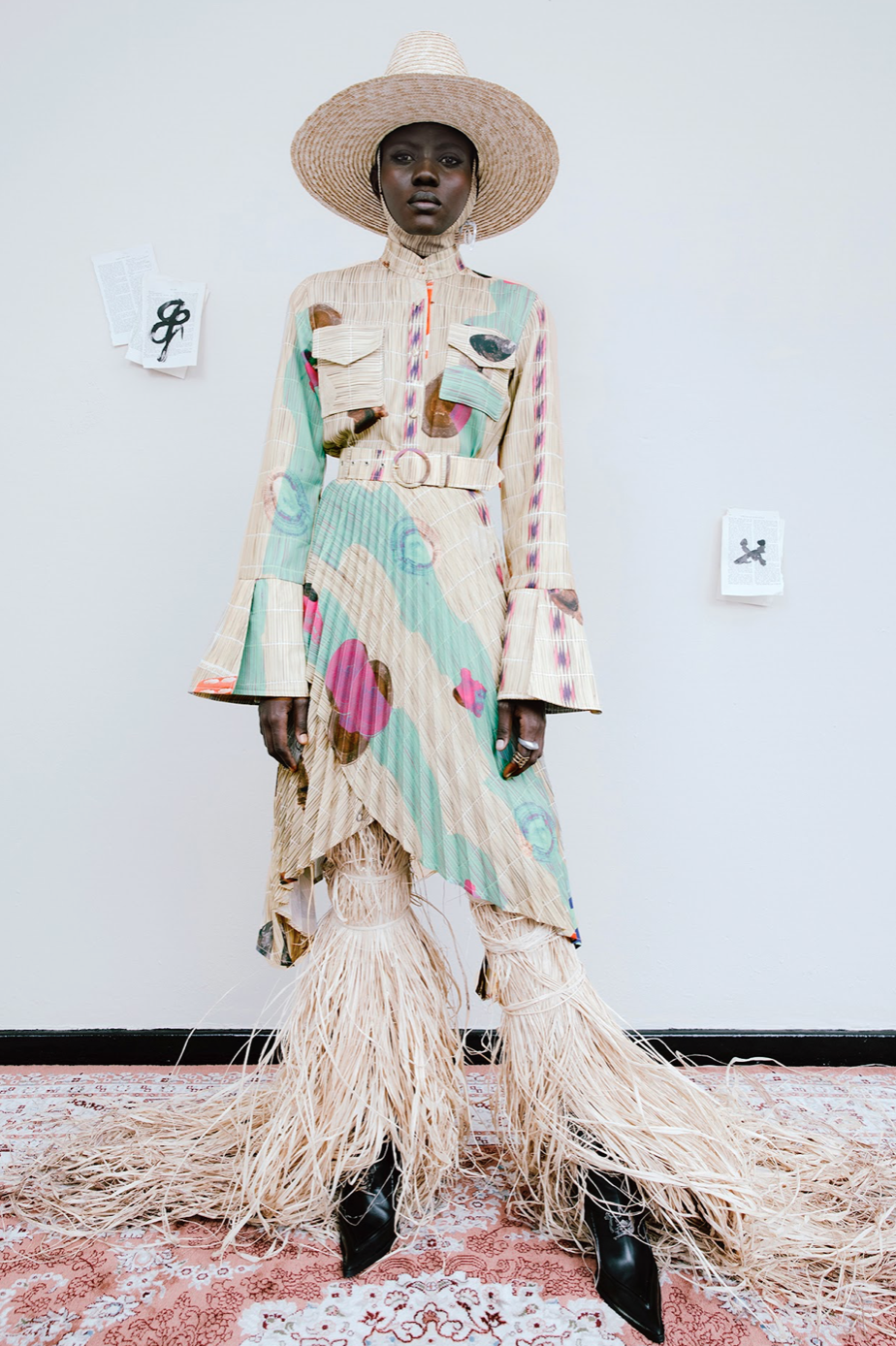 Concealed in a black shroud and lacy white veil, she sits in an empty orange room save for the Persian rug and white table clothed desk she writes letters from. It feels eerie in contrast to the cheesy 1970s film we've been watching so far. This speaks to the 'fever dream' Magugu mentions when discussing the influences for the A/W 2021 Alchemy collection; the true star of the film. "[It's] exactly what some of the traditional healers experience. They get a passing feeling, an inkling of someone they don't know touching them, and they're transported into this other world" they express in a Vogue interview. Not a stranger to the confrontations of our traumatic, layered pasts, our uncertain presents and cautiously hopefully futures — Magugu's previous fashion film dealt with Apartheid spies and the secret lives of dangerous women. Alchemy tackles themes of traditional African spirituality which Magugu sees more and more of his peers returning to. Stylist and healer, Noentle Khumalo's tools of divination were the basis for the prints in the clothing. This along with tie-dye that resembled cow hide, a suit with the visual tactility of a thatch roof — offering startling contrast against Magugu's contemporary silhouettes of fringe knit dresses layered under tie-strap bralettes, deconstructed dresses with asymmetric hemlines and one-sided pleating and long-line knits.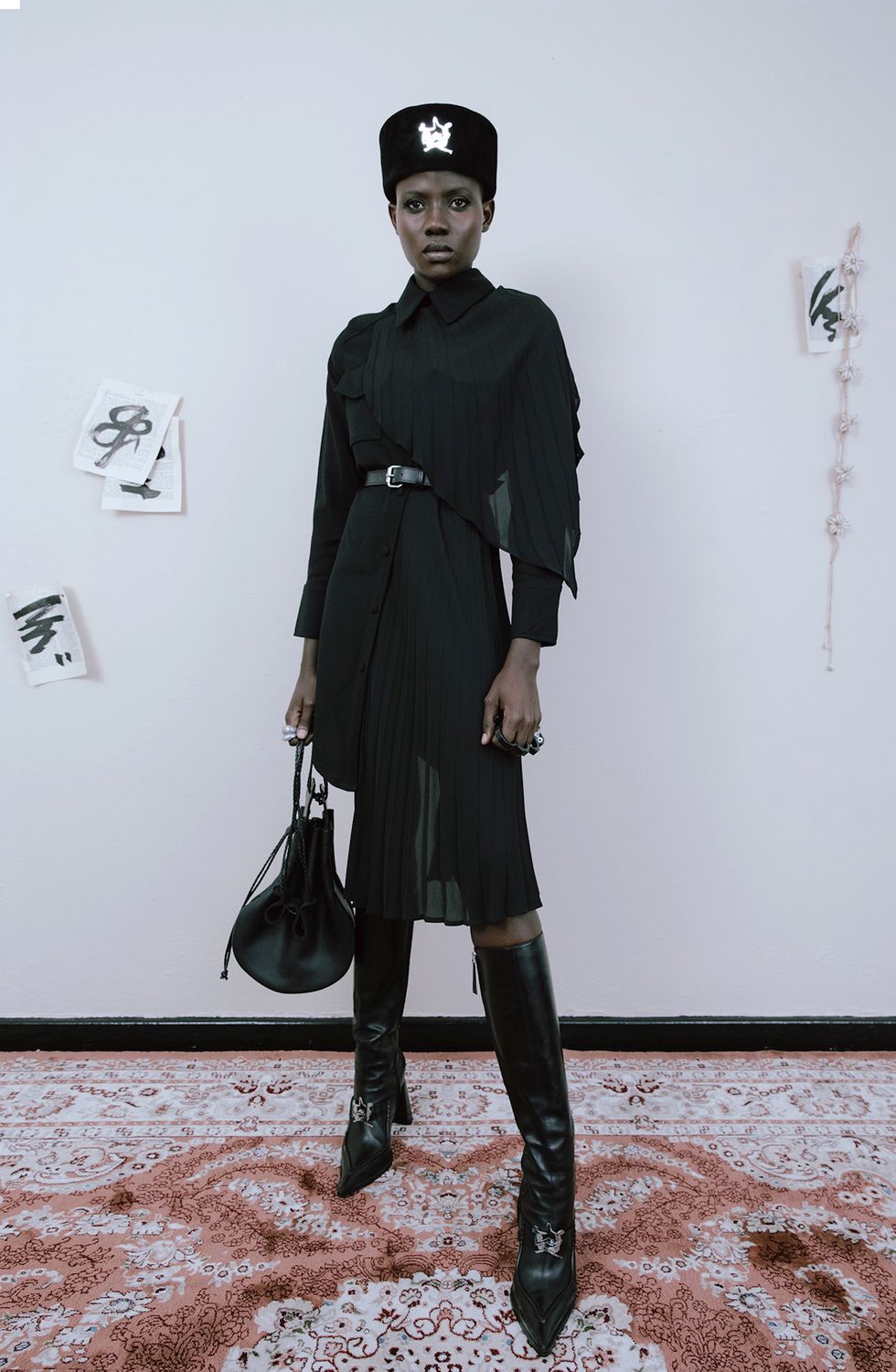 Magugu's work always feels very new and futuristic but the basis of it is always in reference to the past. For their previous collection, Magugu presented, Counter Intelligence, wherein they interviewed confessed, tried and detained femme spies who worked either for and/or against the Apartheid regime. That collection also made use of interesting references for the prints such as corrugated iron roofs, scanned fingerprints and old photographs. Magugu has proven himself to be the king of reference, though his work doesn't start and stop at paying homage and history lessons. It speaks to a uniquely South African spirit rooted in queerness, Blackness and othered-ness where the only way to move forward is to take the past with you.