Turning to unusual references as an exploration for design is Beate's signature, and I find myself enamoured by her exaggerated approach to aestheticism; the use of brilliant pastel colour palettes – and the way her work communicates an innocent, yet daring spirit. The work reminds me of the endless possibilities of mind and heart that our young generation holds, elements which I believe form part of the key to breaking boundaries and to disrupting what fashion has spent decades fashioning, where consciously or not, caricatures of the perfect womxn. With Beate, perfection is playful – it is moving and so deeply unique, that I hope this article serves as a short ode to the magic of her visual abilities as a multi-disciplinary artist and designer. Having graduated from Parson's School of Design in New York, and Central Saint Martins in London—I am evermore intrigued as to how a Scandinavian designer like herself broke out beyond the Scandi Minimalism that I know of with my own Swedish heritage – and to be frank, I haven't seen anything quite as interesting as Beate's work since the conception of Acne Studios by Jonny Johansson. In Swedish fashion design culture it is quite rare to showcase an extremely determined stylistic narrative, often it's about building on our heritage of straight lines and finished cuts.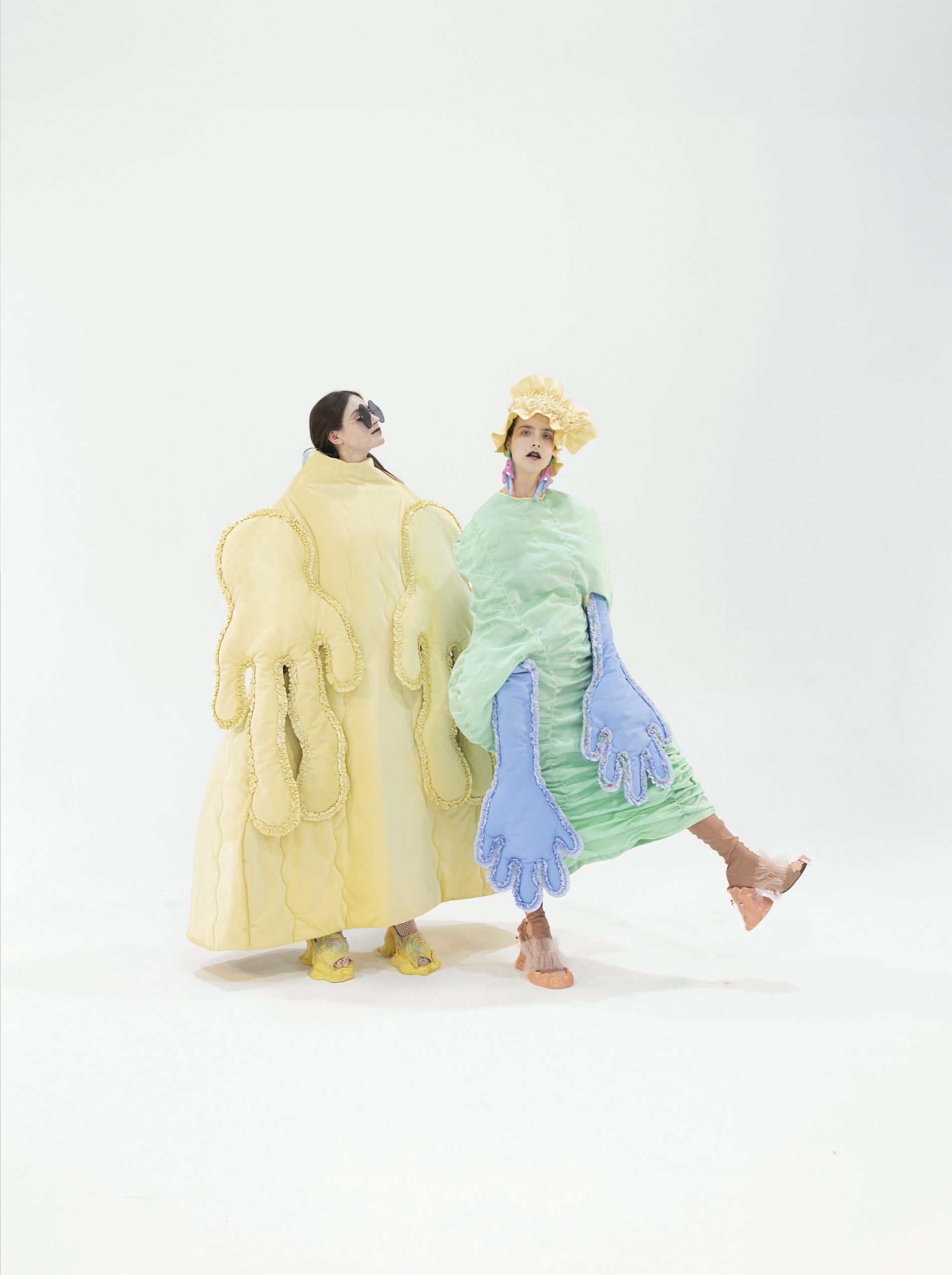 However, one couldn't miss Beate's thematic and cohesive approach to 'objet d'art. She plays with form and personality as if to create a fairy tale, animated reality entirely of her own vision. Not only do her garment construction skills and use of textured fabric garner great respect but it is her use of silicone to create overtly sized shoes, feet, earrings and even a replica of Kim K's butt – that perhaps best showcases Beate's creative mind as a place in which viewing the world is up for debate. Our agreed upon reality in terms of design principles and concepts is questioned; who is to say that giant feet aren't totally chic? Fashion IS meant to be fun and Beate's work reminds me of this. Design with a sense of humour is perhaps more precious than I realise and in taking inventory of my own relationship with "design" through Beate's work; I laugh a little because this is exactly what it's meant to be. Art is supposed to elicit a change in our thinking. It is supposed to communicate all the shades of life, from the morbid and anecdotal, to the fantastical and whimsical. One has to dare — with total abandon to follow the images of one's essence and Beate does just that.
I had the honour of having a conversation with Beate – and had a glimpse at her latest collection, which we are extremely proud to feature.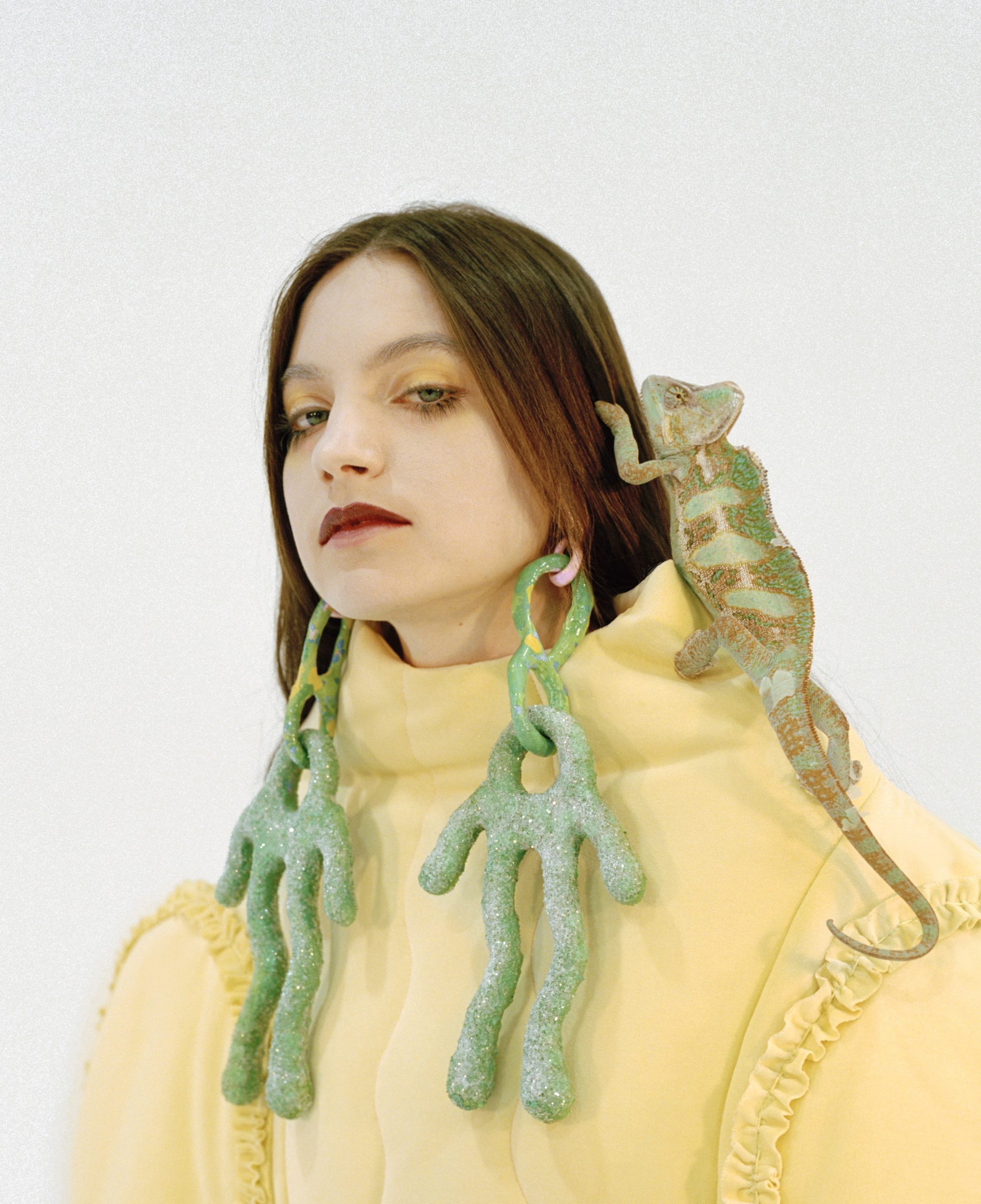 Thank you for taking the time to chat! I grew up trying to disrupt the minimalistic programming I had around design, but as I get older I find it really interesting how a straight cut, or monochromatic colour palette is somehow comforting, in terms of being Swedish. How did your unique approach to design develop, as I know you are deeply influenced by your childhood?
Of course, I'm happy to get the chance to show my work to your audience! I think I've been in a sort of merry go around of trial and error for the past eight, nine years. Or since I started thinking seriously about being a designer. I've gone into different phases where every segment has given me a clue of what I like and dislike and has lead me to discover the likes in the "upcoming" phase. Today I'm at a point where I've doubted the fashion industry many times over and I've ended up in a place where I feel I'm more truthful to the process, where I only explore the things that I'm interested in. I'm definitely influenced by my childhood in the sense that I tend to get excited about the same things I got excited about as a kid. creative process is an experimentation of trying to liberate myself from the recognised, to hopefully end up in a hyperbolic form of truth. Consequently, I try to always attain the idea of surprise in my work. I think everything that moves us away from what we know is a type of social and intellectual contribution since it has the ability to inspire others to—in their turn—develop new thoughts. 
Where did you begin using silicone as a medium as it's such an unusual material to draw on in terms of fashion?
A few years ago when I was in Stockholm, I had an idea for a couple of shoes (The Fat Baby Shoes) that I knew would be too difficult to produce in functional materials. At this point I had also just met a friend of mine who is a silicone artist. He had a studio in Stockholm, so I thought silicone could be a cool medium for bringing the shoes to fruition and since then it's become a favoured material to work in. I mean, it's extremely heavy, so it's definitely not wearable. But I've always loved sculpting in clay and it's particularly durable, which I also love. I don't like working in fragile and delicate material.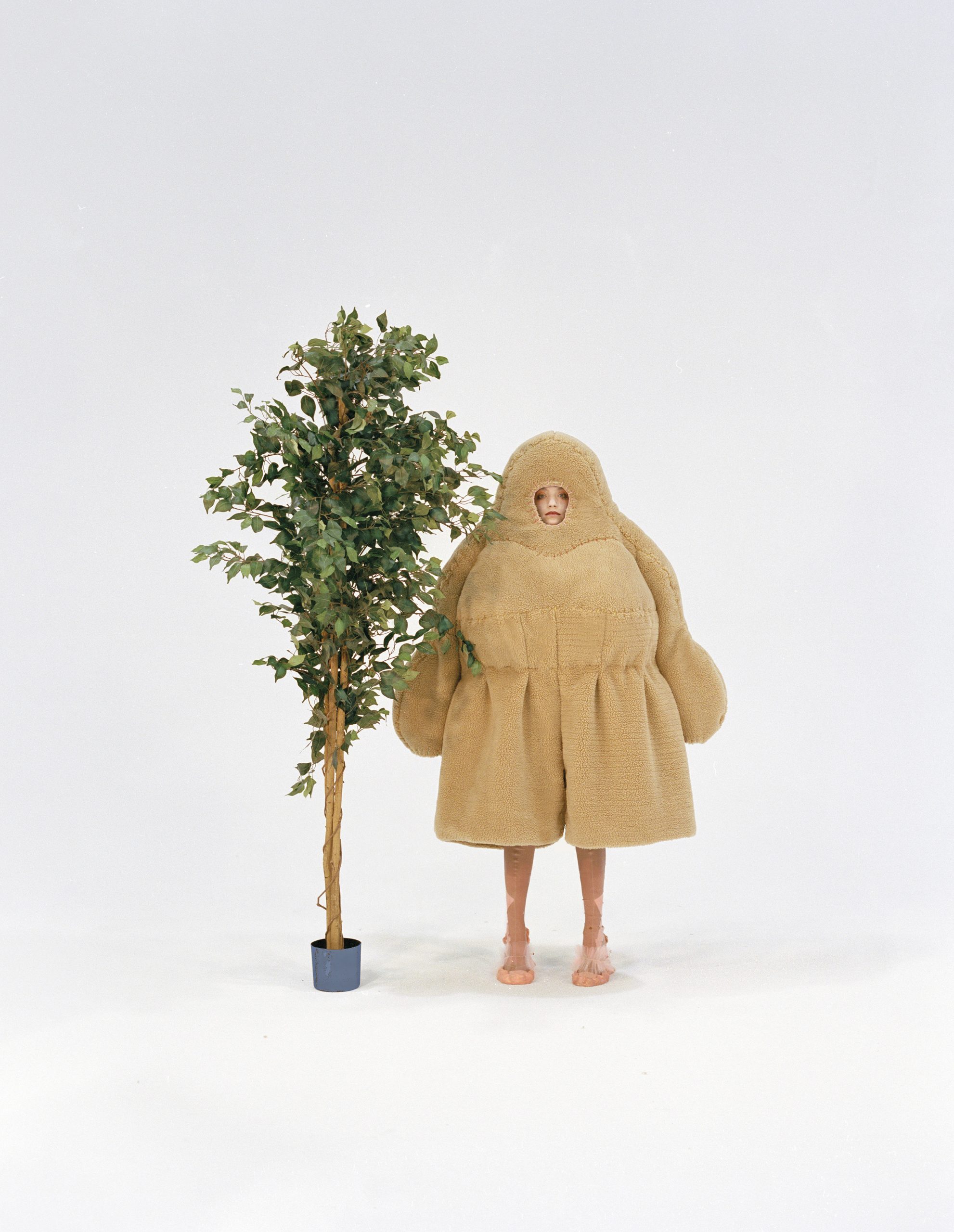 I loved your collection on "Babies"; in which you imagined a world of design from the perspective of a baby. How did this idea come about?
Thank you! With this collection, called Babies Will Be Babies, I tried to cherish the concept of being a child – a time where we get to experience everything for the first time. I was inspired by the idea of "learning tools" for children. In the same way that we develop our minds when we're a little, I believe we can encounter otherness as grownups and move further away from narrow mindedness. I feel that it opens up our minds and keeps creativity alive.  The background, however, for the collection is a little more rational. When I started studying the fashion industry I swiftly noticed that it had become quite an illiberal industry. it's an interesting point in time where fashion houses are working more fast pace than ever before, persistently repeating things we've already seen. The fact that the industry has become exceptionally forced by seasonal norms and adaption to business strategies I believe has fostered the tightened space for real creativity and innovation. I could babble on for hours about this subject, but to put it simply, the collection was a paradoxical response to the present circumstances of the fashion industry. I felt that approaching otherness in the contemporary fashion landscape was an effective vehicle to comment on some of the most pressing errors of the industry, while still being just about fruition of innovation. 
I feel like you are creating worlds with your work. It's really not about just the garments but about building an entire narrative, was this attention to detail and commitment to your craft forged at Parsons?
 There's definitely a universe for which I imagine my pieces "living" in. I think it's a place that has matured for the past few years and that is heavily inspired by my love for clay. I love claymation and sculpting in clay and consider it to be the most redeeming medium for a designer to work in, essentially because there are no limitations for shapes and silhouettes. I'm a little cautious about speaking too much about the two schools that I've studied at cause I think there's definitely a dream about both of them being the best place to be in if you want to be a designer. I don't want to promote the schools too much for a couple of reasons. One of them being that I'm not sure how much positive influence they've actually had on my work, the other one being that they are expensive as hell. I had a few amazing professors who undoubtedly helped me cultivate as a designer. Still, I think that the decisive thing that school—any school does—is giving you time to focus and explore a "nerdy" passion.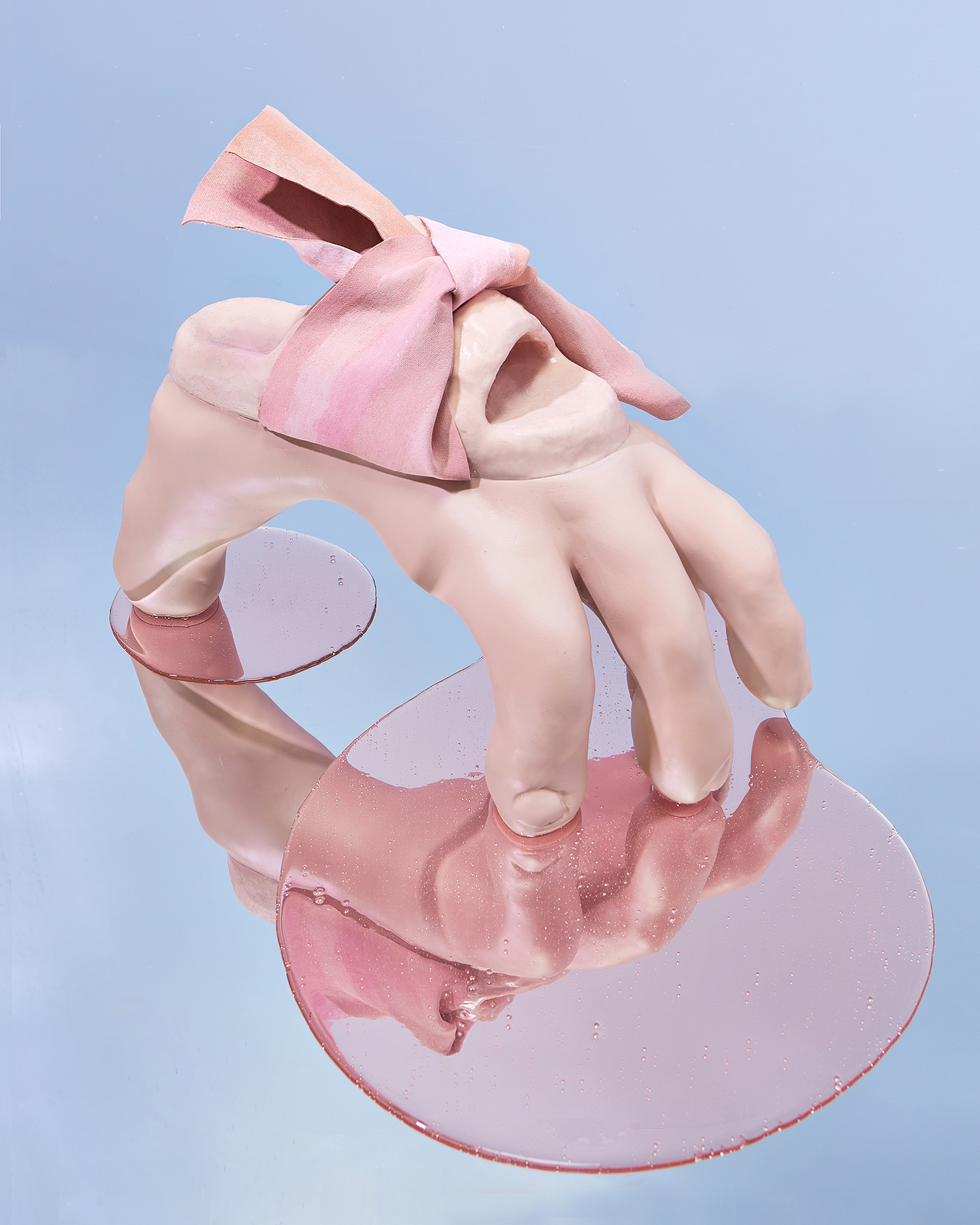 Could you provide a short look into the next world / collection you are creating?
Yes! I actually just started a collaborative project with one of my favourite New York based brands, though I can't say much about that at this point. But next to this, I'm working on my first solo show that will, hopefully, happen this fall in New York. The project is called Extreme Products and will exist of an assembly of "flashy" shoes, accessories, interior design pieces, etcetera.
Lastly, the colours of your work as so joyful, and I love your sense of humour with design, are there any artists or designers who inspire this approach in you?
Ahhh thank you, that's very kind. And yes definitely! I'm inspired by Nathalie Djurberg who makes bizarre claymation art, by Hayao Miyazaki's animated films. I'm inspired by the originator Otmar Gutmann of Pingu, and Barbapapa by Annette Tison and Talus Taylor is one of my favourite references by Mikio Sakabe who is a Japanese fashion designer who makes sick sneakers. The list goes on but these are the ones I'm thinking of right now!