There's a place in my heart the shape of Johannesburg, pink-purple-sunset-soaked and asphalt scented. Johannesburg, my city, shall I compare thee to a hustler's slick smile or whistling tune? Unlike most of the world's cities, Johannesburg's origin story is an anomaly. Born of gold and a desire for more, the city's H/history still courses through its contemporary bloodlines — we can't always shake off our past. You don't stand a chance by 11Eleven is one of those works that masterfully taps into the sonic and lyrical magic of storytelling, a song I would place in a literary/poetic tradition of writing the city much like Lesego Rampolokeng & The Kalahari Surfers' Johannesburg. The song released with a music video/short film directed by Dick d'vLz Reubïn "aimed at showcasing a glimpse into the Johannesburg that moulded them". Every now and then there comes a gust of exciting talent with the wind, talent that pushes through to the forefront of our consciousness, demanding that our attention pay attention. 11Eleven are such a collective — forging their way up from the dredges of Johannesburg, this group of multifaceted artists have prided themselves on using art as catharsis in dealing with the challenges facing them in their journey to be heard. In a fortuitous turn of events, the group encountered up and coming director Dick d'vLz Reubïn and asked him to listen to their track You Don't Stand a Chance, and with that started their collaborative journey in making its music video/short film. Sharing more about the thought behind their name, collective members Soweto born MC and DJ Marko Morachin, KwaZulu Natal born sentimental rapper Swiss Lu and Soweto born artist and producer Fred K share: 
The 11Eleven name derives from us being from the 011— Joburg's dial code — and thinking of [ourselves] as a 711 bus stop into and out of Joburg. We are a group of friends that came together through our experiences in and of Johannesburg CBD. We found that the most positive way to reflect and express the hardships we have encountered in Joburg CBD is through making music and art together. 
Although faced with constrictive budget challenges from the beginning of the process — with the creative team having very little financial resources to put into the project — what is materialised in You Don't Stand a Chance's music videos/short films is a textured, evocative, considerably crafted and beautifully shot 8:48 seconds of visual meets lyrical storytelling. What follows below is my interview with director Dick d'vLz Reubïn, diving a little deeper into the making of the music video/short film.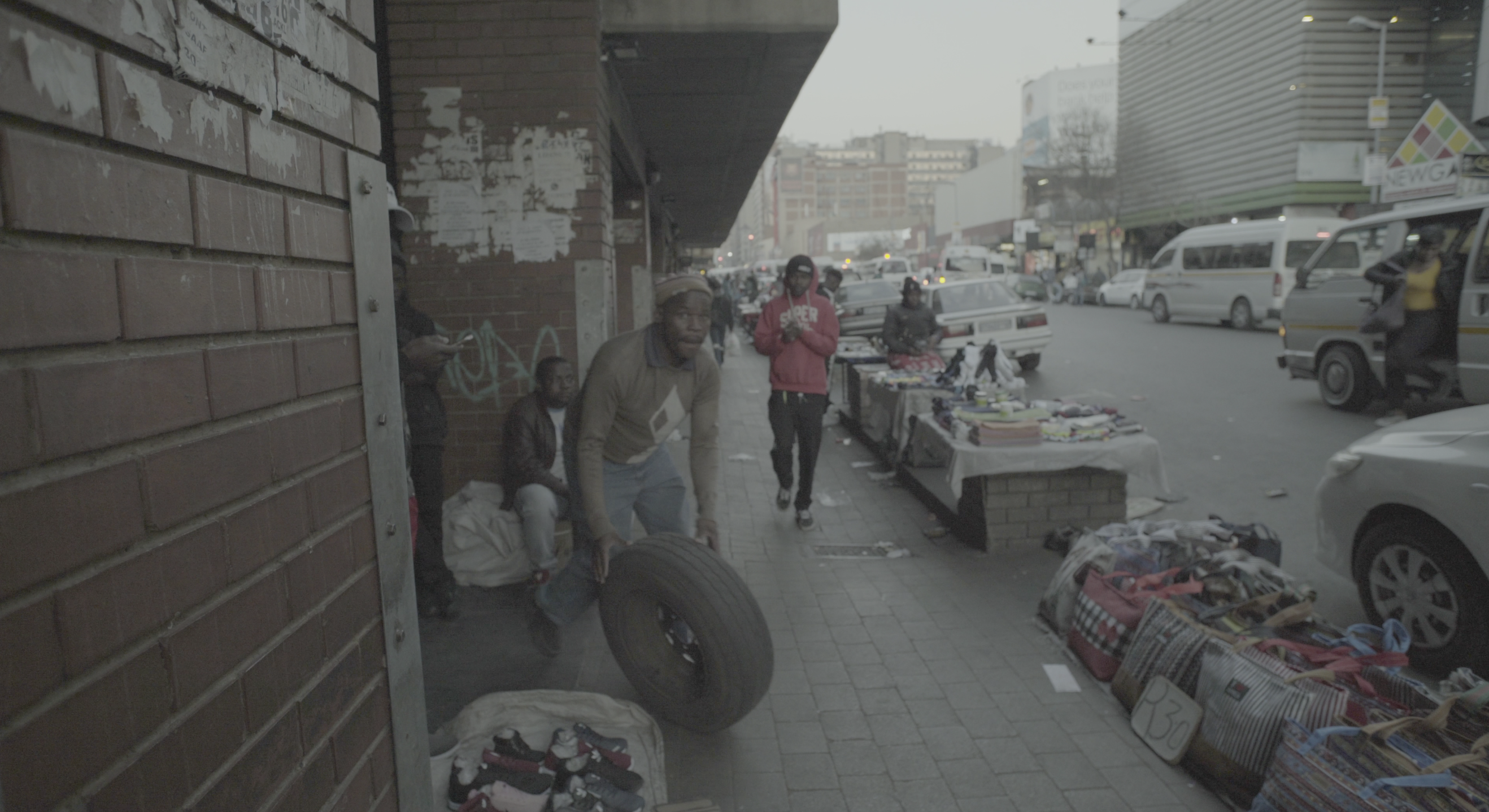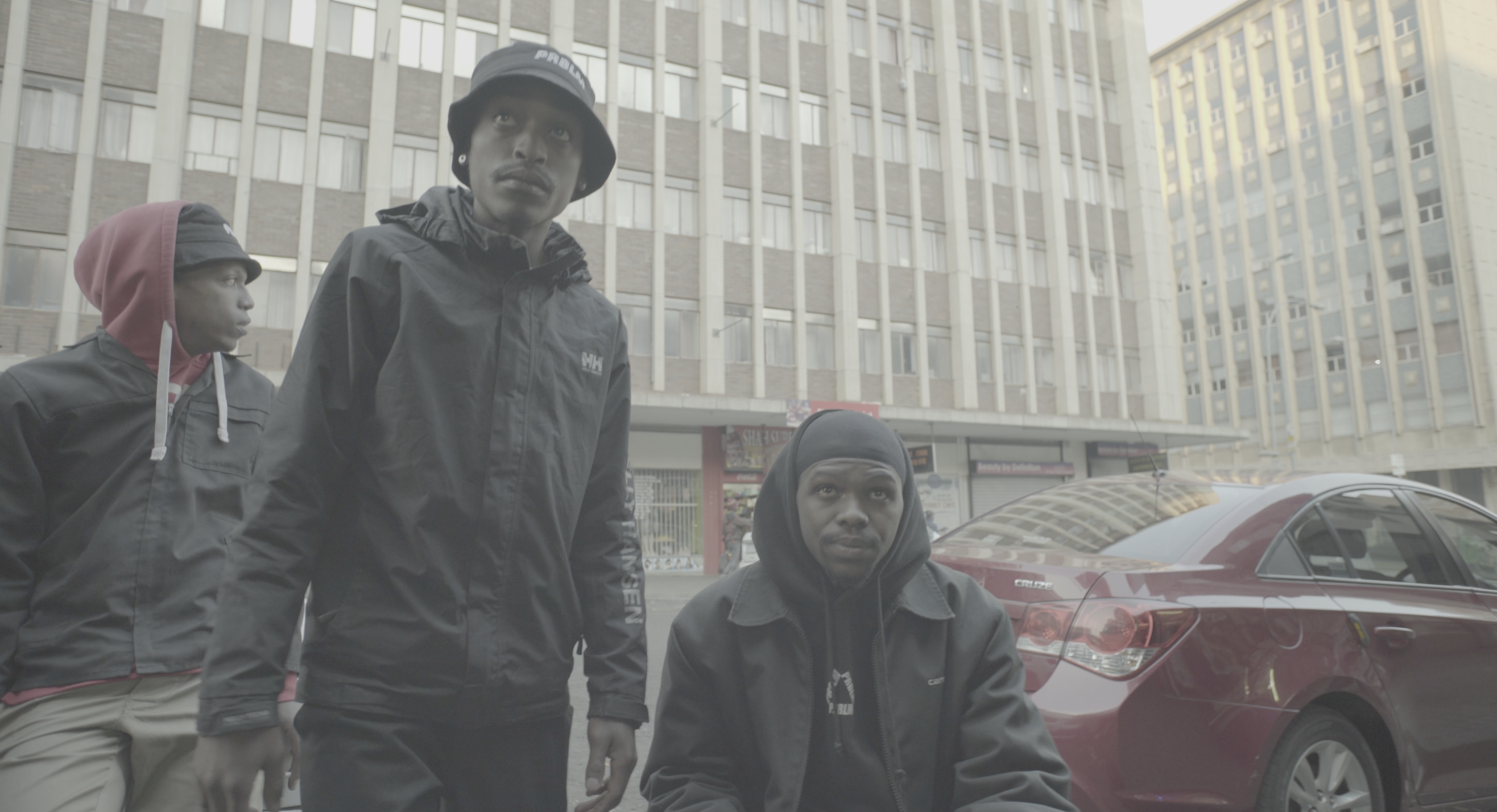 The music video for You Don't Stand a Chance, transcends being just a music video in our traditional understanding of that form. It's also kind of like a short film in form — I heard you guys initially put it together with little to no money. Can you tell me how it all came together and how you managed to pull off what we see now when we watch the video?
Dick d'vLz Reubïn: I think from the beginning my mission was to traverse a different landscape with the visual of this music video, which is my second music video so far. One of the main things I really wanted — from when I started conceptualising the story — was to use their [11Eleven's] performance shots to drive my story forward. I think I achieved this more in Fred's verse, the first verse. I used a lot of their raps to sort of like narrate my script and dictate what we captured, I also tried to add some comedic effect with the taxi driver that "shaya's them ka stinna" which also draws attention to one of the major issues facing our youth. From the first time I heard the song I knew that the visuals and pace of the video should contrast the laid-back feel of their immaculate "flows". So shooting it in the city, in the grimy grimes of Jozi was a no brainer. I met Marco from the group 11Eleven, on the set of my first music video which we shot at the drill hall in town next to Noord Taxi Rank. It's used for different sports activities by surrounding schools and inner-city dwellers mostly use it to skate. In fact, Some of the guys featured in the video as part of the "gang gang" actually live there. A textured community that I deeply yearned to document. 
When Marco finally sent me the You Don't Stand a Chance track, I got really excited. Not only was the track dope, but here was my opportunity to tell an authentic story about everyday inner Jozi city experiences with artists, who are from there and who actually represent that concrete lifestyle and are not putting it on for the wave. I played the track for all the guys that I normally collaborate with once I had written the script, and we went about knocking on doors and asking for what we hoped to receive lol! I pulled in a lot of favours to achieve this. I stand on the shoulders of selfless love-filled giants. We shot the video over a year, shooting mostly on weekends. It was a wild ride; we even made some crew members wear neon vests and pretend to be security guards while we shoot in the depths of town. Nothing happened to us though people [were] more friendly and welcoming than what our fears had falsely anticipated. The editing process was also long, it was actually the most frustrating part of the journey for me. I think I let it chill for like 8 months.  Until a prevailing common sense ushered in by the guilt of starting a project and not seeing through, got me off my laurels and fuelled me through the last push and voila!!
From its inception — the way the video is shot and unfolds — it feels like you're either watching a mumblecore movie or perhaps a short doccie set in Joburg CBD following the lives of particular characters/people (even the scene with the taxi driver and schoolgirl) these are moments/happenings of the everyday. Where did you draw creative inspiration from when you were conceptualising the video?
Dick d'vLz Reubïn: Well, I used to walk the inner city streets every day when I was at school and when I started the hustle, catching taxis was one of the best things for me 'cause that's how I discovered Jozi. My intro into the concrete jungle was honking horn'd Mageza's, risking our lives at high speeds chasing down red robots. Added to that, the fact that the boys lived in the inner city — I wanted to document where they were at, what they did in their chilled time or even on the hustle. The crazy intricacies of their everyday life, simple but real and very effective. I think the doccie style effect breaks down any perceived barriers of us and them, it draws you in and makes you feel as if you are right there with them on this crazy sometimes trippy ride. The scene with the taxi driver reflects so many of our realities. And I guess sometimes because we are so used to something that's not cool happening all around us, we tend to get numb to the uncomfortable energies. So, I wanted to draw our attention to that and hopefully shed some light.
The song and video are very much of Johannesburg, from the actual visual content populating the moving canvas that is the video itself to the integrated soundscapes of and from the city — dizzying, frantic, corrosive and funny — and even just the song's lyrical content from the opening lines "you don't stand a chance, I'm from a city where people don't have welcome mats and knowing each other is short-lived due to social facts." What has your own relationship with and experience of Johannesburg been and how (if at all) did it influence the video?
Dick d'vLz Reubïn: Shout out on the quote, that's the line that hooked me to the track hey…. I was like who is this? What is this? And it gets better and better as the track went on! I really had no choice but to create visuals for it, I connected to the soul of the track instantly.  "I have nothing but love for Jozi, I got nothing but love for you bay-bay". I spent two awesome years of my childhood in Hillbrow Berea with my family and only moved back here for school when I was 19. The streets of Jozi raised me from the Noord taxi rank through to Bree taxi rank — walking past the new Universal Church that used to be something different serving multiple purposes to the city dwellers. I think Jozi forces one to confront your truth and you choose who you become after that breaking point you know? It's not an easy place, but it's the best of places really! 
My walks through the Jozi inner-city streets and the different experiences I've had through its unique textures influence the visual style of this video a lot. I've seen Sex Workers and loyal customers in dark and dingy alleys performing satisfactory transactions.
What was the most unexpected thing you experienced or had to work through while conceptualising or making the music video?
Dick d'vLz Reubïn: Oh hell! you know on one of the 4 weekends of this stretched out production, I had borrowed a camera from one of my good friends and unfortunately for me, it so happened that on [that] Saturday he had booked a job and needed his gear back. I had to improvise a young solution there. I reached out to Layla — who I had met in Durban at the film festival where we had a conversation about scripts I was writing and this video was mentioned. 
So, on the Saturday after looking for a camera and not being able to find it anywhere, I worked up the courage to ask her if she could "dala" a brother and the rest is history. But really it was the beginning of great things to come. This set was really filled with countless moments of Divine intervention and saving graces, which were constant reminders that we were on the right path. For that, I am forever grateful.