With a history that traces back to 1800s colonial Ghana, the Winneba Fancy Dress festival – also known as Kaakaamotobi or Winneba's Christmas – is a vibrant and sharp display of cross-cultural integration and post-colonial reinvention.
I first learnt of the masquerade after getting lost on the internet and finding myself on the website/digital portfolio of photojournalist and visual storyteller – Nipah Dennis – with whom I have since had the pleasure of interviewing.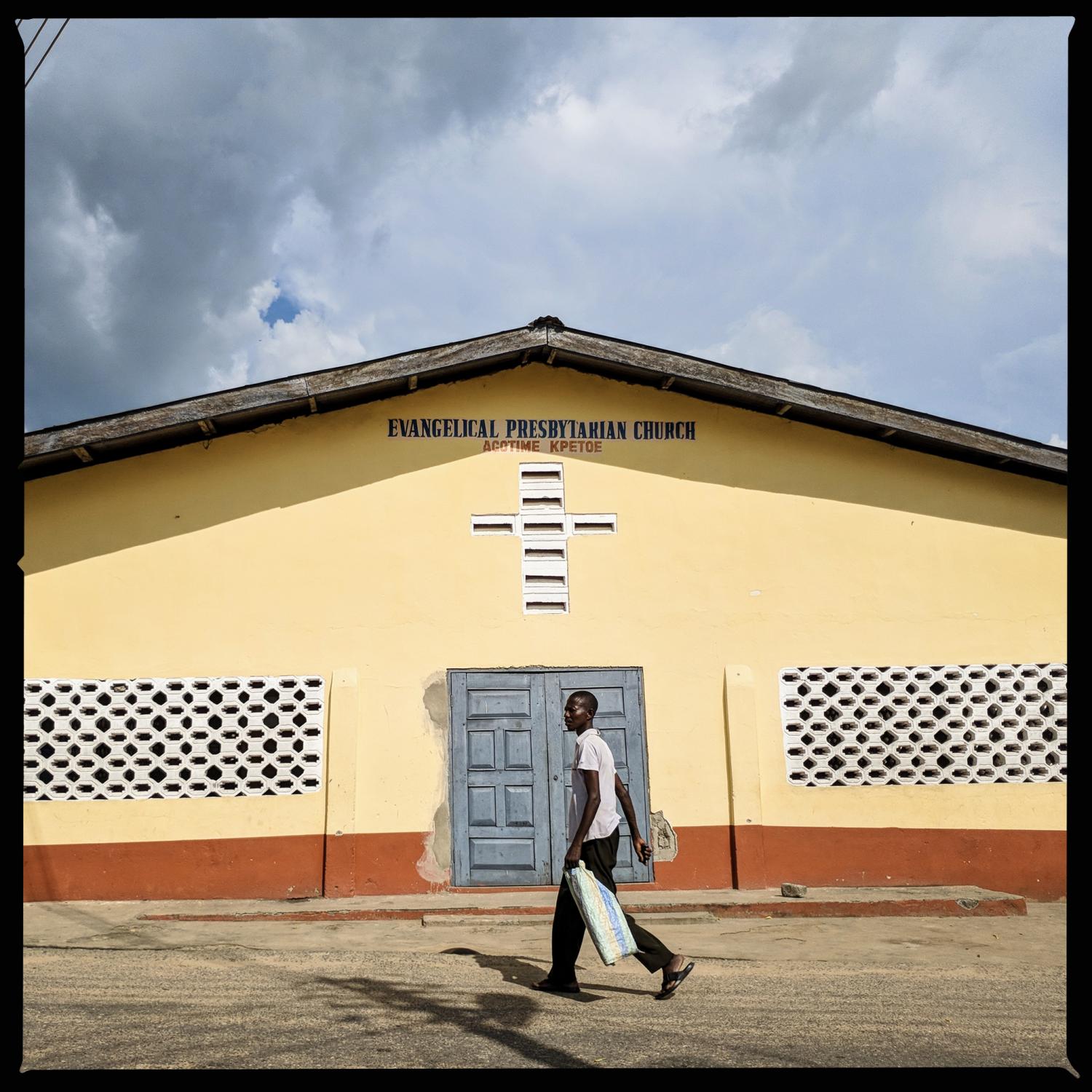 The images I found on the site were quiet and striking, with a richness and vibrance embedded within the subjects that consumed me with curiosity.
Who were these characters, and where are they off to? Dennis seemed to have shared the same curiosity for these people and their practice, explaining that:
I had heard about the festival but never went to see it until my best friend moved to the town for work. I visited him sometimes and the people talked about it. The youth's involvement and seeing mothers investing their time and money to make costumes for their young children was an interesting thing to see. My curiosity grew from there.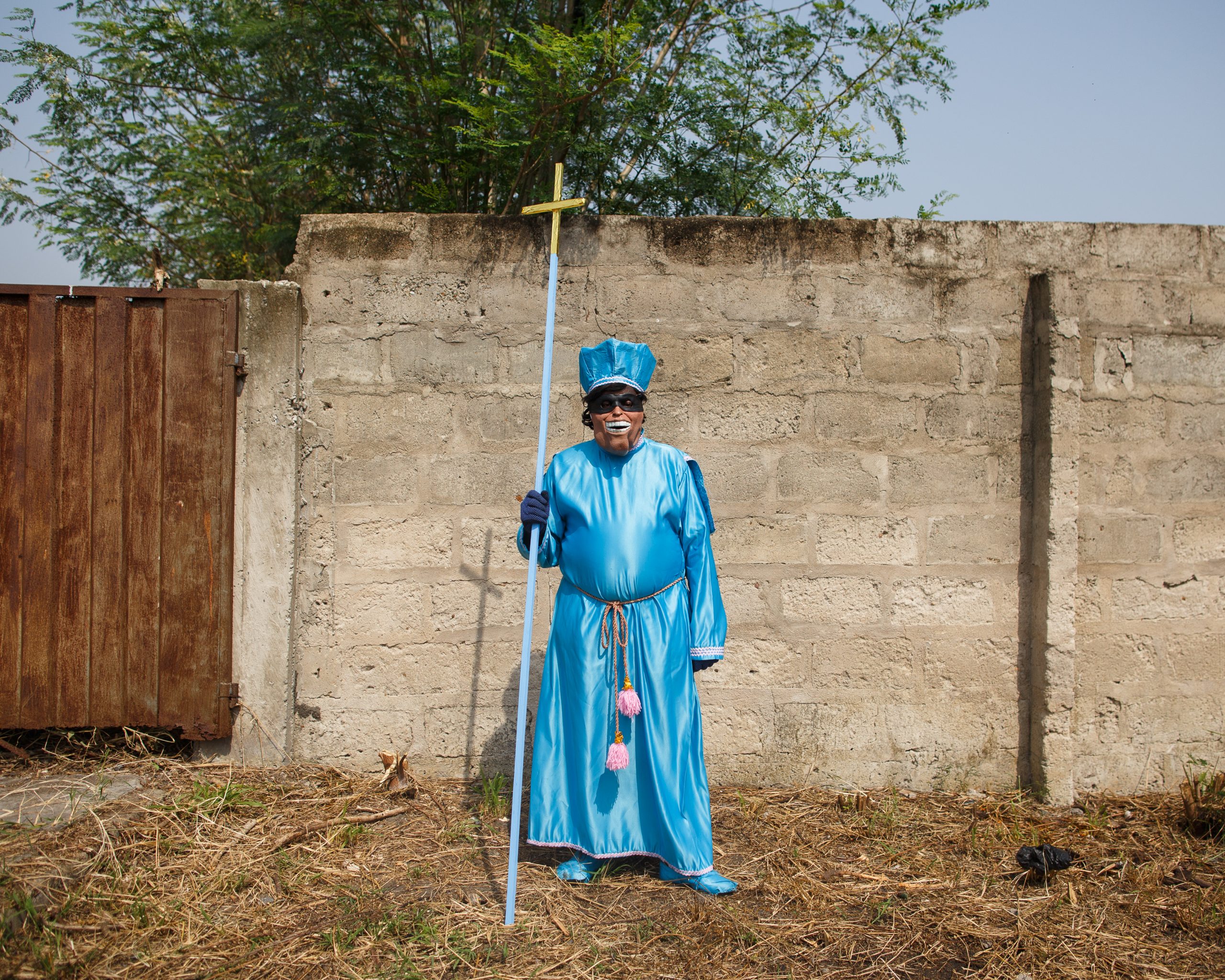 During the 19th century, Dutch and British traders who visited Ghana – then a colony known as the Gold Coast – set up a port in Simpa – present day Winneba. When the settlers' Christmas and New Years rolled around, the colonial traders imported their traditions into the area, celebrating the period by wearing assorted masks, drinking foreign alcohols and dancing in whites-only bars.
Seeing this tradition, Egyanka "Janka" Abraham, a local of a nearby town – Saltpond – and bar attendant to one of the white-owned pubs, became interested in the custom and wondered what it would be like to open the festival up to Ghanaians. Abraham felt that the Ghanaian interpretations of the practice would make for a bright and flamboyant affair that all could partake in and enjoy.
Abraham worked together with his friend and local pharmacist, an A. K, Yamoah, to form a group – Nobles – which worked to merge the colonisers' traditions with their local customs. The result was the Winneba Fancy Dress festival/Kaakaamotobi, a stimulating and vivid annual celebration that still carries on today.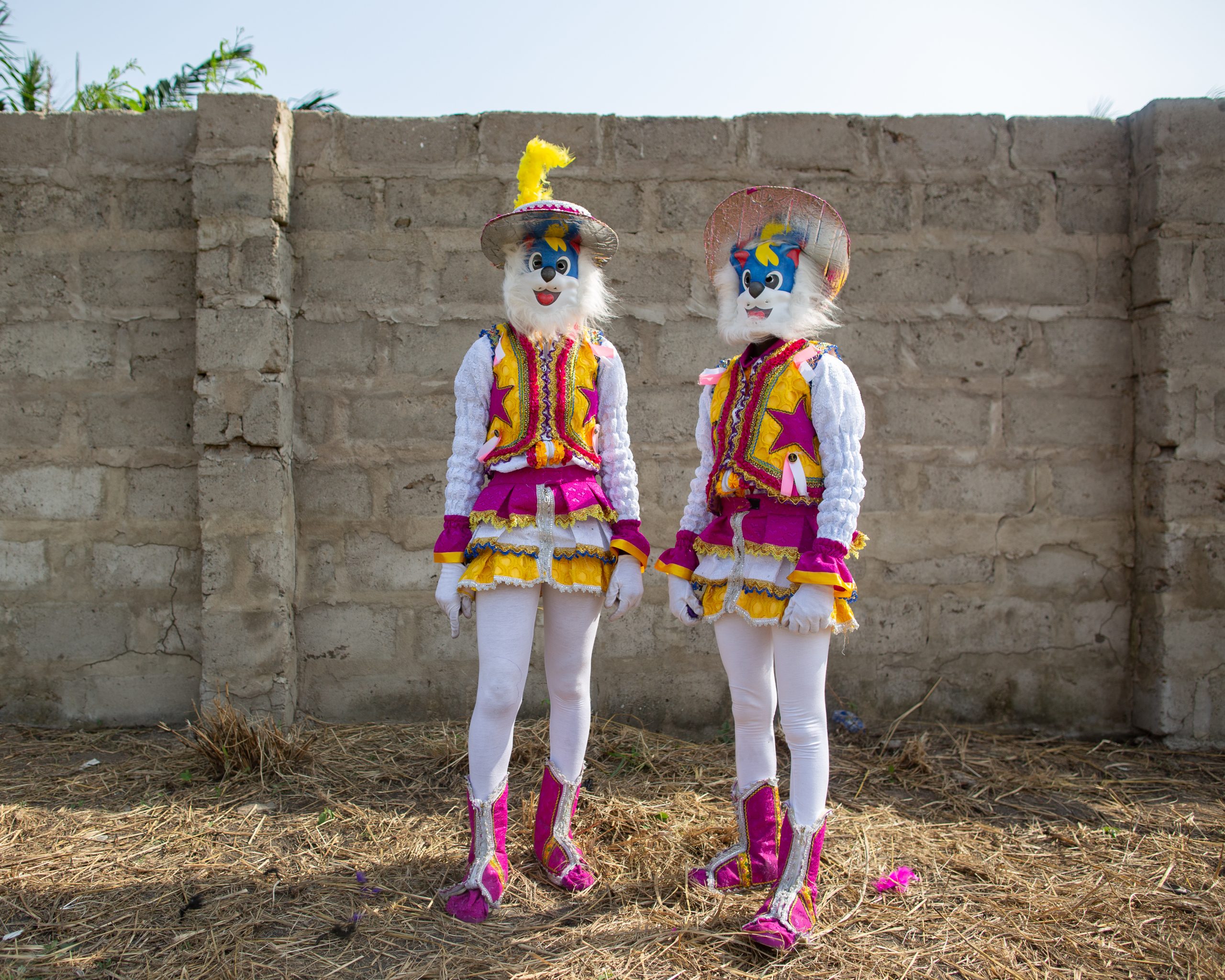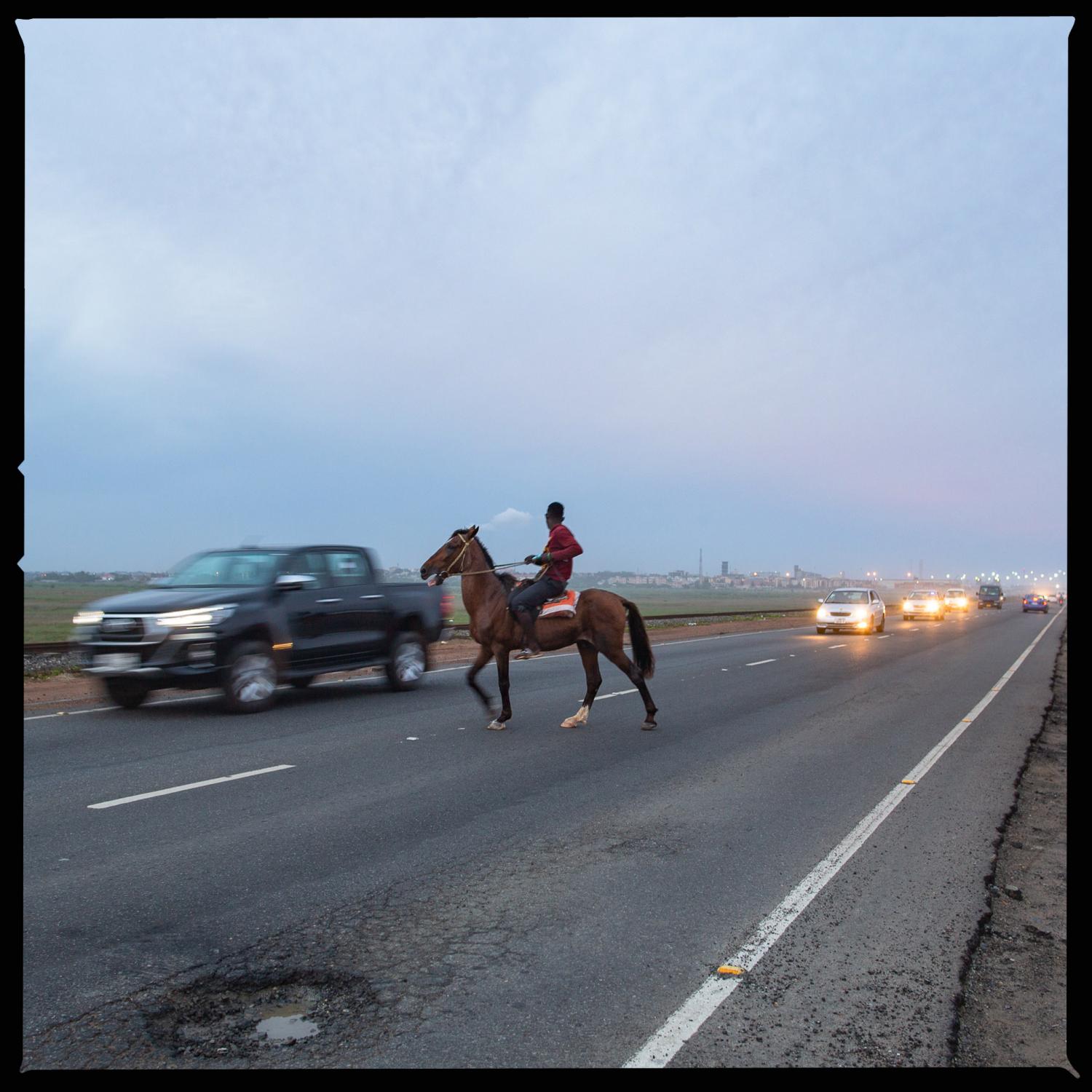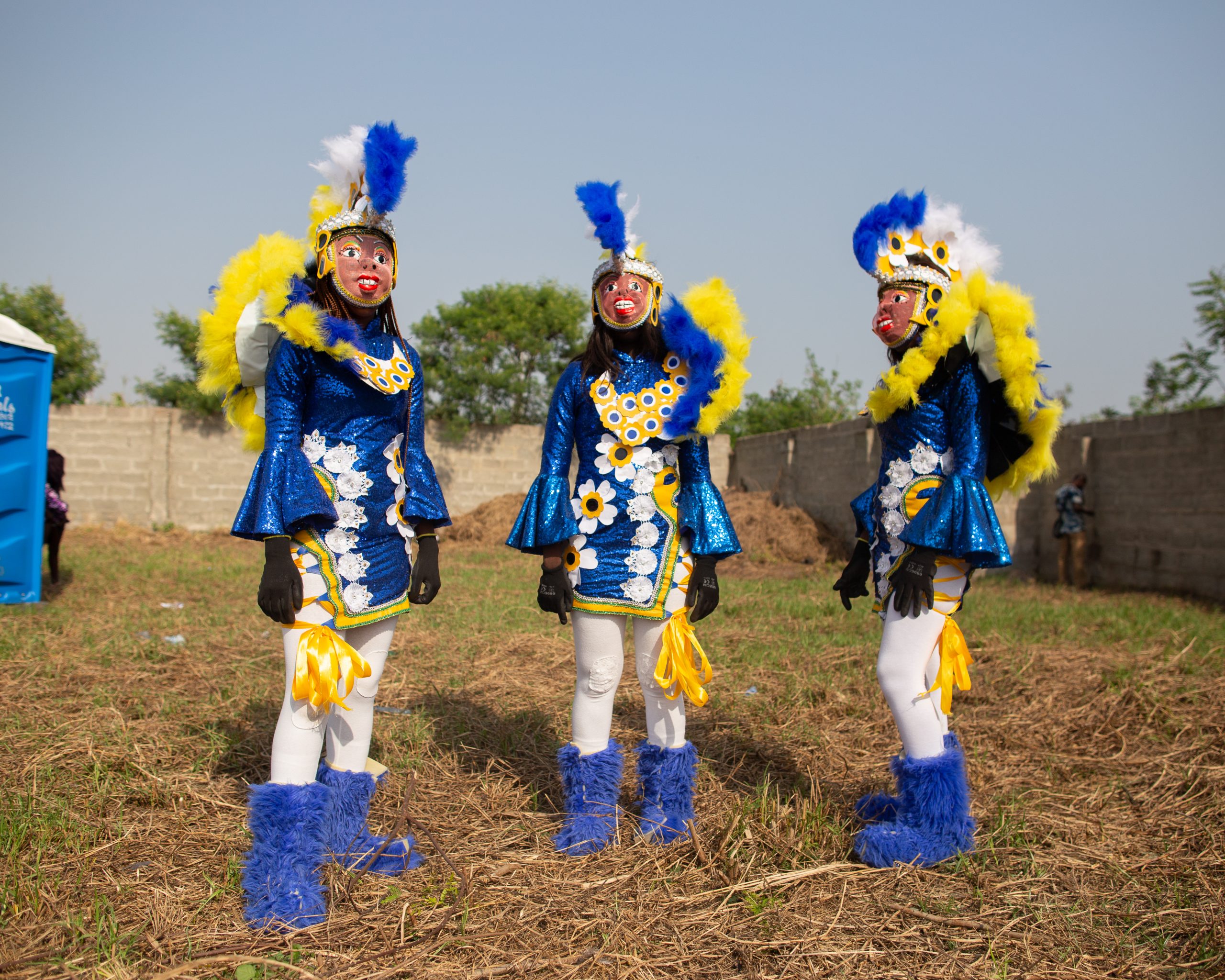 Learning about the festival was extremely exciting and illuminating. I fell into a deep hole, researching the annual event and filling my screen with countless images from countless photographers who have documented the masquerade for over the years. While I loved perusing images from different photographers, something about Dennis' images kept me coming back.
There is a quietness about the setting, an almost dreamscape that transported me back in time, while placing the subjects firmly in the present – adding a composite dimension to the images that suspended the subjects over their background as a piece of the present day laid over an existing art piece.
Even in the collage-esque merge of past and present, the subject matter still appears to fit comfortably in the space – as if they had always known they were destined to be here furthering a legacy.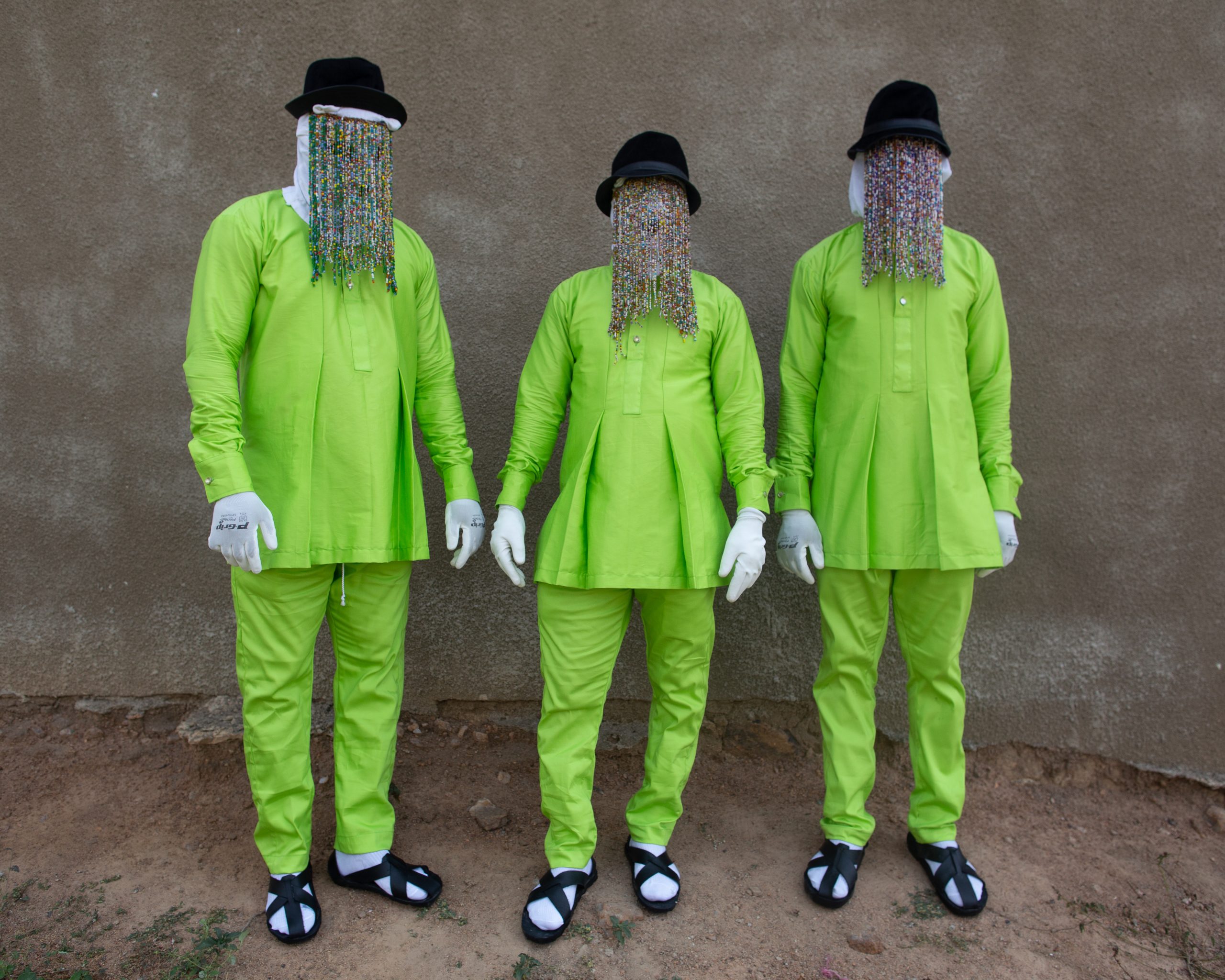 Wondering what made Dennis' photography so salient in a sea of outside-looking-in imagery that felt detached from the subjects depicted as natives, I queried Dennis on his approach to photography and to image making, to which Dennis shared:
I can't say I have a particular philosophy on how I approach photography. I am still learning. But I know I like to photograph things the way they are…
I found photography in 2011. Ever since I have been curious about the medium and the way I use it has changed over the years. I now work as a photojournalist and a visual storyteller. I believe it is a very important way to use the medium.
Many of the problems of where I come from are due to the lack of information. When photography is used to provide information for people, I believe it will go a long way to help solve problems and I think I am privileged to be using photography this way.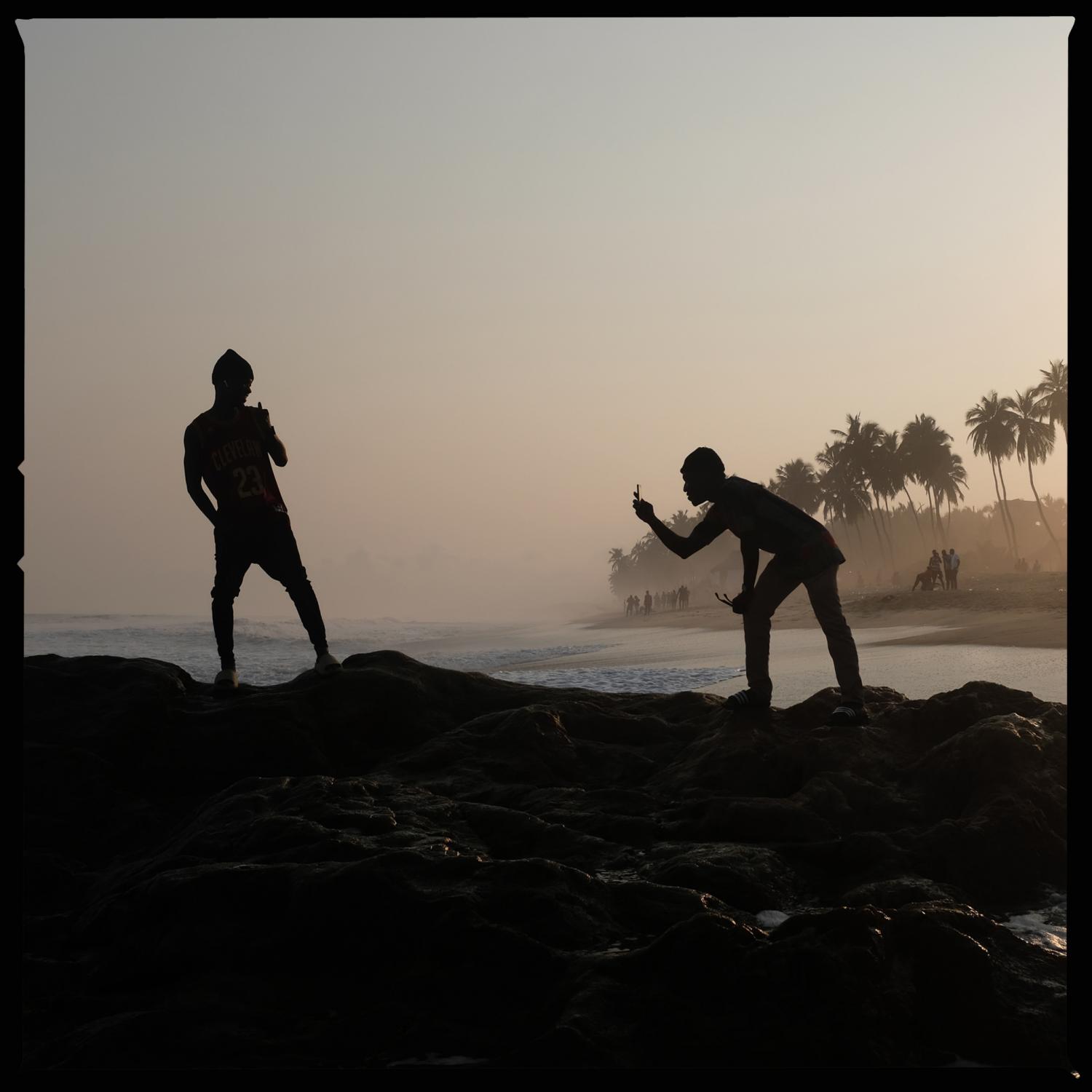 This pure, open and thus limitless approach to storytelling – unsullied by prejudices and assumed narrative – is clear through in all his work. In another series on his digital portfolio, Everyday Ghana, Dennis captures the life and people around him.
From Ghanaian titans of photography like James Barnor, to young girls on their way to school in Ghana's classic pinafore and shirt combination, the images capture the people as they are – unsullied by prejudices and assumed narratives. Wondering what inspires his work and moves him to create, I asked Dennis, where he found the push to start the series, to which Dennis explained:
The project is inspired by the earliest works of the Everyday Africa project by a group of photographers to broaden the perspectives of Africa beyond its headlines in international media. That is what I intend to achieve with my project. It makes me pay attention to the things happening around me wherever I find myself.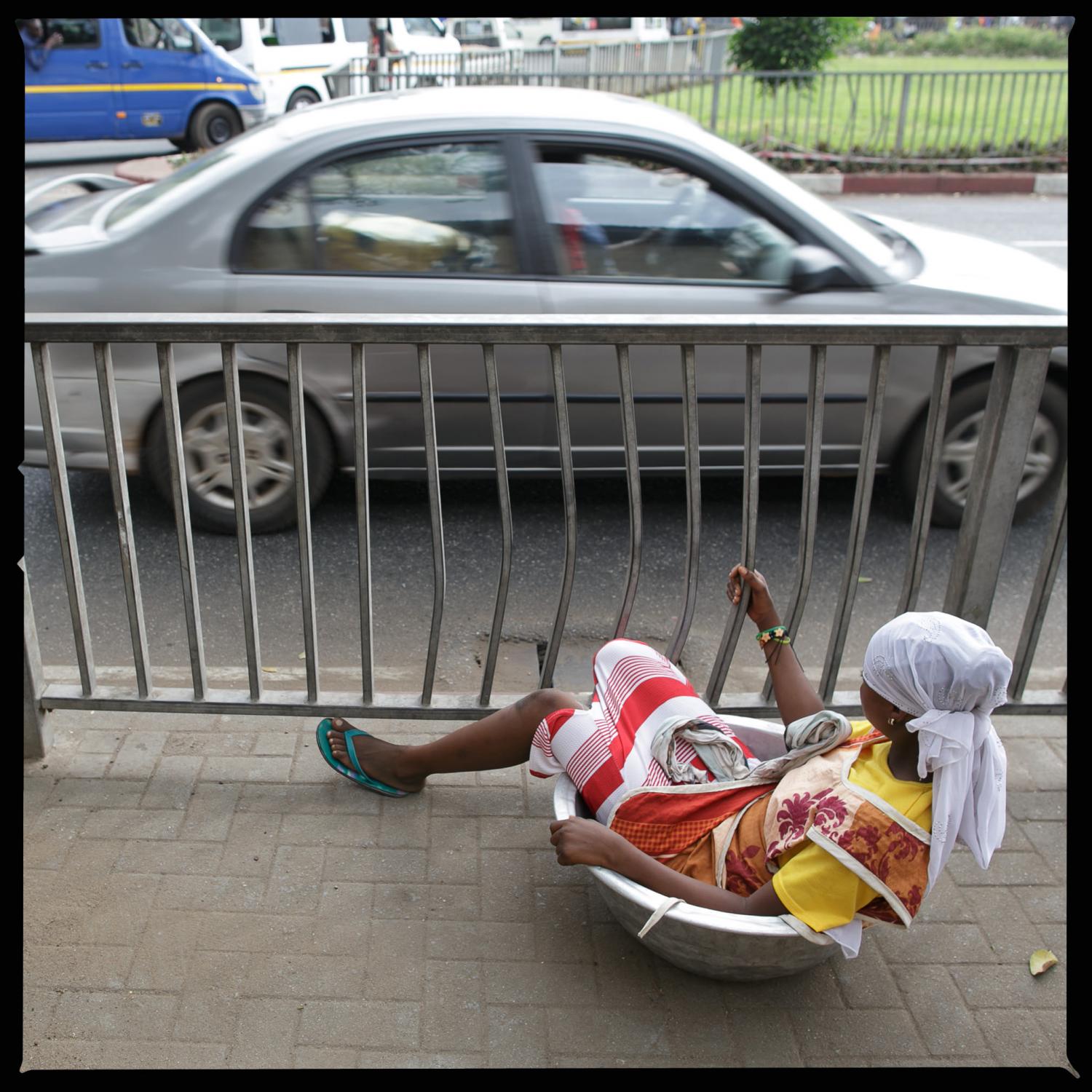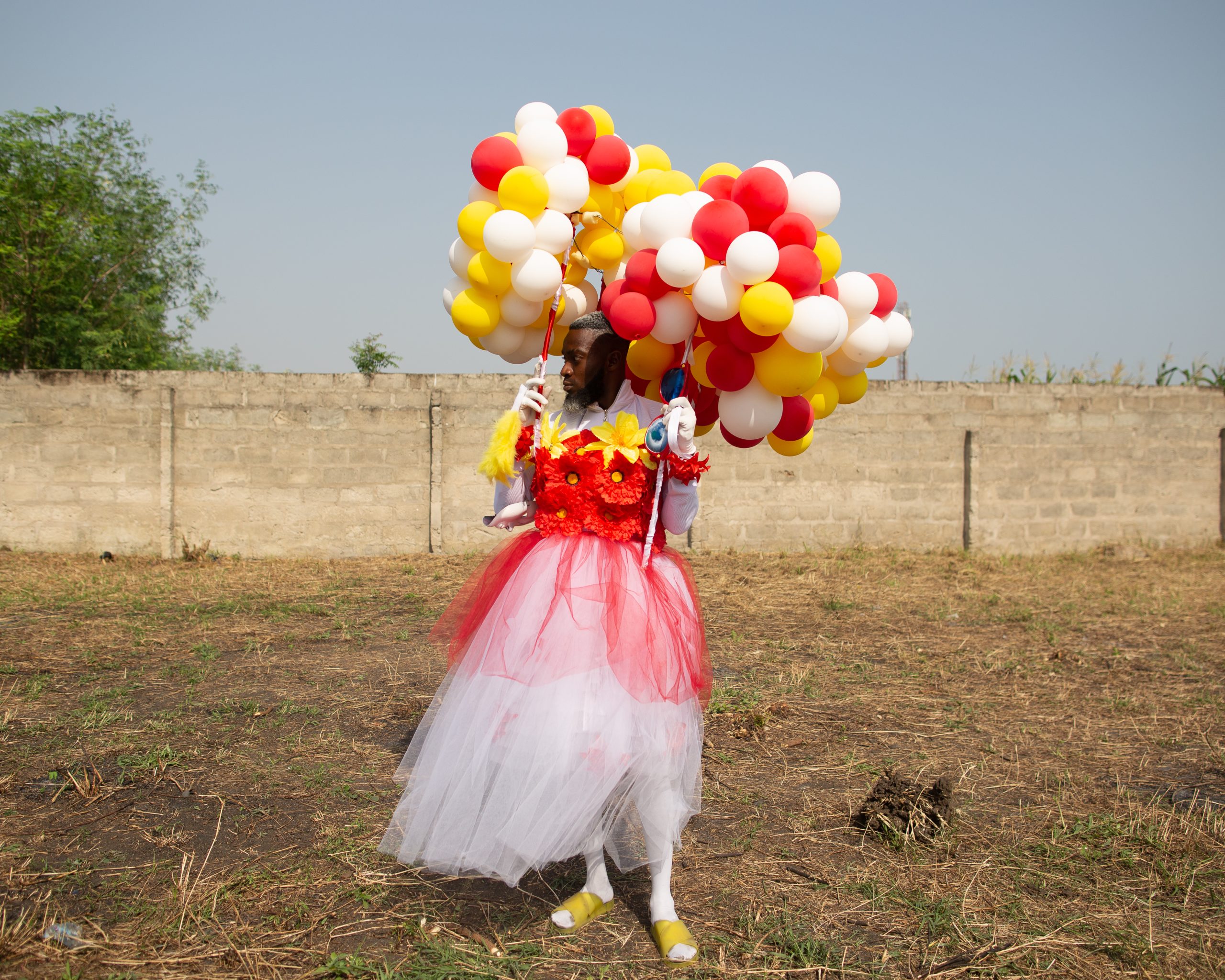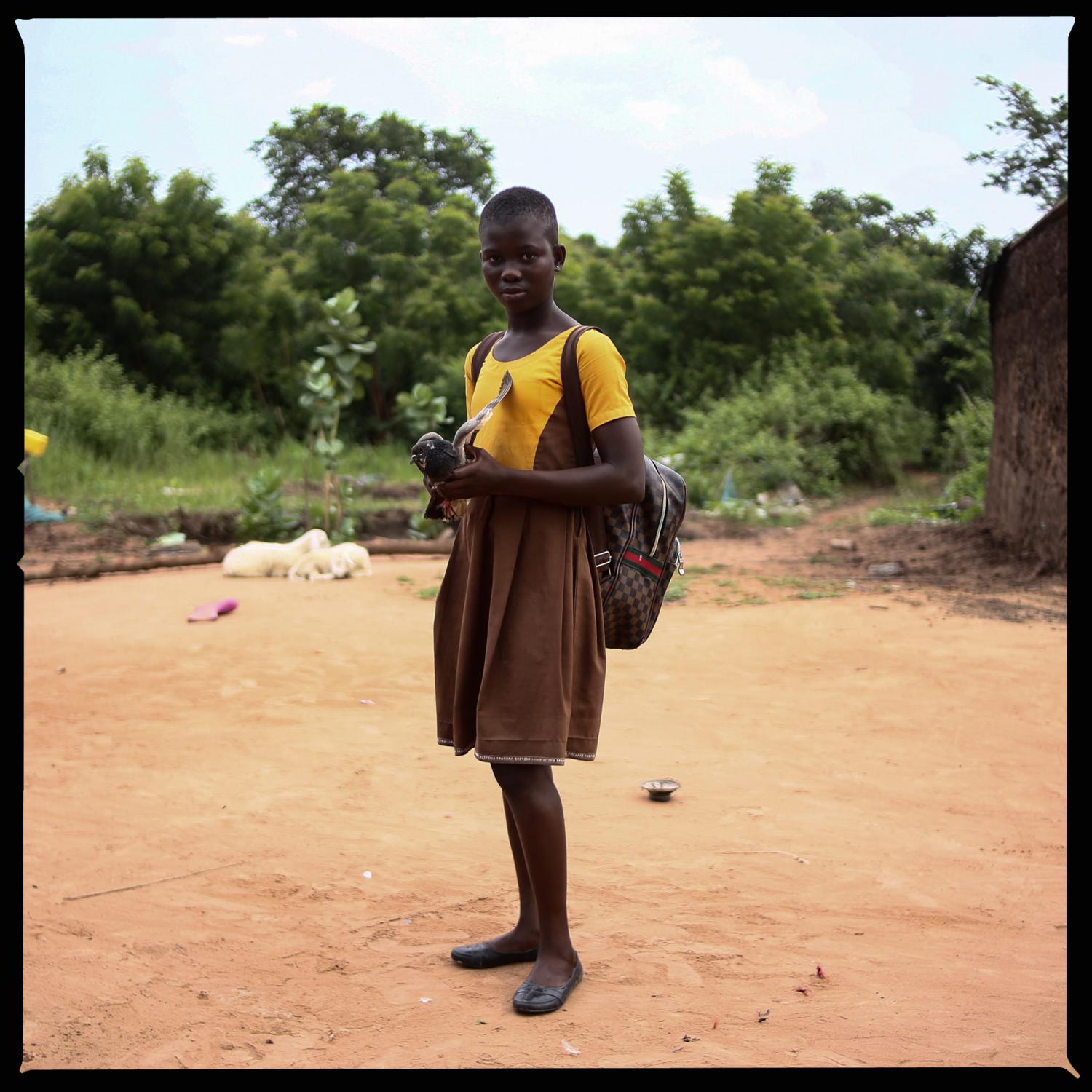 Describing his work and approach to documenting, Dennis adds, "I am a photojournalist and a visual storyteller. I am young and I learn new things every day. It is not the smoothest road for what I do but I love it."
Dennis' work is whole and refreshing. His open approach to people and stories removes the politics and semantics around the creation of art.
His work is free from fallacious lyricism and forced poetic impositions and representative of the subject's distinction and splendour as they are and as it appears.
Dennis' images are honest and truthful portrayals of life to an artist that enjoys his country and its people. Dennis shares, "Yes, I am Ghanaian. Ghana is the only country I have known… I don't think where I am based influences the way I work. Maybe a bit. But I believe more of it is from my travels around the country."