In Mondli Mbhele's inaugural solo exhibition, Ingoma Yothando, the artist delves deep into the intersection of African culture and the evolving lives of today's youth. Translated from Izulu, "Ingoma Yothando" means "Song of Love," yet it exceeds its romantic connotations, inviting us to contemplate a more profound inquiry: How connected are we, the youth, to our cultural roots, and if we profess this connection, how meaningfully do we manifest it in our contemporary existence?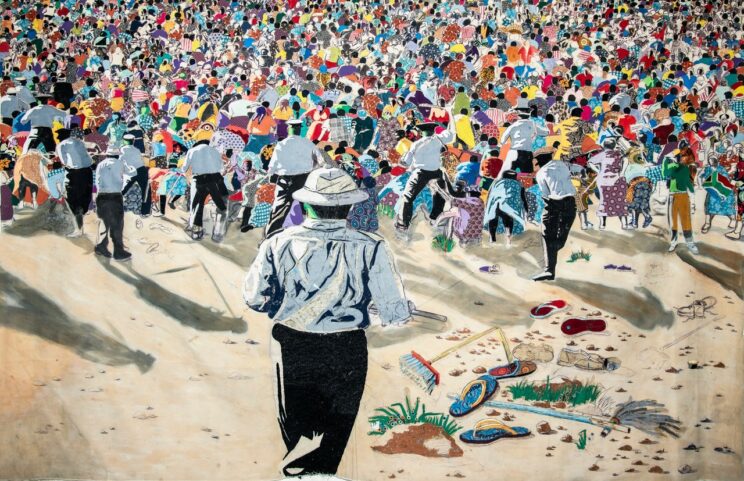 Mondli Mbehle, Ingoma Yothando, 2023, Fabric Collage on canvas, South Africa. 
Mbhele's thought-provoking exhibition challenges us to reflect on these queries as it graces the walls of the Pretoria Museum alongside the Sasol New Signatures 2023 exhibition that features 118 masterpieces- running from Thursday, September 7 to Sunday, October 29, 2023.
Born in Cato Manor, Durban, Mbhele's creative journey draws inspiration not only from the resilience of African traditions but also from their vulnerability in the face of our ever-changing society.
His artistic path led him through a year-long visual art program at the BAT Centre, complemented by his participation in the enriching VeloBala Weekend Classes organised by DUT.
Additionally, he proudly aligns himself with the Amasosha Art Movement, further emphasising his commitment to exploring and celebrating the rich history of African culture and tradition in the modern world. Mbele also won the 2022 Sasol New Signatures with his artwork titled 'Iphasi nesipheshli' in which mixed media is used to explore the dynamics of protests in contemporary South Africa.  The artwork forms part of a bigger series titled 'Umlando Uyzai Phinda'. 
Right from the outset, Mbhele openly acknowledges the profound influence of traditional dance and music on the development of his artistic expression. He harkens back to the central role these traditional dances play within the rich African customs, encompassing everything from weddings and funerals to the exuberant celebration of the harvest season. 
These dances serve as a vital channel- fostering a harmonious connection between one's physical and spiritual dimensions, acting as a heritage transmitted across generations—a vehicle safeguarding the enduring relevance of African dance traditions.
Yet, in the contemporary world, dominated by the pervasive presence of social media and technology, the question arises: Where do these venerable dances find their place? How can they persist in a landscape where modernity tends to eclipse tradition and culture? This is the very quandary that gnaws at Mbhele's creative conscience, fundamentally shaping his approach to art.
Perhaps the most fascinating aspect of Mbele's artwork is his use of fabric collage as a medium.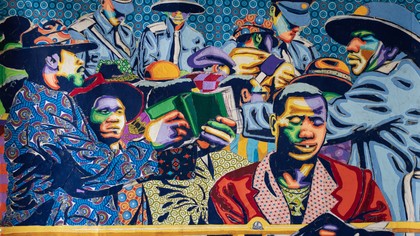 Mondli Mbehle, "Igoma Yothando", 2023, Fabric Collage on canvas, South Africa. 
Mbhele beautifully articulates the significance of fabric in our lives, describing it as a transformative force that not only adorns our bodies but also empowers our self-assurance while serving as an ever-evolving canvas for our daily narratives.
His profound realisation unveils the unique qualities and intrinsic worth hidden within these fabric offcuts. Once discarded, they become symbols of vulnerability- However, Mbhele's ingenuity lies in his ability to gather and repurpose these cast-offs, initiating a fresh and compelling discourse that reevaluates the discarded and redefines its intrinsic value- Conceptualising the relevance of cultural pride within the contemporary society with all its changes.