My first question for Lethabo, the brains behind the 'Styled by Boogy' brand, would effect in an unexpected response.  Her answer was one of displeasure to being the focus of this week's feature for Bubblegum Club mag. "I am not a model even though a lot of other stylists are their own models".  She is not about making herself the brand but rather giving life to 'Boogy Maboi'. "I've got a history of being on T.V, radio and styling; all of which have been very much behind the scenes."
And yet even behind the scenes her business has become a successful business. Her work for Nike's woman's week campaign was her biggest contract this year.  She has also done work for their ID campaign and has also done the styling for a billboard for Puma.  Her much recent work with Woolworths would even see her working as one of their style influencers.
I got to speak with Lethabo to discuss her work as a stylist as well as find out how she got the tantalizing name 'Boogy Maboi'.
Motlatsi Khosi (MK): Please could you tell Bubblegum Club readers about how you got into the styling business and became 'Boogy'?
Lethabo (L): I Got the name from high school. I was very much into Hip-hop at the time. I got the name from Ms Lauryn Hill AKA "L Boogy".  
From the age of 8 I've been in the public eye, having started out on M-net's KTV. My experience from the get go has been my training within the media. I have worked in the space[media] and it is here that my artistic expression has been able to flourish. It's where I also got comfortable with being looked at and it's here that my love for fashion came about. 
I was expected to go to university, to go to work, get married and have 3.5 children. It just wasn't for me. Instead I reverted back to experimenting instead of being sure of myself. Things would be happening around me and I was taking it all in.
At that time hip-hop was becoming big with the first Back to the City music festival having started then. As its culture grew so I would immerse myself. My knowledge would grow and with it my sense of personal responsibility towards the local Hip-Hop scene. My style would also develop. The industry was growing and I saw a gap where I could become apart of it. Back then people were talking visual risks and were starting to push the envelope in their style.  I wanted to be apart of some kind of liberation. I wanted to be a part of a fashion liberation.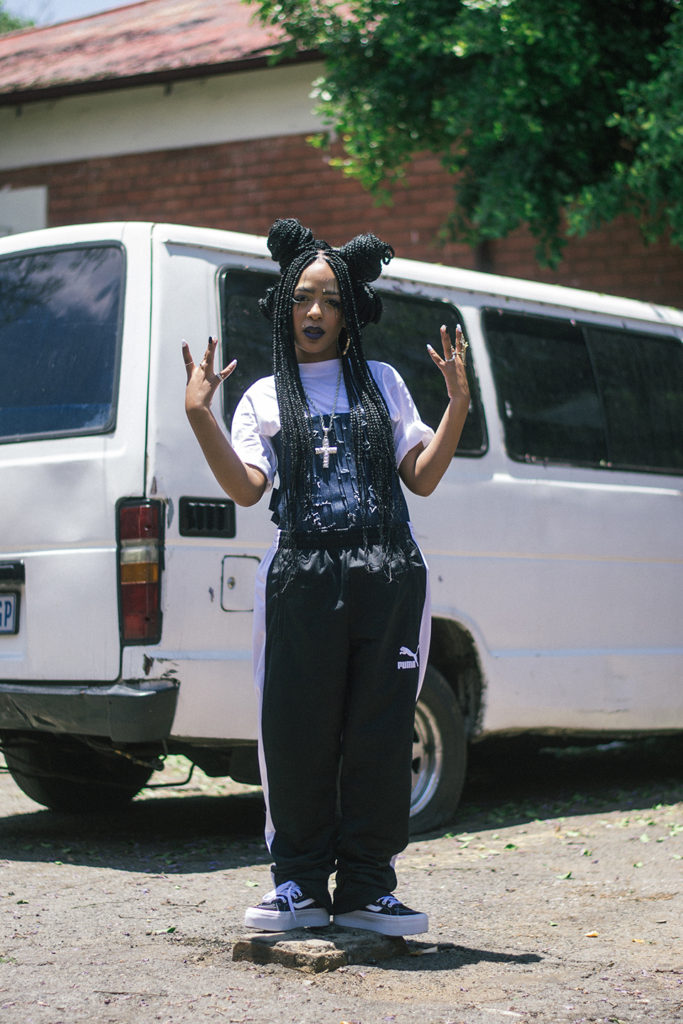 MK: You seem to have a particular method of understanding the trends and hip-hop fashion. You seem to go beyond the extraction of information. Your method seems to be one of immersion.
It's not enough to just come in and style. I wanted to push a South African agenda in my work. I have worked on online radio having started at Rhythm 100 and then Planet Radio TV. Before I wanted to be a Hip-hop stylist but I was thinking small then. Style must grow and mine grew into a form of African consciousness.  From Hip hop stylist I moved to an African stylist. By playing music from across the continent I would be introduced to new artist who would then become my clients. My success happened because I dug deeper in terms of my knowledge of African music. My first five years I was home schooled through music and now I'm  8 years in the business. 
MK: Please could you explain to the readers your philosophy style? What is your fashion aesthetic? What is it that draws your clientele towards you?
L: Many clients say they come to me because they want African but without 'the cheese'.  For example, without Kente cloth. I do Street style without being obviously so. My previous work for SAB  had the tag line of 'be liberado". l wanted to do something UK, grunge and was thinking tartans and  Mohawks. How do you take inspiration from such and make it 'legit'?  Grunge with an African flare. I was thinking black sweater with an Ndebele necklace. Never be obvious. 
MK: How do you reconcile the style needs of the client versus those of your own when styling for others. Are there moments when the 'customer is never right'?
L: My focus is not on myself or the pushing of my particular style. This keeps me away from being egotistical as a stylist. The danger of having a signature style is that the client ends up being a signature of your brand. I take brief's from my clients really well. I want to make my clients a better version of themselves. Respect the client's aesthetic and find ways to take their aesthetic to new heights.  It's my form of "going green" by using what is already there and developing from there. My focus is on my client and how they want to influence others.
MK: The youth are pushing local trends but they also the ones pushing the student movements. Does style have a political role to play in current South Africa or are they mutually exclusive ideas?
L: You can definitely talk political. Style and fashion are art. The body is a canvas. We have a lot of different agendas. An example of this can be found in the poverty porn trend.  It takes high fashion brands and puts them on poor bodies. Not all fashion can be politically correct and this has much to do with how far fashion will go to remain relevant. One designer was  even talking about the best trends for refugees. 
Cultural appropriation is also another issue in which styles are borrowed from indigenous dress and yet women of colour are generally not featured on their runways. I always try to be very respectful. You always have to be very aware of what your doing. Many of my client's images I will not post because I realize the damaging effects that could follow. Always be mindful and be very careful when playing with people's culture. We cannot just create without understanding where the look comes from. Always ask questions. When ever you step outside of your 'know how' always consult those who know more. 
You can follow Lethabo's work on  instagram on styledbyboogie. You can also follow her on Facebook under Styled by boogie.