At 29, this month's BubblegumClub cover star Banele Khoza is already highly accomplished. He has leveraged his success to establish BKhz Gallery, a design workshop and gallery space. Located in the illustrious Keyes Art Mile in Rosebank, Khoza's BKhz has become an iconic landmark, drawing young creatives and curious tourists alike. The intimately open facade offers a constant rotation of aesthetic pleasures. I visited the space and had the privilege of discussing Khoza's current solo exhibition, titled How Are You Doing?, with the artist himself.
Despite his coy demeanour, Khoza is a giant of South African art. His meteoric success in the art world plays a pivotal part in my reading of his work. In 2017, he received the prestigious Gerard Sekoto Award, leading to a three-month residency at Cité Internationale des Arts in Paris. His work has been featured in notable exhibitions, including LGBQTI+: Banele Khoza (2018) at Zeitz MOCAA and in 2019, Khoza was recognised as one of the M&G 200 Young South Africans.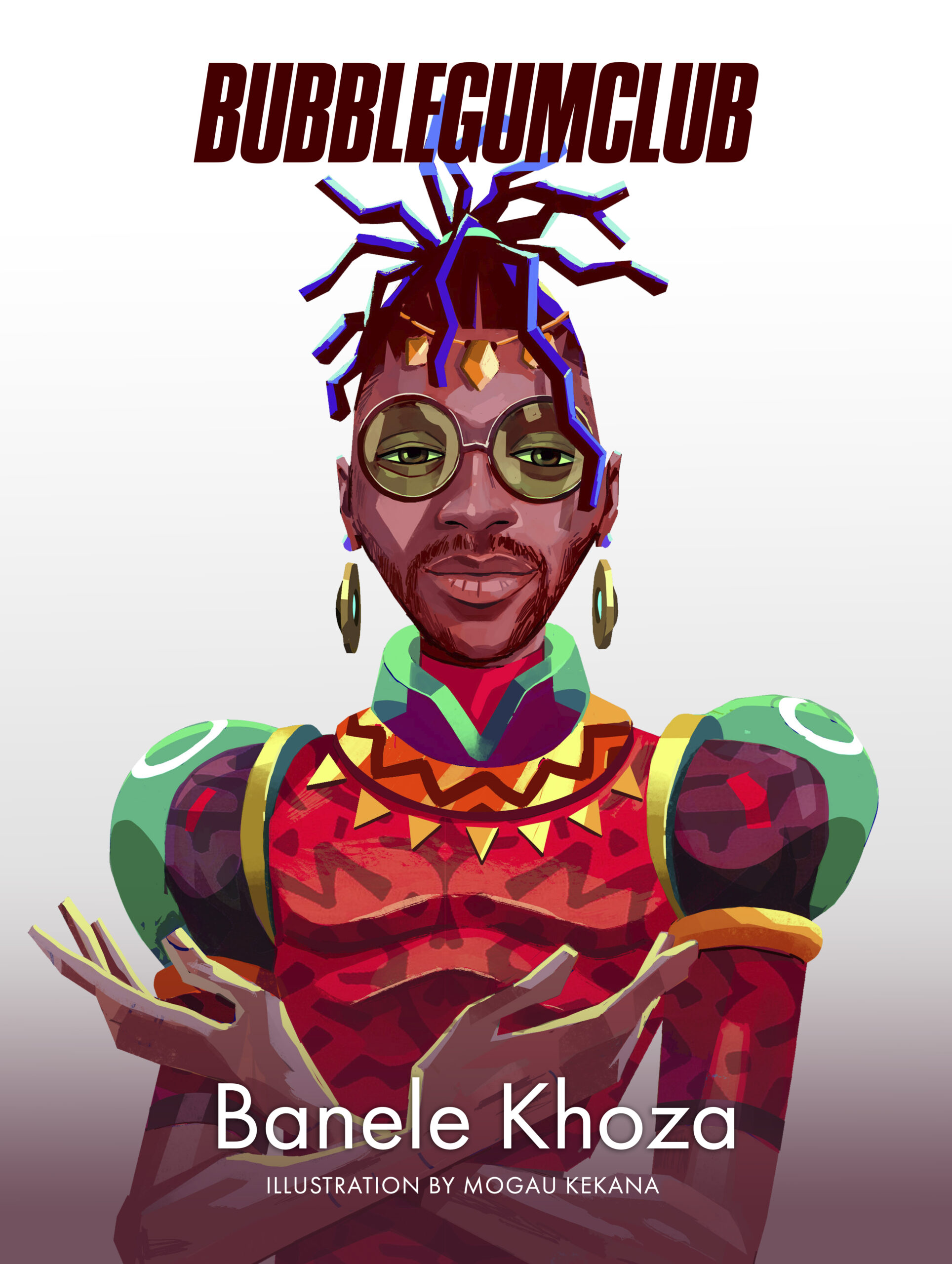 Banele Khoza was born in 1994 in Hlatikulu, Swaziland. His mother, Thuli Khoza, was a teacher, and his father, Michael Khoza, was an entrepreneur. Hailing from a small town with a close-knit community of around 2000 people, Khoza recalls: "I think my parents aspired for excellence from us and from themselves as well. So it was a constant conversation." Yet, while the familial environment was nurturing in many ways, emotional expression was not common within the household.
"So I think for me because I knew as a child that I had so many emotions that I wanted to spill out, but not having the space to — not with my mom, not with my siblings. Then the journals became that space." He began journaling in 2008. That same year, at the age of fourteen, Khoza moved to South Africa to pursue his education. In grade 10, at Cornerstone College, a Dutch exchange student gave him a set of watercolours, and he recollects: "… she was also a colourist and I think that's where the love of watercolours came through."
Khoza initially aspired to become a fashion designer but after briefly studying at the London International School of Fashion in 2011, he enrolled at Tshwane University of Technology (TUT) in Pretoria, where he obtained a BTech in Fine Arts in 2015. "I was so afraid to follow fine art, so I decided to study fashion instead, but after a few months, I knew that I had to go into fine art. So it was an interesting transition." After completing his studies, he briefly worked as a drawing lecturer at TUT before embracing a career as a full-time artist, now based in Pretoria.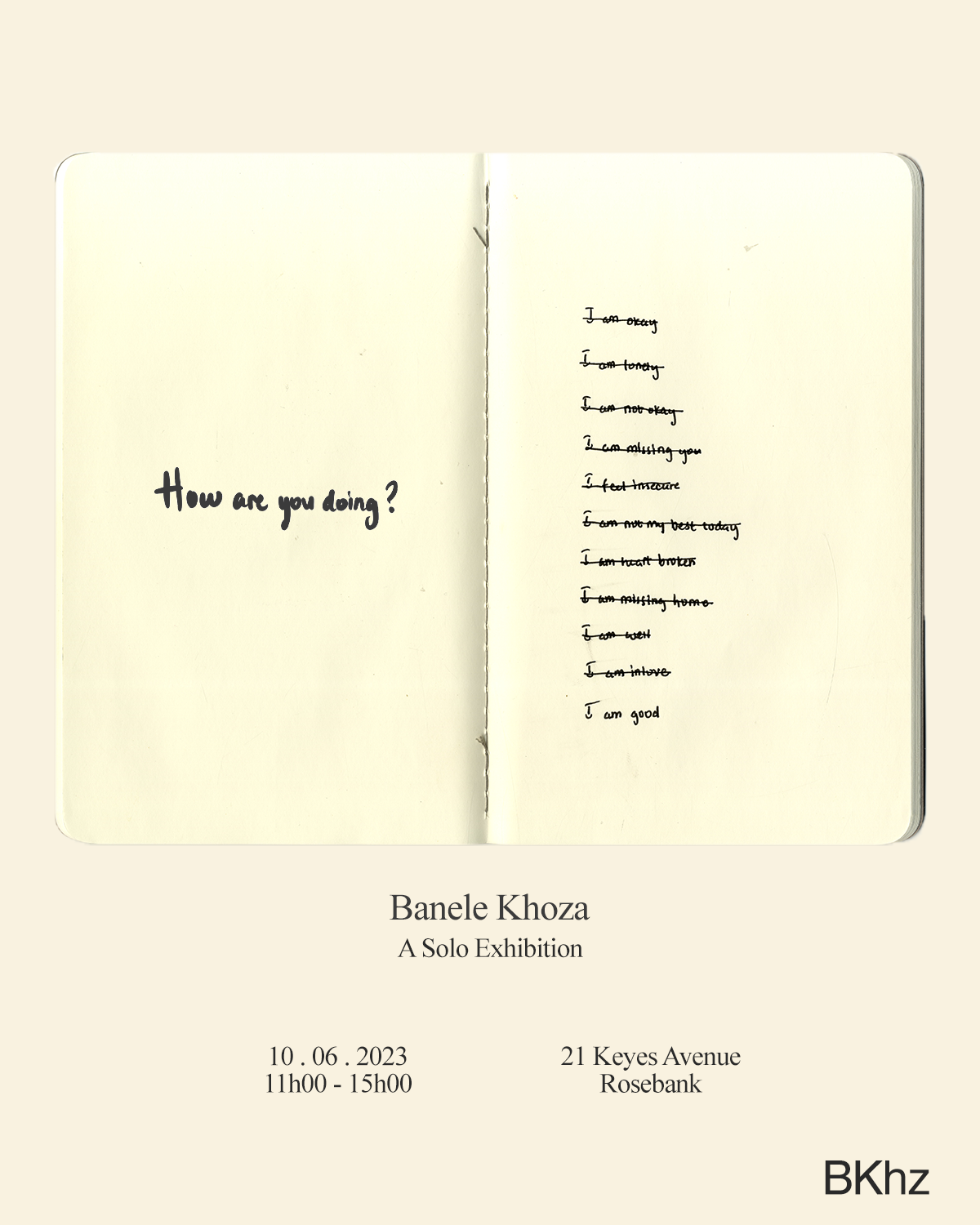 Images courtesy of BKhz
In How Are You Doing?, Khoza's upbringing, interest in fashion and journaling are evident. As we contemplate the work, he opens up about the challenges of selecting and presenting such intimate work, saying: "Initially we wanted to focus on the journals, that's how I'd envisioned the show. But then it was so difficult to just even open a journal and be like, okay, this is what we wanna exhibit." In between portraits of his swanky friends, the gallery is dotted with small journals containing tiny, almost illegible scribblings. These entries include various tasks, to-do lists, calculations, budgets and personal notes and messages.
Unlike the paintings on display, Khoza's diaries could be seen to hold his artistic essence, untainted by external influences. The tiny, neat scribbles require the viewer to lean in and squint, in an effort to peer into an unspoken facet of the artist's creative journey. The paintings then are something of an extension of these tender notes to self. The studio, he muses, is both a liberating and daunting space that holds an unyielding mirror to one's soul, "… 'cause it feels like studio never lies."
There is indeed an unpretentious quality to the paintings on show. They are not trying to be something they are not, often going so far as avoiding hands, famously many painters' Achilles. Khoza's artistic decisions are such that the creative process takes precedence over predetermined outcomes, saying: "I don't mix colours on a palette to get the exact shade. I want the viewer to see the process of trying to find the right colour."
The paintings often have an unfinished quality, with whitewashes or light-coloured backgrounds revealing the canvas underneath. Thick layers of paint that make up the figures contrast the blank areas and pencil sketches guiding the artist's brush. As Khoza is intentional about revealing his process to the viewer, the incomplete aesthetic is necessary and the journals that accompany the paintings are a reminder of this. At points, the artist even sticks post-its on the wall that allude to this incompleteness.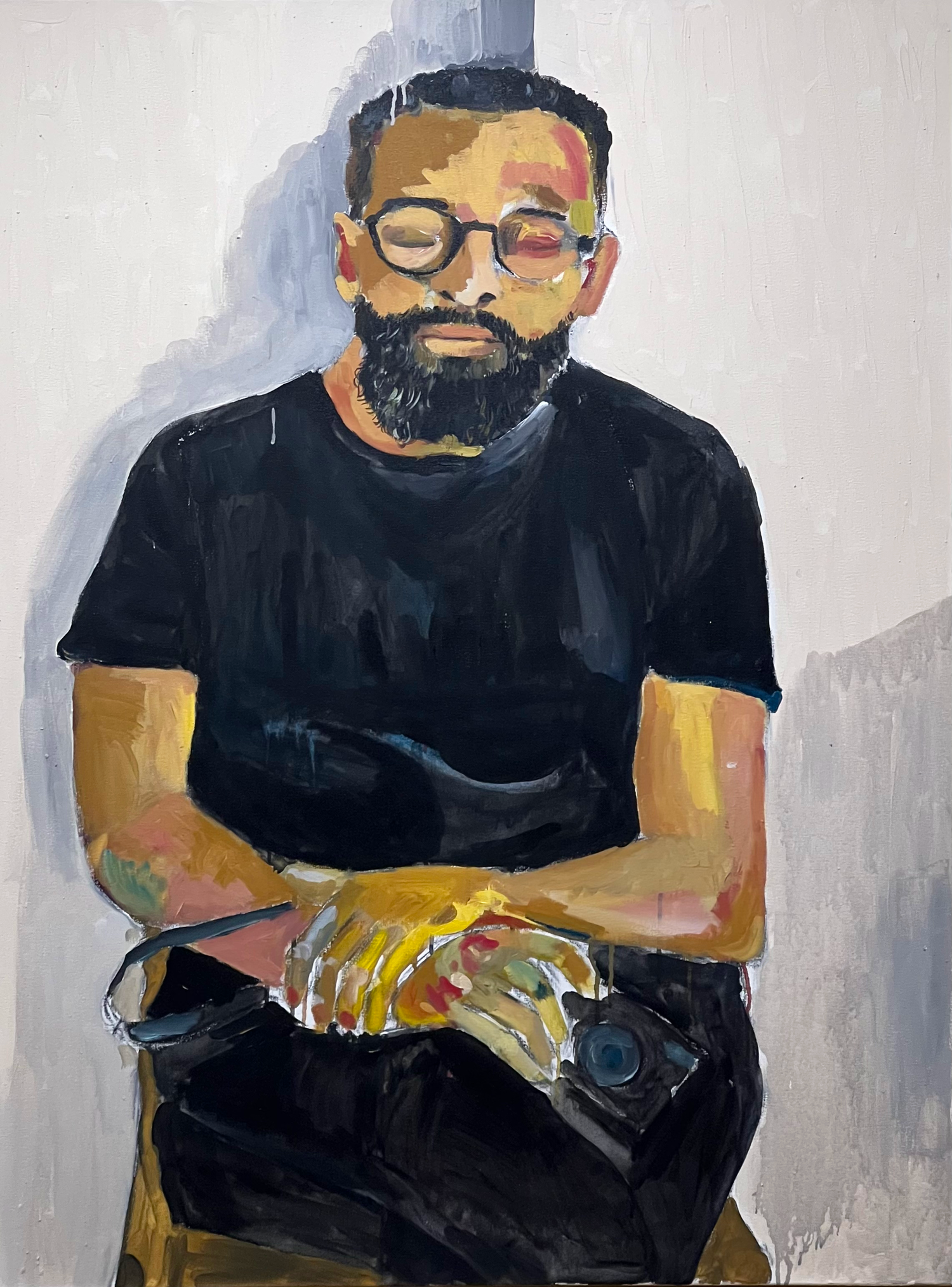 In How Are You Doing?, Khoza intriguingly explores the gallery as a sanctuary where artistic endeavours intermingle with administrative roles. Khoza muses on the duality of this engagement. Being an artist and gallerist, he sometimes struggles to balance the two but appreciates the anchor of deadlines for direction and focus. "Right now I spend 80% of my time outside the studio and 20% in the studio. And in that way, I'm able to not only send out artwork to different places but also I'm able to create opportunities for other artists." 
He acknowledges that having his own space to curate exhibitions allows for meaningful presentation and the introduction of novel elements. Khoza contemplates: "I wanna be the person who locks the door at the end of the show. I can decide that something's not for sale or I might put a price to it … When you have your own space, you can decide. I think it's not many artists who have the privilege to house their own exhibitions." 
As we wander in conversation around the space, Khoza's staff who seem to also be his homies chill cosily at its front end. This element of community resonates in his portraits. Focusing on friends as his subjects, allows Khoza to contemplate the immediacy of these relationships, noting that while objects may outlast us, friendships are transient. Accentuating elements like watches or glasses and other objects worn and carried by his subjects, Khoza's portraiture transcends a mere likeness.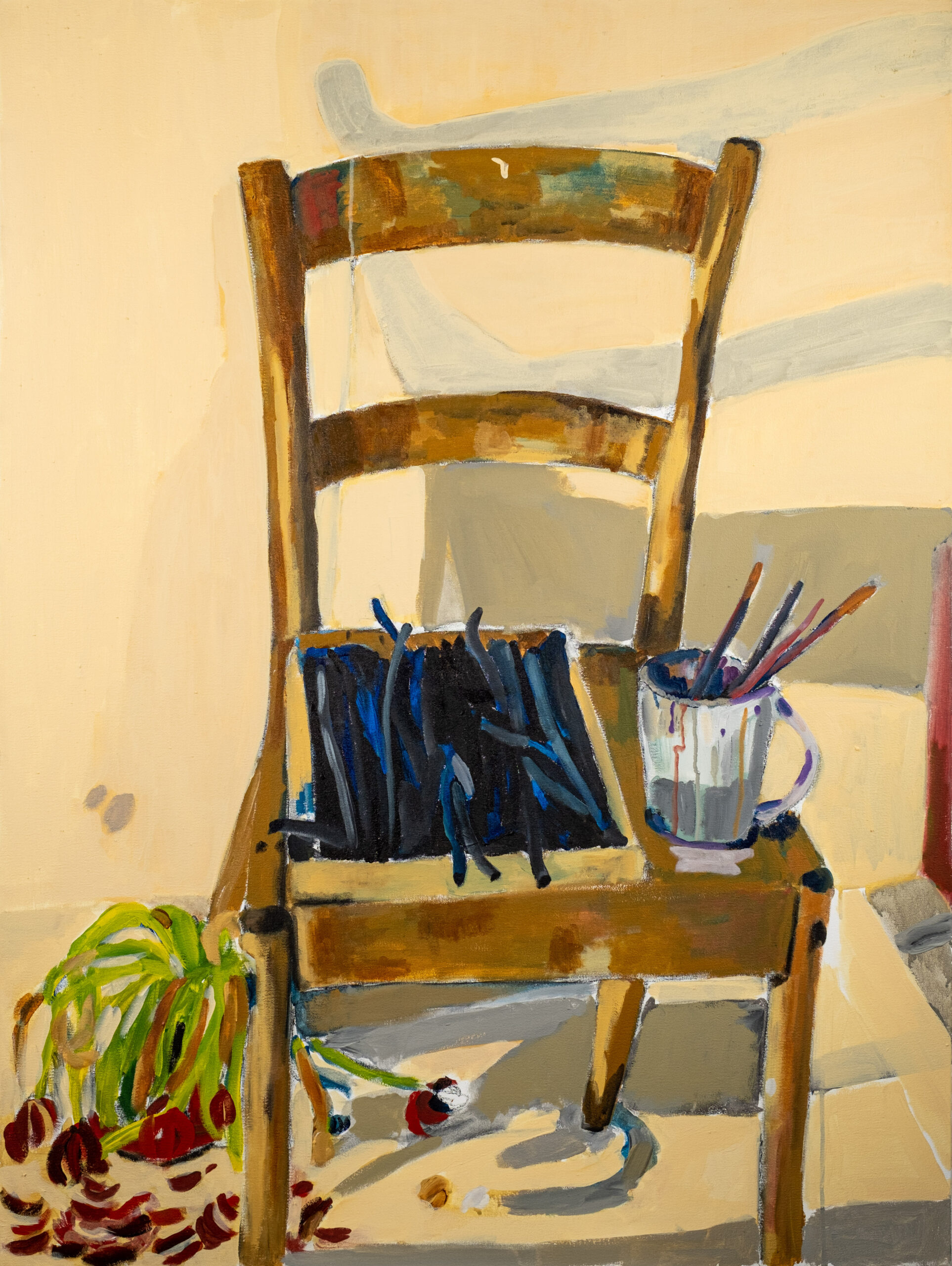 The significance of the transcience of kinship and the relative permanence of inanimate objects becomes clear as soon as one walks into the space. What will remain is the first work the viewer encounters and it depicts an empty chair. The chair is a veritable centrepiece of How Are You Doing? Khoza's subjects are depicted sitting on the same one in many of the portraits. For him, the chair could evoke different feelings for each person seated upon it. A cherished object, Khoza's chair contributes to his comfort in the studio and the act of sharing it with others, was part of the process of birthing this collection.
The painting exalts other objects in addition to the chair. The paintbrushes, cup and flowers hold sentimental value, as he uses these familiar items while creating. Even the charcoal depicted in What will remain was a gift received during Khoza's residency, meticulously crafted from scratch. These elements, like characters in his exhibition, become more than mere tools; they become integral elements that speak to the core of his praxis.
He explained: "With this painting, my focus was on depicting the chair as honestly as I saw it. As for influences, definitely Vincent van Gogh and Claude Monet. I even visited Monet's home last year, which was amazing and helped me rediscover my love for painting."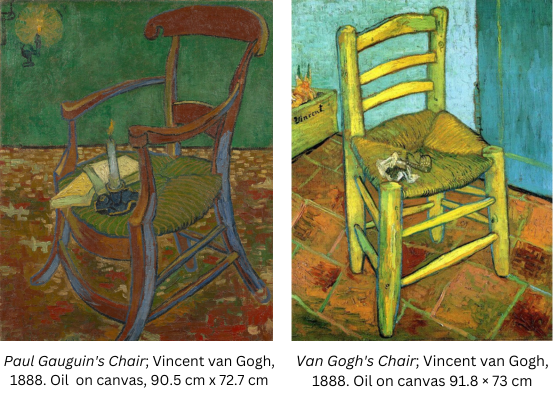 The explicit centrality of the chair in this exhibit inspires comparisons to artworks like Van Gogh's famous empty chairs, Van Gogh's Chair (1888), which depicts a rustic wooden chair with a pipe and tobacco and Paul Gauguin's Chair (1888), known for its association with Van Gogh's friendship with Gauguin. Van Gogh's Chair and Paul Gauguin's Chair, painted during a tense period between the artists, reflects the artists' distinct personalities and artistic visions. Similarly, Khoza's chair becomes an extension of himself — a self-portrait, symbolising both his inner being and his relationships with others. 
When I asked what was next for him, it was clear that the artist's ever-evolving practice is forging ahead with even more ferociousness. He is currently bicoastal. Having lived and worked in Pretoria, Johannesburg and Durban, Khoza reflects on the influence of each city on his creative process. Johannesburg instils a non-stop work ethic, while Pretoria's calm mornings nurture his soul. Durban introduced him to the idea of being close to family while allowing him to remain deeply engrossed in his work.
No longer solely driven by the pursuit of visibility, Khoza has become more interested in mentoring emerging artists, encouraging them to assert their voices and negotiate confidently. He envisions future explorations in sculpture, fashion and tech, with a focus on narratives crafted for museums and self-published books. Khoza aims to establish a creative space with research components and practice opportunities, while also seeking greater representation through engagement with larger galleries. With his dedication to painting, process and pursuit of success, Khoza's future appears to have infinite potential.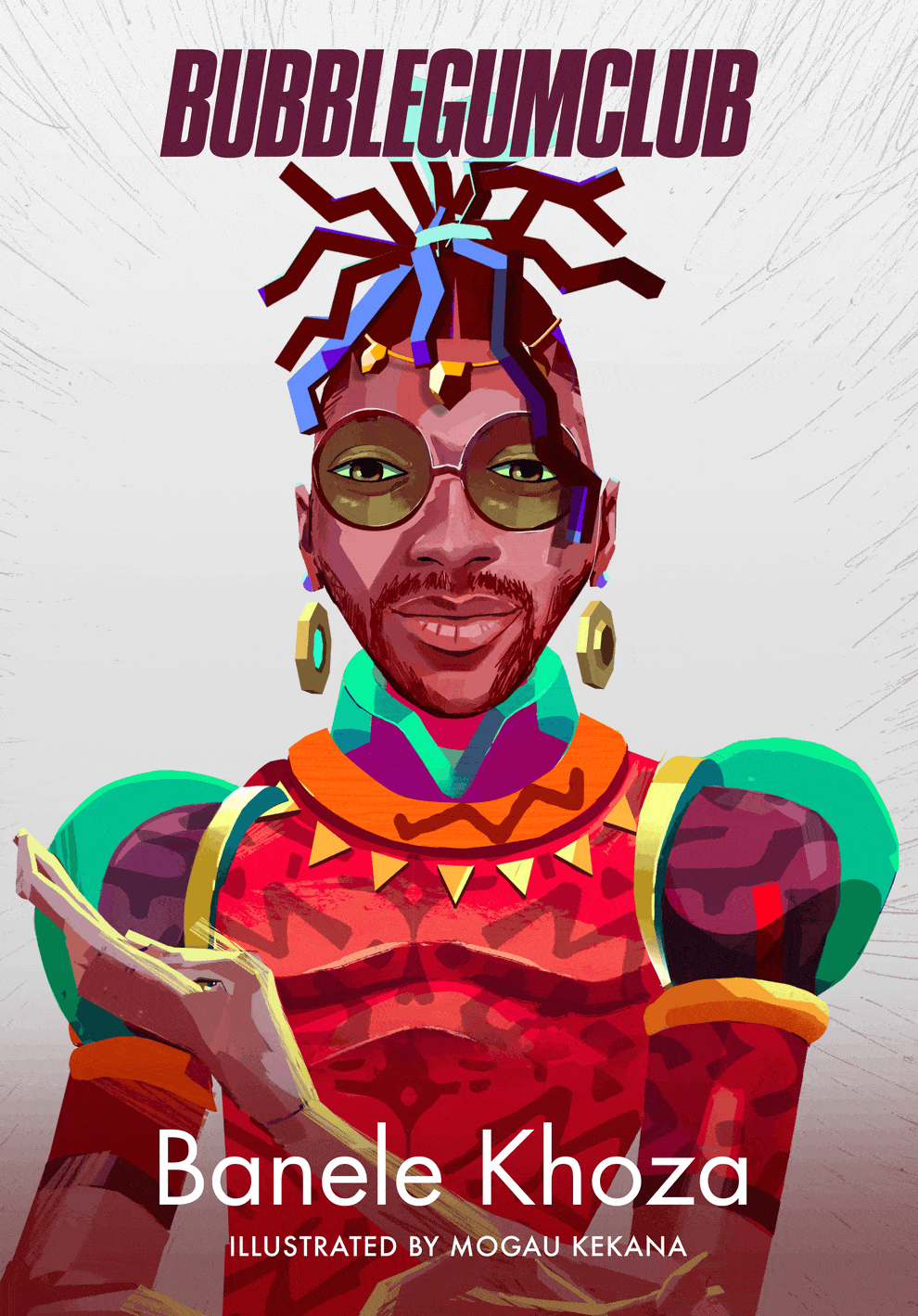 Animated by Lex Trickett