If we are being completely honest – in mainstream popular music right now – Amapiano artists seem to be some of the musicians who take very seriously the meaning of the words "world tour". "Pitori to the World" or "Amapiano to the World" are not mere catchphrases of global superstardom ambition or marketing gimmicks. They mean and do exactly what they pronounce. No manga manga empty sloganeering business like some of our favourite pop icons who market their musical concerts as "world tours" and conveniently forget that Africa (and pretty much the rest of the Global South) is also a part of the world. This is why South African Amapiano artist, Pabi Cooper (Paballo Basetsana Mothapo) bagging a BET Award nomination in the "Best International Act" category is absolutely apt – what a big deal – what a feat! It is in our candid conversation that moves between English to Spitori, where Cooper confesses:
Eh jo, to be honest, nna neh? I've always wanted to be a star. It was actually up to God to figure out how He was going to make me a star.
I caught up with her this month. We spoke on the day when we, South Africans, commemorate the young Black people that led the 1976 Soweto uprisings against the introduction of Afrikaans as the medium of instruction in Black schools. It is in this remembrance that I am struck by an irony that does not escape me. One of Cooper's most popular and recently released songs Waga Bietjie – sitting with nearly five million views on YouTube – chants its hook in this symbolically oppressive language that has a very fraught, yet illustrious multicultural linguistic and creative history in South Africa. From the language's formation first as a kombuistaal in the Cape colony by enslaved Black (inclusive in the Steve Biko sense) people; to an orthographic history that begins with Arabic script; and to both the language's past and present socio-cultural politics being reclaimed and utilised by Black people in fugitive ways against the oppressor. This is indicative in some of the country's coded unofficial languages such as Kaapse Afrikaans or street slangs like Tsotsitaal and Sabela. However, relevant here is the lingua franca of Pretoria – Spitori – a language Cooper is very fluent in, using its syntax for her Waga Bietjie hit record. Is it not crazy that a language that was used to oppress young Black people 47 years ago is the same language used in song hooks that have the ability to catapult the latest generation of Black South African youth into global superstardom?
It's 2023 and the things we thought were impossible are possible right now. I feel like a Black child is being given a chance.
Cooper admits this on the phone to me while our connection intermittently breaks, and car doors are slamming on the end of my ear. She apologises for the background noise ––– "Sorry Amo, ema pele can you just hold on one moment?", she politely asks. The superstar is heading home-home ko kasi in Soshanguve, north of Pretoria go gata mabala. To step on the grounds of her community as an act of acknowledgement and gratitude for the place and people that raised her and subsequently made her who she is today. An act she considers very important after the announcement of her latest career milestone. Cooper tells me that going back home is also an exercise in remaining grounded. She is still ngwana wako Sosha, medi ya kasi despite her globetrotting international schedule and commitments. In this way, she lives by the very popular Straata or "Hood" mantra that "you can take one out of the ghetto, but you can't take the ghetto out of them".
It's actually crazy cause right now I'm going home ko Sosha. I've always stayed true to myself, ke phela kele nna, Pabi o ne a le Pabi two years ago, three years ago, ten years ago is still the same Pabi today even though [things have drastically changed] because sometimes o kreya kere: "Eh! Am I really nominated for the BET Awards because ke sale nna. I am still myself you know? O tla kreya ke sa reka ko kasi ke re: ''Hebanna, I can't believe I am buying mo kasi but I am actually a BET Award nominee".
For a 22-year-old, Cooper has certainly had a noteworthy career full of surprises, ambition, giant leaps of faith and taking big risks. The year 2020 was the biggest catalyst of her life. It was during the Covid lockdowns in South Africa. She had just finished studying for qualifications to become a professional soccer referee. Restless and anxious about her future career during a time of insurmountable uncertainty where sporting activities across the world were suspended until further notice, Cooper needed a new outlet and a plan B for her career path.
For many, this was at a time when everyone was exploring – a little bit indulgently and guilt-free – a new hobby they have always wanted to try out because of this newfound extra time that came with the restrictions on the movement of people as a Covid preventive method. People were exercising at home, baking Banana bread ad nauseum and binge-watching Tiger King (2020) and Money Heist (2017-2021) on Netflix. All against the backdrop of the devastation that the global pandemic wrecked in our lives even after 2020. The potentialities and opportunities amidst crisis and chaos. This is when Cooper decided to pick up her phone and record dance videos, posting them regularly on her Instagram page and later her Tik Tok. In the beginning, she had short-term goals, but with a focus on influencing public performance and culture.
I had very short goals: 20 000 followers on Instagram and I hit that in a week and I was like now I need 100 000 followers – hit that in a month.
Now she is sitting at 2.1 million followers on Instagram. When Cooper started out, she was part of the cohort of content creators on social media that kept us entertained with dance challenges that exponentially helped grow Amapiano beyond just the music. Nowadays you often hear Amapiano being described as a lifestyle and a movement. It was her and a couple of other South African dancers on social media that captured their dance moves, jamming to Amapiano and daring us to do the same under various dance challenge hashtags online. This in turn made the genre more visible. The music was consumed beyond just passive listening. Beke le beke they would often come up with improvised newly created dance moves that are considered quite easy. Generally, there is only one rule when it comes to dancing to Amapiano: the aim is not to sweat. The music-dance compounds are meant to be easily learnt and reinterpreted by others on social media. The culture of sharing online. Cooper formed part of a network of Amapiano pioneers even outside of the musicians, DJs and music producers. These pioneers not only included dancers such as herself, but they also included skit-making comedians, influencers, photographers as well as videographers and many other creatives who continue to find new ways of contributing to this Amapiano musical and pop cultural zeitgeist. In fact, Cooper's introduction to what is lauded as some of the genre's industry giants, the Major League DJs, was via an Instagram DM. The twin DJs who started their intimate by invite-only iconic Amapiano Balcony Mixes – where they would play Amapiano DJ sets, sometimes inviting influential DJs to play alongside them and filming it for YouTube – saw a dance video of her online and invited her over to one of the events. From there on, she would successively be invited to many other Balcony Mixes, meeting and making industry friends that would contribute to her successful music career today. I am reminded of a YouTube vlog she did with her friend Buhle just over a year ago, where she rated one of the Balcony Mixes she attended after taking multiple free university-provided buses as a University of Johannesburg student, trying to make her way to one of the Balcony Mix venues. Now it is 2023, and barely three years later, Cooper is catching planes to Los Angeles for prestigious award ceremonies and getting interviewed on red carpet events all thanks to how the Internet and technology have democratised cultural production.
I feel like technology and specifically social media is what made me because that is how I was actually introduced and actually how Amapiano [was also introduced]. The whole technology thing through social media and also remember, in times of Covid, Amapiano literally brought us together in tough times because we were all making videos on Tik Tok whereas the world was kind of ending.
It is true and fortunately, Covid lockdown restrictions eased, Amapiano is still dominating popular music and culture post-2020, Cooper has now built a strong social media and public performance presence as a dancer – what else could she contribute to the culture of Amapiano? Well, she just came back from the BET Awards, and even though she did not win in her category, she flew straight to Portugal after the star-studded glitzy ceremony in Los Angeles, to go and perform at the Afro-diasporic centric international festival, Afronation. Mo'ghel is booked and busy! It started out with her intentionally carving out a sustainable career in Amapiano circa 2021, that would ensure that she becomes the global superstar that she knew she would always be. In other words, what does a sustainable career in Amapiano look like for Cooper who is sure that being a global superstar is part of her plans? She had to go back to her drawing board and begin thinking carefully about her talents and their staying power in the industry. In an interview with Kaya FM, Cooper revealed how as a huge fan of the Amapiano duo Amaroto (Reece Madlisa and Zuma), she started forging a relationship with their manager Dada after meeting him at the Balcony Mixes. He played somewhat of a mentoring role to her, and it was from a series of conversations with him that it did not take too long for Cooper to start her impressive musical career. I say impressive because her career trajectory is actually quite unusual, even by her own forthright admission:
I feel like as an artist, I wasn't musical. I like football so I don't really have a musical background to say, "So-and-so inspired me".
Nonetheless, musical background or not, the first song Cooper ever recorded became an instant hit single! It went platinum after surpassing over 3.5 million streams. The song was Isiphitiphiti featuring Reece Madlisa, Busta 929 & Joocy. It kickstarted Cooper's intentions as a musician. It crystalised her goals, pushing her to make historic strides such as being the youngest artist to sell out the 3200 headcount capacity for the Zone 6 Venue in Soweto for her 21st birthday celebration, Cooper F.C Shutdown, last year. Meanwhile, this year, her ambition saw her literally suspended from the ceiling of the Sun Arena in Pretoria performing – similarly becoming the youngest artist to ever host a concert at the large-scale multipurpose event venue.
These days Cooper continues to work on more collaborations in her music. Much like her latest debut EP Cooperville released late last year. It is filled with an array of sonic accompaniments. From Hip Hop maverick Blxckie, to melodic Afro soulful Amapiano duo, Murumba Pitch, to fellow acclaimed Amapiano female vocalists such as Lady Du and Khanyisa as well as her Pitori broers: Mellow & Sleazy, Focalistic and Ch'cco amongst many others. "Collaboration is important", she reinforces when I ask her to tell me more about what her Pretoria posse – Pitori Super League aka PSL – is all about. She describes it as a kind of collective that is invested in bringing the latest crop of Pitori-based artists together, representing their city and supporting each other's individual musical careers.
Nou, I just feel gore Pitori is being given a chance. If we look at artists such as Focalistic, he started rapping in Spitori and he kept that going. So right now, there are more artists that have been introduced like Ch'cco, myself, MJ: re rapper ka Spitori because you know in Amapiano, seZulu sa dominat'a, but we are also trying to say there is the Pitori way – Bacardi. Pitori Super League is us coming together to say we are pushing Pitori and actually giving Pitori a chance ka Spitori. People like bo Sosh Plata [Loatinover Pounds feat. 25k & Thapelo Ghutra] batho batipotsisa gore "eh maan, ke smasher ka summer e ra go reng?" So, I just feel like right now Pitori is running because one thing I've noticed about Pitori artists is we support each other so that is actually what I love about us.
Meanwhile, what I particularly love about Cooper, despite her unflinching belief in herself and her career ambitions, is her DIY sensibility. Her career achievements have been premised on a vuka uzenzele attitude that has granted her the grit required in ensuring one cements their name in the fickle industry of the entertainment and music business. Her whole entire EP was created after she organised a camp. She bought a set of studio equipment for music recording, rented an Airbnb in a suburban home in Gauteng and invited her industry friends over that she always wanted to collaborate with. Some of them did not necessarily make it to the final EP but it was a way of cultivating musical experiments that could establish a practice of music-making that is more intentional, supportive, and rooted in community. This is especially because many of the Amapiano musicians are taking more of the independent route, herself included, launching her own company Cooper Entertainment in 2022, instead of signing record deals with major recording companies. In turn, a majority of Amapiano artists are not only taking ownership of their art – their livelihoods – but also charting their own paths of autonomous popular musical practice. This reminds me somewhat of how Kwaito pioneers – the co-founders of Kalawa Jazmee: Oskido, Don Laka and Christos – laid the foundation in the late 1980s and early 1990s for the kind of DIY we see in Black South African popular music today. When major recording companies snubbed Kwaito in its nascency (they would not sign artists let alone distribute their music no matter how popular the music was at the time) these young ambitious Black producers in their euphoric state of post-apartheid South Africa had to innovate how they would market their music. By merely employing a "let's do it ourselves" methodology, these Kwaito pioneers would sell cassettes from the boots of their cars or get into distribution deals with the ubiquitous "Indian" shop dealers in many of our South African townships. Whether intentionally or not, this ecosystem of popular Black music that has a history of being peripheralised or exploited has left an indomitable mark on our country's music business models. As South African art and culture journalist, Charl Blignaut put it in a documentary unpacking South Africa's club culture:
Thanks to the House Music scene, which became the Kwaito scene, which became the (South African) Black House scene, we have one of the only truly transformed business sectors in South Africa, where Black-owned independents own the local music scene, making the most money from it.
Another tangent, Cooper's camp reminds me of is visual artist, Thenjiwe Niki Nkosi's concept of "Radical Sharing". A practice that is also pervasive in the schema of popular cultural consumption right now, especially given how culture is being shared and consumed online. Ordinary people are no longer afraid to ask to "be put on", as South African content creator, Dimakatso Epesia elucidated on her viral Tik Tok that people must share their resources and networks with her, jokingly, yet seriously pleading in Sepedi and English: "Re squeezing in, le rena rre nyaka go ba gona mo industry'ing. Re lokeleng!". As I quiz Cooper about her camp and its intentions, I am bearing in mind Nkosi's description of radical sharing as always foregrounding inclusivity as one of its aims and privileging the power of human interaction – of creating communities of deep listening, of sharing ownership and really seeing one another. When I bring this to her, I notice a jolt in Cooper's voice, what sounds like excitement in talking to me about her camp:
You know actually, I do camps every year. It's another way of getting different types of artists in the same room. You wouldn't know what type of magic you would make… Also, everyone needs to have great energy, the intentions need to be pure, that is how we make hits. You can't come with bad energy, nothing is going to work out. The creative space is really spiritual.
I believe her. At the same time, I ask her, still keeping in mind this ideal of radical sharing at the back of my head, about what Amapiano's future looks like in its openness. Every day we are learning about new iterations of the genre coming from many parts of the world, we even have a subgenre called Punjabi Piano making some traction on the many niches of Amapiano on Tik Tok.
To be honest, I just have a little bit of fear. I just don't want people to ruin it, especially when they say there is Amapiano Afrobeats. I feel that as South Africans and South African artists, we need to safeguard the sound so artists from other countries outside of South Africa don't own it.
As am listening to her answer I think about ideas of Afro-sonic diasporic links and dialectical flows of how African cultural production – from music to art, dance, and food – has always had an (in)voluntary mobile culture both intra-continentally and overseas given this continent's sociopolitical history. I am thinking about how for instance, the history of South Africa's House music and subsequently Kwaito is also imbricated and instigated to some extent by the developments of House music in Chicago in the 1980s. Thus, it is not unexpected that Amapiano – a subgenre of both House and Kwaito music – has crossed over the way that it has in many parts of the world especially outside of South Africa into the Black diaspora. If we understand our cultural production in a series of entangled historical currents, how do we ensure that in sharing our knowledge production through our music, that that is not mistaken for erasure when it comes to the specificities of where a particular creative endeavour was first developed from? Surely after this BET Award nomination, you will be getting a lot of requests to work with different artists from all over the world if you have not already, I ask Cooper who anecdotally recounts:
I remember when I was in Miami, they [producers] know where the sound comes from. They know who owns the sound but also, you'll get that they've already made something. You'll be surprised that this is not a South African producer but they have made Amapiano. But also, when you get there, it's also about the direction and contribution. They'll ask you: "How does it sound, what can we add?" And I'll also suggest producers from South Africa because I also have beats. I feel that is also a way we can try to save the sound.
This reminds me of something she had already alluded to in our conversation earlier in relation to her Pitori collective: "collaboration over competition". I accept her answer. It makes sense because it also accounts for why she and many other Amapiano South African artists are able to have the global platforms they have. To have the kind of world tours (in every sense of the phrase) and opportunities to perform at acclaimed music festivals, taking crews and teams with them that are South African. Nonetheless, the asymmetrical power dynamics of how art and cultural production flows between the global North and the global South is something we should always question. Amapiano as a musical practice is endowed with so many multiplicities in its sonic influences and socio-cultural reach beyond South Africa. However, in its musical osmosis, it is still ostensibly a South African creation that in its global resonance and reception elsewhere, potentiates new possibilities of solidarity. Asking important questions about radical sharing, Black creative autonomy, hybridity, and the sonic registers with the Black Atlantic and everywhere else overseas. Much like Cooper has reiterated throughout our conversation: all of these opportunities and possibilities are invitations for collaboration, not ownership or competition.
*** Author has deliberately decided to not include English translations of some of the Spitori words used in the feature article to also invite the reader in making sense of social, linguistic, and cultural untransferables of the Spitori language. She feels that this is also a part of engaging with the musical practice of Pabi Cooper and the broader cultural production of Amapiano.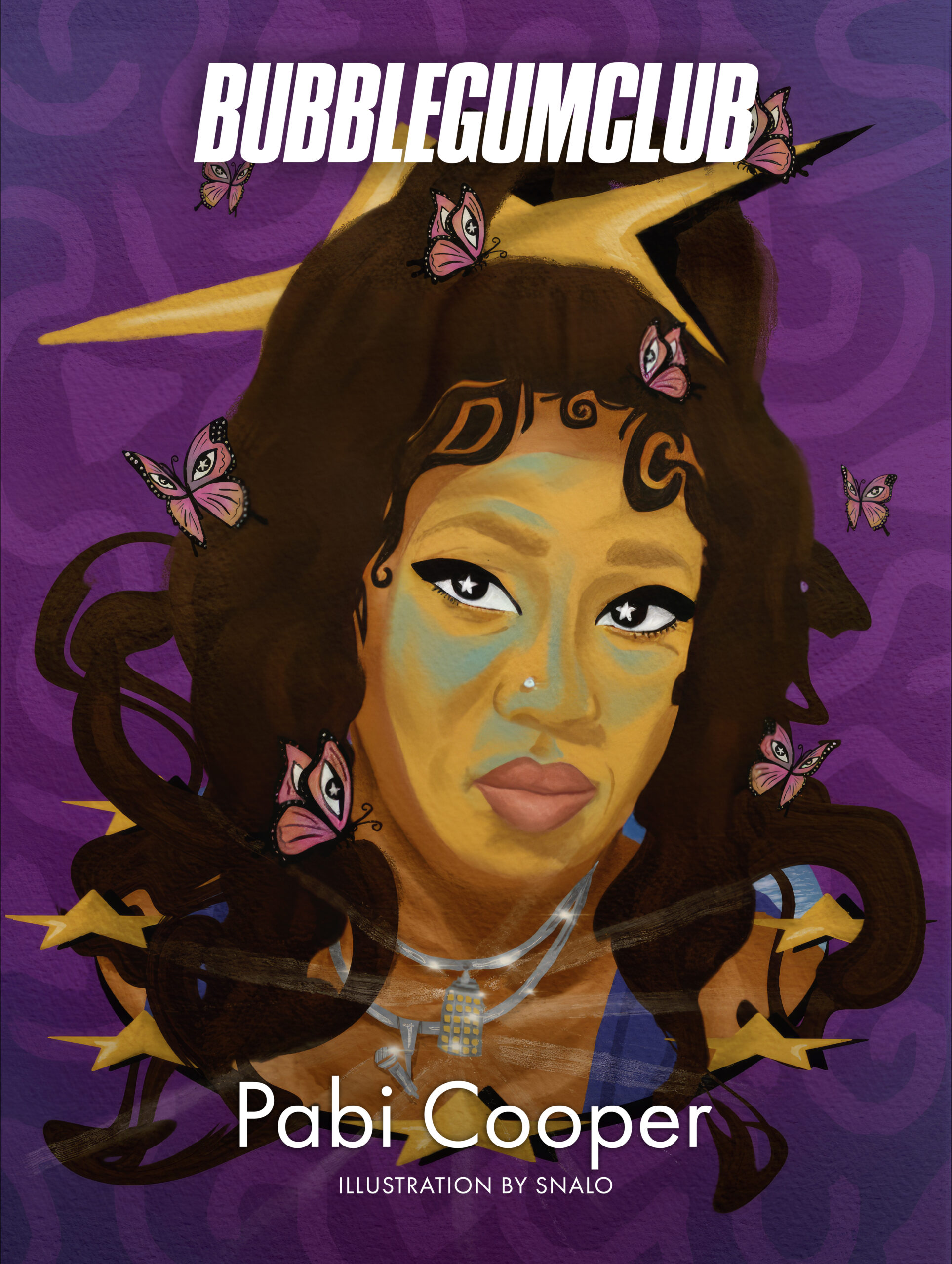 Animation by Lex Trickett