I interviewed Valentino Zondi and Lilli Bagradyans who make up the creative duo ZIBAYO.
Durban-born Valentino solidified his call for creative expression when he attended film school, which has contributed to his current work as a photographer and art director. Through trial and error he now finds himself in possession of a CV with work for some of the coolest brands and a few awards. Lilli has found her creative expression within the triangle of architecture, art and music. Having grown up in Germany and being of Armenian origin, she described South Africa as providing a turning point in her creative journey. Having found each other while Lilli was working on an urban project in South Africa, she describes their joint artistic endeavors as reminders of who she is.
Valentino explained that the name ZIBAYO stands for transience. "Everything is transient," he adds, "moments, encounters, experiences. Everything is transient besides the art we create.". Through their work they try to conserve the momentary occurrences they experience and witness around them.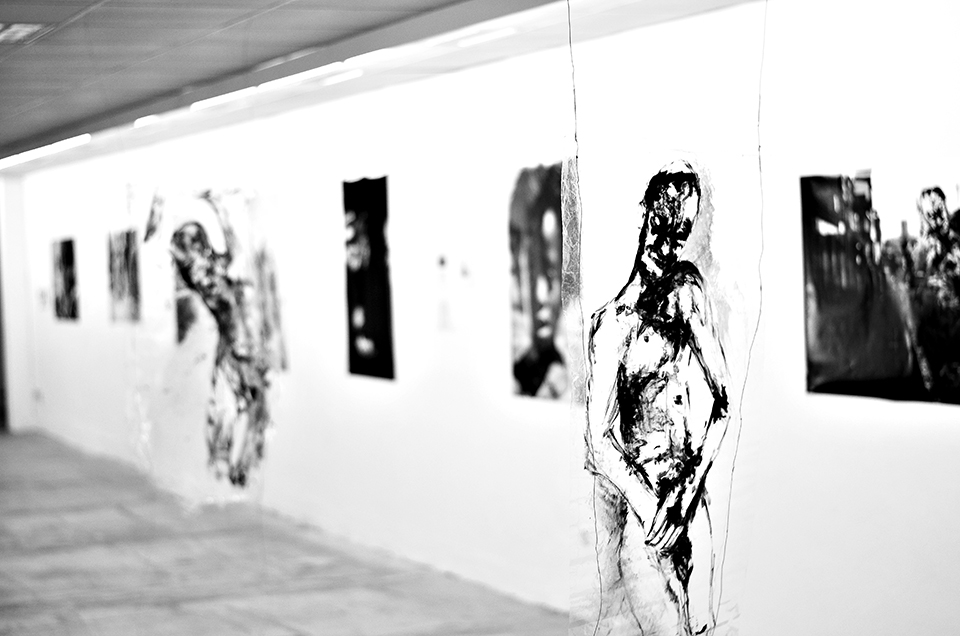 Together they intend to create a new space for art by combining their differences. "We come from nations which have been divided by differences in religion and race. We feel it is our responsibility to usher in a new way of looking at our differences as human beings, the idea of a black man and a white woman working together as a duo is foreign to some minds. It is in that space that we want to create, in a space that confronts and questions our basic frame of thinking," Valentino explains.
Their joint art practice involves Lilli transforming an element of photographs taken by Valentino into a painting. "We go back [to where the photograph was taken] with the painted element to reframe it into a situation that is identical to the original captured image. In the reframing, the painting is given new life in a newly shot photograph," Valentino explains. This is all done without the use of post production editing platforms.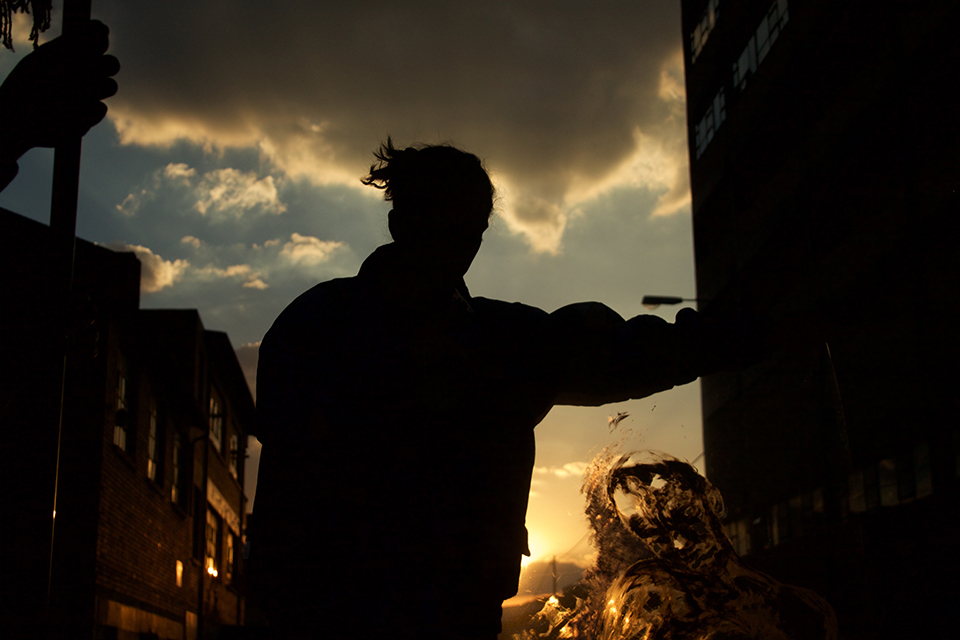 Their first series of exhibitions titled HIDDEN IDENTITIES looks at the aftermath of gentrification in parts of Johannesburg. Exploring the lives of the people who once occupied the streets where they are no longer welcome, the first chapter of this series of exhibitions took place in Maboneng where the streets were used as an exhibition space. "This gave the individuals [who were photographed] a chance to see themselves…In our conversations with them when we were creating this body of work, most of them expressed feelings of being isolated and secluded from Maboneng…By exhibiting in the streets of Maboneng and inviting them, we closed that void of being excluded," Valentino explained.
HIDDEN IDENTITIES then went to London and was presented at the Armenian Symposium: Armenians in a Global Context in April. In London they built the bridge between HIDDEN IDENTITIES and their next project which is going to be produced in Armenia later this year. They then moved on to exhibit at Kosk Gallery in Munich alongside sculptor Max Boström's project, EXIT THROUGH CONSUMPTION. The exhibition is moving to Rome, and will make its final appearance in Johannesburg again. "We will be adding a few more pieces in the collection. That is how we do it for every city. So when it returns to Johannesburg, it will have more work than when we left.".
Lilli and Valentino have got plans to expand their joint creative practice by releasing a fashion project that will include photographs taken from different places in Africa.
Check out ZIBAYO on Facebook and Instagram to keep up with their work.