Confident and clear, Umlilo's voice conveys the air of a seasoned performer. Meaning fire in Xhosa, the name Umlilo describes Siya Ngcobo's performances as an artist. "Fire is something that can give life but at the same time it can be something that destroys completely. The way I see myself as an artist, I destroy people's perceptions of what an artist is supposed to be, what gender is supposed to be or what music is supposed to be, but at the same time that flame can be something that helps something grow and that helps something develop," they say. Refusing to be boxed in, Umlilo challenges what people expect from pop music and gender stereotypes. Using their future-kwaai sound as a platform to make people confront their own preconceived ideas, they see their music and aesthetic as a two way conversation. "It's not just this one sided thing – this is who I am – but who do you think I am? How does that make you feel? How do I challenge that and how do I learn from your perspective? I love that interplay between music listeners and music makers."
Influenced by a variety of genres including kwaito, rock, pop, R&B and hip hop, Umlilo sees future-kwaai as a representation of South Africa's sonic future. "You might not be able to understand it immediately or it's not as tangible but it's definitely a sound that's as unique as South Africa's cultural landscape but also looks to the future," says Umlilo. As an artist Umlilo stays away from being genre specific, remarking that "I never want to be stagnant. I never want to be focusing on one genre. I always want my songs to be different from each other. And I always want to push myself to be that artist that's never bound to a certain genre."
Releasing their first experiments as an artist under the moniker Siya Is Your Anarchist, their sound and message evolved from a disruptive space into the more accessible sound of future-kwaai. Their debut as Umlilo came in 2013 with the release of their EP 'Shades of Kwaai' which saw them experiment in musical discovery. "How far can I go? Is that too far? Does that sound good?" Umlilo asked of their music when working on the EP. The EP too was a chance for them to learn about production and their voice which allowed their fans to grow with them. "I think the evolution of it has been really great because the more output you make you start finding your sound through that. I think a lot of people who were with me in the beginning of my journey have now figured out who I am as an artist as I'm figuring it out," they note.
This journey is continuous as they keep experimenting and pushing themselves and their music. "There is a very distinct Umlilo sound that I'm still figuring out as well. But at the same I've got a lot more confidence and I'm still very much an experimental artist. And that excites me because I never want to get bored and I never want to feel like I hit it, this is my sound, this is what I want to do. There must always be an exploration. That's what makes the journey interesting," says Umlilo. With a wide vocal range they are able to explore a variety of sonic palettes from hip hop to more operatic sounds. While they used to view this as a hindrance, they have grown to embrace this aspect of themselves. "I used to think how do I put all of this into one," they recall.
Having released their second EP 'Aluta' in 2016, Umlilo has continued to create more music and collaborate with different producers. The last year has seen them work on numerous projects which will slowly be released over the coming year. June 16th saw the release of 'Rainbow Riots', a compilation produced by Sweden's Petter Wallenberg and featuring queer voices from some of the world's most dangerous countries for LGBTQ people, such as Uganda, Jamaica, South Africa and Malawi. They have also been working with Jumping Back Slash on a new EP entitled 'Isambulo'. "I really have so much respect for the work that he does and he's one of those producers that I really clicked with," Umlilo says of Jumping Back Slash. A frequent collaborator with Joburg's Stash Crew, Umlilo has a single with crew member Whyt-lyon in the works and will be playing festivals in Berlin and Stockholm with them. "There's a lot of things coming out in the next year or so. I'm very excited to finally share things with people who have been following my progress,"  says Umlilo. With a clear message and aesthetic, there is no doubt Umlilo will have a lasting impact on South Africa's music scene and beyond.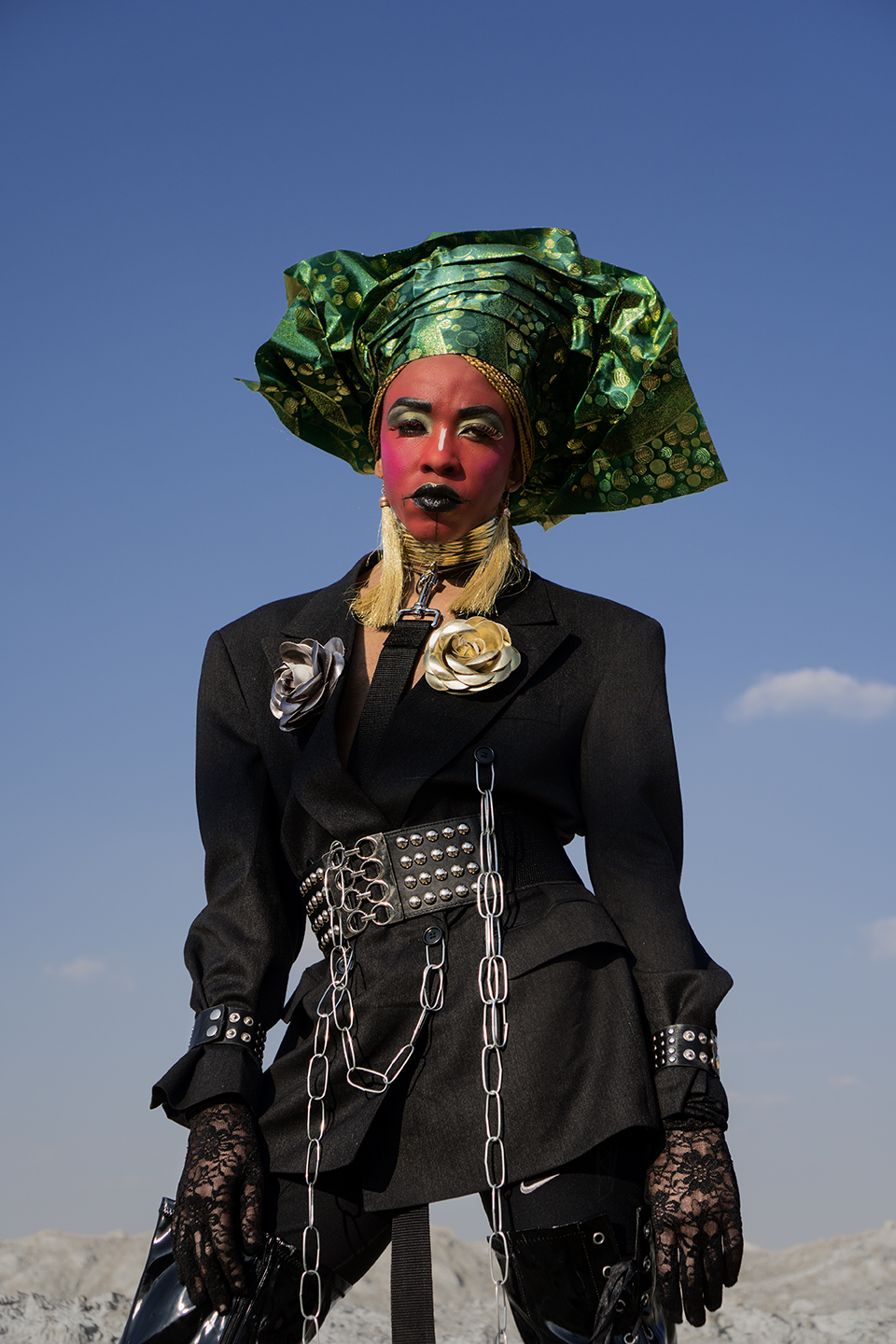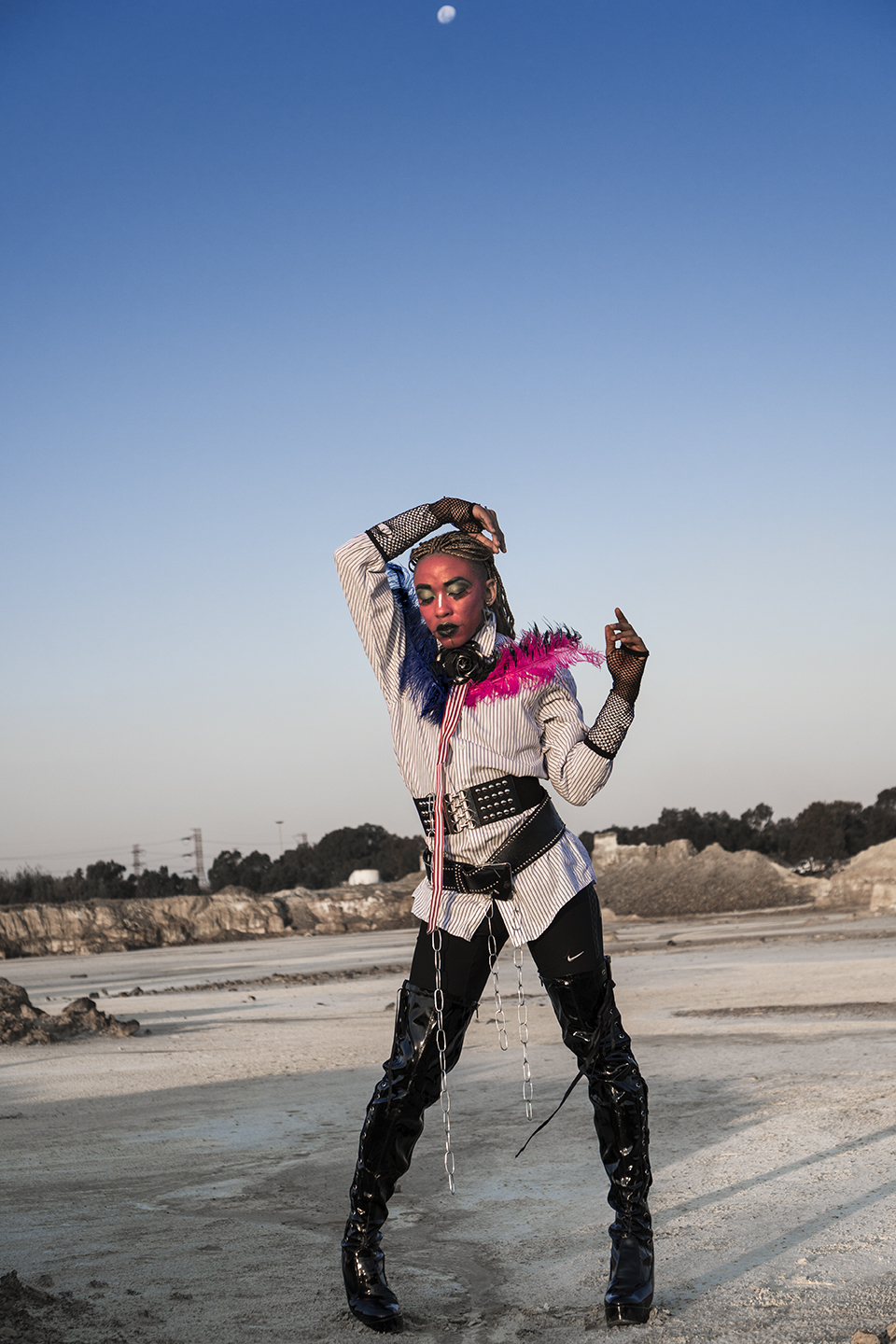 Photography & Styling: Jamal Nxedlana
Hair & Makeup: Orli Meiri
Stylists Assistant: Kyra-moon Halfpenny
Photographers Assistant: Dhevan Bergmann