In a world of picture-perfect aloofness, hot girl nonchalance, and that distinctly adolescent desire to appear uncaring and unaffected, sincerity is like a precious stone. If it was a currency, then Jade Alves would be the richest girl in the world. Most well-known by the moniker Money Badoo, the rapper, singer, and songwriter's aesthetic, music, and aura are what I can best describe as Violent Fuschia: a hardness and grit juxtaposed by a diaphanous cloud of just girly things™.
Her kaleidoscopic Instagram feed filled with tattoos, guns, technicolour hair, rosy cheeks, and extra-long pigtails belies the kind of girl just as likely to kill you as she is to make you want to die for her. Now with the release of her debut album, Pornstar, she's sharing the vulnerability and earnestness that's laid hidden beneath that diamond exterior.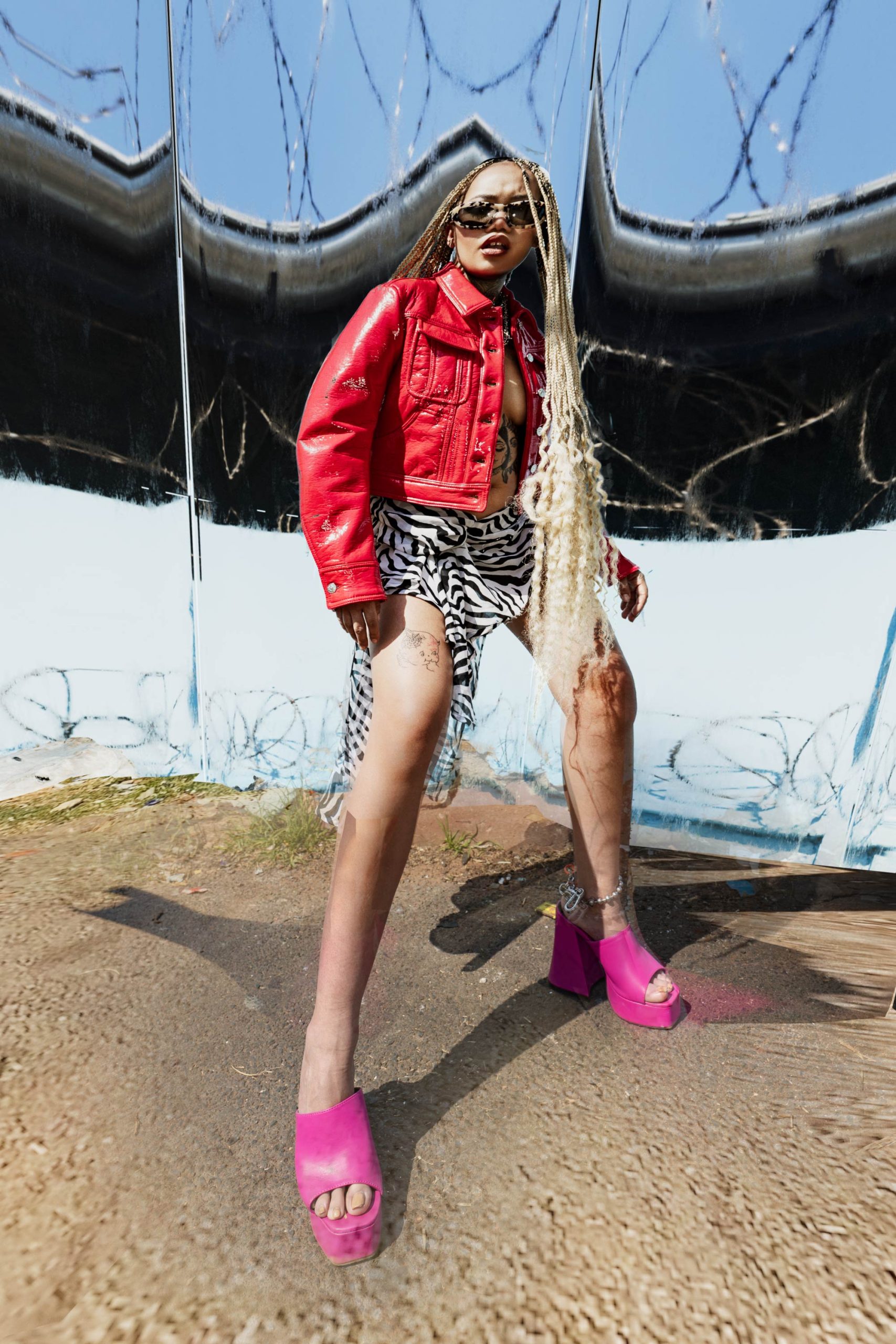 Money Badoo wearing: Diesel sunglasses, Diesel jacket, skirt model's own, slides model's own.
"When I was working in the club, a man once said to me, 'if music doesn't work out for you, you could always be a pornstar,'" Money says, revealing the inspiration behind the album title. It's of note that in the record where Money is reclaiming her own sexual objectification, she's also the most gentle she's ever been. Pornstar sees Money expanding beyond the tough girl trap bubble, singing sweetly about love and friendship, and personal growth. Meeting her experiences of slut shaming, patronisation, and patriarchy with a double-downed approach to the traditionally feminine traits of softness and vulnerability is its own unique and liberating rebellion. Of course, she could be hard and aggressive, which she does in her music, but she's not here to limit herself or be moulded into what those experiences want of her. "I'm writing about where I'm at."
Shades of pink and doe-eyedness don't strictly define these feminine traits. You can see it in how much she values community. Collaboration and sisterhood are recurring themes in everything Money does. Beyond creating music with fellow femme rappers and songstresses Sauwcy, Lord Kez, and Rarri, her friends make cameos in her music videos and many of her visuals feature her companions both behind and in front of the camera. She's really excited about the future of the local music industry and the women in it especially.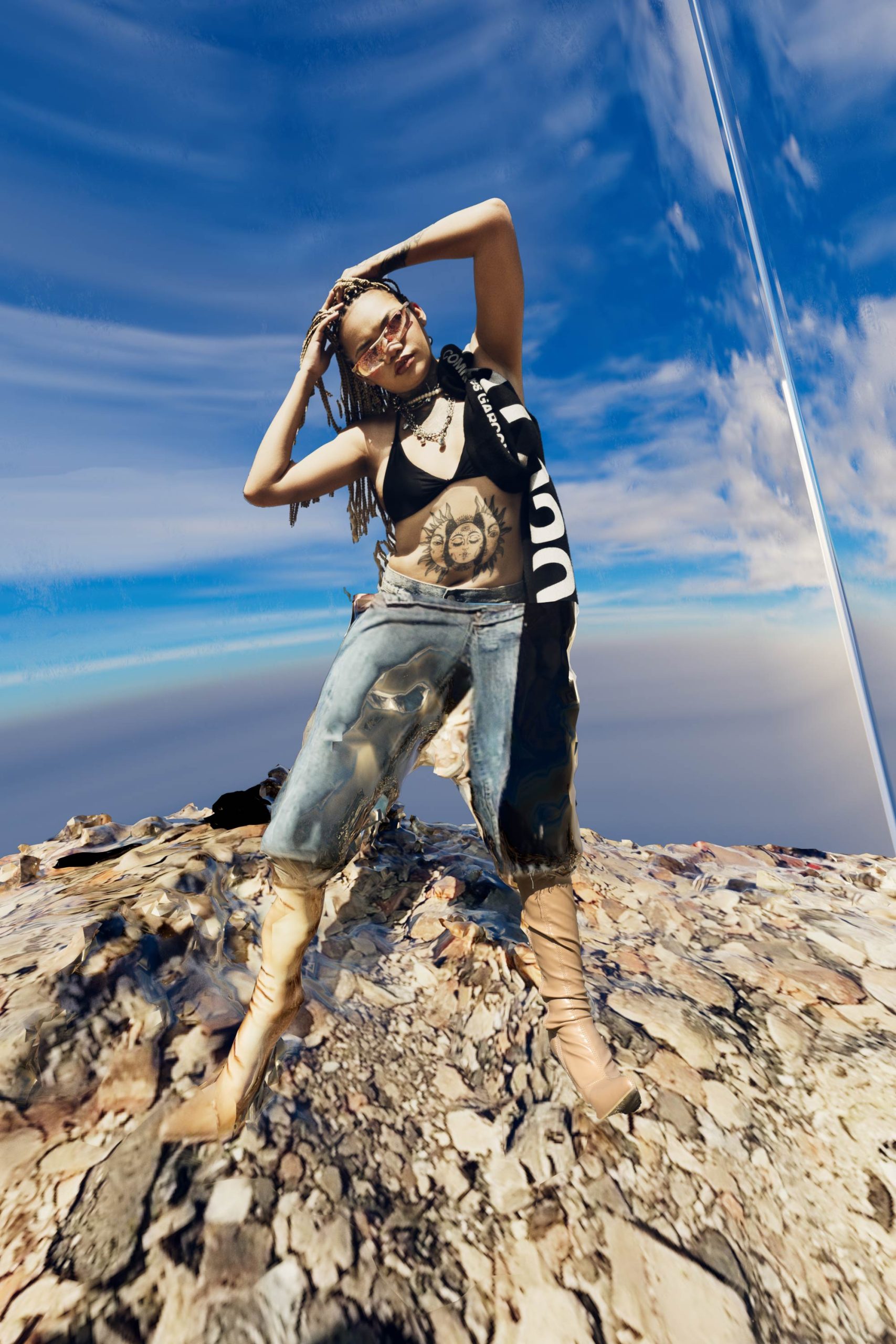 Money Badoo wearing: Sunglasses model's own, bikini model's own, scarf stylist's own, shorts stylist's own, boots model's own.  
"We're going through a rebirth. Things are so new," she says. "The West isn't the centre anymore. Everything is happening here." She mentions Anele Zondo and DJ DooWap as some of her local favourites to keep an eye on. "I wish we could [all] collab way more," she adds. "We sound bussin' together and my art can't take away from yours." Her list of global stars includes Coi Leray, Rihanna, Doja Cat, and, of course, Nicki Minaj, even if the latter is currently getting into the kind of social media hijinks that fall into the tired tropes of pitting women against each other.
Lately, Money is exploring new and different sides of herself. In her personal style, she's playing around with androgyny and turning away from high fashion as a source of inspiration, looking to independent brands and regular people. Recently, she participated in the SABC1 reality television show, 'The Perfect Picture'. The competition show challenged Money along with other celebrities to step away from the spotlight and get behind the camera to produce their own stories and get the shot. "I was praying that this year I'd get to do something in visual arts," Money adds. This became her vehicle to really interrogate identity, culture, and socioeconomic issues.
As a "University of the Streets" alum, she's spent most of her life teaching herself everything from singing to writing to sewing and creative directing. While it might be of no surprise that the person behind the amazing visuals across her Instagram feed ended up winning the show, it was a surprise to Money as someone who'd had to be such a self-starter. It was an affirmation of her talent and her ability to learn and grow.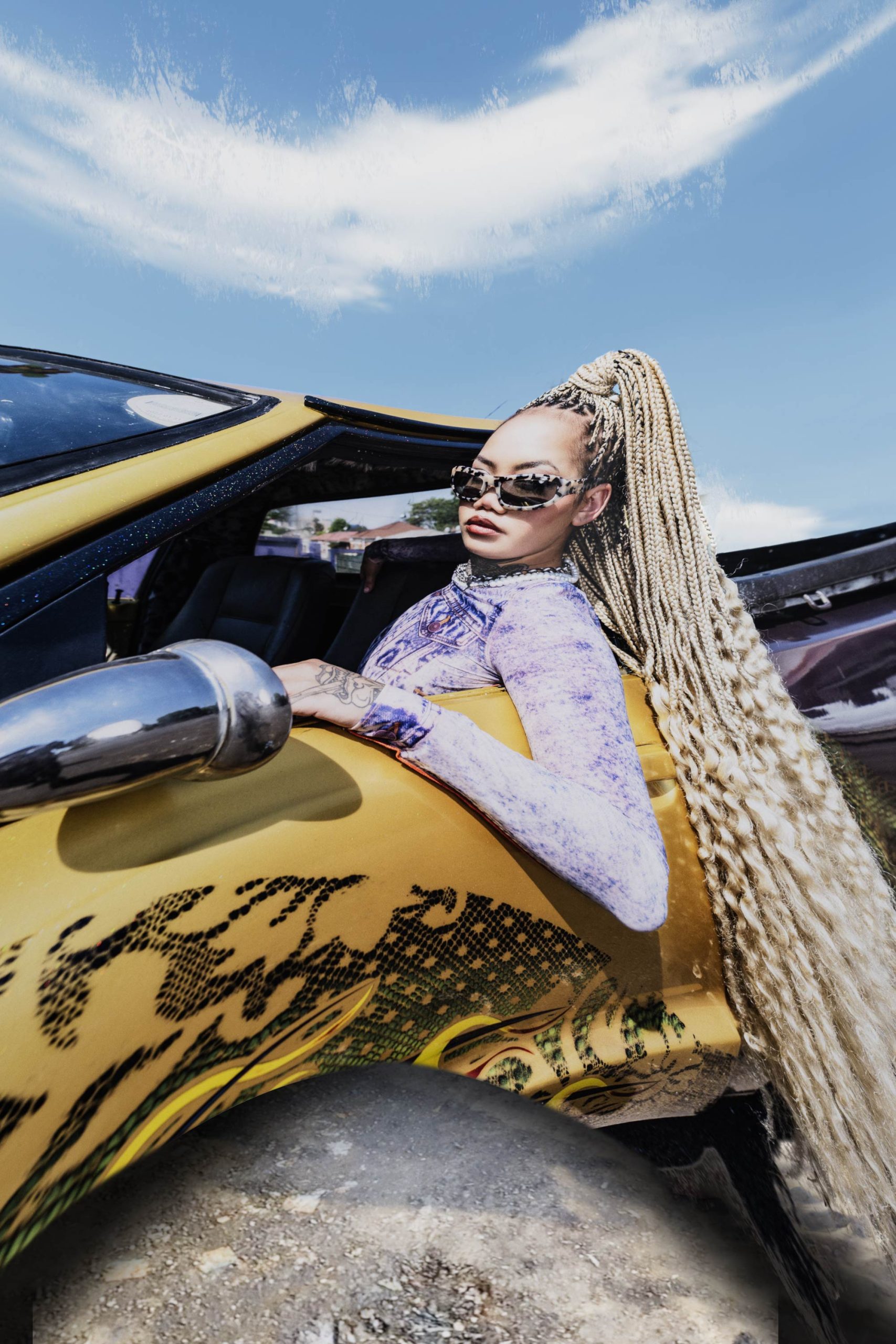 Money Badoo wearing: Diesel sunglasses, Diesel top, Diesel leggings, boots model's own.  
Despite the setback that was the pandemic and lockdown, Money's got exciting plans and hopes for the future. She's currently signed and/or working with brands like Diesel, Puma, Levi's, and H&M. In an ideal world, she adds that she'd love to go into fashion for herself, "a line of sustainable clothing." Visual art is on the list, along with philanthropic projects and going to school but most of all she wants to do the work that makes people's lives easier. Getting her start in music was a tough road and she'd love to be able to advance other young and emerging artists, securing studios and education and providing the kinds of resources that were so difficult for her to find. She mentions the '90s R&B group TLC as the best cautionary tale. Even with all their record, undeniable cultural impact, and "getting Grammys [they] were broke as hell."
It's admirable to listen to someone who's really had to struggle and fight so much and still be so optimistic and enthusiastic about the future. South African artists of all kinds are faced with some of the most insurmountable challenges, from a lack of resources and funding to the inability to achieve the kind of overnight success stories we see in the States, and this goes double for women. There's a contagious faith and self-belief that comes through in everything Money Badoo says, sings, and does. It's pretty hard to see a version of the future where she isn't able to take everything she wants and more. It's like what James Freeman Clarke said, "Even where there is talent, culture, knowledge, if there is not earnestness, it does not go to the root of things."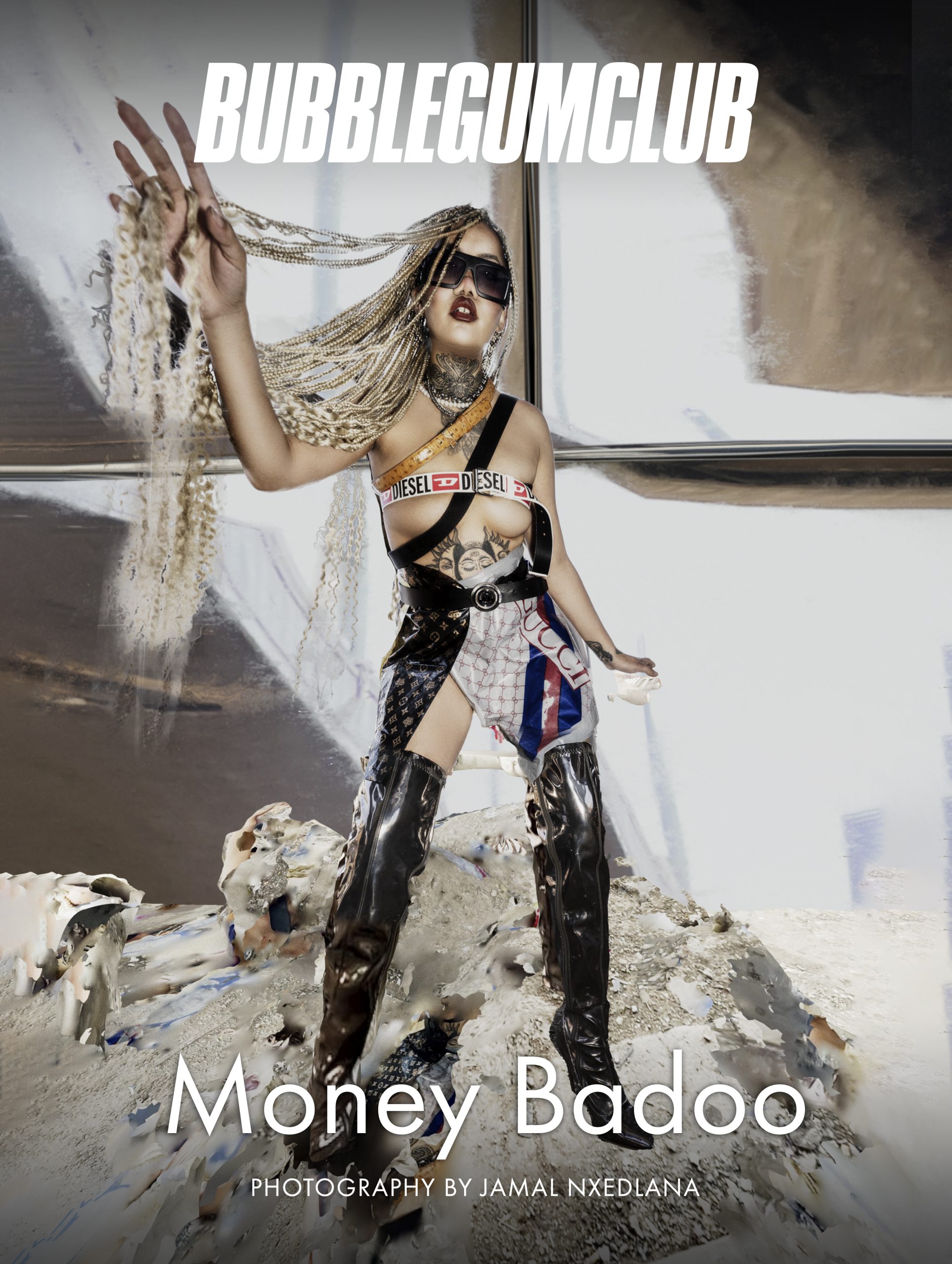 Money Badoo wearing: Sunglasses model's own, belt by Diesel, shopping bag skirt stylist's own, boots model's own.
CREDITS:
Photography by: Jamal Nxedlana 
CGI by: Lex Trickett
Retouching by: Lightfarm
Styling by: Money Badoo & Jamal Nxedlana