With a Mozambican father, who always had his guitar on hand ready to play a song, and a South African mother, both with great storytelling abilities, Carla Fonseca, the birth name of Batuk's frontwoman Manteiga, was exposed to and had a great appreciation for the dramatic arts from a young age. "You know your aunts and your uncles, when they start telling the story of how somebody got robbed or whatever the story is, there is quite a lot of drama. I guess my interest in any form of dramatic arts started there and I consider music to be a form of dramatic arts as well."
Moving between Mozambique and South Africa as a child before settling in the township of Reiger Park in the East Rand of Johannesburg around the age of 6, Manteiga went to a high school for the arts where she focused on theatre and went on to study further in the medium at university.
It is through her work in theatre that the idea to collaborate with Spoek Mathambo and Aero Manyelo came about. The two producers had already decided to collaborate when Manteiga invited Spoek to a production she had written & directed and in which she performed six different characters. "One of the characters sang. I guess [Spoek] saw the ability in me to change characters, write and sing." Initially only joining them in studio to work on a few tracks, Manteiga would soon join the group as an official member.
The Manteiga alter-ego serves a practical as well as an artistic purpose. "Manteiga helps me separate my music from my theatre work. It helps me think from a different mind space. Manteiga is the music maker in me and she is against sexism, homophobia, xenophobia. She is for equal rights and everybody having freedom in their lives. Whether it be freedom against war, coming from two countries where we've experienced extreme violence. A stand against violence against women." explains Carla who believes that bringing this philosophy into the message of the group is of significance. "I think it's important for artists to not just make work that's just flimsy. It's your responsibility to speak about subjects that are important to you."
Manteiga says it was her "philosophy on women needing to be in the forefront and needing to be empowered more and allowed to lead a lot more" that saw her take charge of Batuk, leading decision around visuals, storytelling and representing the group in the press.
Coming from a theatre rather than a music background sometimes challenges Manteiga when it comes to writing. "It's very different. I was kind of given a crash course on how things work [in music]. Sometimes I write stories and then from there I can take out bits and pieces and put it together."
Having released two albums and an EP over the last three years Manteiga says that she feels like she's grown more confident in both her writing and singing abilities. "On the first album I wasn't singing much. Nandi was a collaborator in the project and she's got an incredible voice. I have a voice, but I was too shy to express it. But on this new album I got the balls to sing and that was a big step for me and I grew in that respect."
On both 2018 releases, "Kasi Royalty" and "Move!", Manteiga and Spoek decided to pursue a more South African sound reminiscent of their township days. "There's more Xhosa, Zulu and Afrikaans. I rap in Afrikaans, I tell my stories of what it's like to be a coloured girl from the township. We want to appeal to a South African market but we just wanted to take our Kasi roots, Spoek being from Soweto, and make something that was true to us and nostalgic for us."
While hoping for local appeal, Batuk's support is largely overseas, with their upcoming tour "Again She Reigns" spanning the European continent, save for a couple of local shows. Manteiga is excited for the tour which begins at the end of September. "It's a lot more dramatic and theatrical. I'm incorporating my theatre roots into the show. There are different characters and the music is kind of part of a character's story."
Speaking on the lack of support locally Manteiga says: "I think there's a lot of corruption involved. In order for your song to be on the radio you have to bribe people. There's a whole payola system in South Africa and if you participate in that you get more people listening to your music, exposure, etc. potentially shows. South Africa is interested in hip hop right now but they're also interested in a lot of other genres. …It's really just what appeals at the time. I'm not disappointed at all. I think for what we've done in the last 3 years I'm really proud and excited for what's to come and what has been. I'm not complaining at all."
Batuk continues to work hard at pushing its music locally. "We print a whole lot of CDs and hand them out to taxi drivers, people in parks listening to music, we try as much as we can in South Africa to spread the music." But Manteiga says that it is up to promoters to book them.
In the meantime, fans can anticipate a new music video from the group dropping in the near future. "We just started a conversation with a director, we need to decide which song we really want to push, maybe we'll leave it up to fans to decide, not sure, but we're looking to release a music video soon."
Despite having dropped two releases in 2018, Batuk is looking to release new material next year. "Spoek Mathambo is a machine, he's always in the studio, always making music, so we're not going to rush this year but next year we'll definitely be releasing music. The way I work, I constantly want to produce. I want to produce and not stop and wait for people to decide, maybe the album will only achieve what we want it to achieve in 3 years' time and I don't think we should stop for that."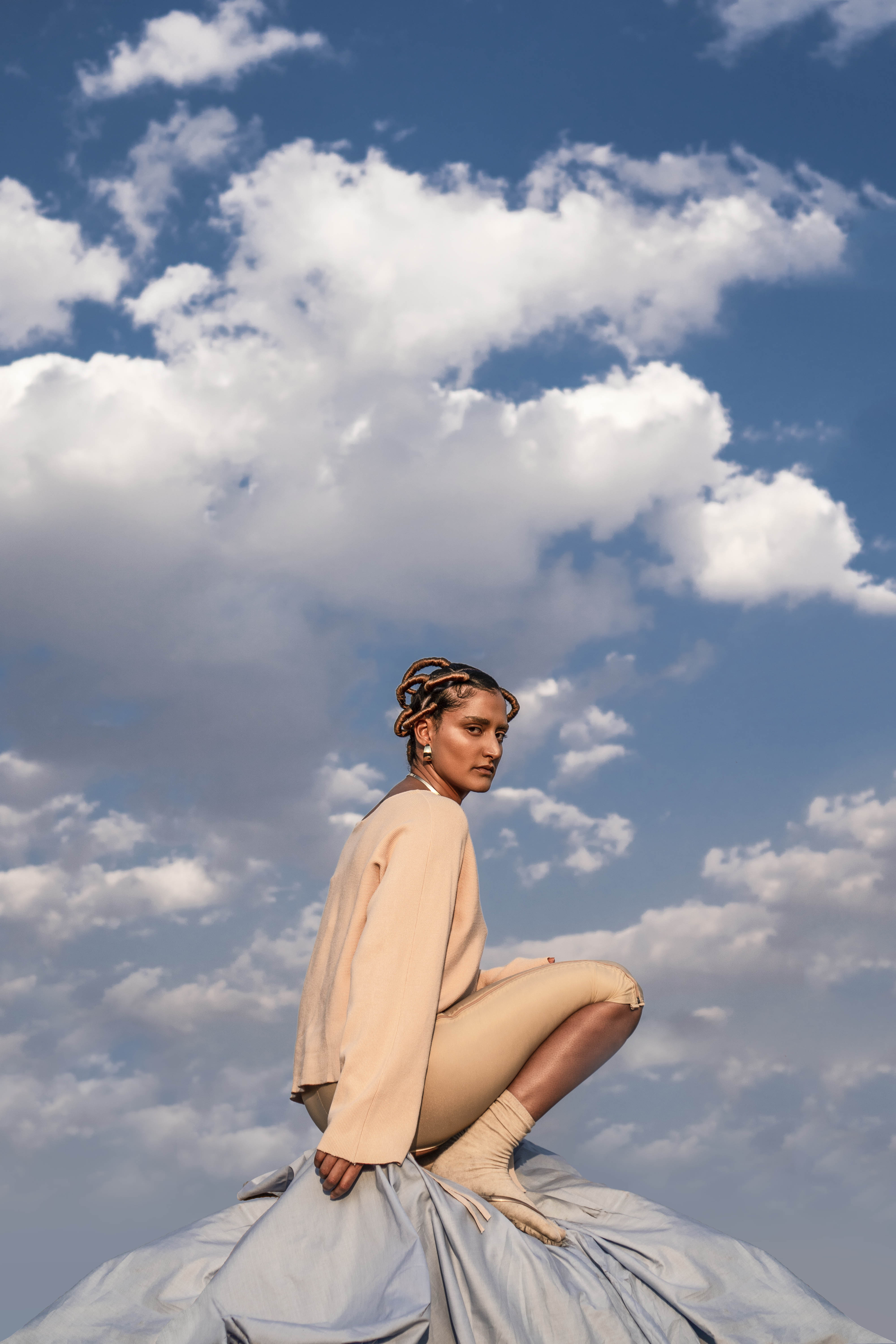 Credits: 
Photography & Styling: Jamal Nxedlana
MUA: Kristina Nicol
Hair Stylist: Nomasonto Malefo
Photographic Assistants: Lebogang Ramfate and Darnelle Thompson