"I was attracted to science fiction because it was so wide open. I was able to do anything and there were no walls to hem you in and there was no human condition that you were stopped from examining".
"There is nothing new under the sun, but there are new suns".
Octavial Scape is the first solo exhibition by Geneva-based Afro-Futurist DJ, founding member of the House of ButchXtra and artist Maïté Chénière. The exhibition takes form in an immersive installation and is a tribute to the late Octavia E. Butler and her Xeneogenesis trilogy, which imagined a different world after the apocalypse. For those of us privileged enough to have spent time in the worlds magicked-up by the fruits of Butler's imagination, learning her characters in all their complexities and the new suns they move within and between—there is testimony we can give of how we were put together or undone anew by the prolific work of the science-fiction writer. The visceral image of Dana's lost arm—entrapped somewhere between her ancestor's then and her own now, as she travels back and forth in time moving between the present and the time of slavery—which both opens and closes the book Kindred, rearranged from a new place of thought and feeling the relationships I was building with my understandings of violent wounding and wounded H/history's. Of the many ways of being (dis)membered; spiritually, emotionally, ontologically and even physically — of what's left behind and what's carried through.
"I wonder whether the children were allowed to stay together—maybe stay with Sarah."
"You've looked," he said. "And you've found no records. You'll probably never know."
I touched the scar Tom Weylin's boot had left on my face, touched my empty left sleeve. "I know," I repeated.
"Why did I even want to come here. You'd think I would have had enough of the past."
"You probably needed to come for the same reason I did." He shrugged.
"To try to understand. To touch solid evidence that those people existed".
Kindred, Octavia E. Butler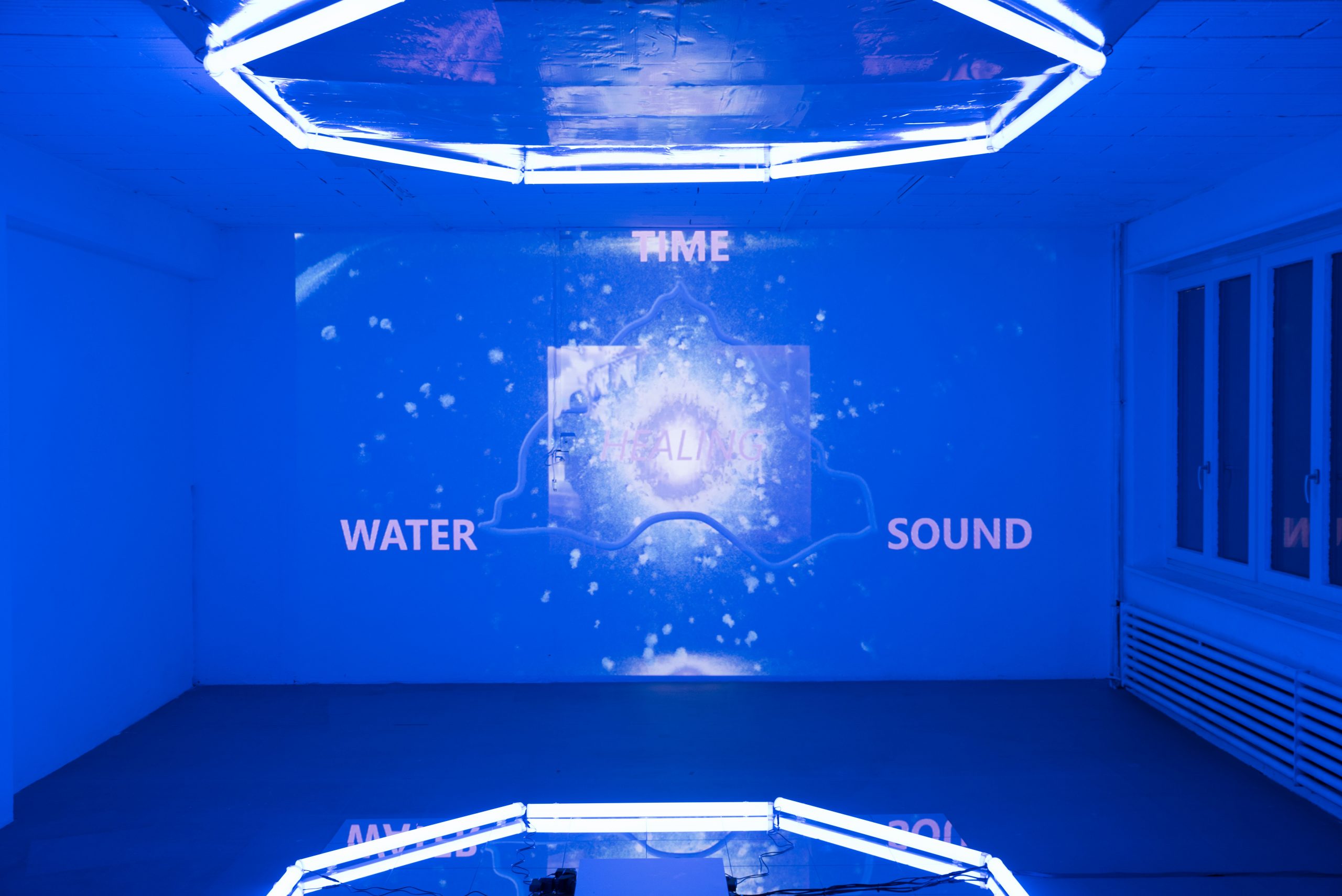 Maïté Chénière maps different modes of refusal and resistance in the forms of music, popular culture, academia and story-telling against the backdrop of the Atlantic – a central site of subjugation in the Transatlantic slave trade and node among a global community. By virtue of eliciting a conversation with the oceanic space of the Atlantic and its H/history of Necropolitics, Maïté Chénière's practice performs a sort of ceremonial exorcism on the imposed silence, erasures and abstracted assemblages of Black being where the H/history of slavery and its haunting are concerned. Subverting this history of subjugation and oppression, the exhibition takes its point of departure in the legend of Drexciya.
Drexciya tells the story of those enslaved women who were found out to be pregnant while in the belly of a slave ship and consequently thrown off board. The legend imagines the lives of their children, who—born under water—adapted to under-marine life and founded a Black civilisation at the bottom of the Atlantic and in doing so, injects this site with new potential and reclaims the agency of enslaved Black people, whose lives and legacies have been widely erased. The exhibition brings together many forms of cultural productions as well as elements from the academy, with Maïté Chénière facilitating communal experiences that challenge the hierarchies in the status quo and that centre queer Black people. Planting new suns in the Cosmos through the manipulation of space(s) such as such as night clubs, exhibition spaces, performance venues and immersive installations in order to shift the perception of time.
Exhibition: 16. August – 12. September 2020 at 1.1