After spending some time reading about African mythologies and our take on spirituality, this body of work was created as a celebration of the coming of a new spirit/guardian angel/ancestor, as well as emphasising to people that we are god-like beings and that God can manifest in human form. The sense of community that can be seen here is different to my previous bodies of work, this community echoes sentiments which are very important to the existence of not only Black people but to people as a whole. Community can also be seen as a maximal definition of self/personhood, as it can be said that a person comes to know themselves in juxtaposition to the community which they are in.
Lunga Ntila
Life without light and life in pure light is the duality that black and white evoke. Limiting the colours of an image on purpose delivers a statement more powerful than declaring it directly. Colours have their own symbolism in cultures, religions and history. Black and white are, strictly speaking, not even colours. Being the two most extreme ends of the spectrum, white often represents innocence, purity and new beginnings. Black is the colour of power, elegance and mystery, it can also be associated with fear, death and unknowing.
These are the initial thoughts that raced through my mind when I began to think about Lunga Ntila's God Among Us exhibition that opened on Saturday, 7 August. The analysis of an artwork is always up to the viewer, but as I walked through the gallery myself, I realised that a collective statement was being made here more than a series of questions was being asked.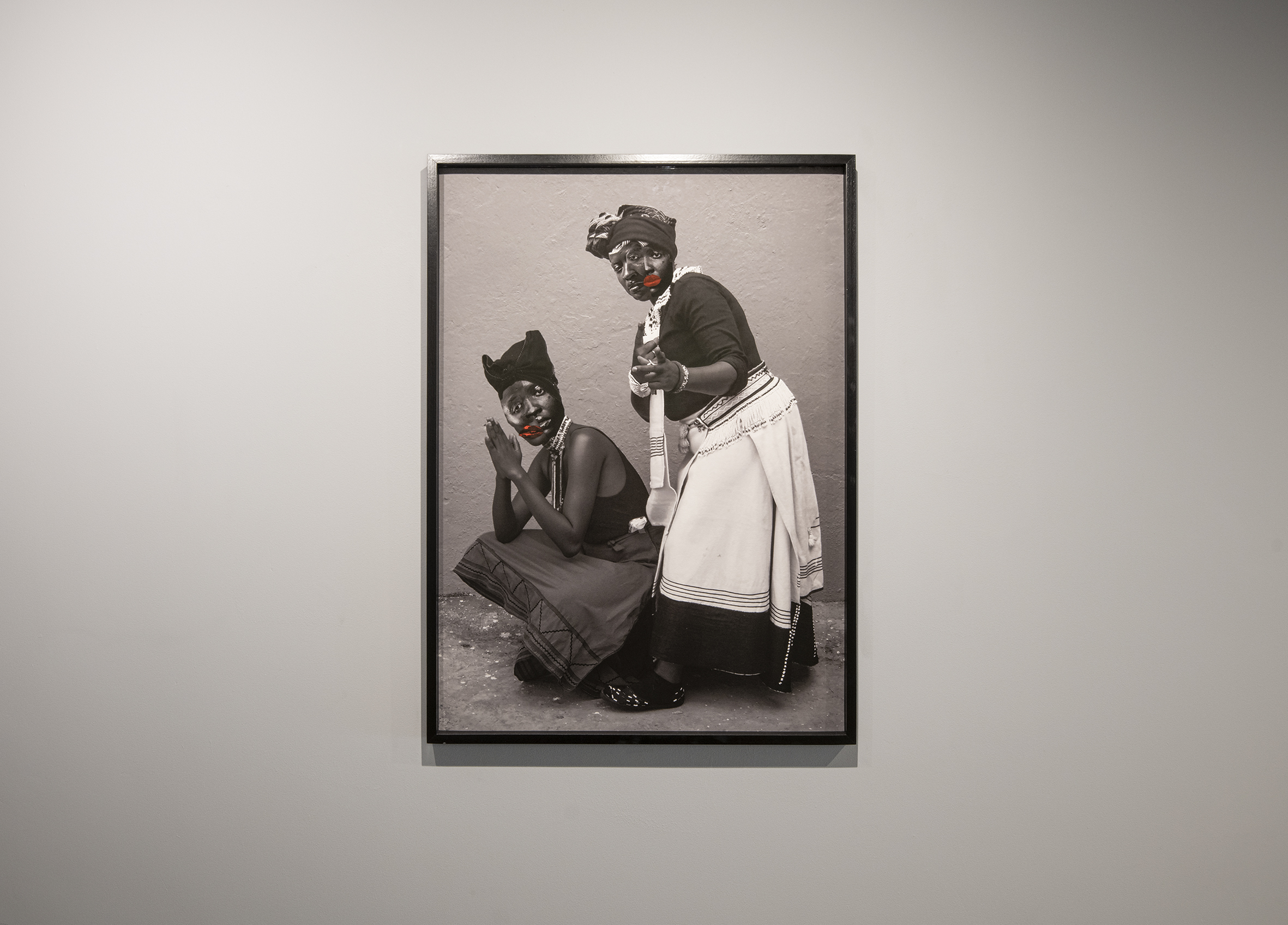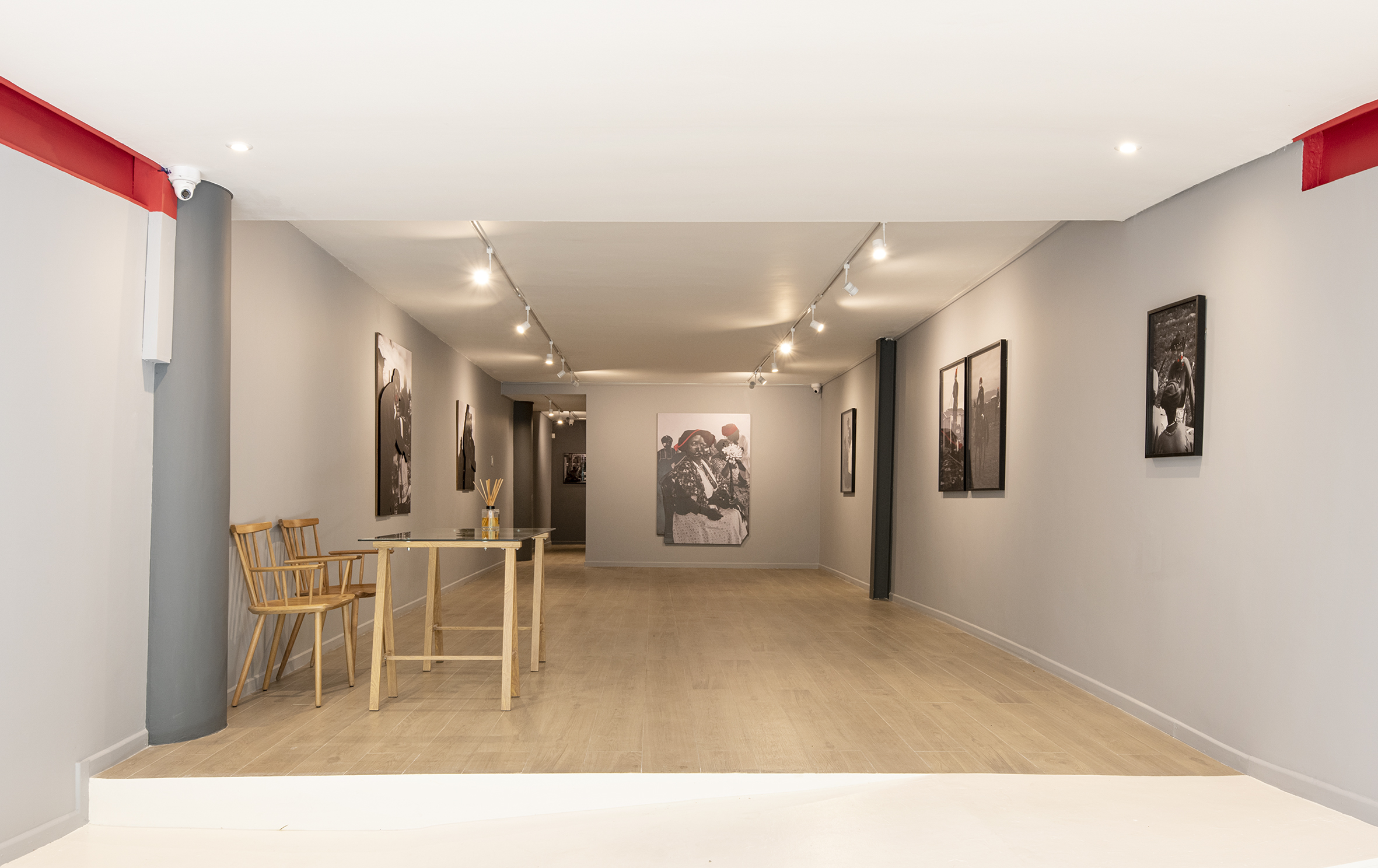 The colour red — very prominent though sparse in Lunga's current body of work — can be used to evoke a certain mood or to create a message, or sharp response in the viewer. Red evokes the colour of blood and, therefore, is the colour of martyrs and of the Christian Christ's death on the Cross. Red also symbolises fire and, therefore, is the colour of the Holy Spirit or of a spirit that is regarded as holy. The moment we are faced with a spark of red — marks the moment when we are forced to confront.
There is a deliberate technique to awaken our conscious from its slumber and something being pointed at for us to 'look' at and see in God Among Us. Black and white thinking is a tendency to think in extremes. The opposite nature of the colours used creates a sense of restlessness in the viewer, but the interruption of the colour red calms and directs.
For essential questions about identity, the opposites; black and white are often chosen. Recognising the similar terrain of rural areas, being a person from the Eastern Cape, I was quick to reflect on where I came from and what I recognised as 'god-like' after viewing the exhibition. What makes a god among us?
Below is an interview I had with Lunga. I speak to Lunga about the exhibition, the series of artworks and what informed some of their choices.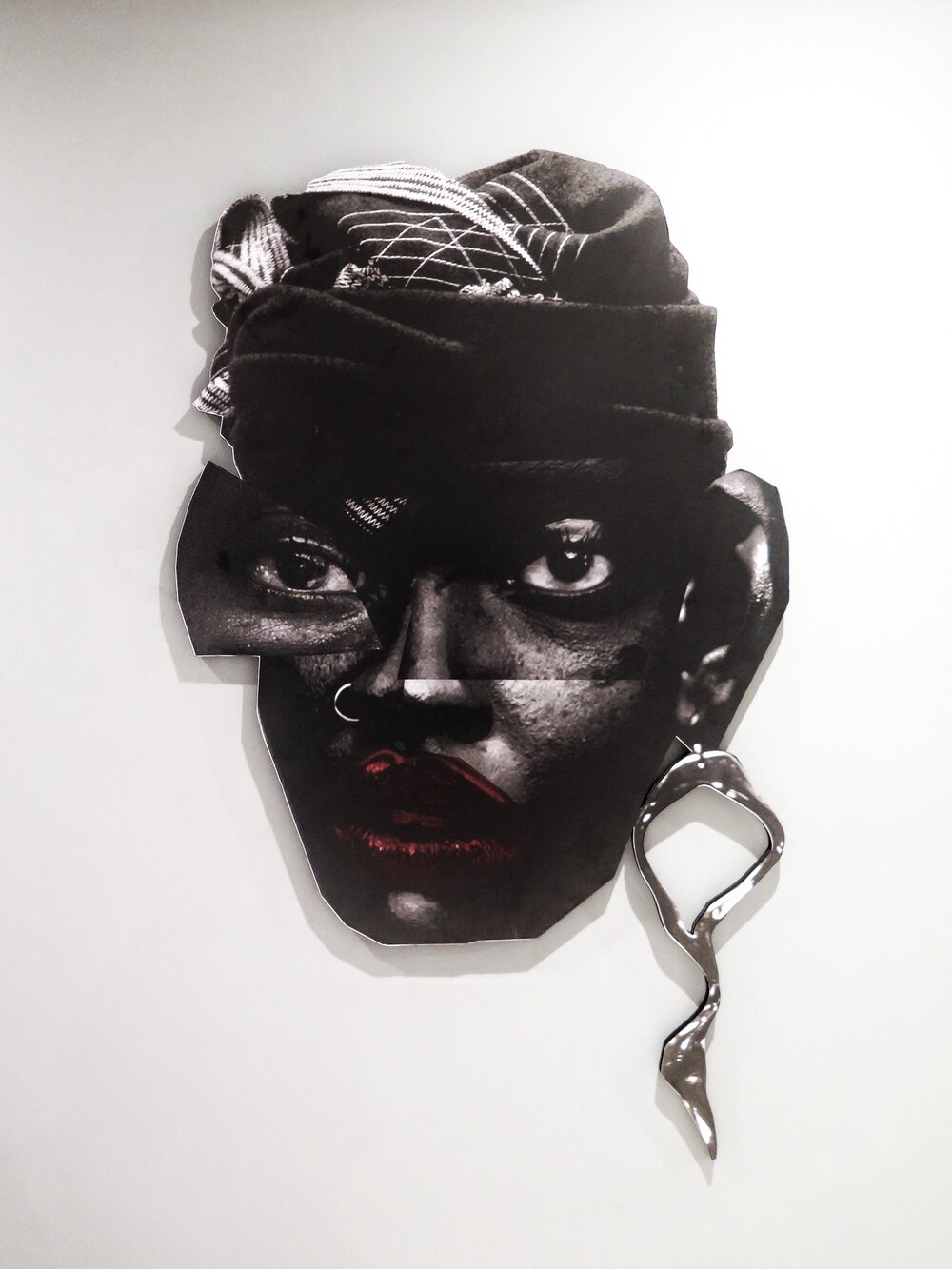 Lunga Ntila, Chandelier; 2021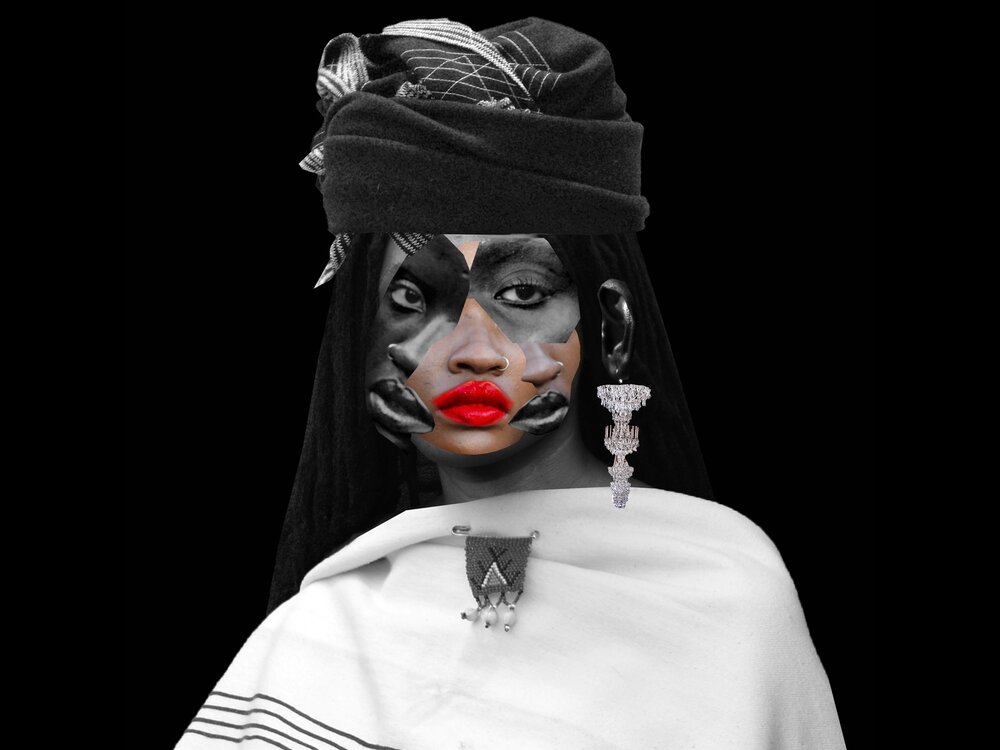 Lunga Ntila, Untitled II; 2021
Let's begin with a little bit of background, what was your inspiration behind this particular series?
Lunga Ntila: The work is a progression from Ukuzilanda, so we have fetched this spirit from all the places it has died, now what? What do we do after this? I was really curious about the in-between world of crossing over, whether it be in between life and death or coming to some sort of an awakening.
What happens on the other side when you walk into the light? Is there a huge welcoming of your ancestors? Is there some initiation process? Kwezeka ntoni?! The art series shows the moment this being walks into the room, the preparations that were set in place welcoming them, everyone is in awe of this person. They have waited for them for so long.
How have your previous projects or research interests informed this body of work?
Lunga Ntila: This body of work could be seen as an expansion on my previous body of work Ukuzilanda; in the sense that I expanded more on the different ways one could see themselves in something or someone.
This body of work still explores the multidimensionality of being a human, however, the focus is more on being a spiritual person. The celebration of this being crossing over to this new dimension.
Tell me about your creative process and what drew you to the chosen mediums, and the creating of this series?
Lunga Ntila: I have always enjoyed art pieces that had more of a sculptural element and I always found myself lingering a little longer on such pieces in exhibitions. With the help of art director and lover, Sandile Mhlongo, we conceptualised ways of making work that would look like grand scale paper collages — something that would bring the work to life.
Scale was very important to me, and I am glad I got to entertain those interests this time around. We created mini prototypes using MDF boards which were laser cut at Tshimologong. After spending some time reading about African mythologies and our take on spirituality, I wanted to create work that would celebrate the coming of a new spirit/guardian angel/ ancestor.
Whilst in that headspace I came across a docuseries on Netflix titled The story of God with Morgan Freeman, the third episode is titled "God Among Us". I was so in love with the boldness of that title, that I knew I would create work that would centre illuminating how God can show up in human form and work that would just celebrate the supernatural side we all have.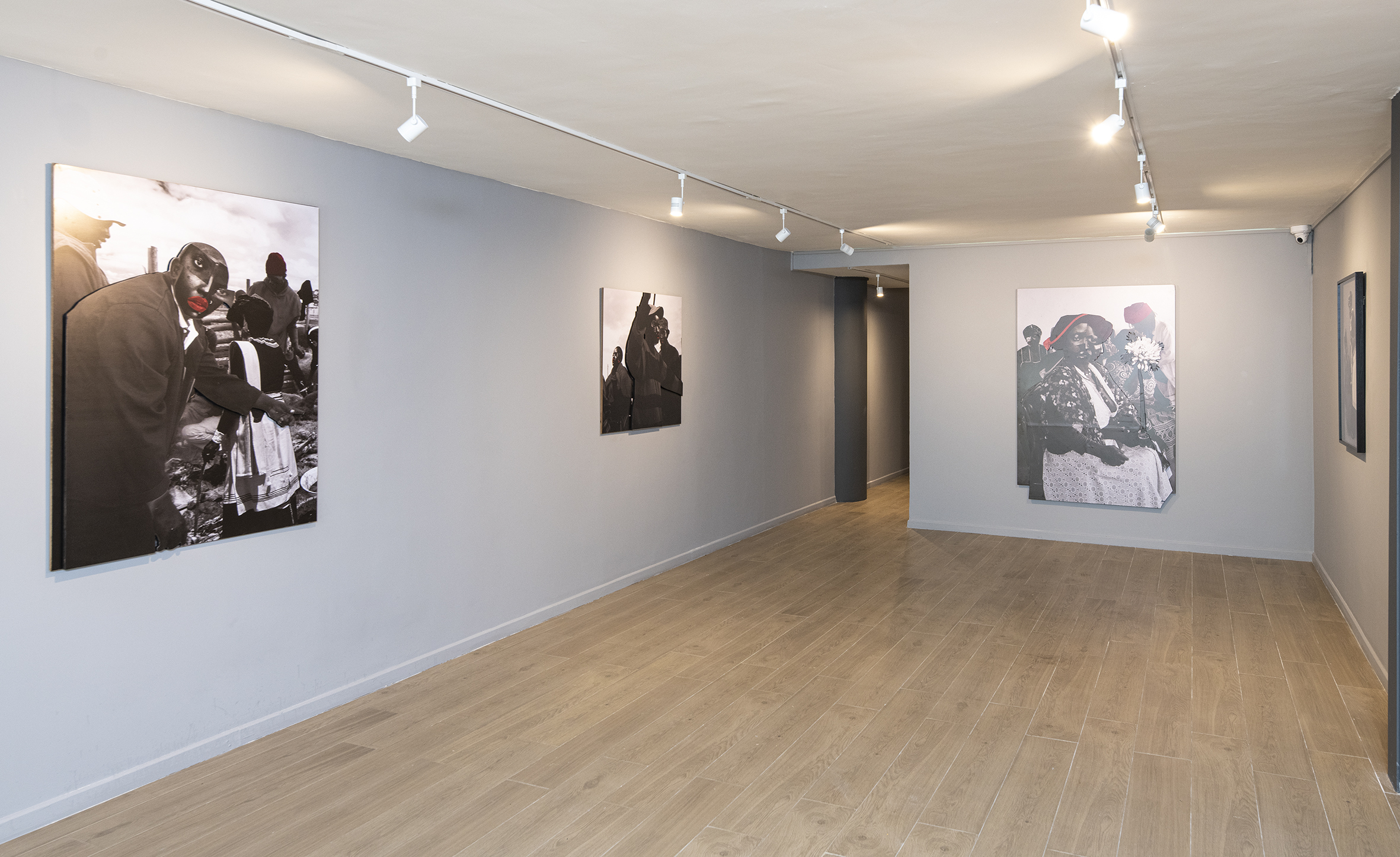 Who are some of the artists/artworks you've been influenced or inspired by in creating this collection?
Helen Sebidi was a huge influence; her work also sits in communion with the ancestral. I borrowed the idea of having multiple faces on one person from her. She speaks about community a lot, something which is very integral to Black people.
A lot of who we are has to do with the community we are in. Another source of inspiration was Credo Mutwa and his vibrant stories. Allison Zuckerman inspired the idea of taking the collages off the paper.
Is there anything from a curatorial point of view that you feel really stood out as important to you when putting the exhibition together?
Lunga Ntila: As a team we thought it was important we guide the viewer through the space, leading them to the room where they see themselves and are immersed into the mirror room installation. You will notice there is a particular direction that the figures in the artworks are moving towards.
In most instances, their bodies are either turning toward the installation or in particular artworks "gesturing and pointing fingers" become important in indicating direction. We were led and guided by the artworks themselves. To some degree one could say that they have somewhat placed themselves. We try our best to give each artwork its moment.
What role does colour play in the artwork?
Lunga Ntila: I appreciate black and white because they allow me to pay attention to what is most important. I am not distracted by colours that don't work together or that look too flat. Black and white give me an opportunity to pay attention to the details of my work.
The red felt cheeky, especially when placed on the lips. I had a moment where I played with that in Ukuzilanda with the artwork "Zobuya Nini Inkomo", however, I never had the chance to go to town with mixing black and white with that pop of red.
How could you tell when this series was "finished" or the exhibition was ready?
Lunga Ntila: It took me a moment to decide when I was finished with the series. There was moments where I did feel like I could add to certain elements — but I got to a point where I just had to back off and let it be.
What is your favourite piece in the collection and why?
Lunga Ntila: I really love "Beez In The Trap". [I'm] really into bees at the moment but I love it for that lady who is looking directly into the camera behind her. The horse diptych [is] also top tier; there is this cowboy culture in the Eastern Cape that I am really intrigued by at the moment.
The mirror room takes the whole exhibition to the top! I love mirrors and plan on using them whenever I get the chance to.
You can visit 'God Among Us' at BKhz Gallery from 7 August – 11 September 2021. Go to www.bkhz.art for more info.