…drape a white cloth around your waist and remember to cover your shoulder and head
Prepare a glass of water and intsu
Kneel on the straw mat
Light a white candle and burn iMphepho
Ngwana Badimo, speak…
Words by a 'voice' that announces itself and speaks through Lerato Lodi's Kopano; "a rush of spontaneous watercolour strokes — written with urgency and recklessly to capture a scene that cannot be verbally expressed but can only be experienced." Humanity is witnessing a great change in history. The earth is wobbling under our feet and it's impossible to predict on which side we'll have to run to keep the balance.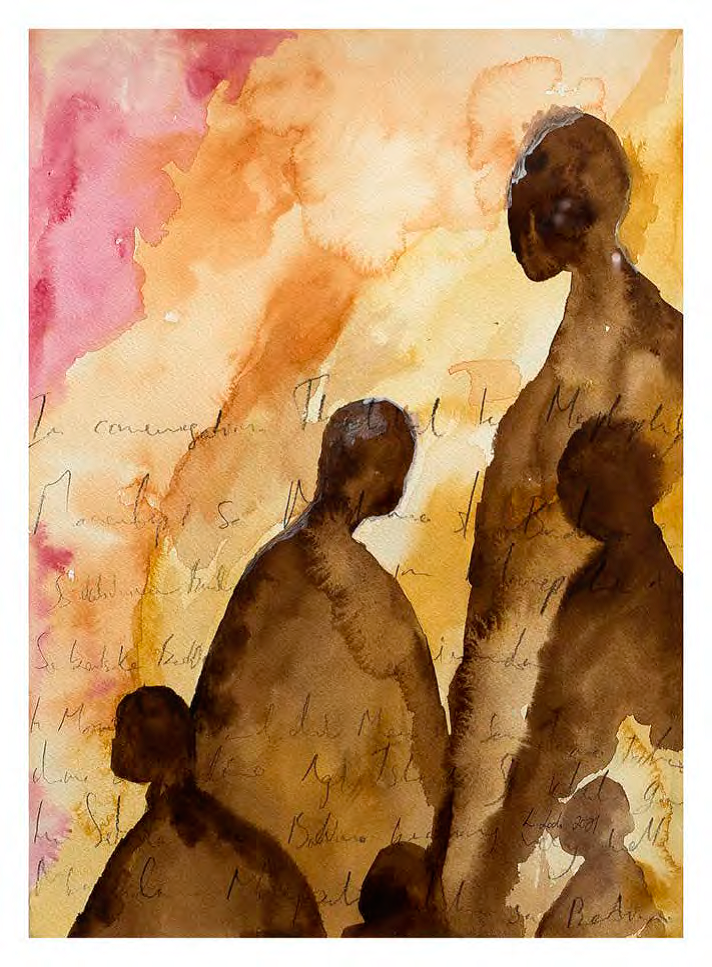 Lerato Lodi, Kopano; 2021
Curated by Studio Nxumalo in association with Gallery 2, A Cloud is the exhibition that borrows its name from the mass of vapour above us and "looks into a cloud of ideas that are explored by contemporary African artists currently living and working within South Africa."
Mfundo Mthiyane, Teresa Firmino, Abongile Sidzumo, Asanda Kupa, Kaelik Dullaart, Madikotsi "Mummy" Khumalo, Ayanda Mabulu, Nyakallo Maleke, Thonton Kabeya, Lerato Lodi, Olwethu de Vos, Malebona Maphutse, MJ Turpin and Zwelethu Machepa; are all providing a search and offering a guide.
This exhibition, along with its featured artists, actively explores ideas and thought processes that are intended to help us continue to explore life, to live and to be mindful of all the problems and potentials that we have endured during these trying times.
Speaking to their work, their thinking and their experiences, artists from A Cloud shared their musings: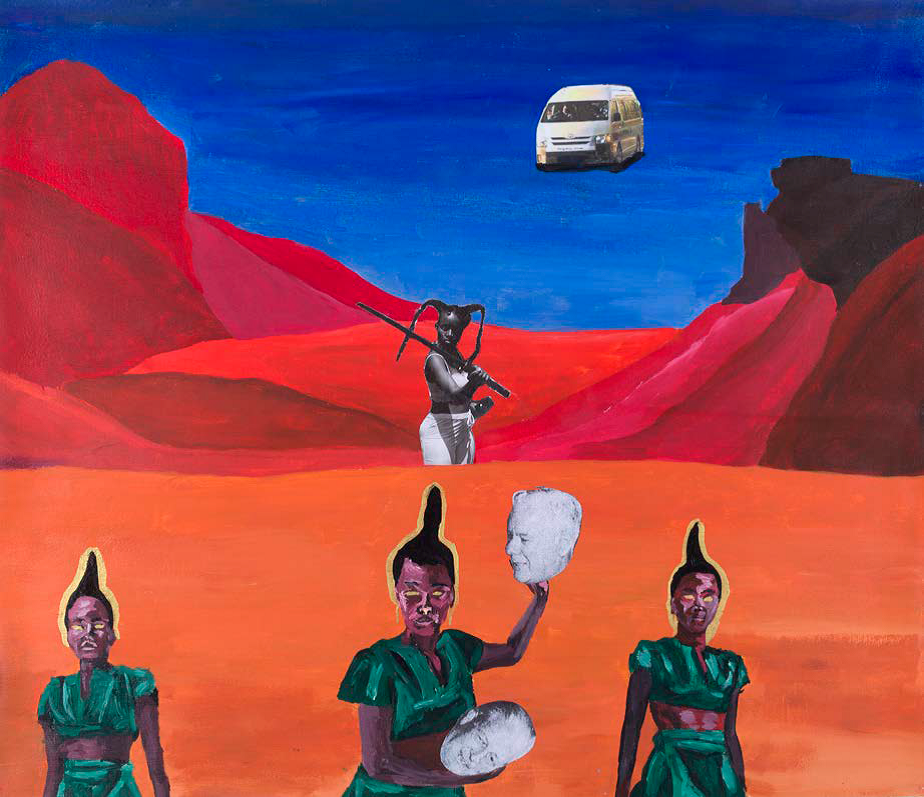 Malebona Maphutse, Siyagoduka: Buiscuit Ball – Off With His Head; 2021
Malebona Maphutse: Siyagoduka Ka Flying Saucer Babez: Back To The Future, is about being on the move and the journey that lies ahead. It is about going home. Home in this instance is the future, it is the promise of a better future, a better tomorrow in the face of chaos. Home is also the new planet that the inhabitants are travelling to.
The inhabitants of Tshipa Tshipa Healing Ministries are called amagoduka, godukas, magoduka, always on the move and in search of home. The work takes on a science fiction, dystopian aesthetic to also emulate the extraordinary nature of the times we live in. This iteration will offer a small peek into Mamoloyi's Universe through painted landscapes, pamphlets, sound and a sculptural installation set to transport the viewer into this universe.
Abongile Sidzumo: The work titled Intwana yam which directly translates as 'my boy', is a phrase that is used to refer to a friend. The second artwork is Luxolo, titled after the figure portrayed in the work.
Luxolo means peace. The two artworks are part of a series that is focused on depicting friends, family and people I'm familiar with from my community.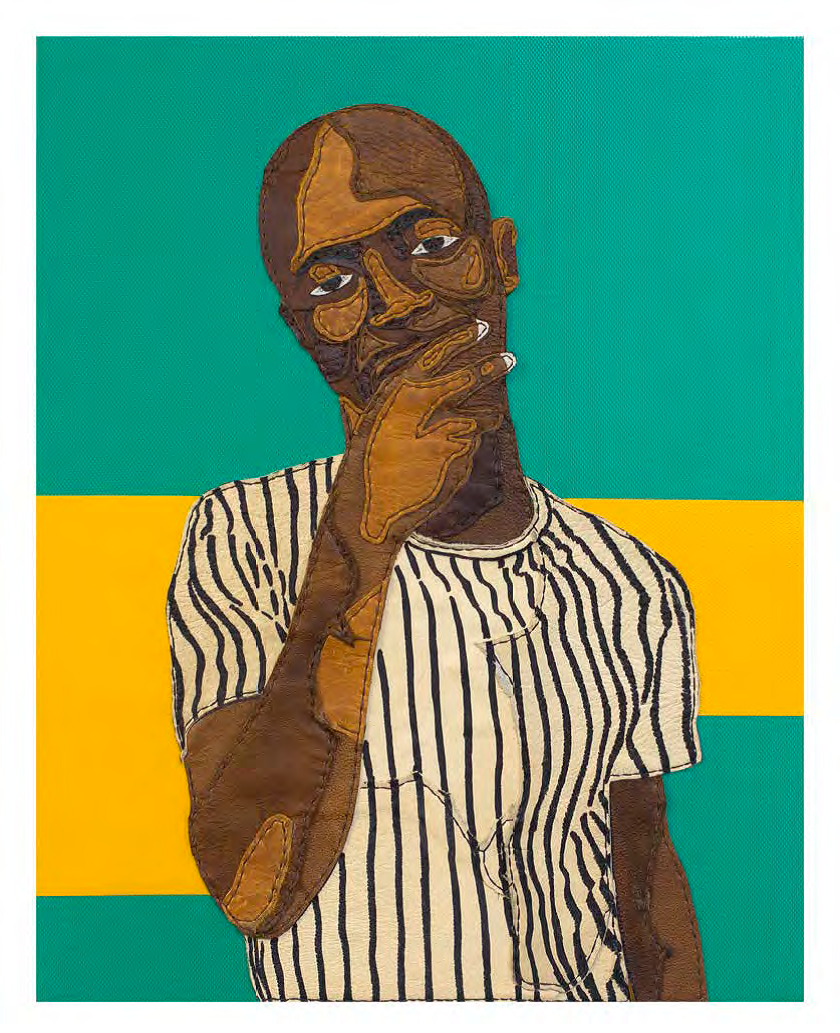 Abongile Sidzumo, iNtwana Yam'; 2021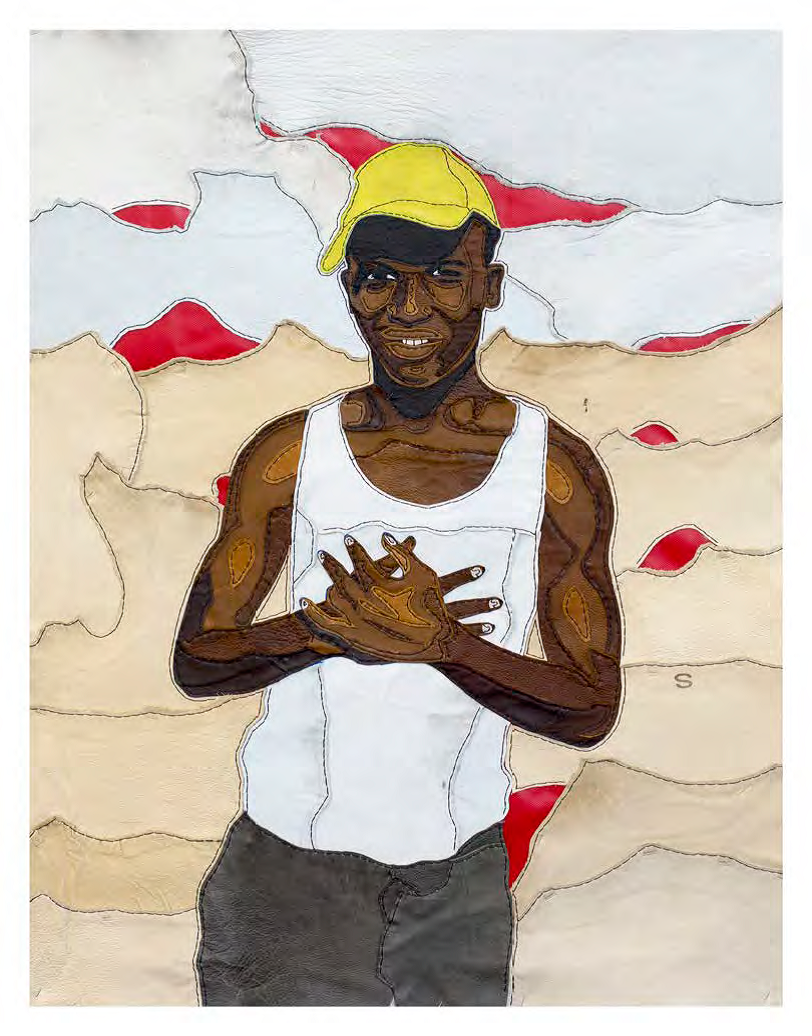 Abongile Sidzumo, Luxolo; 2021
Lerato Lodi: If darkness is the absence of light, and in darkness, we find comfort or solace in prayer and meditative practices. Why has it become overwhelmingly difficult to combat feelings of fear and moments of panic?
Kopano, is a rush of spontaneous watercolour strokes and in-code-journal-mark-making, written with urgency and recklessly to capture a scene that cannot be verbally expressed but can only be experienced.
Kaelik Dullaart: The 'Holy One' is represented by the middle figure. Originally inspired by Ishtar/Innana, the Mesopotamian goddess of love and war. Although my intention is to depict divine femininity/mother goddess in a broader sense; as an archetype ingrained within the universal consciousness.
In the first of three intended drawings, The Holy One is surrounded by a mass of emaciated bodies…Portraying the masses empty obsession with material wealth, the tendency of how our egoistic desire starves us. The mother goddess displays divinity by shedding this illusion and accepting desire as suffering. The second drawing, The Holy Two, is an interpretation of madonna and child.
Mary being a characterisation of this same archetypal mother goddess. The intention with this second piece is to juxtapose purity/divinity with the filth and danger inheriting the earth. The use of the Ouroboros is to allude to the recurring nature of existence — and to how this phenomenon existed almost identically, as long as humans have existed.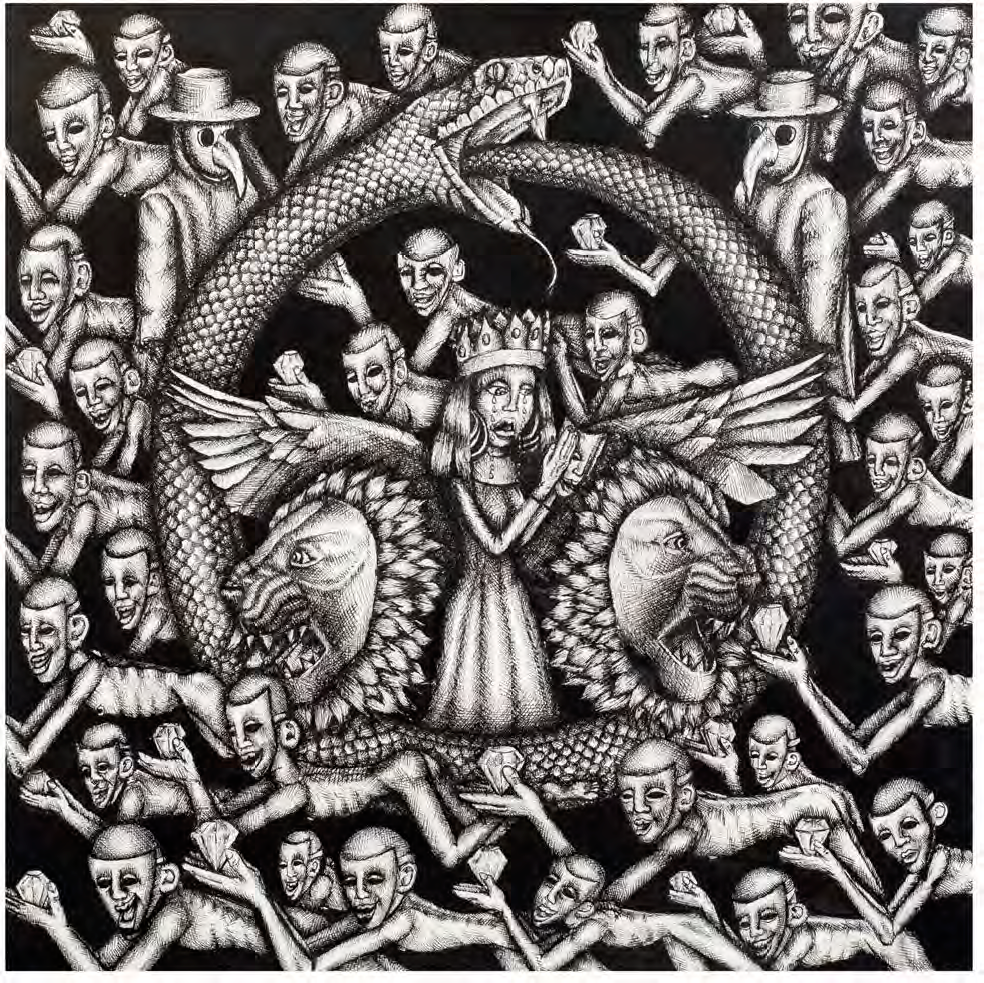 Kaelik Dullaart, The Holy One; 2021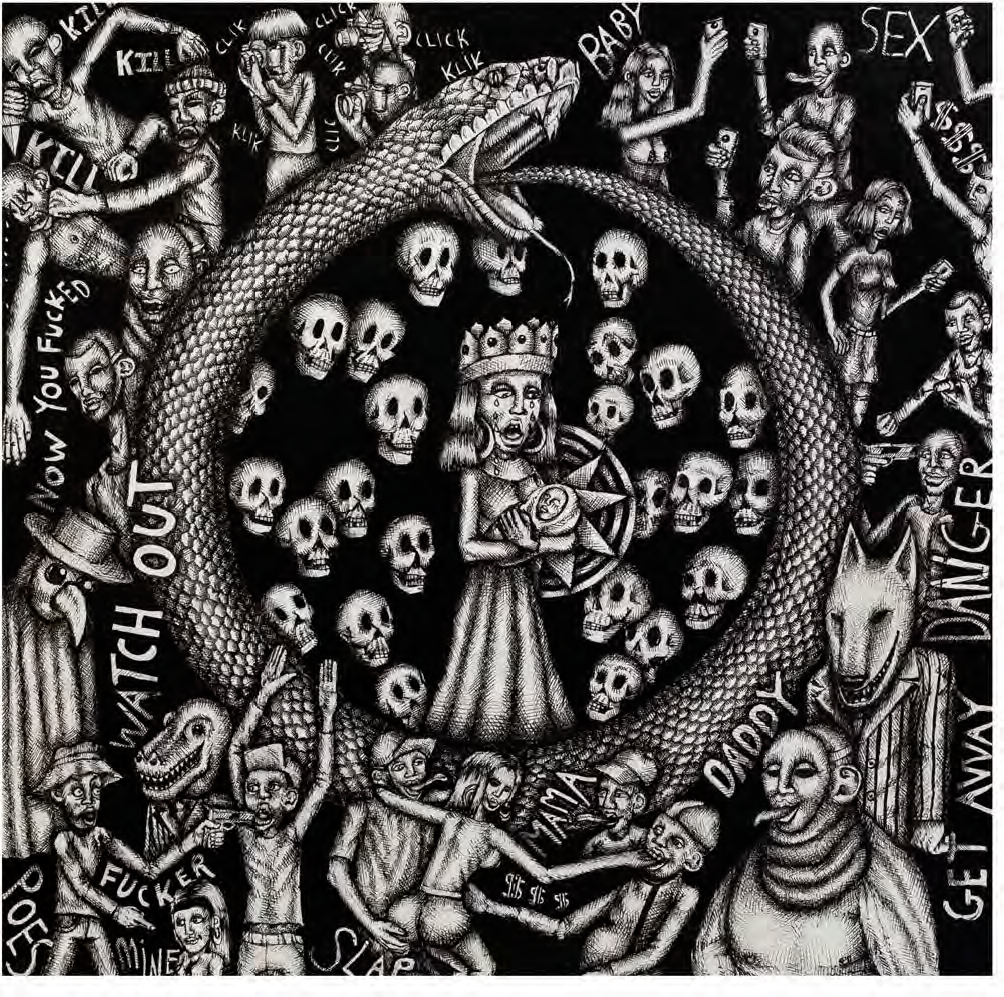 Kaelik Dullaart, The Holy Two; 2021
Zwelethu Machepha: These works form part of a series of etching prints — [my] first etching prints as a professional art practitioner — exploring the interactive interplay between real and unreal experiences of Black bodies/people tied to colonial bondages.
With this series, I explore and fantasise about possible ways to decolonise the mind, the process of shedding layers of bondage through reimagined case studies by reclaiming our shine in light to heal.
Mfundo Mthiyane: The term 'social distancing' bolstered what I've observed happening before it was introduced last year, 2020. These two acting figures in this painting are in a public space but they're not engaging with each other and they are engrossed on their phones, rather than actually having a real-life social interaction.
The painting is a reflection that we are growing further away from each other without realising it, even a simple act of greeting a person/people in public is becoming scarce, and ignoring each other like no one [else] exists but you, is becoming a new norm.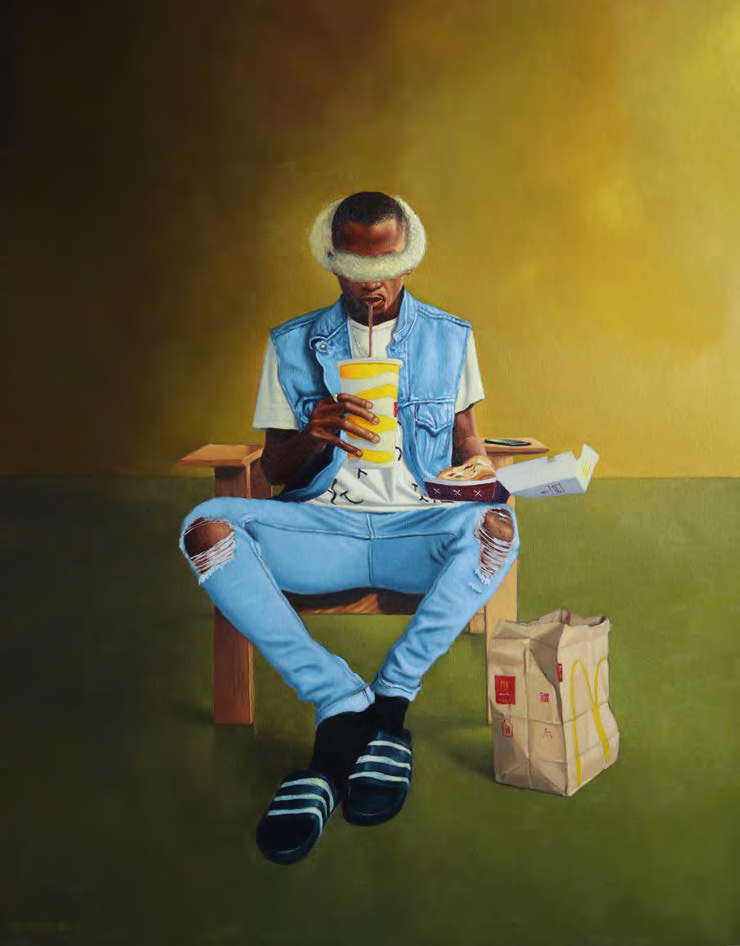 Mfundo Mthiyane, I'M HATING IT; 2021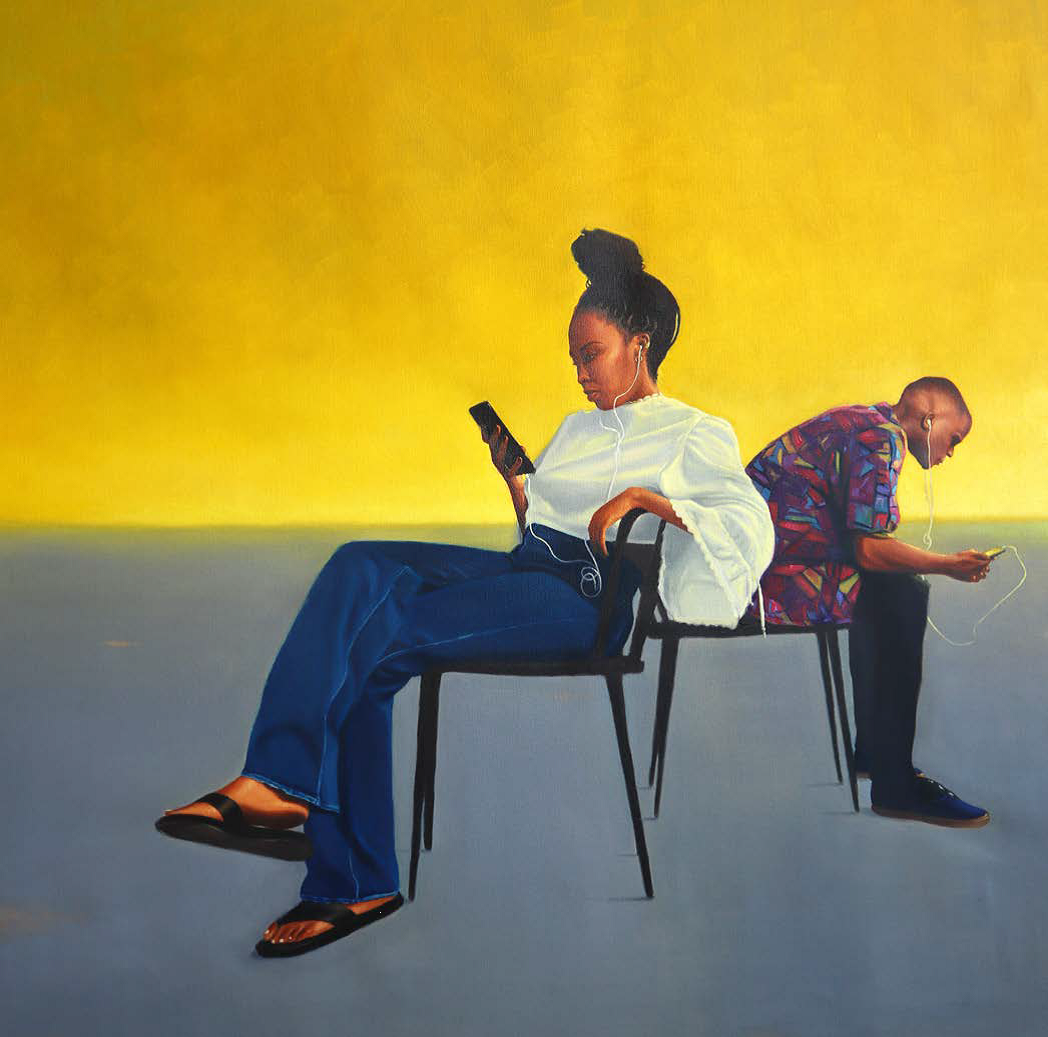 Mfundo Mthiyane, SOCIAL DISTANCING; 202
Nyakallo Maleke: Multiple sheets of paper rest within a demarcated floor of a studio, whose measurements on either side is less than 2 meters. Within this form, a conversation takes place and it calls for particular moments of re-enacting to occur. Gestures for harmonising a drawing are navigated through a series of processes such as: pressing down, rotating, and aligning until a number of offcuts are discarded.
Remnants of thoughts that were 'too much' or 'too other', run out of space/place. Each individual drawing will appear in and out of the frame — away from a guideline that is supposed to hold the assemblage together.
Olwethu de Vos: I regard the pandemic as a storm; "a storm that tramples so we may see the things that matter. A storm that decimates everything so that we may appreciate more, undertake new adventures and open new doors."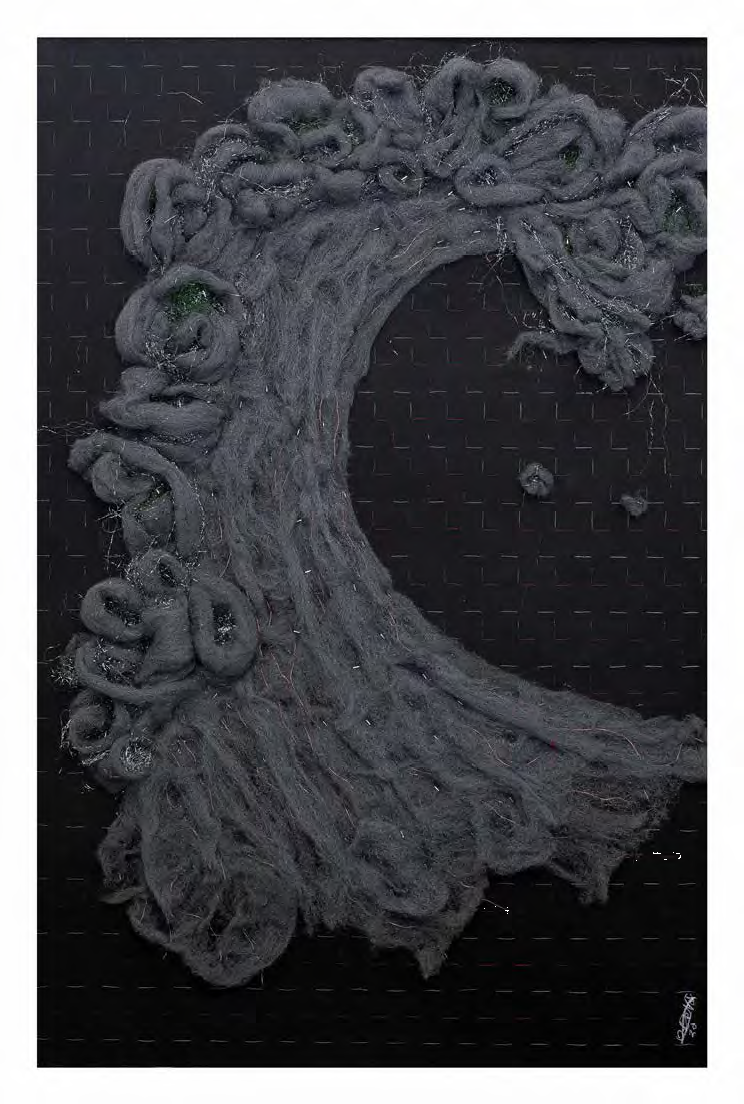 Olwethu de Vos, A Beautiful Shit Storm II; 2021
Madikotsi "Mummy" Khumalo: I have created this amphibian being using a pattern that flows like water, which speaks to ideas of flawless beauty that is often imposed on women. The figure is intentionally repulsive and intends to push women [to] step away from the ideas of perfection as imposed on them by a patriarchal society.
My work intends to encourage women to embrace their imperfections and proposes our society look at the [femme] body as a force and space to explore ideas of self-identity [and] environmental consciousness, through which we can dispel gender inequality, power and beauty.
The [gendered] body in my work is therefore portrayed as a multifaceted organism, or rather assimilates one, and it possesses the power to adapt or reject, fight and nurture at the same time. These are abilities I believe it is capable of in reality, however, it is reduced to a singular gender role by the history and current patriarchal systems and ideals that persist in our society.
Ayanda Mabulu:  To acknowledge Blackness is to be human. To see me is to acknowledge the discourse of the funk…The raw history, the raw reality and the mortality denied by all races.
Blackness has a mystical infinity, it is an ancestral spiritual manifestation and a success long-overdue.
Remember your sense of influence, the importance of your existence and don't be afraid of being who you are; be visible, stamp your existence, for where you are, you belong…. You are the light!
Be
Be the light so we can all shine!
For the blackness residing in the shadows of shame and self-pity is the doctrine of weakness.
So be,
Let there be resurrection!
Wake up and away from things in our life that are buried in graves of hatred and anger, self-doubt and self-hate.
So shine!
And may you revive your greatness!
You can visit 'A Cloud' at Gallery 2 from 31 July 2021 – 28 August 2021. Contact – info@gallery2.co.za | info@studionxumalo.com for more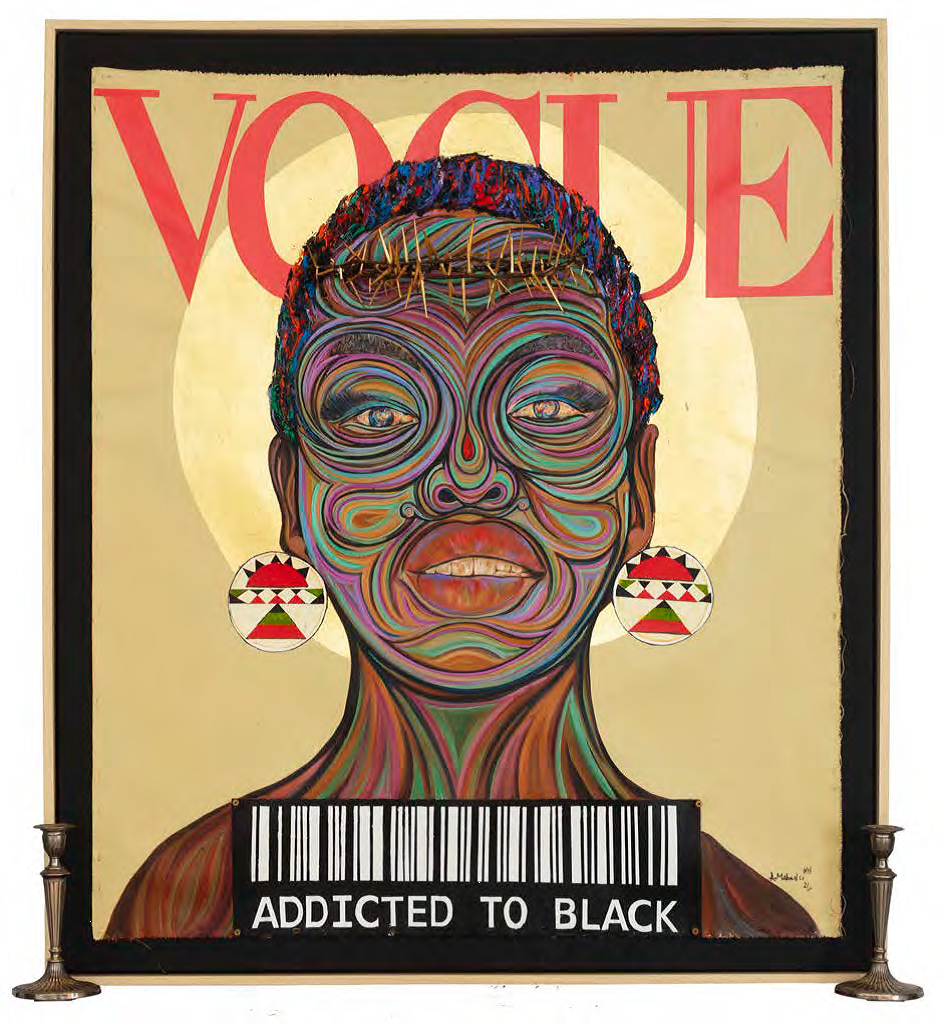 Ayanda Mabulu, Addicted to Black; 2021