A symphony of art, culture, and self-realisation, meticulously curated to fit a stadium-sized green stage design concept and to travel across 57 countries. 
Imagine achieving not just one, but four Grammy Awards a mere seven months after dropping your album. Now picture your world tour holding the potential to rake in a staggering $2.1 billion, according to Forbes by the time it wraps up. 
It's as if we've finally decoded Beyoncé's intention when she boldly proclaimed 'I'm that girl' in the captivating opening track of her 16-pieced album titled 'Renaissance' which was released last year July – and yes, she's definitely cosy in this mildly dramatic visual production.
Down to just 10 concerts, the Renaissance World Tour, which gracefully inaugurated its journey in Stockholm on the 10th of May this year,  has been nothing but overwhelming, to say the least. 
The extravagant display of a literal tank truck on stage, chromatic opulent attire, whimsically flamboyant robots, and sassy singer Beyoncé, from the looks of it, has readjusted her cultural lenses – and this time around themes of Afrofuturism, hedonism, insanity,  are infused with the chronicles of LGBTQ+ ballroom and all its disco, techno elements – aided by momentary interludes that amaze the crowds during act transitions during its almost three long performance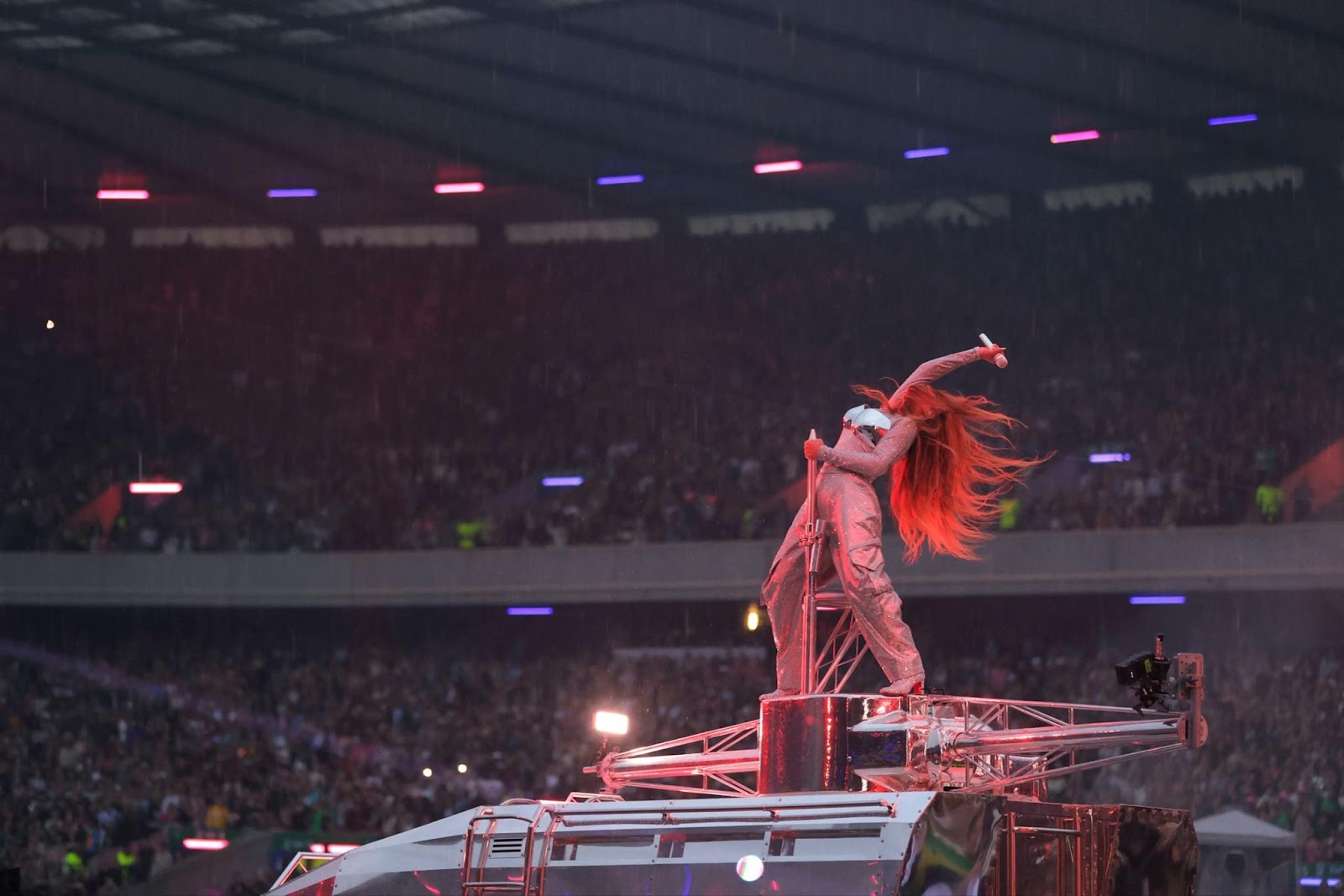 Photography by Kevin Mazur/GettyImages for Parkwood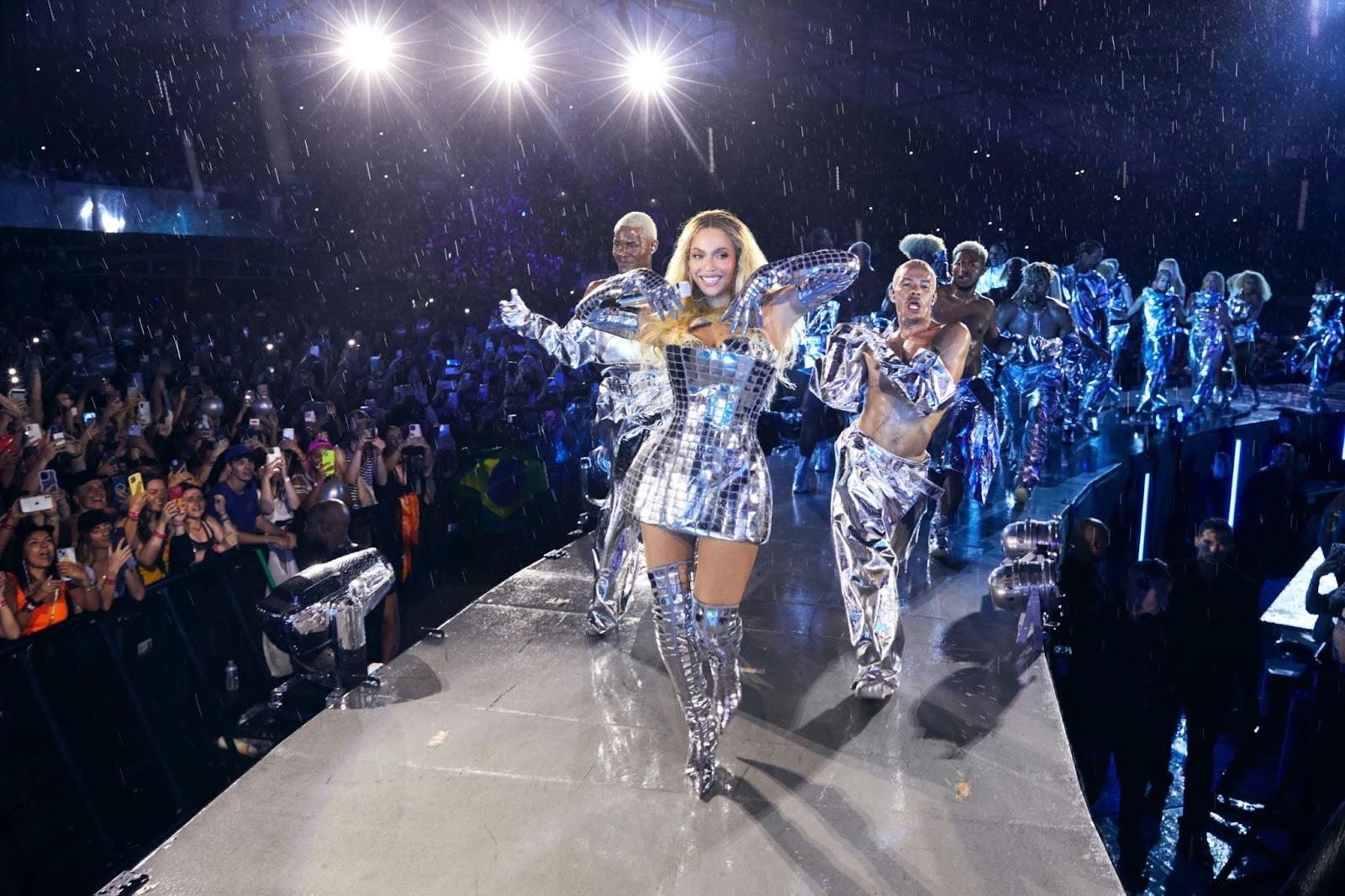 Photography by Kevin Mazur/GettyImages for Parkwood 
If you've been following the #rwt2023 as I have on social media platforms, you would have noticed that Beyoncé has poured her heart and soul into curating this tour. Every detail is intentional, each element interconnected, weaving together narratives on the position of the feminine in future (using very light-hearted socio-political messaging to signify the rise and significance of women's empowerment). 
The art history references are anything but un-ostentatious. Beyoncé sets the tone for what is to come during her performance at the very beginning of the show when she is seen emerging from mechanised robot gear, referencing the 1927 movie titled 'Metropolis' by Fritz Lang.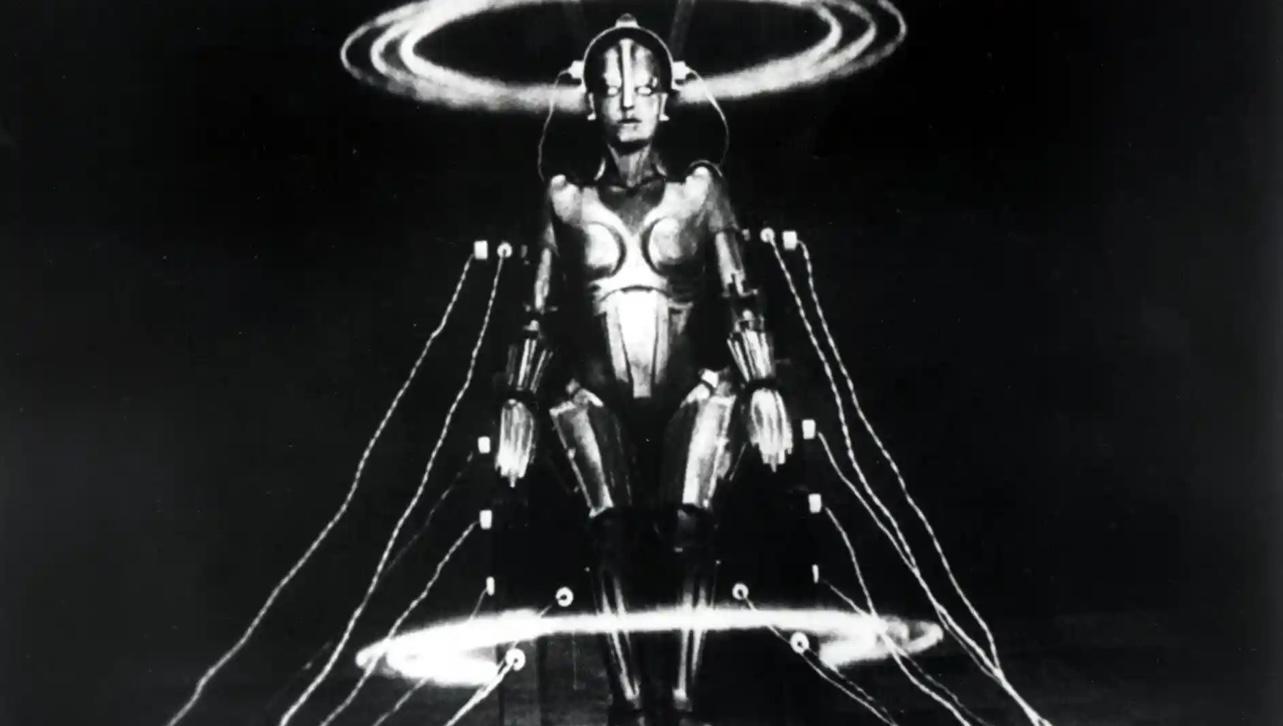 A scene from 'Metropolis', a  1927 Movie, directed by Fritz Lang.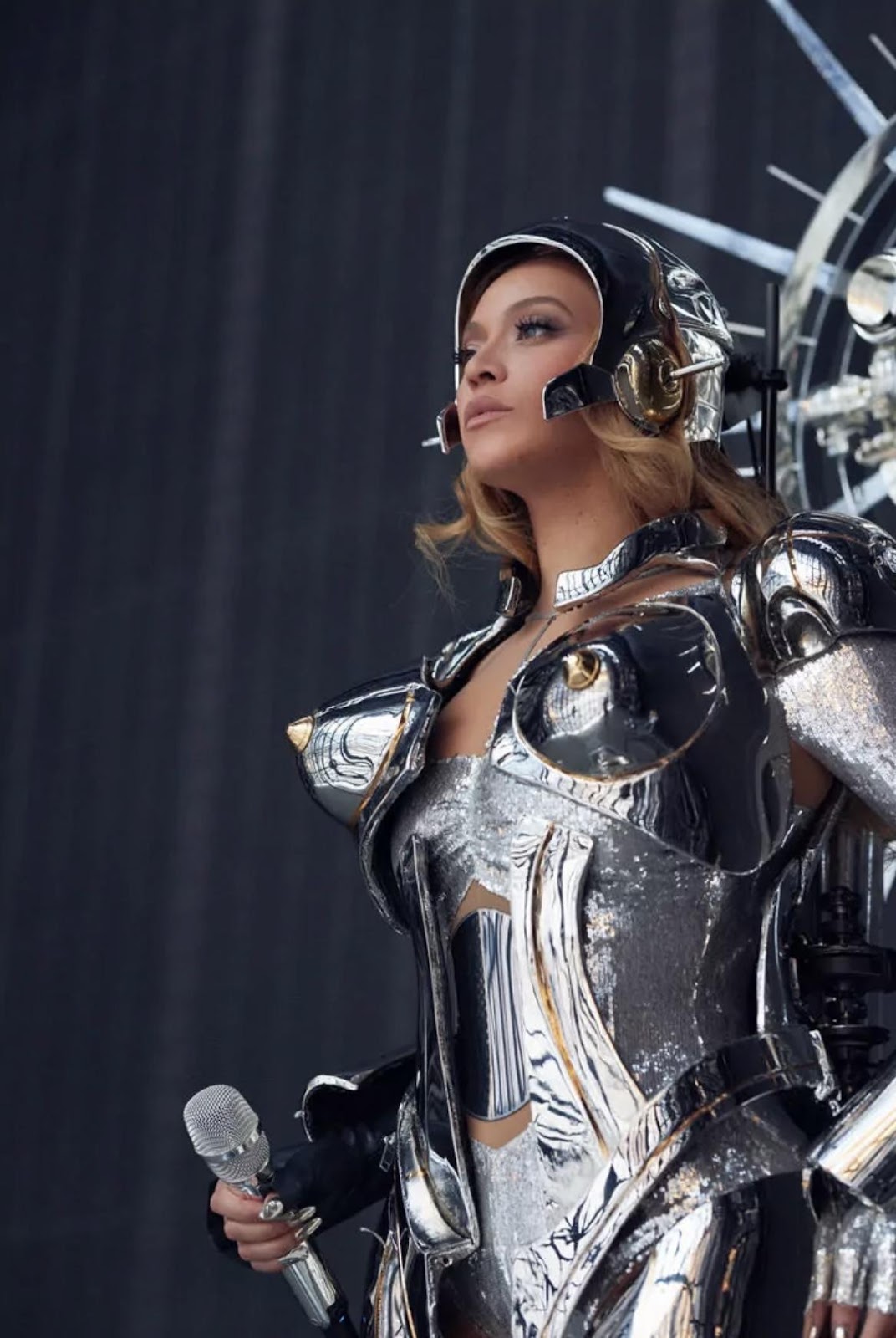 Photography by Kevin Mazur/GettyImages for Parkwood 
The movie focuses on the main protagonist, Maria, who is characterised as a programmed robot that leads her fellow workers astray, and then to revolt – similarly Beyoncé declares her rebirth, heralding a new era as she emerges from her robot cocoon.  
And a new era it is, as contrary to previous musical compositions, the spotlight is now on classic 70s disco rhythms and the early 90s Chicago house music scene.
The tour's creative formation cannot be narrowly interpreted- it stands as a homage to unbridled self-expression and identity, underpinning key influences in Beyoncé's artistic prowess for this tour, which range from her iconic Uncle Johnny, the vibrant drag-ball culture of New York City, and the world-famous Studio 54 where icons such as Grace Jones performed regularly. 
Another stand-out art history reference for me is an image of Beyonce emerging, from what Vogue described as a giant clam shell, during her performance of the eighth track on her album, titled 'Plastic off the Sofa' dressed in a custom-made nude bodysuit.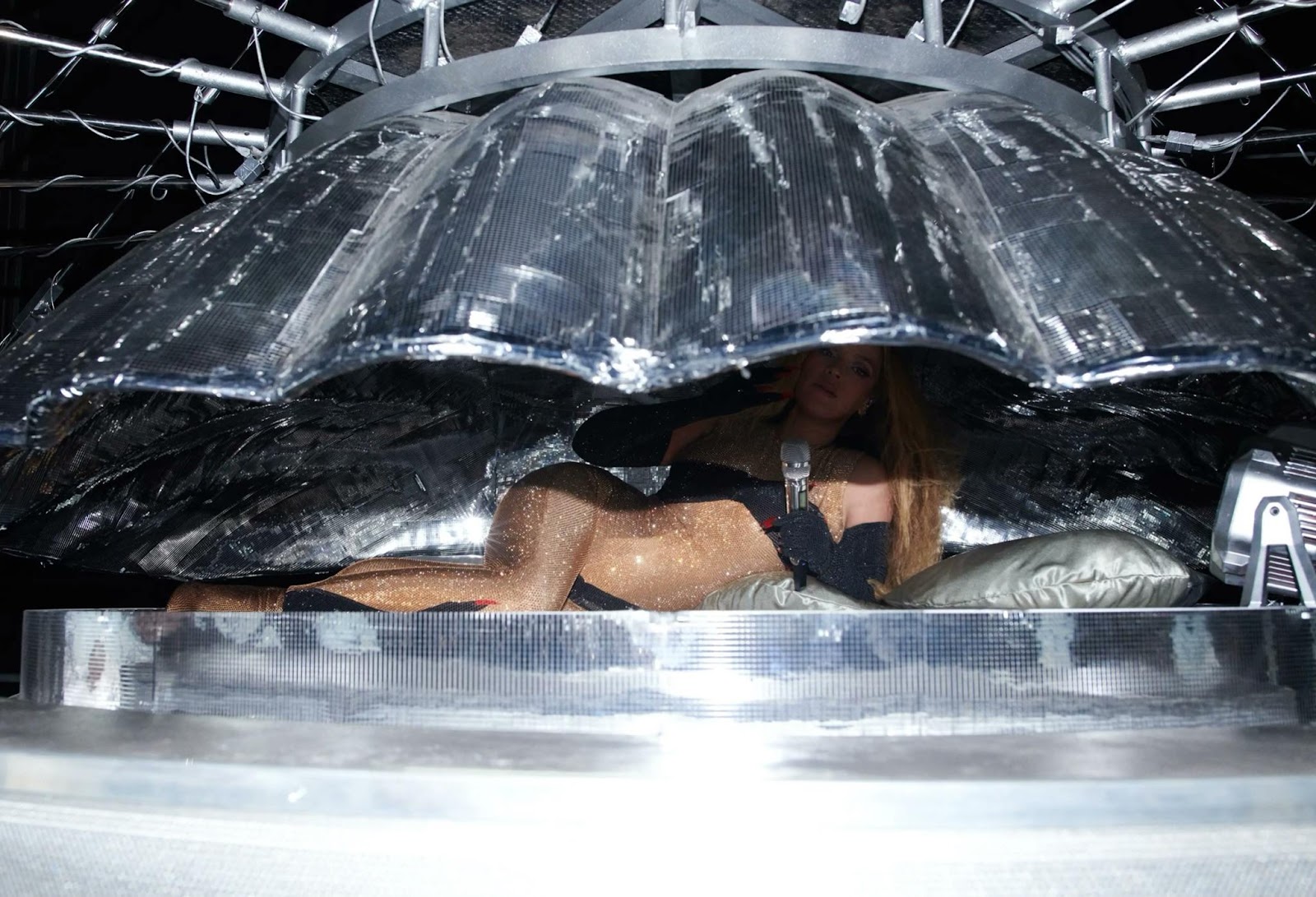 Photography by Kevin Mazur/GettyImages for Parkwood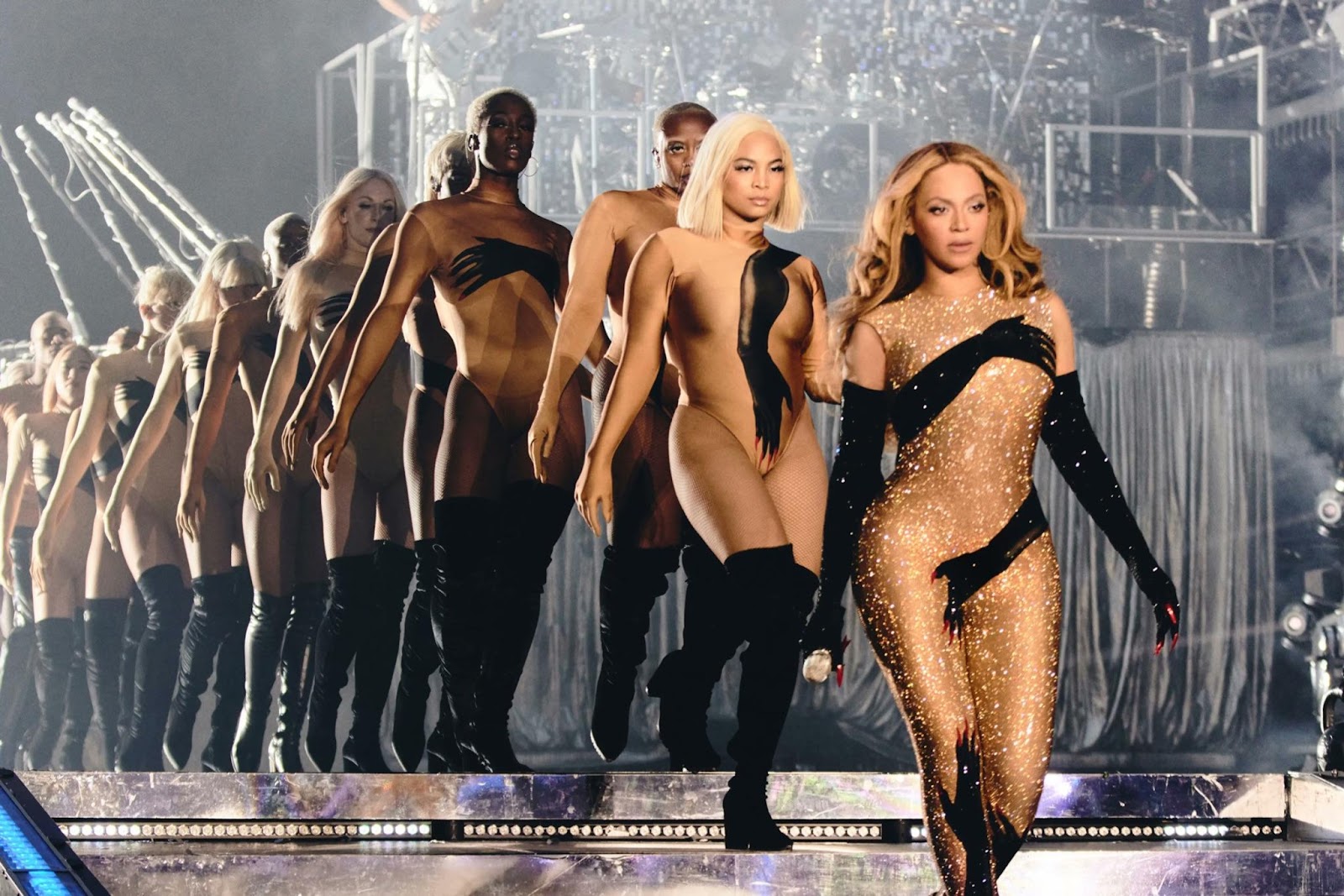 Beyoncé, in Custom Loewe, accompanied some of the dance crew. Photography by Kevin Mazur/GettyImages for Parkwood 
Adorned with black-gloved arms and red nails covering genitals parts, it encapsulates a look from Loewe's fall/winter 2022 collection while subtly echoing the iconic 1485 painting "Birth of Venus" painting by Sandra Botticelli. Similarly, The painting, which celebrates the love and beauty of the goddess, Venus, is seen emerging from a clamshell and uses her hands to cover up her nakedness.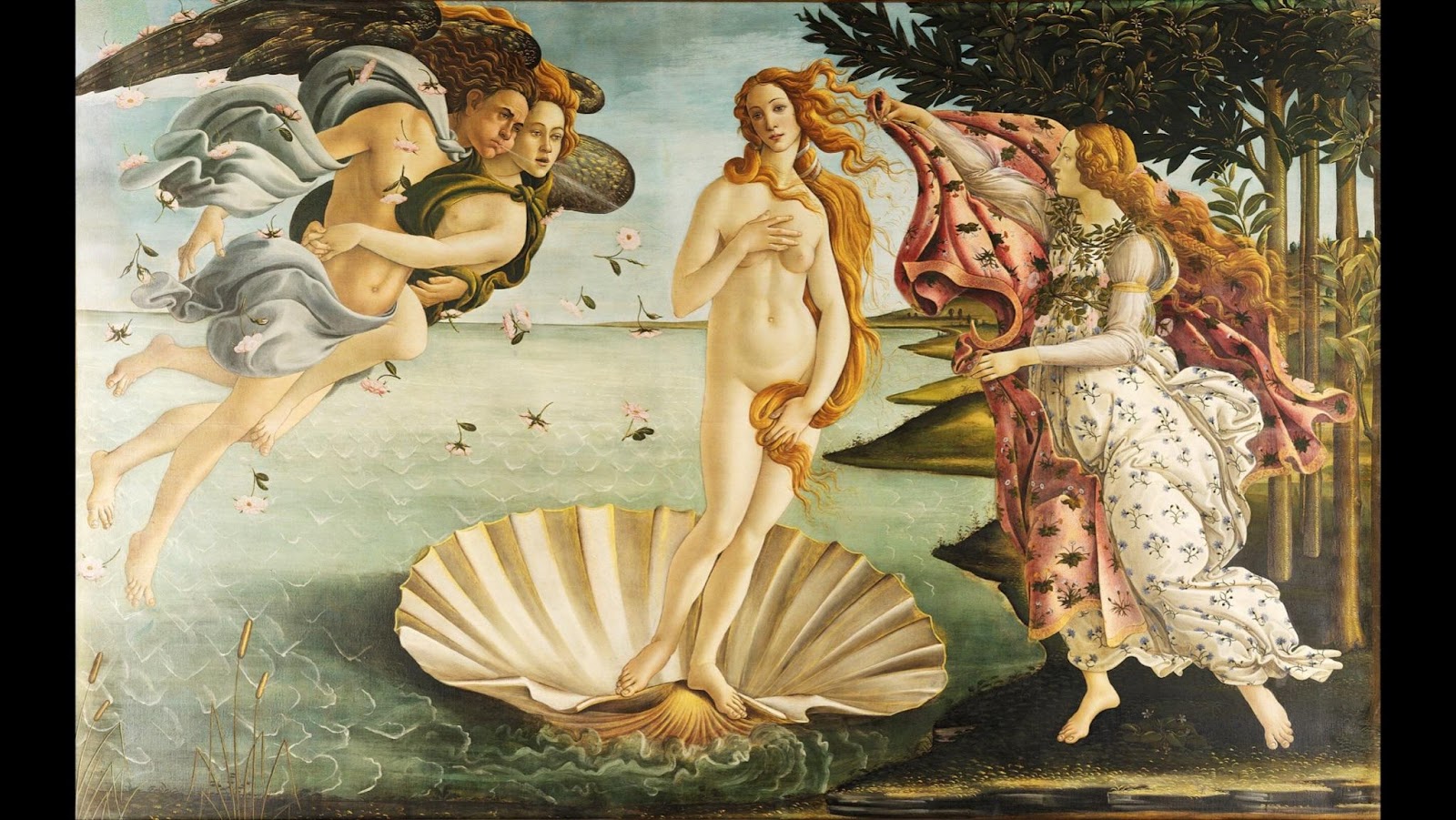 Sandra Botticelli, Birth of Venus, 148, Tempera on Canvas, The Uffizi.
Botticelli's Renaissance masterpiece reverberates in the sumptuous imagery, portraying not just Renaissance art but the repeated EMPHASIS on the rebirth of Beyoncé's own essence – The epitome of what I think the Renaissance World Tour is. 
Upon further research, The outfit reappears in another art history reference, but this time Beyoncé is surrounded by a pool of microphones as she demands someone to fan her off during the performance of her 11th album track, heated. 
The Sound of Ice Melting, by Paul Kos in 1970 is a conceptual art piece that placed two twenty-five pound blocks of ice in the middle of eight boom microphone stands, eight microphones, a mixer, amplifier that aimed at ultimately listening to ice melt because it is heated by the excessive heat caused from the volume of the speakers.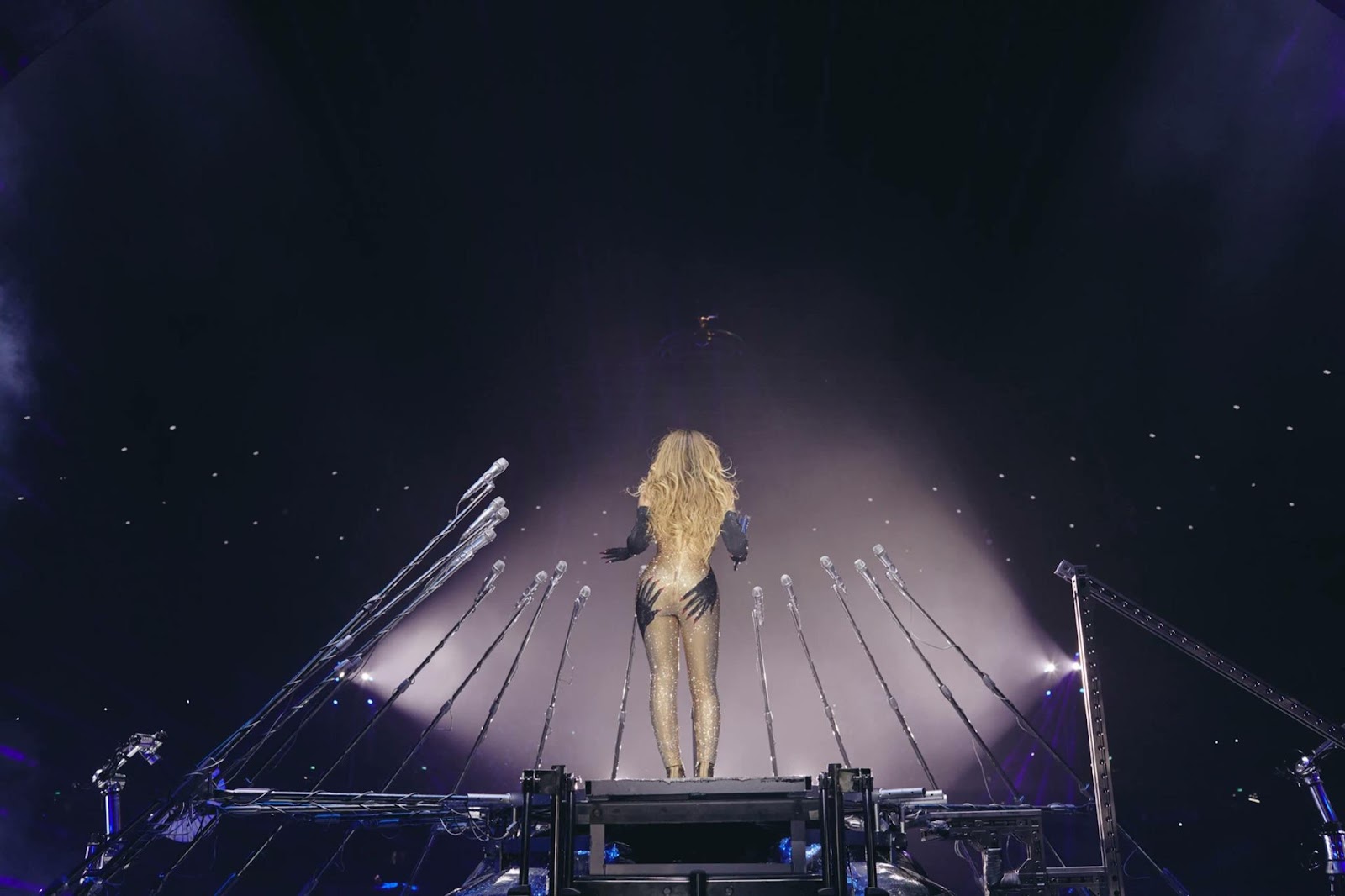 Photography by Kevin Mazur/GettyImages for Parkwood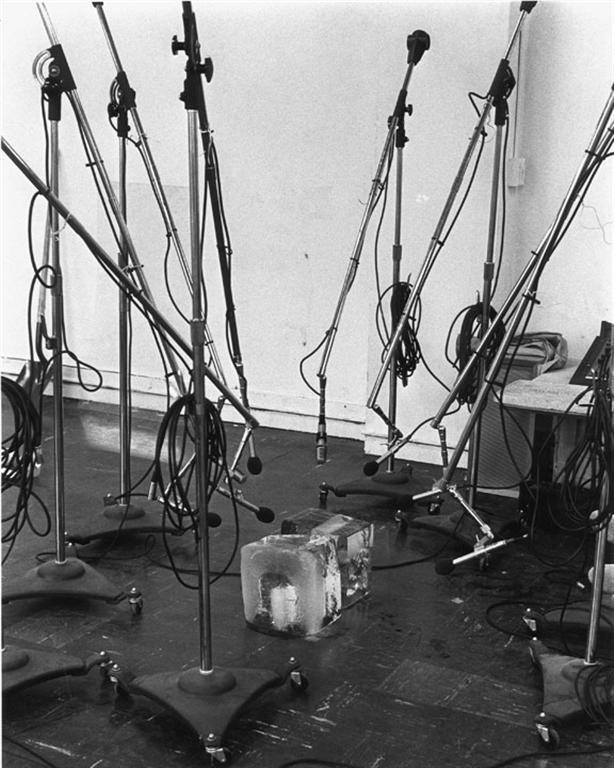 Paul Kos, Sound of Ice Melting, 1970, Installation. 
Beyoncé, similarly is heated, and performs with extra fierceness, to what she refers to as giving face– and she's not the only one, she has the whole queer community serving face with her as the album honours the Black LGBTQ pioneers whose collective efforts paved the way for the development of ballroom house music as a movement-  Even Honey Balenciaga of House of Labeija has been on the tour, voguing across the world.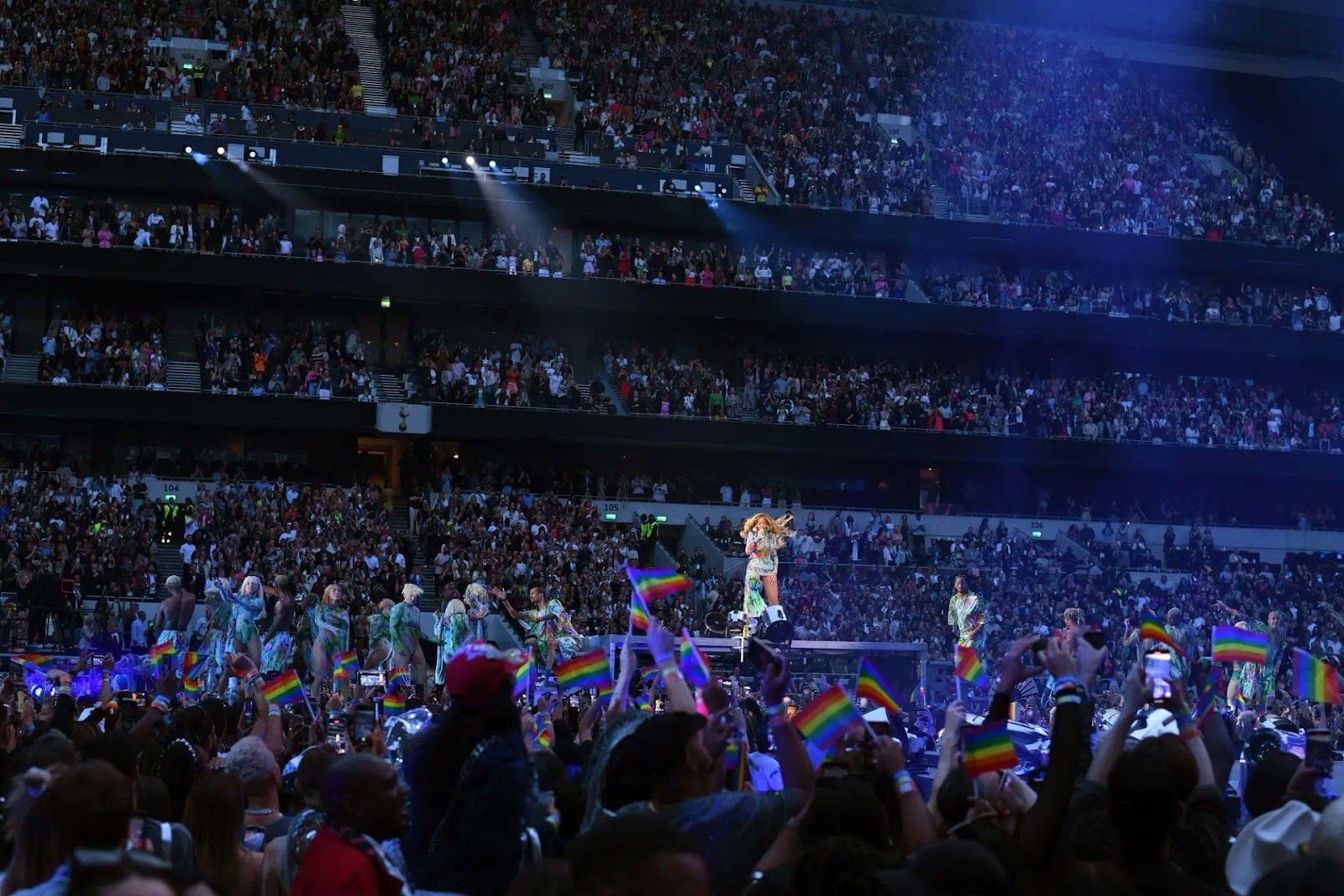 Photography by Kevin Mazur/GettyImages for Parkwood 
It's evident that this time around Beyoncé's unhinged embrace of diversity and a wide spectrum of identities as she spotlights influential figures like Honey Dijon, Big Freedia, and Kevin JZ Prodigy, whose voice articulates a very exciting mood through the visual interludes in between the acts of the concert.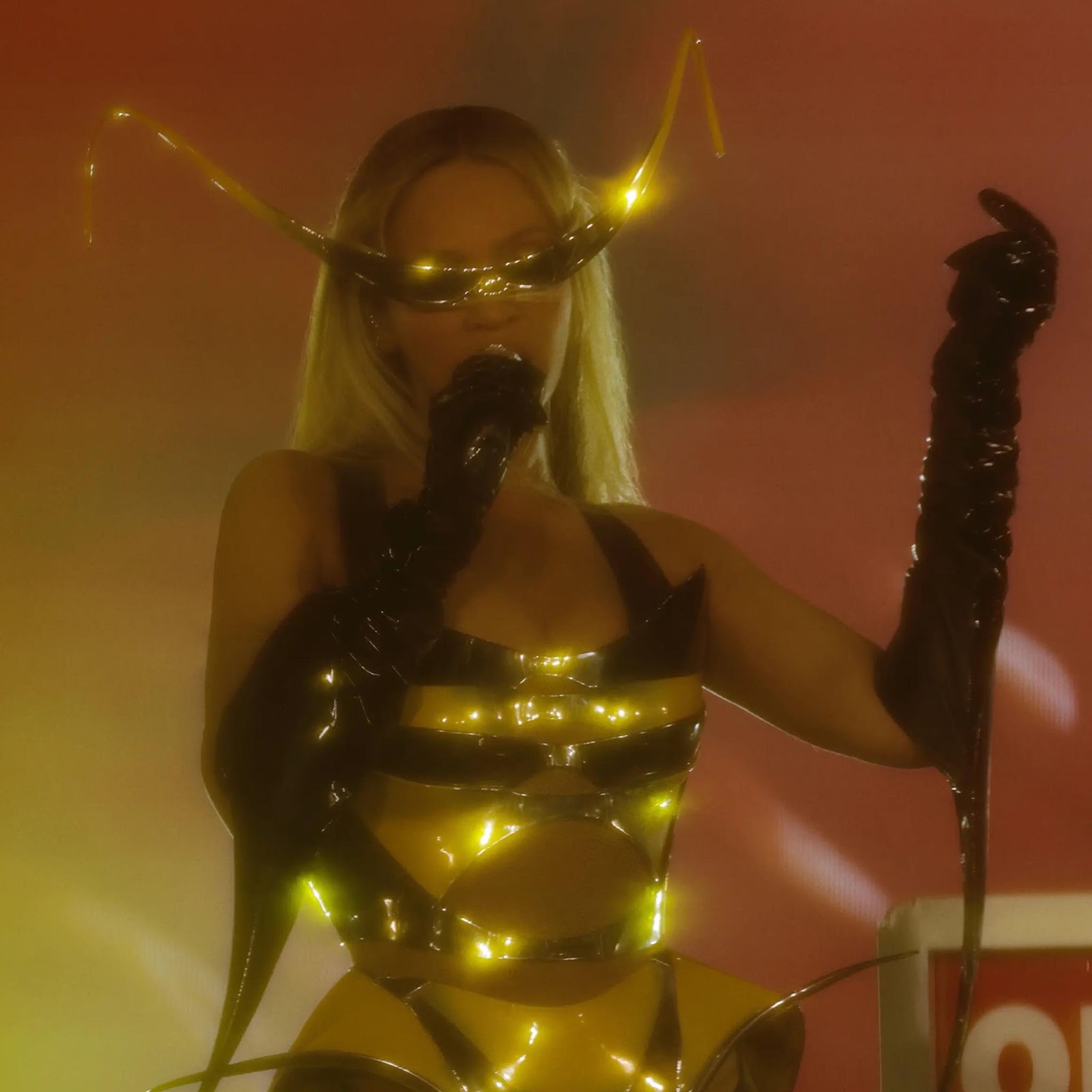 Beyoncé wears a vintage bee headpiece, designed by Mugler during her performance of 'Pure/Honey' Photography by Kevin Mazur/GettyImages for Parkwood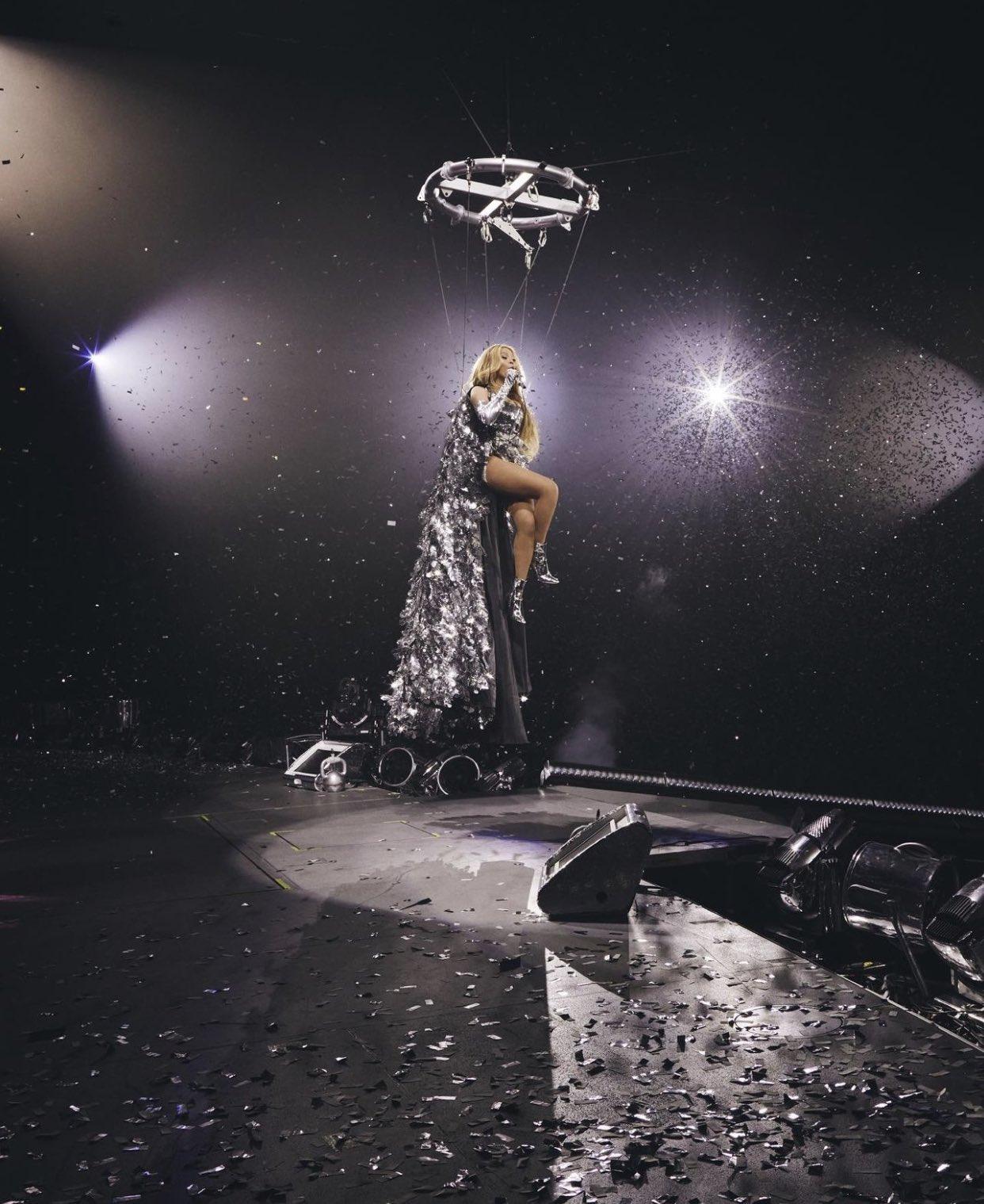 Beyoncé wears a custom Coperni garment during her performance of Summer Renaissance. Photography by Kevin Mazur/GettyImages for Parkwood 
And lastly, the fashion – From a vintage bee headpiece from Mugler's 1997 Collection to Coperni's custom-made shimmery cape  (inspired by their F/W23 collection), Beyoncé has been us giving 10 10 10s across the boards with her various custom-made ensembles that fuse post-apocalyptic aesthetics, techno couture, and retro psychedelic, chromatic elements- reimagining unconventional concert attire.