"Start where you are. Use what you have. Do what you can."
Arthur Ashe
A perfect representation of the above mentioned quote is Gabriel Mehlomakhulu's BHUMEHL SS20 Quarantined Paper Collection creation. South Africa's ongoing lockdown has not only restricted the movement of persons – but with it also came the temporary closure of many businesses and activities of sociality, thus putting a halt to economic activity and ushering in the suspension of precedented times as we have become accustomed to. For Gabriel, this meant not being able to access the materials and resources he needed to produce his creative work; that is a sewing machine, fabric, models and the freedom to photograph in locations of his choosing. However, through a seemingly impossible situation — and with Gabriel being a true creative at heart — the aspiring designer and dancer turned lockdown lemons into lemonade using just 3 readily available materials: paper, a stapler, and his creative vision and imagination.
"I have no access to a sewing machine, fabric, models, or places to photograph my work. But in facing this challenge, creativity and new ideas struck. Not having access to any materials couldn't pause the innovation. So I found an alternative way to produce garments using just paper, a stapler and some vision" elaborates Gabriel.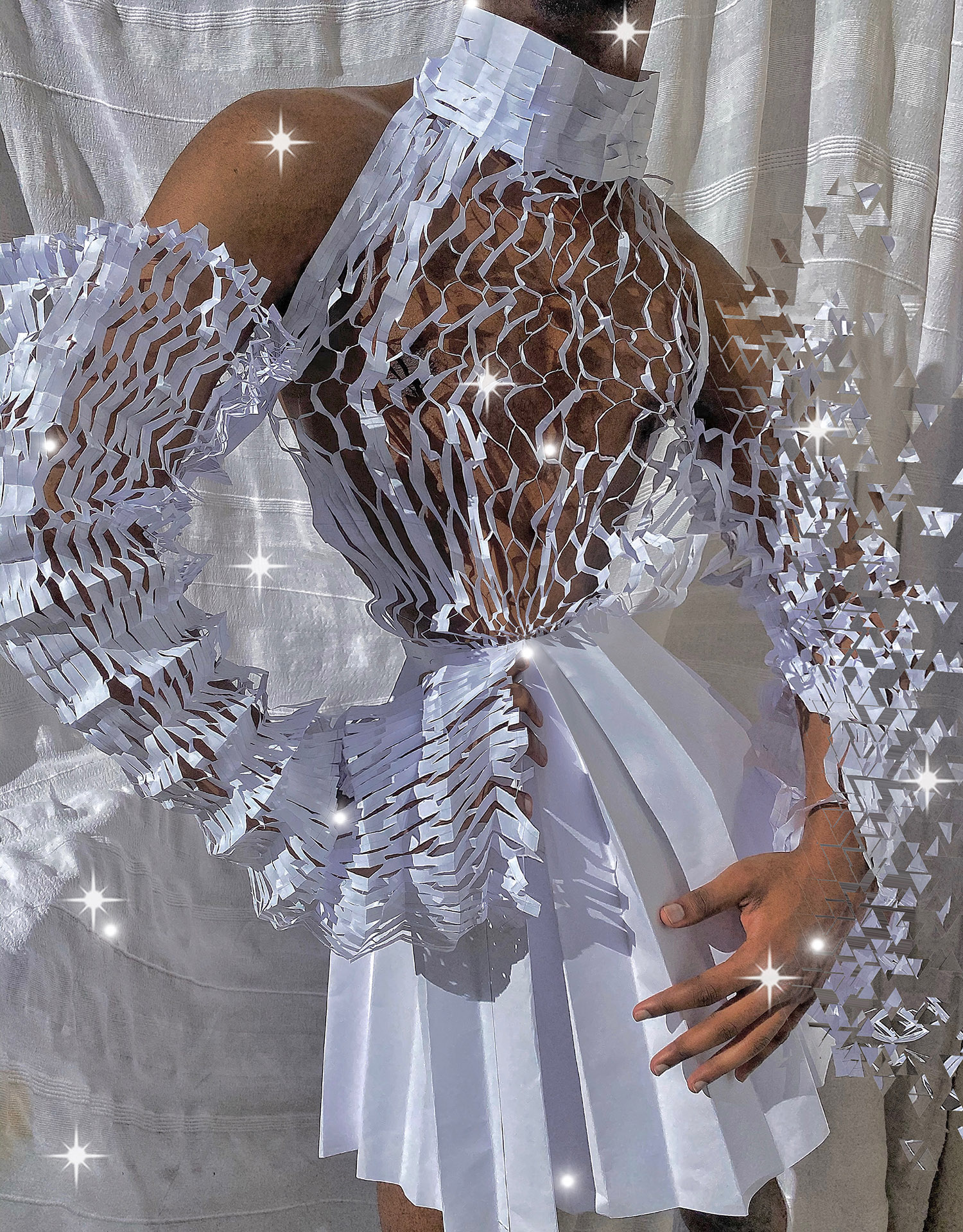 The collection features, amongst other wearable paper garments, a white pleated skirt, pastel colour sling bags (one yellow the other pink), a green sleeveless shirt with a patch pocket and  florals, as well as an open back cold-shoulder blouse with ruffles. All of this made from paper; a method of creating that seeks to repurpose unconventional materials in new ways and eco-conscious in it's essence. The collection was inspired by the idea of rising and thriving beyond, and despite one's circumstances – which is also a reflection of a tribulation Gabriel was going through at the time. The collection thus became an outlet for him to put his mind and creative energy into something else and thrive regardless of the trying circumstances.
This collection is the result of my will to thrive regardless of any circumstance. The work is inspired by predominantly pastel colours. I use paper but I make it fashion."