The glorious, infamous '90s… a decade that some of us were born in and a decade that some of us were lucky enough to have truly experienced. In the world of fashion trends tend to be ciclicli so, what goes around comes back around.
We've seen it within almost every decade belonging to the 20th century — from the '60s, '70s, '80s and if you step outside at this very moment, the 1990s. Notorious for their influence on fashion, culture and clothing apparel today, the '90s have made a comeback. I really don't need to say much about how pertinent the nostalgia for the '90s is across different generations.
However, unlike the rest of us who simply lament the passing of a bygone era of fashion, DIESEL, the Italian shoe and clothing brand, isn't content with just reflecting on that nostalgia. Instead, DIESEL intends on transporting us to the trendsetting year of 1993 in 2021.
YUK was one of DIESEL's earliest shoe designs, debuting in 1993. The shoe became an immediate classic and the brand's all time bestselling sneaker. DIESEL has decided to reissue the shoe as part of the new collection, presently available in stores, as it is deeply steeped in the brand's DNA. With visible stitching, an additional rubber outsole in contrasting pop colours, a vulcanised upper outsole, a woven jacquard logo on the tongue and an upper canvas, YUK joyfully embraces good quality.
From the retail rooftop, DIESEL proclaims the barebones essence of these antique kicks. With YUK, DIESEL returns to its roots. Described as a uniquely designed, classic, simple sneaker that is "perfect to wear with denim", YUK comes in various colours – blue, orange, navy, yellow, black, pink and white. That in itself references and speaks to a very particular time in our history, a time when excessive denim wasn't considered a fashion taboo.
DIESEL embraces the straightforward character of its throwback shoe wholeheartedly. It even boasts about the YUK's complete absence of updated accessories. As mentioned before, the '90s were fashionably eventful — and for most of us — that conjures up memories of questionable childhood and preteen style. However, I get a sense that with the YUK sneaker, you can incorporate your previous nostalgic self with your grownup closet and aesthetic, without completely resorting to dressing like you can't let go of the past.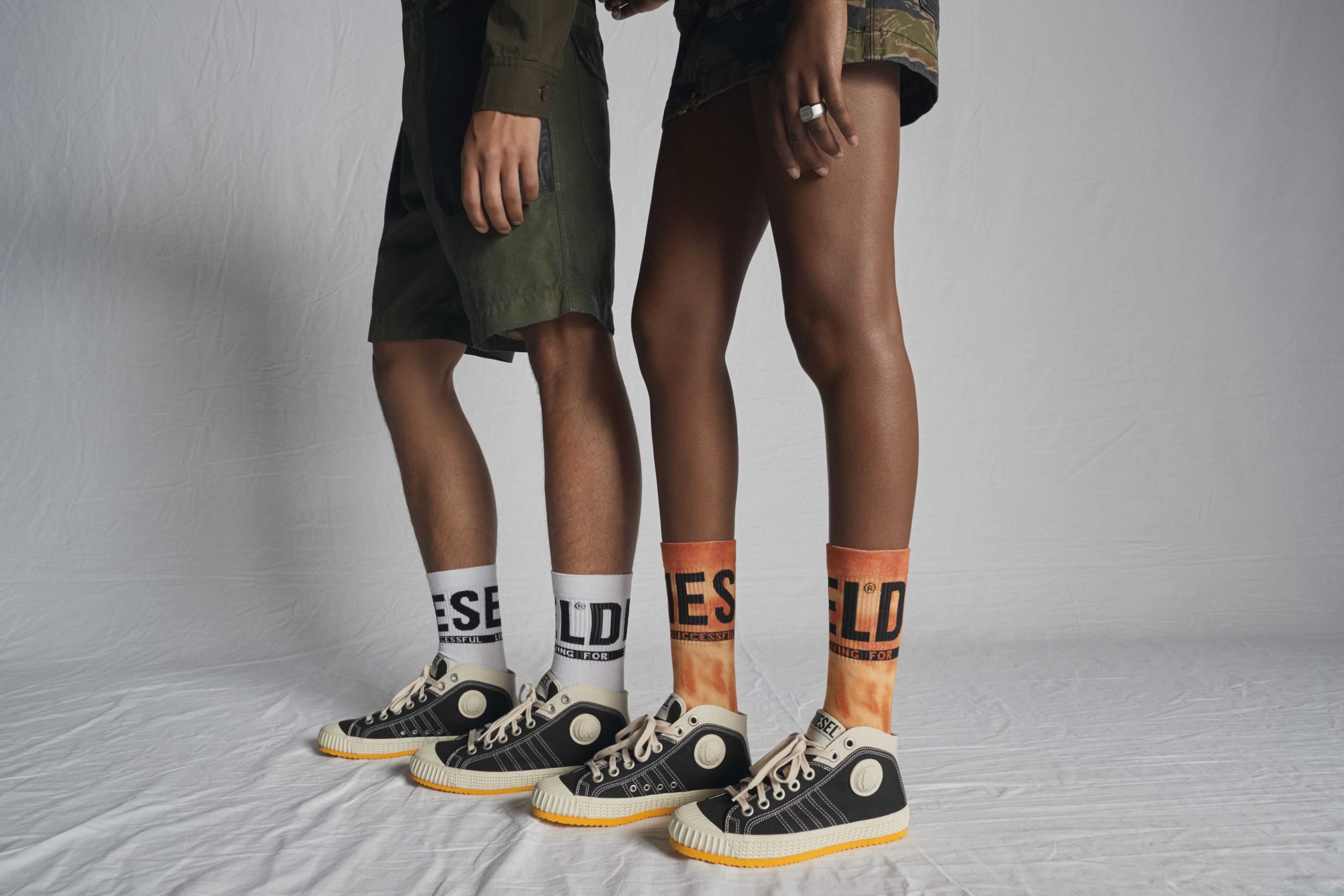 Denim is a staple fabric for DIESEL and is more than just cotton to the brand. Aligned with DIESEL'S own values, denim inspires strong opinions within the hearts of historians, designers and its wearers. It inspires passion and a sense of thrill that is pertinent within DIESEL and the YUK sneaker.
If it were up to me, I would overpopulate my closet with '90s regalia in a heartbeat, for the sake of fulfilling my childhood dreams. However, those who can't time travel to the past can simply wear sneakers like YUK and get a glimpse of a past time and glorious life through our love of fashion.
The YUK shoe is now available in DIESEL stores and online here