"Maybe in our bodies there's a whole world of mythology? Maybe there exists some sort of reflection of the great and the small, the human body joining within itself everything with everything – stories and heroes, gods and animals, the order of plants and the harmony of minerals?"
Olga Tokarczuk
What does it mean for the human body to exist as a beautiful distress of mathematics? For it to exist as an eloquent equation; one that undoes all formulae previously assigned for the understanding of its constitution?
1+1 does not always amount to 2.
What possibilities of freedom and existence ebb waiting to be moulded from our enfleshed canvases?
These are some of the ponderings running circles through my mind as I wait to meet with professional bodybuilder and personal trainer Victoria "Vicky" Sethabela.
At 28 years old, the former hockey player, gymnast and track athlete's barrier breaking achievements in the world of professional bodybuilding speak for themselves. It all started with her losing a bet to a friend at the age of about 24 she tells me, when I ask her to elaborate on how she got into the  world of professional bodybuilding and her personal history with the sport.
"One day a friend of mine who's been in bodybuilding since he was a baby because his dad is also a bodybuilder approached me and was like listen; would you be interested in bodybuilding, how about this ..?"  The rest as they say is history.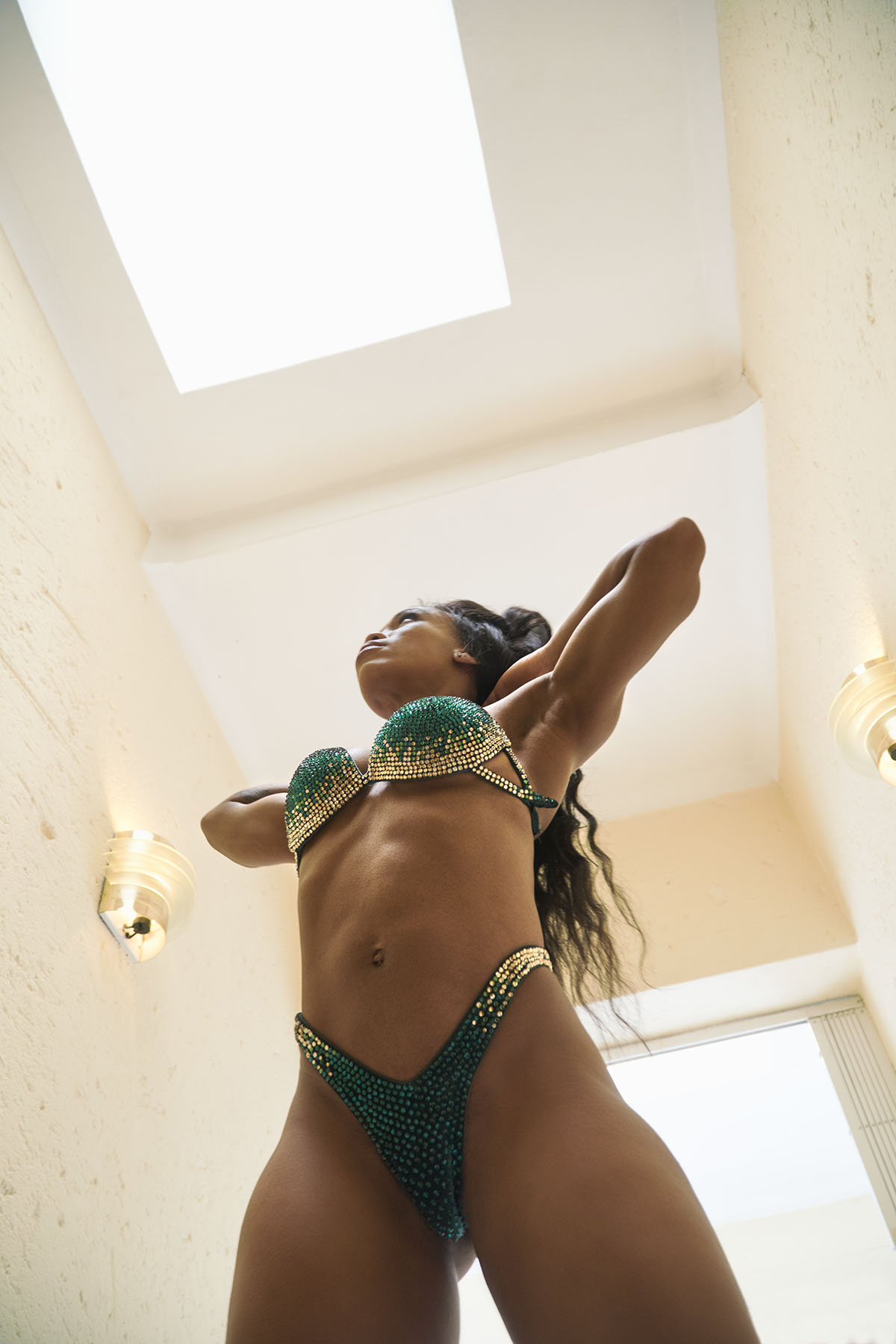 Bodybuilding, more specifically women's bodybuilding is a sport shrouded in a great deal of mystery. Perhaps, this is because in South Africa unlike in other countries such as the USA and Germany, it does not have as long a spanning history nor has it penetrated the mainstream as much.
Or perhaps, because in South Africa, unless it's cricket, soccer or rugby; who's really paying attention? I had no idea prior to our meeting that our humble beginnings were quite similar. Vicky too grew up in Sebokeng, Zone 7 and who knows; our paths may have crossed a long time ago on those dusty streets prior to this moment of meeting?
"That's when the bug bit" as she puts it; after competing on a national level during her first year of entry into the sport "and from the flowing year on, that's when everything just started to soar." While women's bodybuilding as a professional sport has progressed and gained increasing popularity in certain other countries since the First Women's World Bodybuilding Championship in Los Angeles in 1979, South Africa still has a long way to go.
In other parts of the world people get paid to go to the gym as a part of their profession, like a rugby player gets payed to be on the field and pass that ball. That would be something, if it were to happen in this country. At the end of the day we all have to make do for ourselves and this sport is very expensive and if you don't have a backup, like an actual job, an actual career or if you don't have full time sponsors then you're just wasting your time.
Because heteropatriarchy, because sexism, because men, because the world, because history; one could say that the sheer physical stature of women bodybuilder's tends to elicit a strong reaction from those outside of this world. A reaction often born from stigma and pathology because of the perceived masculinity or androgyny the body assumes.
I personally think of this as a form of embodied feminist work; refiguring the femme body and imbuing it with a strength that is threatening to society's patriarchal power systems. I ask Vicky what it feels like to occupy this space of the tension I imagine might come with navigating the binaries of strength vs. softness and femininity vs. masculinity within the sport, and she has this to say "I've had people criticize me, ja I've had people call me a man but I'm sitting there like the ignorance that oozes out of you, you don't even realize what you're saying".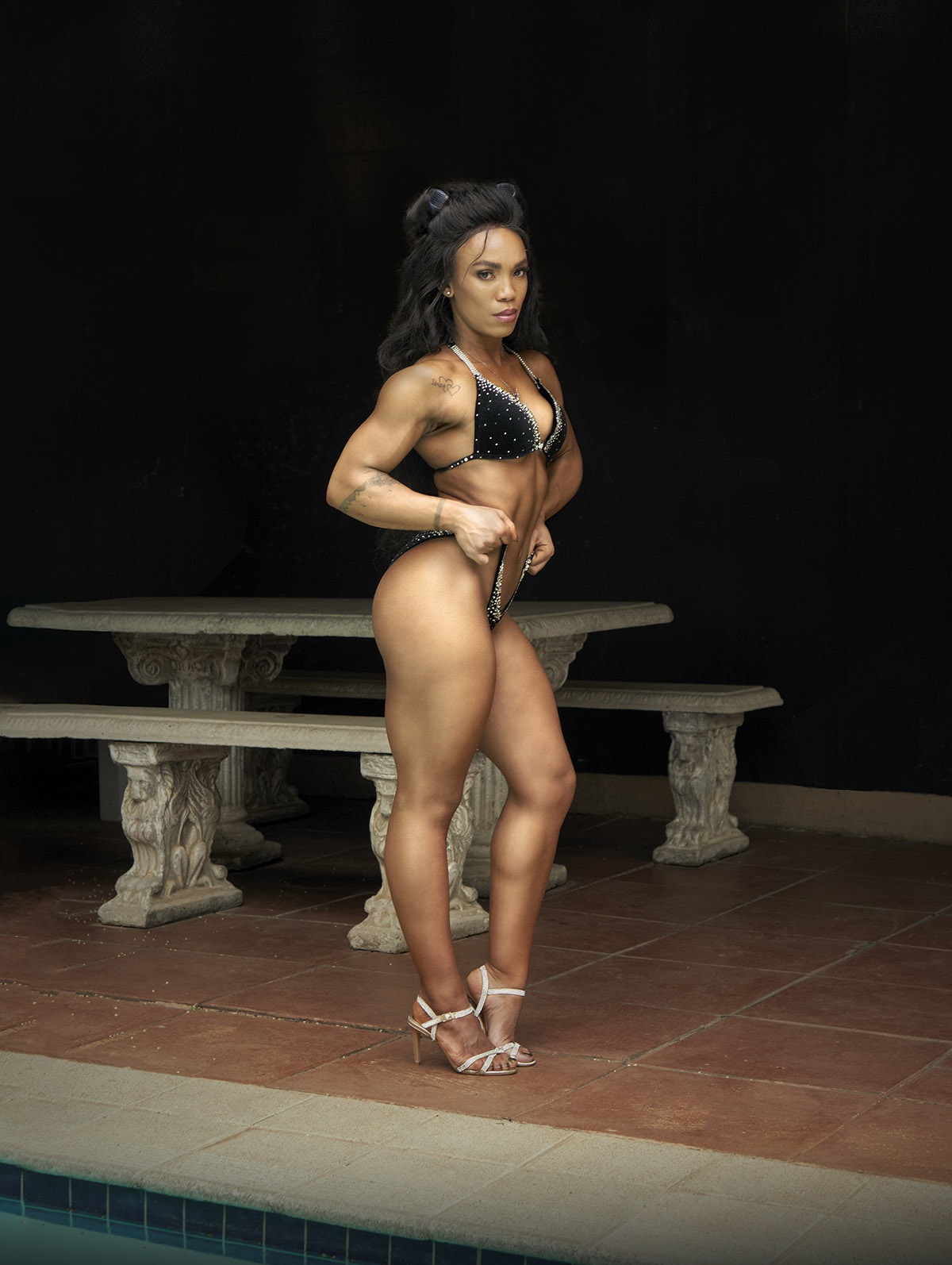 Vicky Sethabela's division of competition is called Wellness Fitness, and is defined by the body's proportions, "you have to be lean, you have to have muscle and on top of that your lower body has to be disproportionate to your upper body" as she explains.
Being a well decorated member of the South African Professional National team (officially recognised as Proteas) and holding national colours in the sport, Vicky is the first Black women in the International bodybuilding federation to have won the Bikini division in the National Championship. A feat not to be dismissed when one takes into consideration that two of hell's twins; call him racism and call him sexism, have tributaries that flow into the sporting world too.
Now multiply that when considering that this is a sport constructed around the body and ideas of ideal bodily aesthetics; "I'm not going to hide the fact that there have been some instances where I have been overlooked because I have", she shares.
"You have to have a thick skin in order to survive this industry; else it will chew you up and spit you out. You have to stand your ground and be a strong person."  Person + woman + Black = thick skin like breathing. Vicky has faced a great deal of complicated challenges since starting her career at 24, both from the outside world and those close to her.
However, she has not let these challenges; social, institutional or historical, become the preoccupation of her narrative as a bodybuilder; "I just learn how to block people out, that's the only way you can survive because if I were to take every second person's opinion of what I do or how I look I wouldn't be where I am today."
Instead, Vicky embodies her resistance. Choosing to do the work of overcoming boundaries, dismantling stigma and using her influence to propel the sport forward in a positive way through her own achievements, "as much as I talk a lot I've never been one to be the loud voice, you know? I do things, you'll see by my actions. Through my competing, through my achievements and breaking barriers especially for Black girls and [women] in general."
It's fair to say that Vicky Sethabela's journey in the world of professional bodybuilding has only just begun, and oh what a journey it's looking to be. Not to diminish the gravity of adversity she has had to face being a Black women in what South African society still perceive to a large extent as a "hyper masculine" sport.
She has had to work exponentially harder than her peers who compete professionally in other countries and has found herself overlooked at times because of the intersections of her positionality. However, in the spirit of Morrison when asked about Ralph Ellison's Invisible Man; invisible man? Invisible to whom?" Sethabela knows the infinite stretch of her power, agency and greatness thus seeking validation from no one.
1 + 1 = endless possibility.
Credits:
Photography by Jamal Nxedlana
Make up by Ayanda Shabangu
Hair by Sonto Malefo