A dark moody atmosphere- you can almost taste the smoke and all it shrouds -a blue and purple dimly lit bar that could be both nowhere and everywhere all at once, a single arm outstretched towards me as I watch. A face that looks away from me, their eyes draped by the lashes of despair. Why are you so alone? Is this lonely truly yours? Who is your hand hoping to touch at the other end of your outstretched arm? This is the creation of a different kind of David. This is a Sistine Chapel of flashing neon lights, of pulsating bodies sweating off the Nivea-ness, of vice and escape from the feelings that emerge when darkness is no longer around to conceal them. God no longer floats within a nebulous form to David's right, the Angels and heavenly drapery are nowhere to be found, and David's hand is outstretched in a new direction, towards a different touch; "honesty all I want is to be everything that you need call me when you miss me". Perhaps they have lost their religion, lost their faith in the kind of love and tender intimacy that sprout from the subterranean in those moments we take off everything but our clothes. Now all that is left sounding are the trumpets of desolation and they cry:
You think that I'm horny
Baby you arouse me                                                                                                 And I don't even wanna fuck you                                                                                    I just wanna be with you
Baby I love you
Won't you stay with me?
It's so lonely in this city                                                                                                 Squeeze me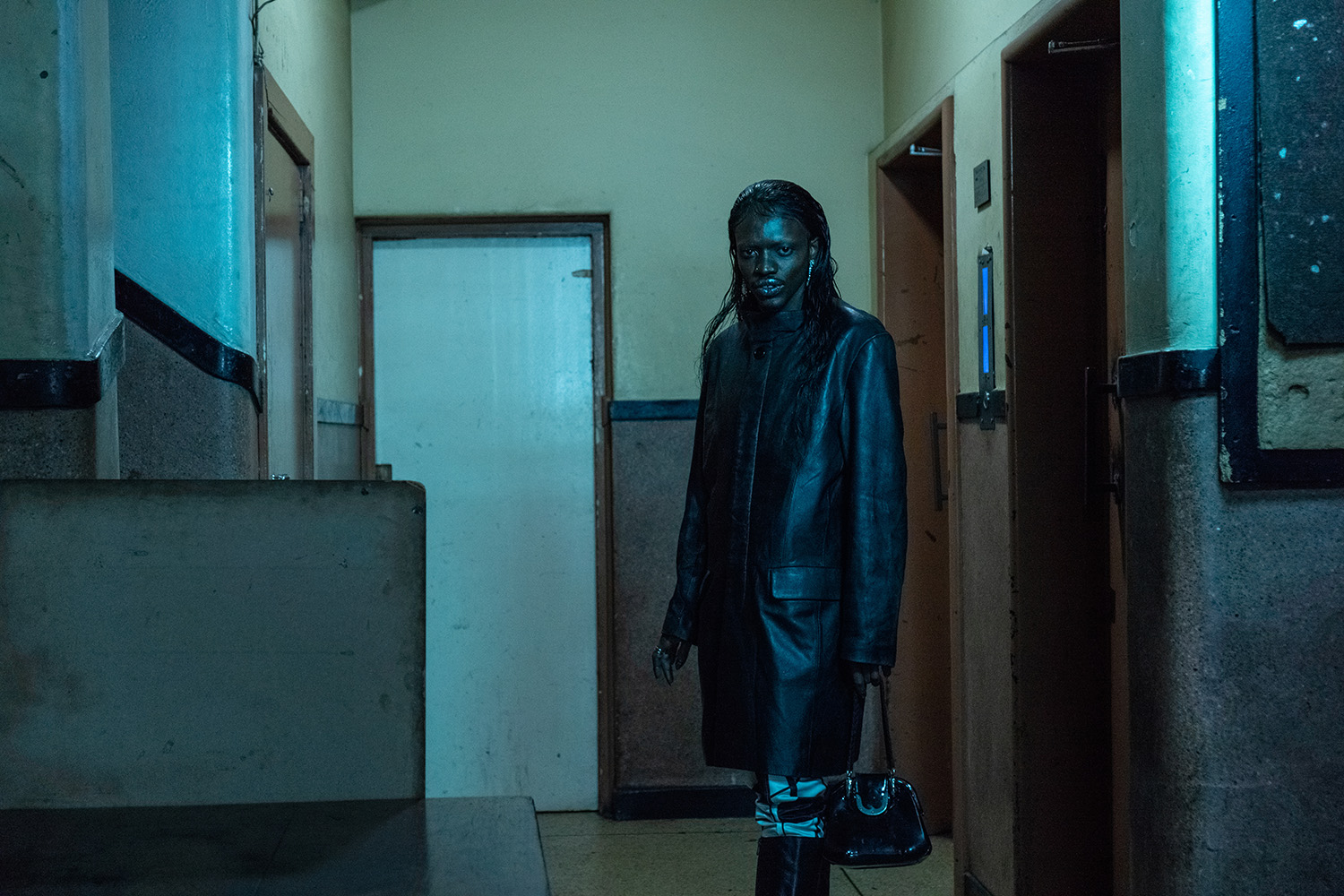 Photograph by Jamal Nxedlana
The lead single You Think I'm Horny, written by Buyani Duma forms part of his new self-titled album or, rather, his new sonic queer scripture offering Desire which was released last week. In the  music video directed by Jamal Nxedlana; dizzying and chaotic Displacement takes on an animated quality seeming to form part of the DNA of the omnipresent yet unnamed "You" Desire is addressing in their vulnerable prose like choral unmasking, and a part of the very visual language of the video. The visual tapestry of You Think I'm Horny, plays interestingly off of Desire's own personal narrative orated through the song.  At about 1:10 of the video, we see Desire walking almost as if in a daze through a dark street; "it's so lonely in this city". It is soon after that, that we are given a where within which to place his lonely, a name for this city by virtue of the words "MY PRIDE, JHB People PRIDE!!!" grafittied on a wall they walk by. Johannesburg- "city of lights…where the truth sits in disguise, so what you willing to eye" -has a long and complicated history with Displacement, this state of affective deficit forming a part of the metropolis' historical and cultural genetic constitution. While making their way through the dark streets, they encounter two figures/entities call them the Ghosts of Desolation and Displacements Past played by Natalie Paneng and Tracy Mokgopo, but who do they belong to?
Do they belong to Johannesburg and her history of migrant labour, forced removals and peripheral economies and societies? Do they belong to Desire and what moves within them as they navigate the politics of Cum Culture, seeking out a different kind of intimacy, one not of the flesh? Is this separation even possible? Speaking to Desire over the phone this past weekend, they had this to say after I asked them wether the specific configuration of lonely they sing about in You Think I'm Horny feels the same everywhere or if it takes on a particular articulation within the context of Joburg; "I think it feels… there's a unique kind of structure, it's in the DNA and the long history of structural displacement nje obviously is something that will always simmer through how we love and how we express love and the dynamics of our love. I think it's part and parcel, Joburg made a good backdrop for that kind of expression, that kind of feeling but also it creates it as well. As they speak about this enmeshed relationship between this city and how it informs and mutates into the way we do and live love, I think of multi-disciplinary artist Julie Nxadi's mediation in her Zola series"ufundiswe ngubani ukuthandana?"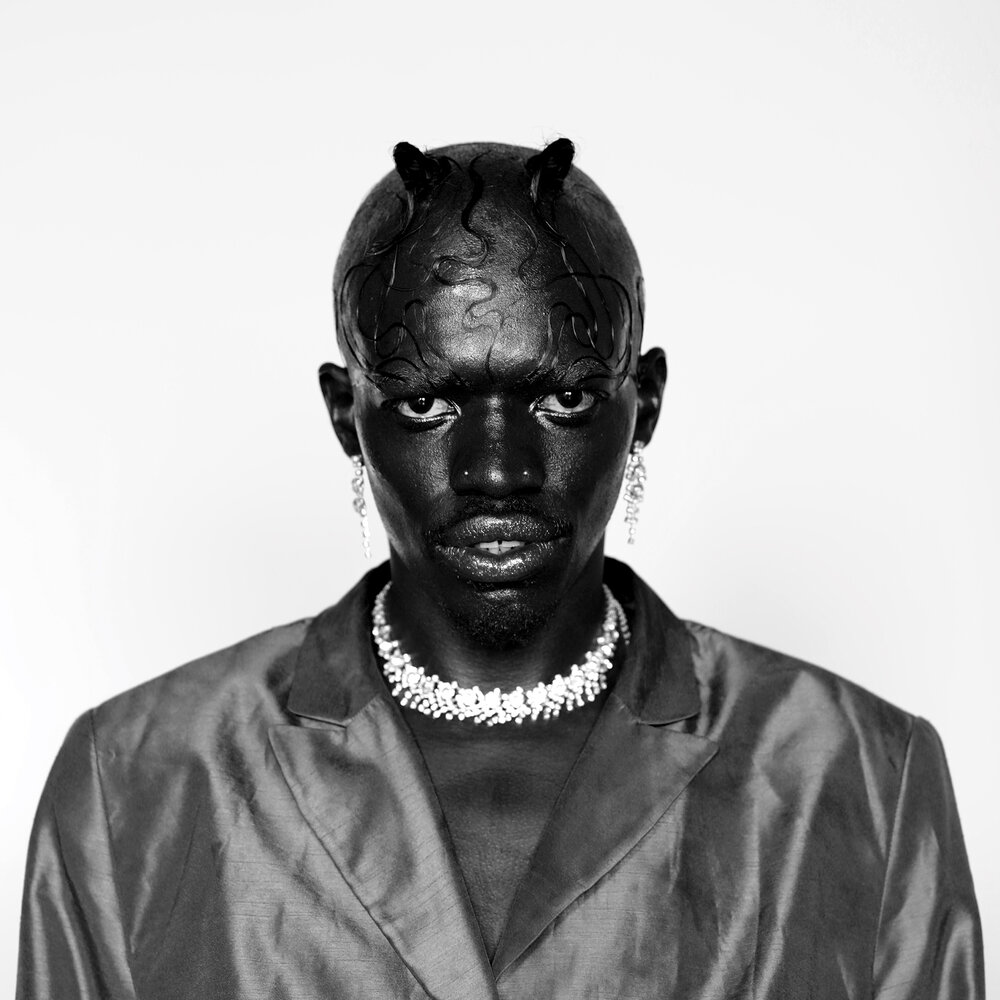 Photograph by Sir Zanele Muholi
Audre Lorde said it; there is power in the erotic.
"The space of Cumming is also a space of radical politics and ukhunyoba is a fun time," Desire chuckles on the other end of the call as I say this to them to which they respond, "I think the whole culture of sex positivity is obviously very important and it liberated a lot of us to be able to explore ourselves with no shame which was something that was really lacking, we were [now] able to explore spaces where we could like reify our sexuality and explore it and express it".
In the same breath, however, I think we more often than not tend to speak of the space of Cumming through rose-coloured queer tinted glasses, and in romanticised ways; as a space of BeCumming. As a space of corporeal utopia and radical ecstasy, often negating to speak of what underbelly feelings also form part of that space, of how it sometimes leaves us feeling tethered. You Think I'm Horny, does this work of wiping away the utopian shimmering veil of Nivea-ness, it dethrones the glamour and romanticisation of intimacy of the flesh giving us an expression of feeling so relatable you've probably lived it before channeled through an incredibly vulnerable sonic unmasking. Desire's words travel from the KZN as we speak and become over the phone companions to my own thoughts as he continues "but at the same time I was like there was a void, you know. I wrote the song at a time when I was trying to even like, I had a lot of sexual partners, and I was trying to foster a sense of like romance or like care or like tenderness even with casual interactions cause I felt like that's also important… for me I prefer to, I don't know. To be in emotionally responsible sexual engagements". Vice and escape flow from many rivers, loneliness being one of them. I ask Desire about what modes of escape, if any, they have disappeared into when that feeling of alone-ness became too unbearable "I think with my loneliness in this city, I was doing a lot of things which were reckless and I don't regret them because I feel like they helped me get to a point where I could better navigate my loneliness, trauma and intentions going forward and Jamal interpreted that very well. I didn't even tell him what it was about, I think I just like sent him like a sentence. I just told him it's about like a yearning for love for unrequited love or something like that".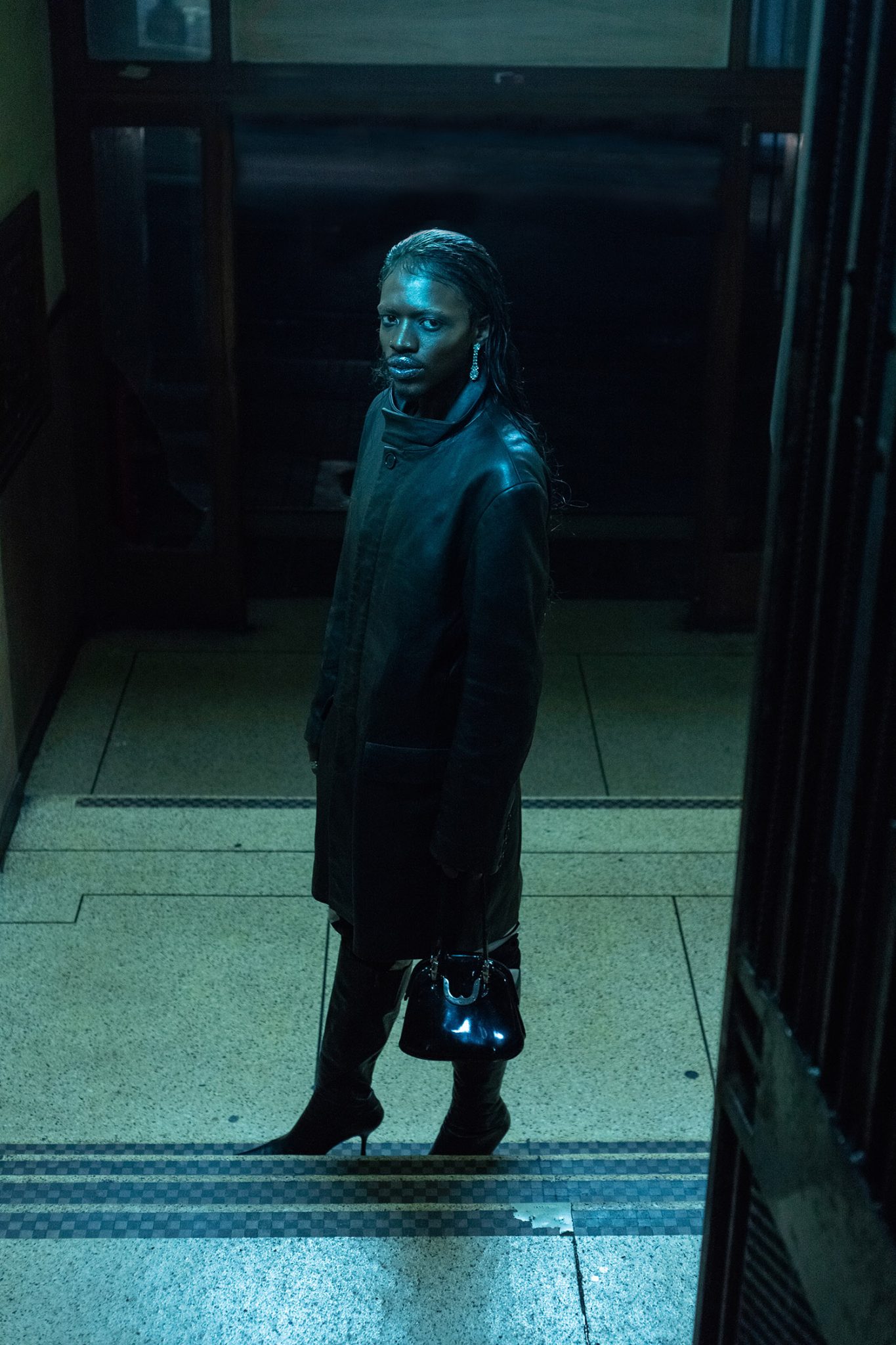 Photograph by Jamal Nxedlana
Before our call ends Desire tells me about the production of the video; "[it] was positioned in very interesting places cause we also shot it at the Hillbrow Inn, which is a strip club slash I guess brothel. We also came into contact with a lot of the sex workers and while we were entering to do the bedroom scene we really got to see them. And they were just so fierce and confidant also I couldn't ignore that sense of, I don't know, that sense of longing and yearning that I also felt when I looked at them and I felt like it was the best place to set the story in".  Something about the production of You Think I'm Horny, makes it sound like catharsis-through-exorcism, a sense heightened when the tempo of the song increases, and further visually translated in the video where we witness Desire dancing in an almost trance like state to choreography by Bradley Sekiti. I ask Desire whether they feel as though there were indeed demons being exorcised through their writing of the song and, moreover, through their writing and producing of the album in its entirety? Was some form of catharsis reached? "I think there was definitely a sense of exorcism, catharsis as well. It was a very cathartic process writing and producing it. I recorded most in like, in states and allowed myself to be… I think my loneliness also helped cause whenever I felt like I was in a state I would just write and record". In a piece written by Malaika Eyoh on the self-titled album, Desire speaks of Moonlight by Barry Jenkins and how it made him confront the possibility of no happy endings and she- Malaika -speaks of chaos in relation to the album. As I watch the video of You Think I'm Horny again and again, I can't help but meditate on both of those facts. What possibility of a tender happy ending await despair draped David and does it lay waiting for them on the other end of their outstretched arm just wanting to be with them too?
Music Video
Director: Jamal Nxedlana
Producers: Jamal Nxedlana, Paul Shiakallis & Desire Marea
DOP's: Jamal Nxedlana & Lex Trickett
Editor: Lex Trickett
Lighting Design: Paul Shiakallis
Grade: Paul Shiakallis
Art Directors: Jamal Nxedlana, Lex Trickett & Desire Marea
Wardrobe and Casting: Desire Marea
Hair and Make Up: Desire Marea
Choreography: Bradley Sekiti
Cast: Natalie Paneng, Tracy Mokgopo, Sanele Ngubane
Camera Asst.: Hloni Matjila
Lighting Asst.: Hoek Swaratlhe
Wardrobe Asst.: Lebogang Ramfate
Music
Performed by Desire Marea
Lyricist: Buyani Duma
Composers: Buyani Duma, Sanele Ngubane, Nonku Phiri
Engineered by Craig Hawkins at Audio Militia