There's a particular genealogy of hip hop music that feels and sounds like your head bopping real cool on a honeydew sunny day as you bounce down the block; a particular iteration of hip hop that sounds and feels like "back in the day when things were cool". I'm talking about the space of hip hop that is also a nexus between R&B, jazz and even funk to a point. In this space we find J Dilla, The Roots, A Tribe Called Quest, Slum Village and if we want to bring it closer to home, ensembles like Tumi and the Volume who told us sonic tales about People of the Light. It's in this space that I locate Inkonsistent Klan's new album, INK. With heavy Jazz loops – the album is the official introduction of the group to the tapestry of SA's his hop creative scene. Inkonsistent Klan itself is made up of 6 artists from East London, who grew up in the same neighbourhood called Gompo Town and were brought together by their shared love for making music and for the arts. A sonic fabulation and ode to the Black radical tradition of making life out of nothing, that turns to look at narratives of Black people living in post-apartheid apartheid South Africa; confronting and unpacking issues of social and racial inequality from a place that seeks to usher in some form of healing.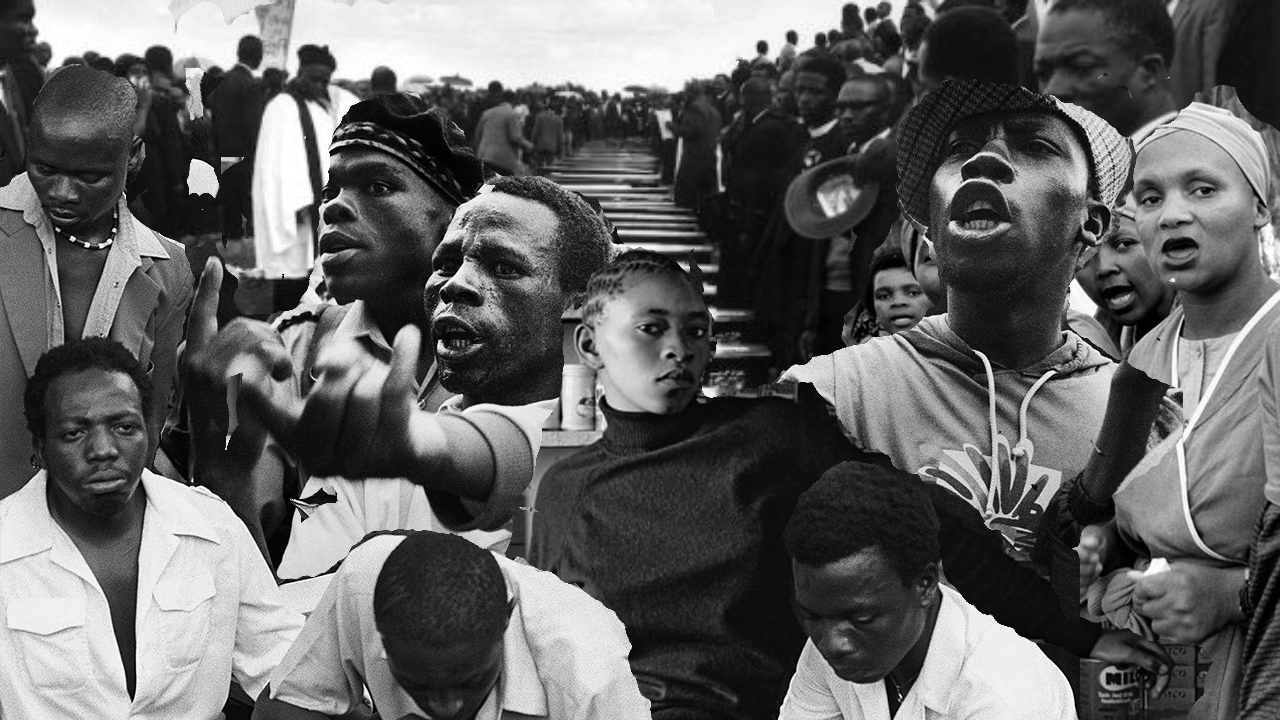 Artwork by Zenande Mtati
Ma black cold mind,
Is tryna make a living
Outa 7rand
I'm trying to go behind this rap game over night
See I'm a product of ekasi where whites dumped blacks to be rejects
But another man's trash is another man;'s treasure. We were supposed to be nothing
It's funny we populate the country
Raps Inkonsistent Klan on the track "Conscious Poems", in a single chorus and within the beginning of the verse, they touch on the social, political and economic past, present and future histories and conditions of post-apartheid apartheid South Africa where a particular kind of Black struggle and anxiety is concerned. Artfully relaying frustrations, inheritances and desires through clever word play and over Moonchild-like-harmonies, however, informed by their own particular personal experience(s) as individuals and a group coming from the Eastern Cape. This extends the themes explored on the album into a more intimate realm bringing into its fold discourses of navigating love, life and death in your mid 20s.
I Remember the first time I heard they songs
That memory's recorded in my mind, I'll take you back
We were chilling outside a random Saturday, was waiting on Budda Monk and his brother washing a car..
.well
As that nigga was cleaning he looked out to me and asked "ekse fe2 uyivile le number yamajita?" Nex
I tried to rap too but there was no comparing it
Kay lets us know on the track "Induction". The group's influences are also people and groups who have drastically reshaped the landscape of hip hop both where its sound and where the issues it speaks to are concerned. One such influence being Niggas With Attitude; N.W.A, whose most well known banger to this day is Straight Outta Compton. Other tracks on the album include "Time on Earth", "Charlie Brown", "Kill Time" and "Save My Life". On "Time on Earth" there is a repeated line "with your time on Earth do some wonderful thangs, do some wonderful thangs", and that is exactly what Inkonsistent Klan have done with this album; created a healing, important and wonderful Thang, for us by us.