Jazz music reflects the spirit and mood of the times, and although often associated with a bygone era; there is a powerful contemporary revival taking place in South Africa. An underground scene tempered by dedicated students of the art-form in the pursuit of playing with joyful abandon; the South African jazz standard is alive and kicking — hard. 
The jazz nights at the Great Wizoo in Cape Town, led by students of the University of Cape Town, are some of my fondest memories upon leaving high school. The palpable energetic resonance held by the musicians served as an immersive experience, along with the welcomed R10 Black Labels, causing a frenzy of sonic dynamism as one could peer through the veneer of what makes this genre so fascinating, especially in the hands of young people. Jazz — and although my overall knowledge is limited — is the springboard from which so many musical threads arose, and it is the inconceivable journey of any jazz student to constantly refine, reinvent and re-establish the various standards. This I believe, makes it a crucially intellectual discipline. However, still with an objective to excite the audience, as any jazz show worth its money will be an intuitive, collective experience underpinned by the commonality of instrumental genius.
Johannesburg is decidedly interesting at the moment in this regard, with a dedicated plethora of students from Wits taking up the mantle to further evolve jazz in South Africa. I caught up with Angus Hardcastle, the bassist, of the Kopano Jazz Collective — who along with his *band mates Godfrey Mnatmbo (Alto Saxophone), Josh Mokoena (Piano), Nicholas Bjorkman (Drums) and Enoch Marutha (Drums), consistently play around the city — somewhat underground, yet, on the rise with their commitment to the cause. 
*other collaborators include Viwo Kulati (vocals), Dylan Fine (guitar), Motswedi Modiba (vocals), Tsiamo Nkoane (drums), Muhammed Dawjee (tenor saxophone).
Below is my interview with Kopano Jazz Collective's bassist Angus Hardcastle and a playlist compiled by the collective of musicians making waves in SA's contemporary jazz scene.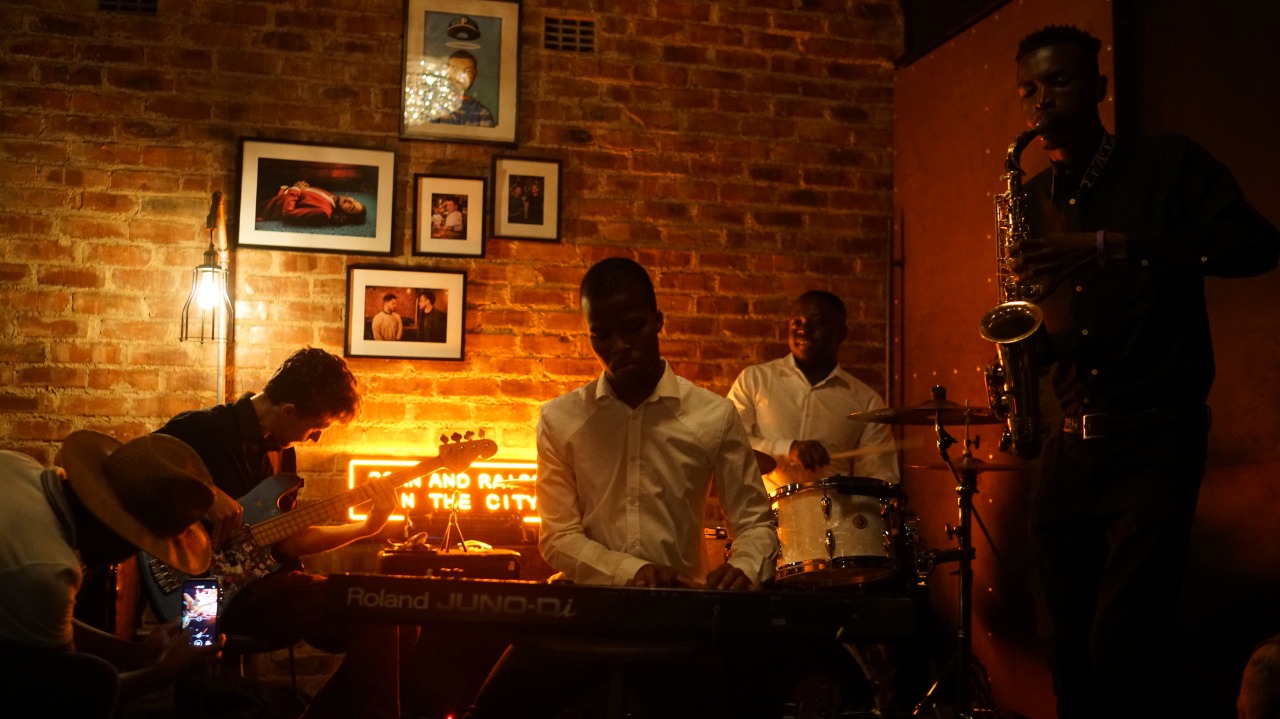 What is the motivation behind Kopano Collective, and how did it start?
Angus Hardcastle: Godfrey had already played in the National Jazz Band twice by the time we had met, which was in my first week at Wits. We played a lot of gigs together and many vocalists and musicians were involved in this. It was this kind of messy relationship between a whole lot of different bands gigging together and playing for various audiences. Godfrey and I both had hosted separate residencies at the Orbit, and then went on to take up a residency together at Neighbourhood in Joburg. Someone approached us during that residency to make an album at that time — which we then called Kopano, which means ''coming together''. There were ten of us on the album, which made it a really diverse musical experience, and [we] recorded it at Downtown studios, tracked it live within two days. 
We then started the Randclub Jazz Band, and started working with Tamara Dey — but with Kopano, we started going strong with getting exposure for the record.
That's pretty wild to go from a residency to making a record together. I am intrigued by the fluidity of jazz. Particularly how musicians are able to mix and match within bands and play together; essentially feeding off each other's rhythms and output.
Angus Hardcastle: So yeah, everyone who studies jazz studies the same base repertoire — there are a myriad of jazz standards, and we all immerse ourselves in as much of [them] as we can. So, when we all play together, we draw on how we have been informed by the base repertoire — and then of course, we have pop songs, rock music that we can incorporate into it. The American Jazz Standard informs some of the South African Standard, but truly we have a lot of our own originality and an incredibly rich tapestry of historical jazz musicians dating back to the 1920s. I think our concern as musicians is to honour this, in a way, while playing for the pure joy of it. To elicit a reaction from our audience, whoever they may be. When a bunch of musicians come together under the banner of jazz, it becomes this really exciting blend of styles and disciplines. We aim to be able to practice on our own, and then come together and apply it on our own — it's sort of like a language, a form of communication where we talk to each other and respond to each other through our instruments.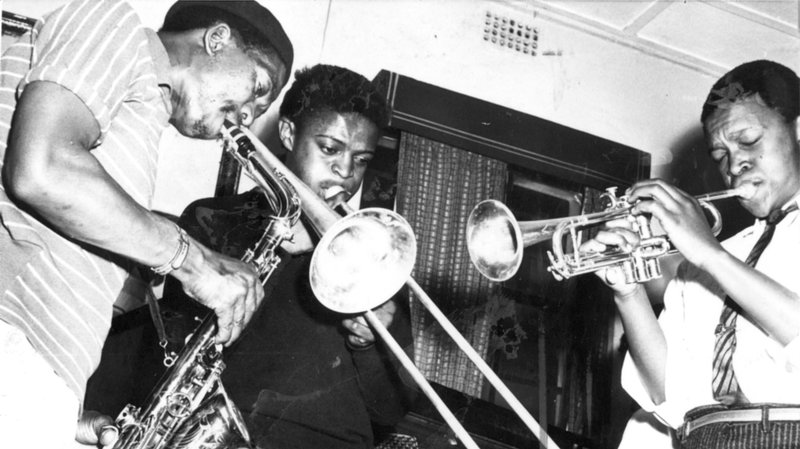 Jonas Gwangwa with Hugh Masekela and Kippie Moeketsi.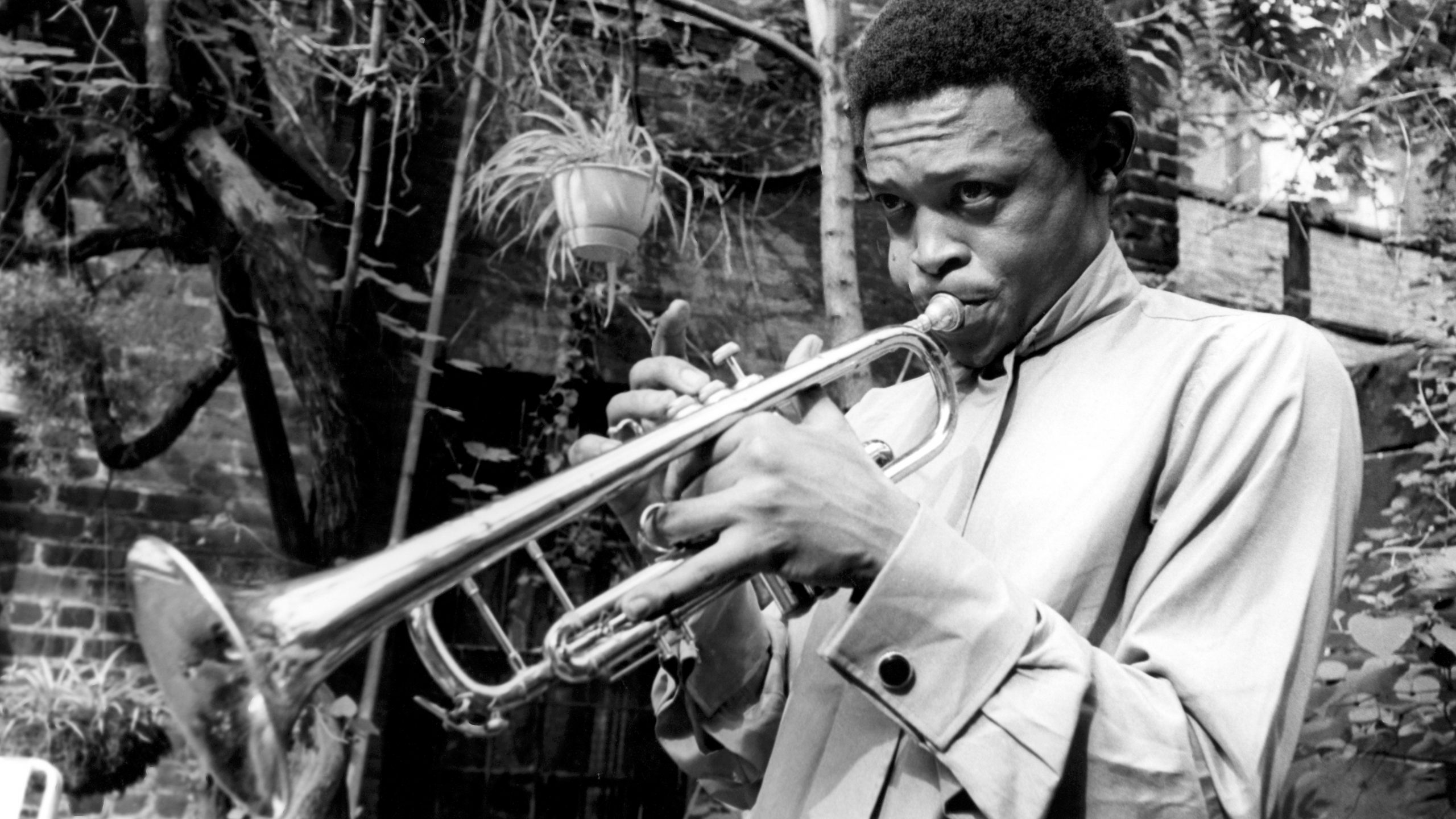 Hugh Masekela.
In trying to interpret the South African Jazz Standard, what would you say about its influence?
Angus Hardcastle: Our musical history is unbelievably rich and it can be understood as traditional music merged together with jazz. Jazz itself is known as urban music, growing out of the urbanisation of places across the world. So, through all the trials and tribulations that that entails, it's a style of music that forms out of a common way to connect, to find joy and be creative. Then there's a recent surge of jazz history from about the 1960s, like Hugh Masekela, Jonas Gwangwa and Early Mabuza from the Jazz Epistles, for example. I am currently doing my masters on the electric bass players in the 70s and 80s, the more contemporary side of our [jazz] history. 
So there's all these rich lineages that you are able to draw on? 
Angus Hardcastle: Yeah, absolutely, and jazz is still alive and well here — we are the up-comers, the young cats. 
I love that term. What is the scene like in Joburg as a young cat?
Angus Hardcastle: Jozi is amazing, and making our album was a seriously lucky opportunity. It's an underrated scene, there is a lot more of an underground feel here. 
What is your vision for the Kopano Collective?
Angus Hardcastle: We don't really have an agenda, per say. We really aim to be the best players individually that we can possibly be. [Furthermore, to] be a part of this continuing evolution, and in some ways, revival of jazz music. [Something] which in itself is the pathway for many musicians to undertake. Music itself is just this incredibly nuanced, complexity that we could only ever scratch the surface of. So, I think our endeavour is really to continue this thread of those before and those who will come after us. It's pretty amazing in that regard — that there is not this huge pressure to surmount to one thing but rather, sustain ourselves through our work in all the ways we can.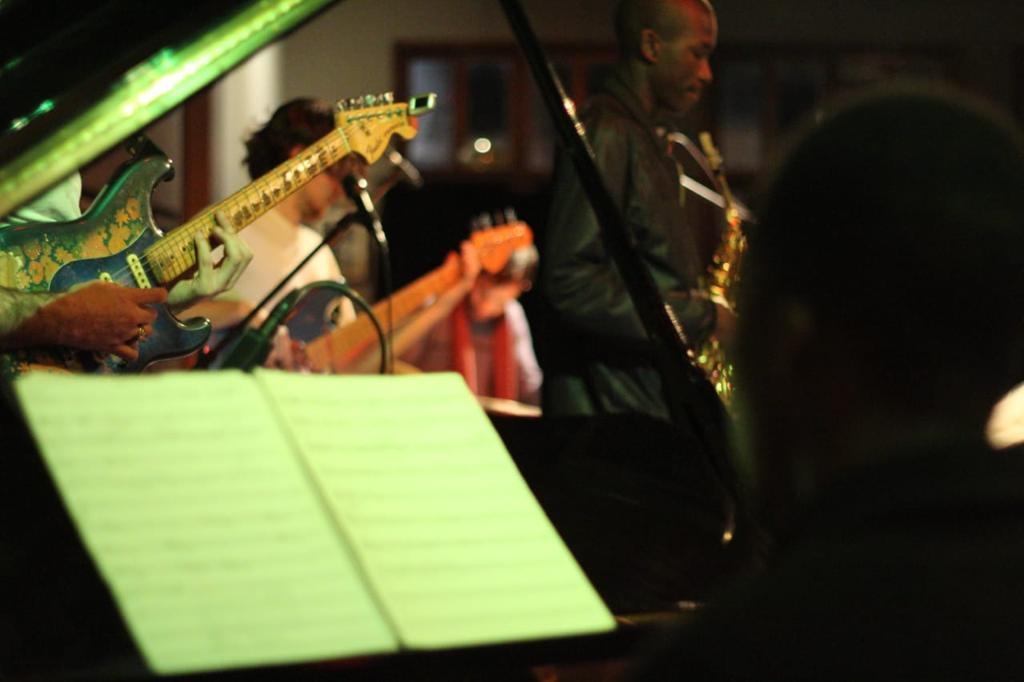 Playlist 
Sisonke Xonti – Newness (uGaba The Migration)
Sisonke Xonti – Sinivile (UGaba The Migration)
Ndabo Zulu & Umgidi Ensemble – Abansundu Nabamhlophe (Queen Nandi: The African Symphony)
Ndabo Zulu & Umgidi Ensemble – Abalimi (Queen Nandi: The African Symphony)
Linda Sikhakhane – Codes of Light (An Open Dialogue: Live in New York)
Linda Sikhakhane – Timelessness (An Open Dialogue: Live in New York)
Nduduzo Makhathini – Yehlisan'Umoya (Modes of Communication: Letters from the Underworlds)
Thandi Ntuli – Dikeledi (Brownswood Recordings: Indaba Is)
Tefo Mahola – The tear (First Offering)
Tefo Mahola feat. Athi Ngcaba – Black Man (First Offering)
Sisonke Xonti – Sinivile
Bokani Dyer – Outro (From world music)
Ndabo Zulu – Nando's Suite (1st Mov)
Shane Cooper – Bamako Love Song
Iphupho l'ka Biko – uThixo uKhona
Nomfundo Xaluva – Mazi/Heritage Blues
Mandisi Dyantis – Somandla
Tlale Makhene – Mahamba to Chilomoni
Kopano Jazz Collective play at Sin & Tax every Thursday from 19:00 and Peachy every Sunday from 13:00.