Clearly defined markings that designate where one creative practice ends and another begins is almost impossible, with practitioners recognizing the value of merging multiple forms of expression. Partners Leanie van der Vyver and Louis Christie push this further with their design company Onder Die Inlvoed. Combining Leanie's background in art and design with Louis's background in mechatronic engineering, their work flourishes through the purposeful crossover of art, technology, fashion, and other forms of design. With their recent addition of a third team player, Elaine Du Plessis, to focus on fashion design and garment construction, 2019 looks to be an exciting year. I caught up with the Onder Die Invloed team to find out more about their work.
Please share more about your individual backgrounds – Leanie as an artist and designer and Louis as a Mechatronic Engineer?
Leanie: I worked as a fashion stylist in Milan after a failed modelling career when I was 18 (Only freaks can stay skinny in Italy!). After a year of working as a fashion editor for an English Publication in Milan, I moved back to Cape Town and continued styling for a few years before reaching a creative ceiling in about 2006.
I was looking for something with more depth. I felt like I needed to add more substance to myself to grow creatively. I moved to Amsterdam to be with my ex-boyfriend who had a job there. I became a pizza chef which was the perfect antidote for my previous career and through meeting friends, learnt about the Gerrit Rietveld Academie, an Art Academy where I found a different way to express myself.
I graduated in 2012 with the work Scary Beautiful, moved back to Cape Town, met Louis while he was graduating from Mechatronics at the Stellenbosch University, fell in love, got married and together started looking for a platform where we can express our separate interests in Art, Design, Innovation, Technology, Performance and Fashion.
Louis: Acting and music dominated most of my young mind, which established my desire for creating beautiful spaces and the power of a good ritual. Engineering came later and taught me structure and how to execute seemingly impossible dreams. I do find myself constantly fighting the line between free thought and anally chasing structure. There is a beautiful crossover between music, math, art and technology. Often the schism between people from either of these fields manifest between jargon and lingo. Having degrees in both Performance art and Engineering allows a space to decode and convert artistic desire into plausible reality.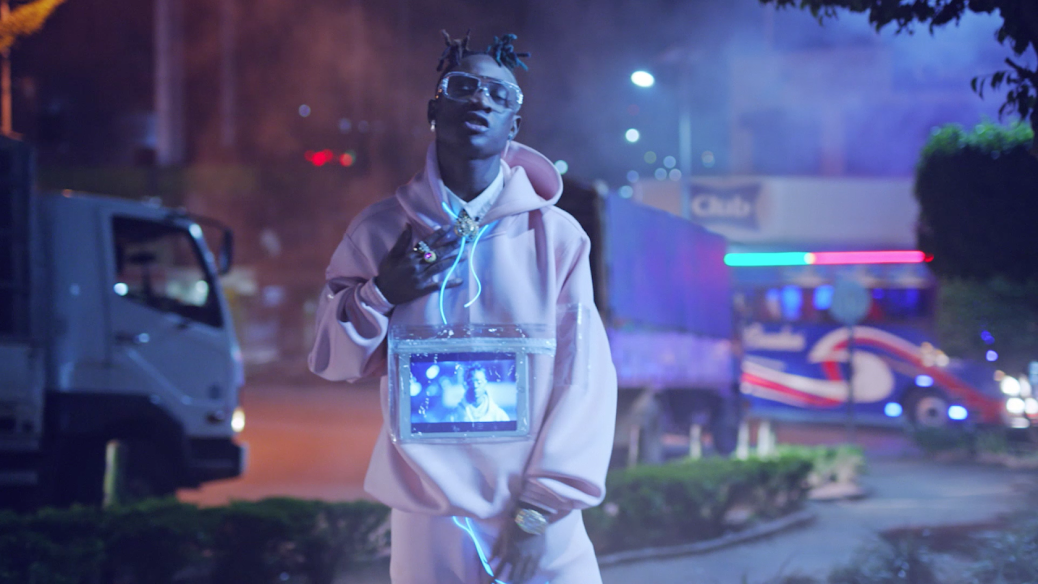 Where did the idea for the design company come from?
Leanie: Our search for a platform that considers Art, Design, Innovation, Technology, Performance and Fashion as synonymous [with] South Africa created the need to start our own. The South African Art world showed no interest in my work even though it has been exhibited in the Guggenheim and published by Moma. The design world could not turn my creative executions into a commodity. Our audience did not exist. We have the need to contribute to all of those worlds and do not want to feel limited to one discipline or approach at a time.
Louis: The idea to start a company developed naturally over time. There is much joy in the mindfulness of creation, and how a simple finish can really shape the mundane into the fabulous.  We realised quickly that we both shared that common thought and that we want to dive into that world together.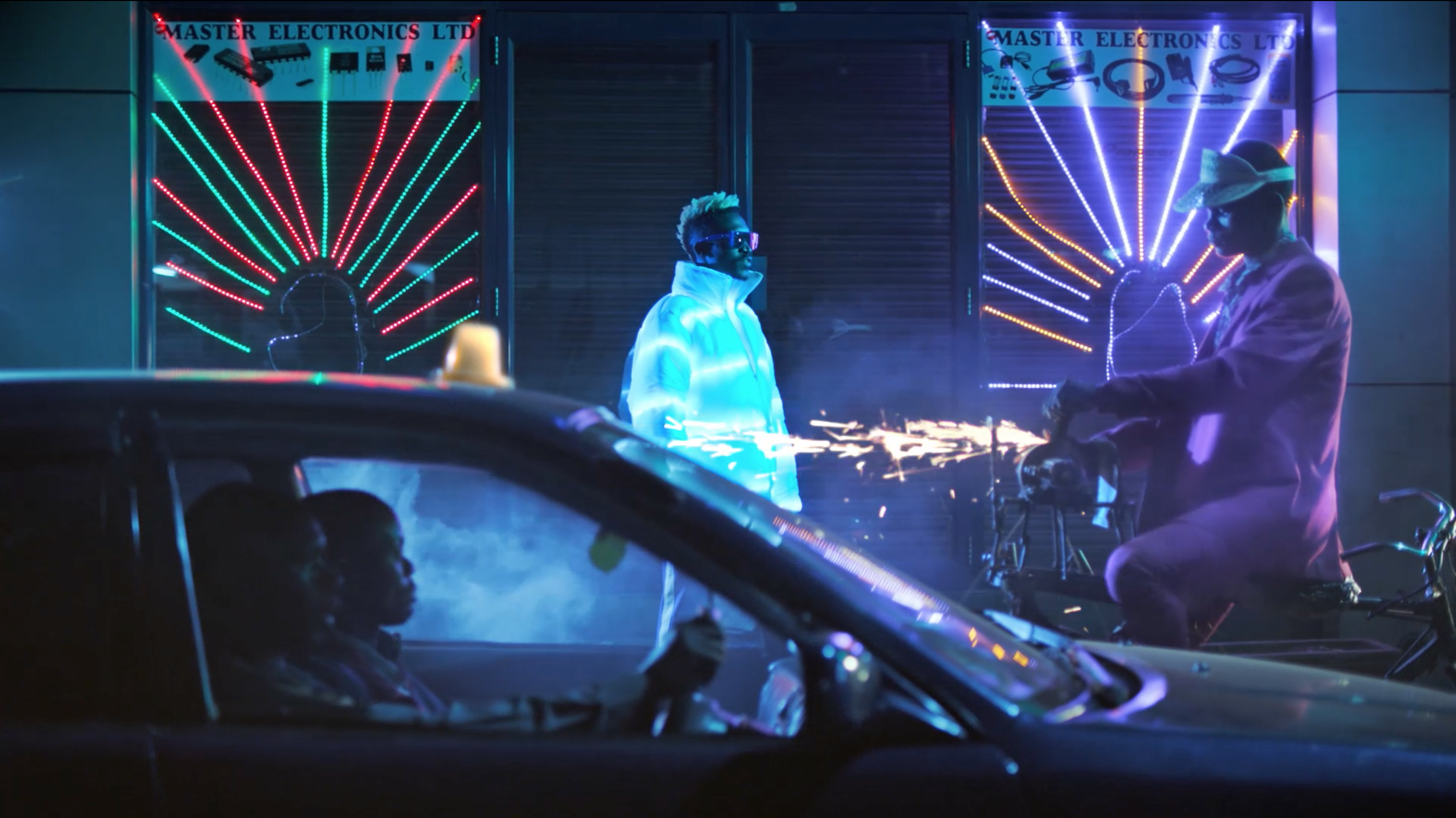 How do you think the combination of your backgrounds enables you to be innovative in your designs and generate a creative footprint distinctive to ODI?
Leanie: We are called ODI, which stands for "Onder Die Invloed" (Under The Influence). It refers to being uninhibited in thought and free thinking across disciplines. This is what makes our work distinctive. A tea set for example, can be critical art, and fashion can be programmed to transform. It is like applying the "no fucks given feeling of intoxication" to the subject at hand to explore where it can potentially go. There are no stupid ideas.
Louis: To sum up either of our backgrounds in a logical fashion is tricky in itself; to comment on how it enables us to be innovative [is even more tricky]. Leanie thinks of the craziest, insane design and I think "fuck, that's impossible". Then we start talking and we end up beyond what seemed likely at the start. The combination of left and right brain thinking gives us the ability to zone into a brief in a way that would otherwise require multiple teams of people. This gives us our strength and unique footprint.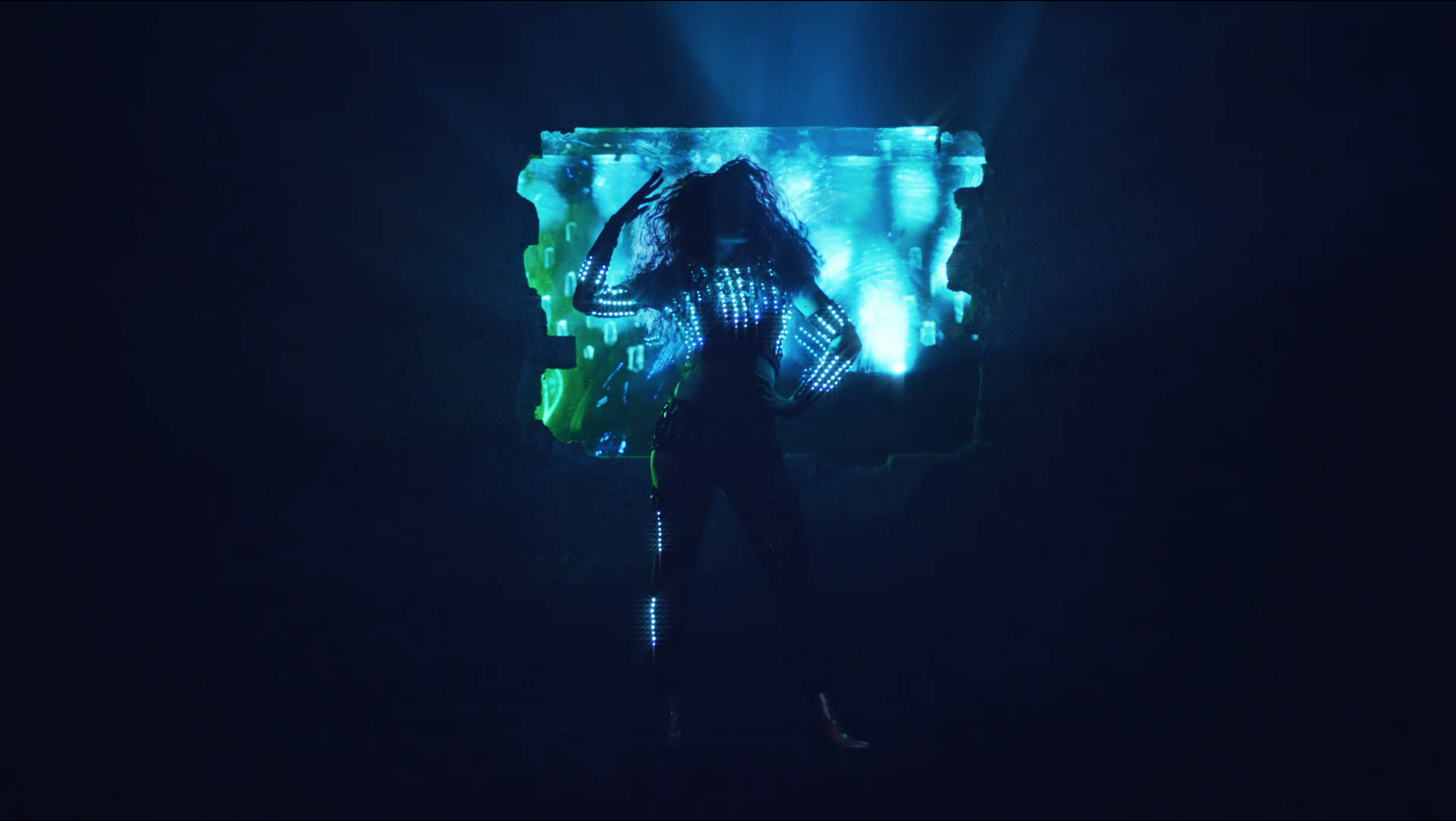 How do you describe the aesthetic and conceptual characteristics you present in your work?
Elaine: My training and work have always leant towards more traditional tailoring methods whereas Leanie and Louis bring a modern and sometimes futuristic element to the work. At the moment we are just having fun experimenting with unlikely materials and coming up with something unique with each project.
Your output stretches across artistic and design categories. Share more about this. Where would you place ODI within the South African art and design landscape?
This is a very good question and one we have been struggling with. We have had a few opportunities cross our paths since we started, but we got two really great projects this year. The first was to create intelligent light-up costumes for a music video directed by Sam Coleman from Giant Films called 'Midnight Drum' featuring Apass and Fik from Uganda and Rouge from South Africa. Secondly we designed costumes for Sho Madjozi for the new Edgars campaign, also with Sam Coleman (by the way, Bee Diamondhead absolutely slayed the styling on both these projects).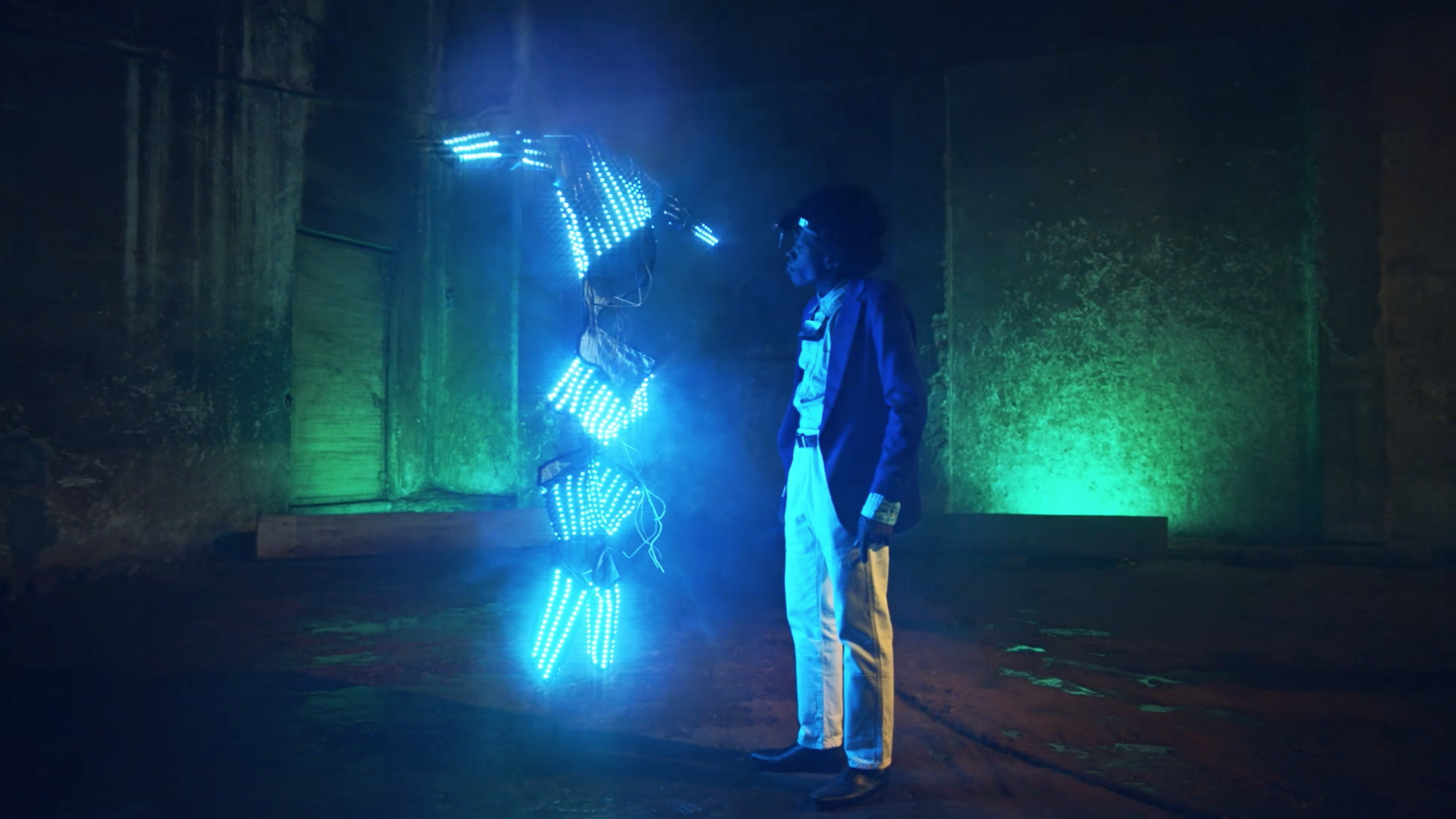 You have received a lot of praise from your recent collaborations with Sho Madjozi – for the Edgars campaign and her Global Citizen performance costume. Share more about the ideas and materials used for this?
Sho Madjozi is unapologetically herself and she inspired me from the moment I met her. I took a fat chance and offered for ODI to design some performance costumes for her, and she took a chance on us! We always want to stay true to the visual brand that Sho Madjozi has established for herself. She has popularised the iconic Xibelani that was worn by her ancestors, bringing traditional custom to a modern context. Our assignment to ourselves has been to amplify this visual narrative and experiment with materials and technologies to push that idea as far as we can.
So far we created her look for the Blood Hotel Halloween show where the one side of her costume represented the down-to-earth home girl and the other side, her alter-ego, the rich bitch. We also made her light-up corset for the Absolute Source show.
With the costume for Global Citizen we wanted to echo the industrious way South Africans are often forced to improvise using unconventional materials, whether it is improvising luxury by making a Mercedes sign from wire for the hood of your Toyota or the way in which we fix things with what we have at our disposal. We wanted to use this improvisational design method and made the costumes from nylon rope.
We have recently added a third partner to ODI namely fashion designer Elaine Du Plessis. Using her background in traditional tailoring she was able to transform the material into something that resembles the luxury of silk and fur.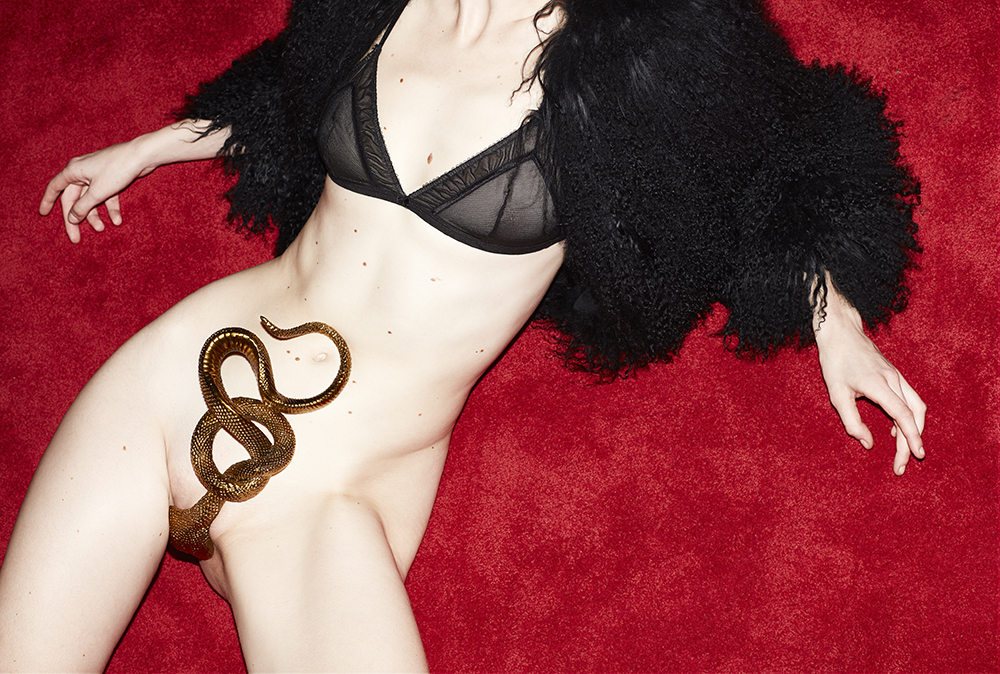 Where do you see ODI moving in the future? Any 2019 plans you would like to share with our readers?
Since we are now a trio (Elaine is adding fashion design, pattern making, tailoring and intricate garment construction to our repertoire) we want to explore more elaborate Costume Design. We are also excited about branching out into the creation of the whole performance, possibly including stage design, special effects and potentially robotic interventions. I think everyone who watched Beyonce & JayZ's performance at Global Citizen were in awe at how seamless and consistent everything about their show was, so starting with the costumes we would like to design fully immersive experiences in collaboration with performers.
When I saw Lady Gaga climb out of a giant inflatable Vagina during her show here at the Cape Town Stadium, I knew that this is where I wanted to go! It's about creating fantastical breaks from the mundane, like being ONDER DIE INVLOED!