With a 2019 BFA from the Michaelis School of Fine Art, Bulumko Mbete's career is on a steep upward trajectory. We've watched her navigate the art world with skilful finesse, infiltrating spaces that were thought inaccessible. She is the 2023 recipient of the Cassirer Welz Award and has just started her MFA at Carnegie Mellon University, USA, set to complete it in 2026. After her critically acclaimed solo exhibition titled I've Known Rivers (11 April 2023 – 11 July 2023), at the Bag Factory, we spoke to her to see what we could sip from her overflowing well of knowledge.
Born one Saturday in 1995, Mbete's extensive experience spans both artistic and curatorial roles. This year, she secured a WHEREWITHALL curatorial grant for her collaborative project Event Horizon with artist Kamil Hassim. In the same year, her art was commissioned by JP Morgan as part of the Abadali Art Project. She also served as a Program Associate at the Joburg Contemporary Art Foundation from February 2020 to August 2022. She's even been a production assistant for renowned artists like Dineo Seshee Bopape, Buhlebezwe Siwani and Lhola Amira. We could go on and on, but you surely get the gist.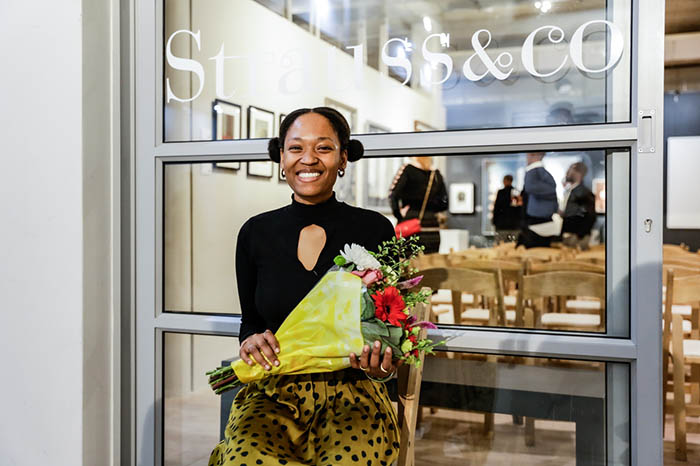 Part of Mbete's appeal clearly lies in her rare blend of Scottish, Irish and AmaHlubi roots, emerging from " …Glenhaven, which is in Parow… and … Crossroads, where my mother grew up with her grandmother …" (both predominantly coloured areas). Central to her practice is the Aranda blanket (iTshali), initially gifted to her sister by their paternal grandfather. This domestic object has become a representation of her lineage and its origin can be traced to British, mostly Scottish soldiers, who introduced them during Southern Africa's colonial era. Variants like the Seattle Mariners and Queen Victoria have since become integral to the region's heritage.
Mbete says, "When I look at the blanket as this one colonial object, it's not just exclusive to my own family history, particularly within my maternal side of the family. There are ancestors who would have been Scottish and Irish, and so this blanket would have come directly from that lineage. … I'm looking at the nuances of history … it's really interesting that on my dad's side of the family, this is something that was assimilated into cultural wear, while on my mom's side of the family, it would have been something that would be brought by their ancestors."
Fittingly, Mbete's practice revolves around the metamorphosis of these Aranda blankets (iTshali) into intricate sculptural forms and wall hangings, through processes of wetting, shaping, dyeing, weaving and embellishing. Influenced by her experiences as an assistant to South African artists and her understanding of private art institutions, she uses materials like beads, madder root and imphepho. In Mbete's hands, these blankets, originally designed for warmth and cultural rituals, become vessels for a new artistic narrative that challenges their colonial origins.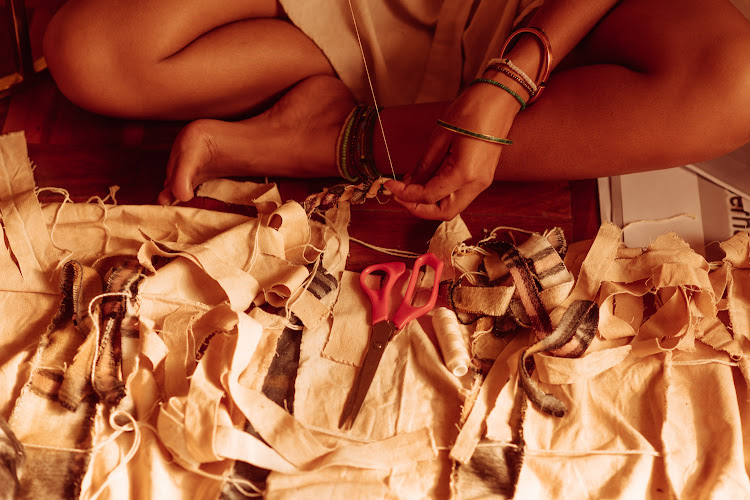 In her exhibition, I've Known Rivers, Mbete continued with this motif, incorporating knitting, a generational skill within her maternal family, where handmade garments were expressions of love and care. Her grandmother supplemented her family's income by creating clothing for community occasions like baptisms, so this form of care was multifaceted. Mbete also incorporated family photographs and archival materials, connecting personal histories with broader themes of gender, labour and migration. 
The artist elaborates, "Migration has played a significant role in my family's history, and I've been researching the migration of my paternal grandmother. During this residency, I found myself reflecting on the broader context of South African history. My grandmother lived through the 1950s to the 1980s, my mother from the 1960s to the present, and I've experienced life from the 1990s to now. This led me to delve into how people migrated during these periods and how those migrations related to the social, political, and geopolitical situations at the time."
I've Known Rivers even explored the world of Zulu plastic basket weaving. She attended a workshop run by Beauty Nxgongo, an accomplished Zulu basket weaver whose work has gained recognition in international museums, including Japan, which was a notable source of inspiration. Mbete actively engaged in learning these traditional techniques from women who have diligently preserved ancestral traditions for generations.
When I asked whether I've Known Rivers led her to some unexpected places, she answered, "I had initially proposed that I would produce some wood sculptures as part of the residency, which I did, but they weren't fully resolved by the time the exhibition came around. And so, yeah, there's some ways in which I want to play around with materiality and then I need to further resolve and kind of get more acquainted with certain materials. And, yeah, I mean, woodwork is also like a form of ancient craft, particularly related to men in most cases, also like a gendered way of playing with that. So during the residency, I was … adorning the wood with beads and tracing these migration lines. And so I guess I'd want to, like, push that further, see the different ways in which I can integrate the different mediums that I work with."
Mbete's ceaseless experimentation with diverse mediums and unwavering commitment to learning rightfully serve her vision. She concludes, "I always find ways of working with other artists, not necessarily within my own practice, but I find ways to practice alongside people and learn from them. And I think that's really what drives my practice, being inspired by the people around me and my community." With ambitions that include establishing an artistic mentorship centre to foster a community of creative individuals, Mbete's ever-rising star is a testament to her immovable position as an inspirational figure in the SA art world.