There was a time when Ayanda Mabulu had an open-door policy in his studio and oh what a time it was! One could often pass by the Media Mill space and find a number of artists engaged in vibrant studio practice or fervent discourse. Mabulu whose presence is both calming and commanding moved as if he were the leader of some soulful artistic cult. Well-meaning as he may have been, one quickly began to notice some imperfections in this would-be utopian space.
Firstly, as he generously supported these young artists and provided mentorship, artists began to emulate each other's styles, blurring the distinction between Mabulu's work and that of his mentees. Additionally, it was clear that Mabulu predominantly supported Black men, which aligns with his background, but the studio often hosted Femme guests and many of the artworks created under his guidance depicted Femme subjects, which could be seen as disingenuous in this context.
Curiously, his entire Healers (2018) series focused on the role of Black women in our society. Nontsundu, an iconic piece from this collection, made in acrylic and gold leaf, depicts a woman, cradling her slumbering infant with one arm while clutching a firearm with the other. This work fetched an impressive $27,923 at auction in 2021. Questionable as they may have been, these dynamics were somewhat symptomatic of the necessary and natural evolution of Mabulu's artistic career.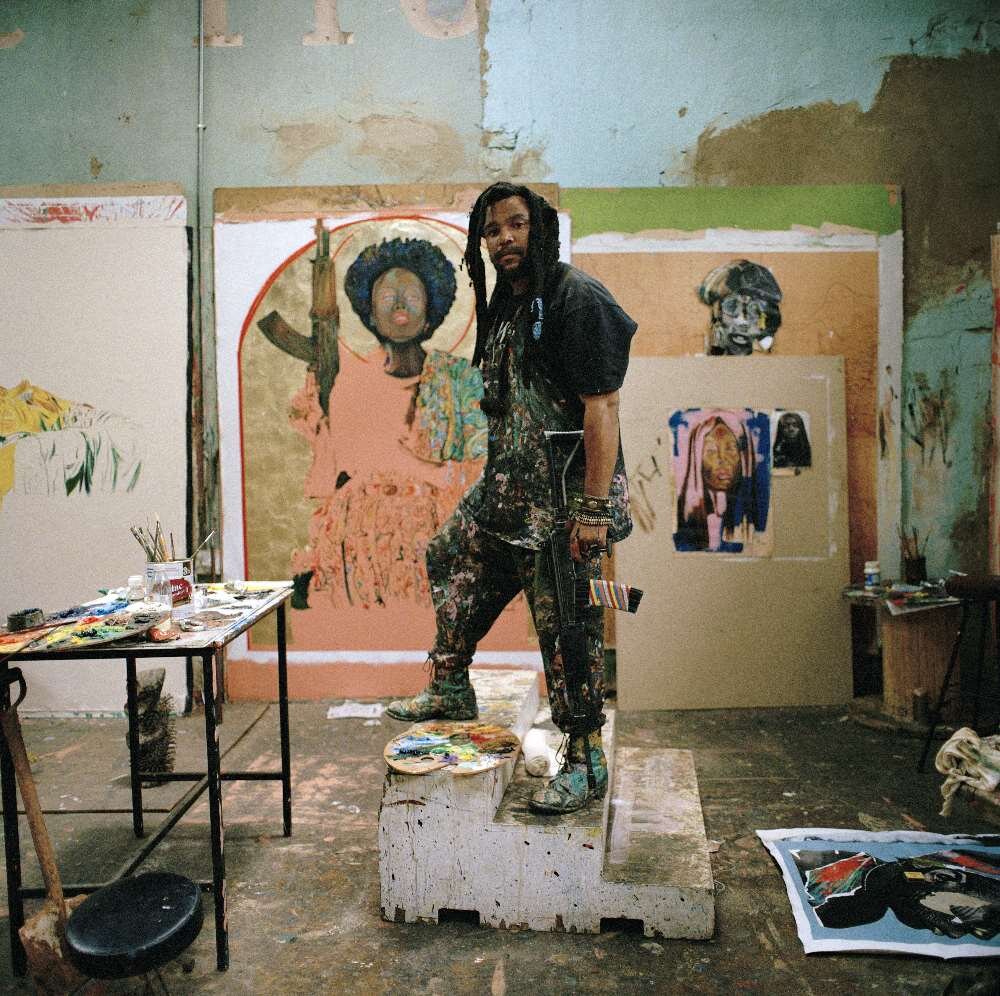 My soft critique here has the simple slant of a sad fanboy, lamenting: "I miss the old Mabulu!" Back in the day, Mabulu's work was controversial and marginal. It featured provocative portrayals of political figures like Jacob Zuma, Desmond Tutu, Robert Mugabe, Barack Obama and Nelson Mandela. In the dreadfully conservative landscape of South African public discourse, his militancy often subjected him to alarming hatred and threats of violence, but the artist was a beacon for underrepresented deviants like myself.
Mabulu's painting Ngcono Ihlwempu Kunesibhanxa Sesityebi (2010), depicts Jacob Zuma, in a state of undress, with crutches suggesting overexertion and dependency, while Desmond Tutu's captive genitals raise questions about his perceived vulnerability to Western values. The audacious painting ignited nationwide condemnation, but it proved Mabulu's ability to spark intense discourse through his art.
In October 2017, the African National Congress Women's League labelled Mabulu a "mentally colonised artist" for his painting depicting Nkosazana Dlamini-Zuma in a sexual context with Zuma, alleging it was an effort by "white monopoly capital" to tarnish the leaders' image and hinder economic transformation. While this defensive claim is clearly an unsophisticated misreading of Mabulu's work, it strikes a chord when it mentions the nebulous role of whiteness in his success.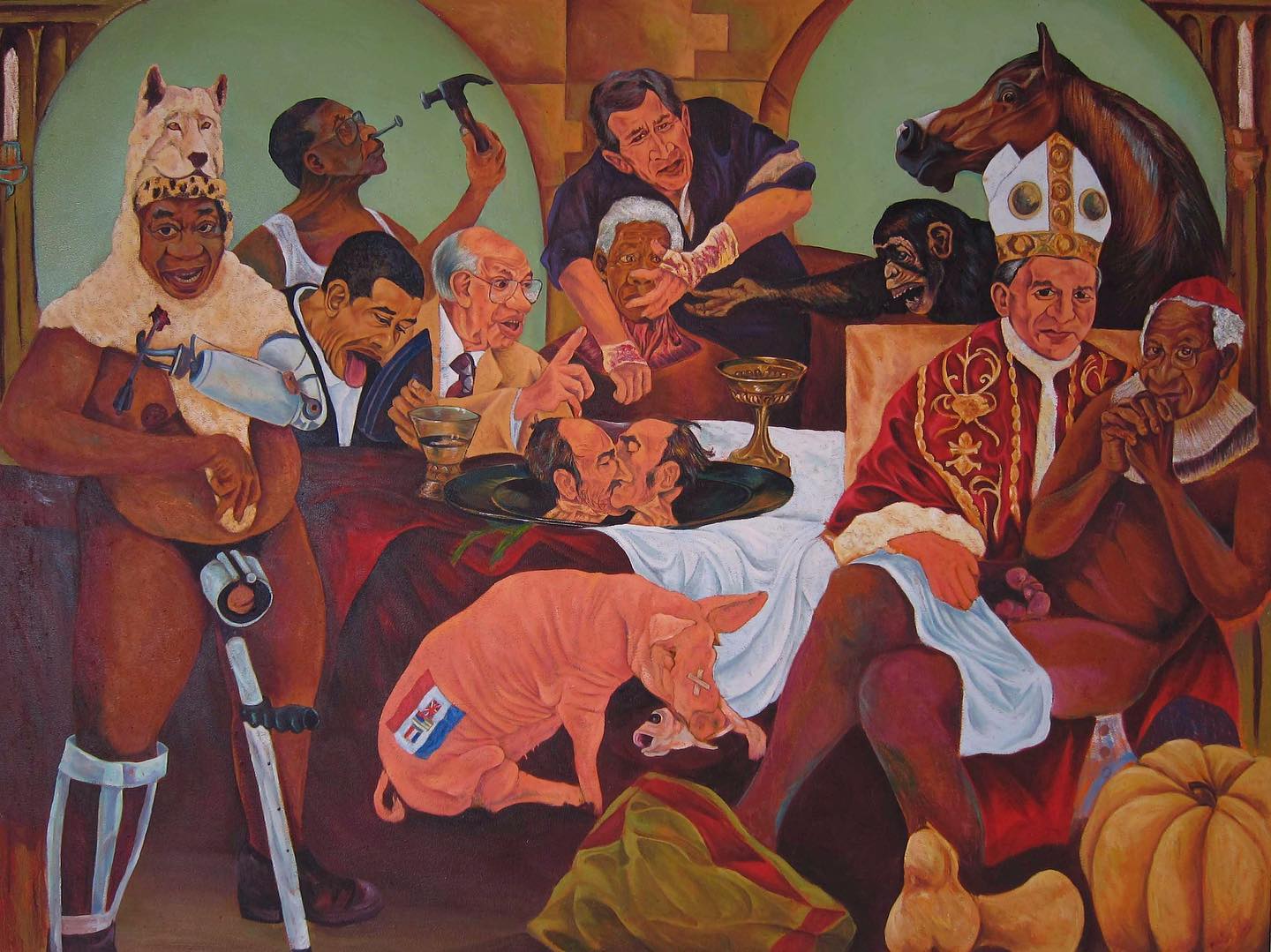 The art world's response to Mabulu's work was initially decidedly calm, albeit superficially sensationalist. Even then, Mabulu clearly held a sheltered position within the art world, moving effortlessly between prestigious collectors and institutions. Because of his backing (from Kalashnikovv to Everard Read), one could easily argue that his brand of controversy relied on the endorsement of white collaborators. Even in his militant era of the mid-2010s, the white art world seemed to have been quite cosy with Mabulu.
It's no secret that contemporary Black South African artists are often subliminally discouraged by the art world from delving into explicit or controversial themes. Their work is often only successful when focused on identity, particularly on themes of blackness, sexuality, GBV, township life, poverty and inequality (extra points if it looks like fashion photography!) In contrast, their white counterparts enjoy the liberty to create unconventional pieces without constraints and are often lauded for their innovation. This is why Mabulu's work of that era was significant—he did what others could not.
Imagine my intrigue then when I recently saw Mabulu's perfectly pretty painting, The Kiss (2022-2023) as the entrance piece at Everard Read. The Kiss combines oil, acrylic paint, gold leaf, textiles and various found materials, producing a sumptuously tactile quality. Its colossal scale and luxurious aesthetic make its intentions clear. With a whopping price tag of R869,565–R1,000,000, this work is undoubtedly aimed solely at Everard Read's affluent (and mostly white) clientele. Beyond a few stylistic changes, skin tone and shoe choice, it is a faithful recreation of one of the most expensive artworks in the world.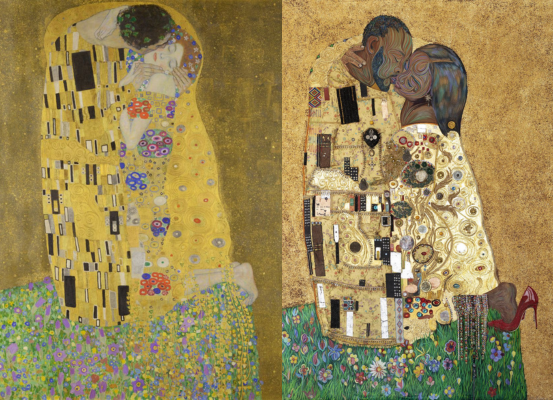 Gustav Klimt's The Embrace (1908) portrays two figures kissing and is set against a resplendent golden backdrop on a lush meadow. The man, whose face is concealed, wears a wreath of vines and kisses the woman's cheek. Her closed eyes and tender embrace convey their deep connection. Intricate motifs in the painting reflect Art Nouveau and Arts and Crafts sensibilities, while its lustrous gold leaf is reminiscent of medieval art. Klimt's visit to Ravenna in 1903 inspired his use of gold leaf, having seen the Byzantine mosaics of the Church of San Vitale. Some interpretations of the painting suggest it depicts the moment Apollo kisses Daphne, while others see it as the tragic tale of Orpheus and Eurydice.
It's unclear what exactly prompted Mabulu to make his homage, but it is clear that it is a far cry from his magnum opus Ngcono Ihlwempu Kunesibhanxo Sesityebi. Unthreatening and aesthetically pleasing, The Kiss marks Mabulu's decisive departure from militancy and enthusiastic embrace of the art world. With this work, he is surrendering to its charms, and openly agreeing to accept their endorsement and their paycheck. Depending on where you stand, this could be his ultimate triumph.
As a father and mentor, Mabulu's portion is no longer to push the boundaries of societal discourse. Rather, the artist seems to have settled into the contemporaneously collective effort of many people of colour—that of simply securing the bag, and rightly so! His breakthrough work may have boldly declared "Better poor than a rich man's puppet", but those days are understandably long gone. Today, Mabulu is the ideal Trojan horse as he has made puppetry work for him. The onus now falls on the emerging deviants of SA to ruffle feathers once again if they dare.