THEFOURTH gallery presents the insightful solo show by the esteemed multimedia artist, British born Alexander James. 'Keep It In The Family', is the very first product of the GorgeousFOURTH artist residency programme, a collaboration between THEFOURTH gallery and the Gorgeous George hotel in Cape Town, South Africa.
Artist Rodan Kane Hart and interior curator, Maybe Corpaci, launched THEFOURTH in September 2020; as a poignant offering to the cityscape of contemporary art galleries. In its initial showcase, which I talk about in: Investigating art in the domestic environment | Apartment X The Fourth, I noted that "there was no haste to consume the work as a means of production, but rather, the domestic setting of someone's home elicited a deep sense of respect for the invitation into their intimate space." This sentiment remains after viewing the latest show — expertly initiated with meticulous attention paid to detail — launched with a collection of nearly 60 works produced by London based artist Alexander James. In extracting these works from a "blank" studio, Alexander has created an atmospheric homage to the subjectivity of his memory; from childhood, right through to meetings with strangers on his travels — as such, the show strongly elucidates his sense of perception as both a witness to and a participant in life. Conquering this feat of perception remains fundamental to the hidden nuances born within the artist's collection — each new body of work revealing a layer of the identity behind the medium. Sitting down with Alexander at THEFOURTH in St Georges Mall St, Cape Town, we discuss different aspects of his work — and motivations — to forge on with his flourishing career as a painter and creative. I gained a deep sense of humility from him through this interview. A much welcomed experience to have, especially considering my deep interest in the identities and people behind the canvas.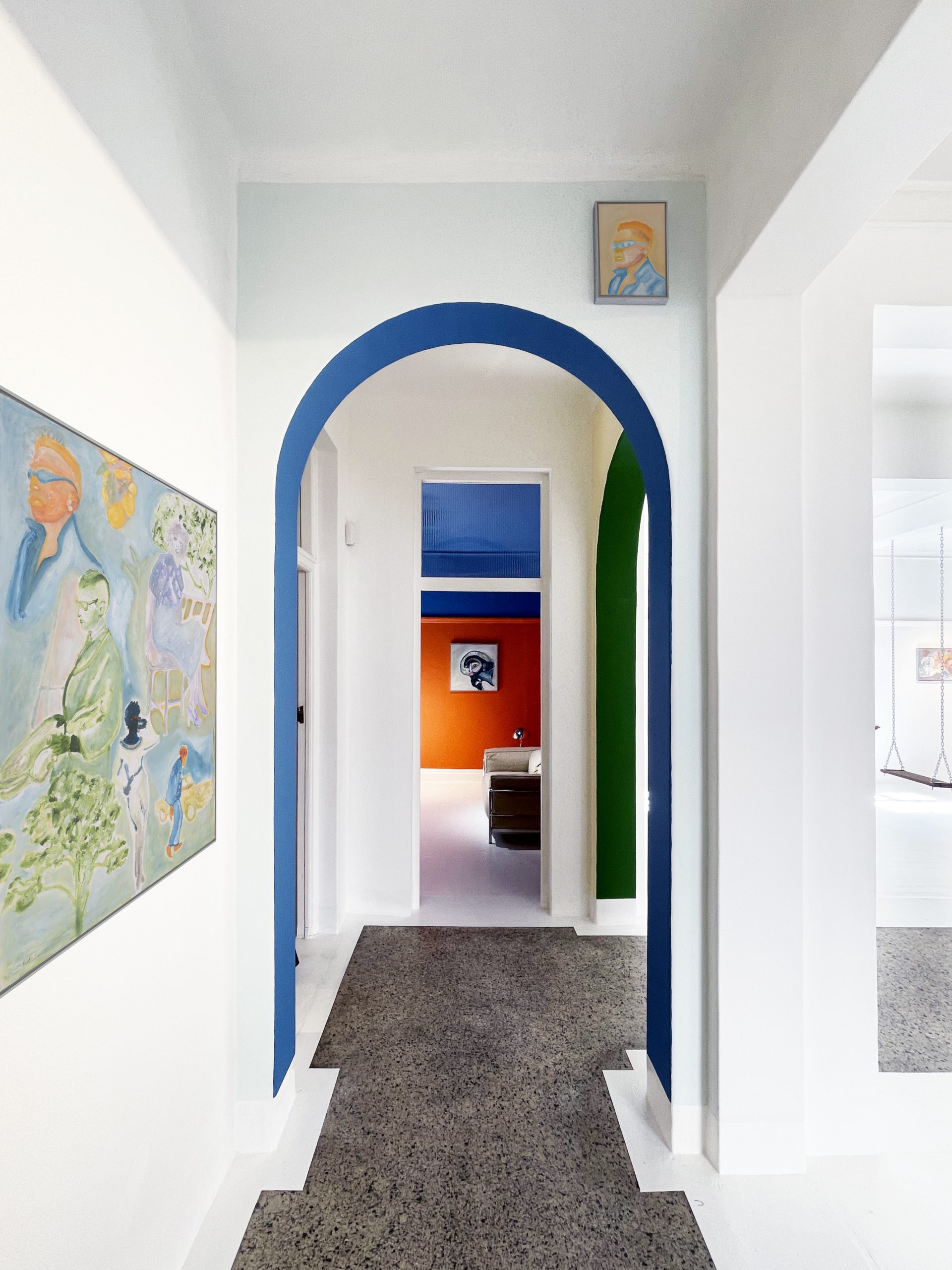 I am fascinated by how you've extracted memory and moments from your life, and translated it into so many pieces of work. What was the process like, going back into your identity formation through your family?
Alexander James: My work has always revolved around memories and documentation — I've always been interested in all the encounters I've had, especially when I travel. I'm constantly writing little notes down, sketching or photographing — always trying to capture the essence of what I see unfold around me. At the same time, it's all based on memory which is always subjective in nature. I find it interesting to see how my mind is able to draw on the past to create work in the present. It makes it really exciting because I can take it in any direction of moments etched in the past. I interpret the memories and end up falling into an entirely new narrative.
I fell into the family situation because I've always intended to tackle my childhood, and have always looked back into that period — having moved around to different schools, those years feel very much like a whirlwind of encounters, memories, places and people that informed my growth. I found school quite hard because my nature didn't take to the traditional school system, and so Keep It In The Family arose from speaking to my mum, who was clearing out her basement, and she was sending me all these images from my childhood. After some discussions with Rodan, I realised this was the direction I wanted to take the show in; to draw on this aspect of my life as a way to interrogate early childhood development through memory. My mum had sent wedding photos of her and my dad and it was quite startling because I hadn't seen them together in as long as I can remember. So, it was like taking inventory of all these crucial moments in my personal history.
The blown up picture is of my Bar Mitzvah when I was 13, and it's an image of all my family together in one photo. I felt so removed from that memory, so we decided to enlarge it and I ended up colouring my face in blue; feeling somehow dissociated from that entire event. Moments of creating the work ended up as this investigation into informed memories centred around family.
The use of colour depicts a sense of childlike innocence. The essence of vivid colours temper the show, and I wonder how colour informs your work?
Alexander James: Thank you — yes, well I always tend to stick to a certain colour palette. Always starting with a base palette that I then layer onto to draw out different aspects of the work. Using white, it almost creates an illusion of form which I find really interesting, and adding the pinks, greens and blues all seemed to compound my memories of that time.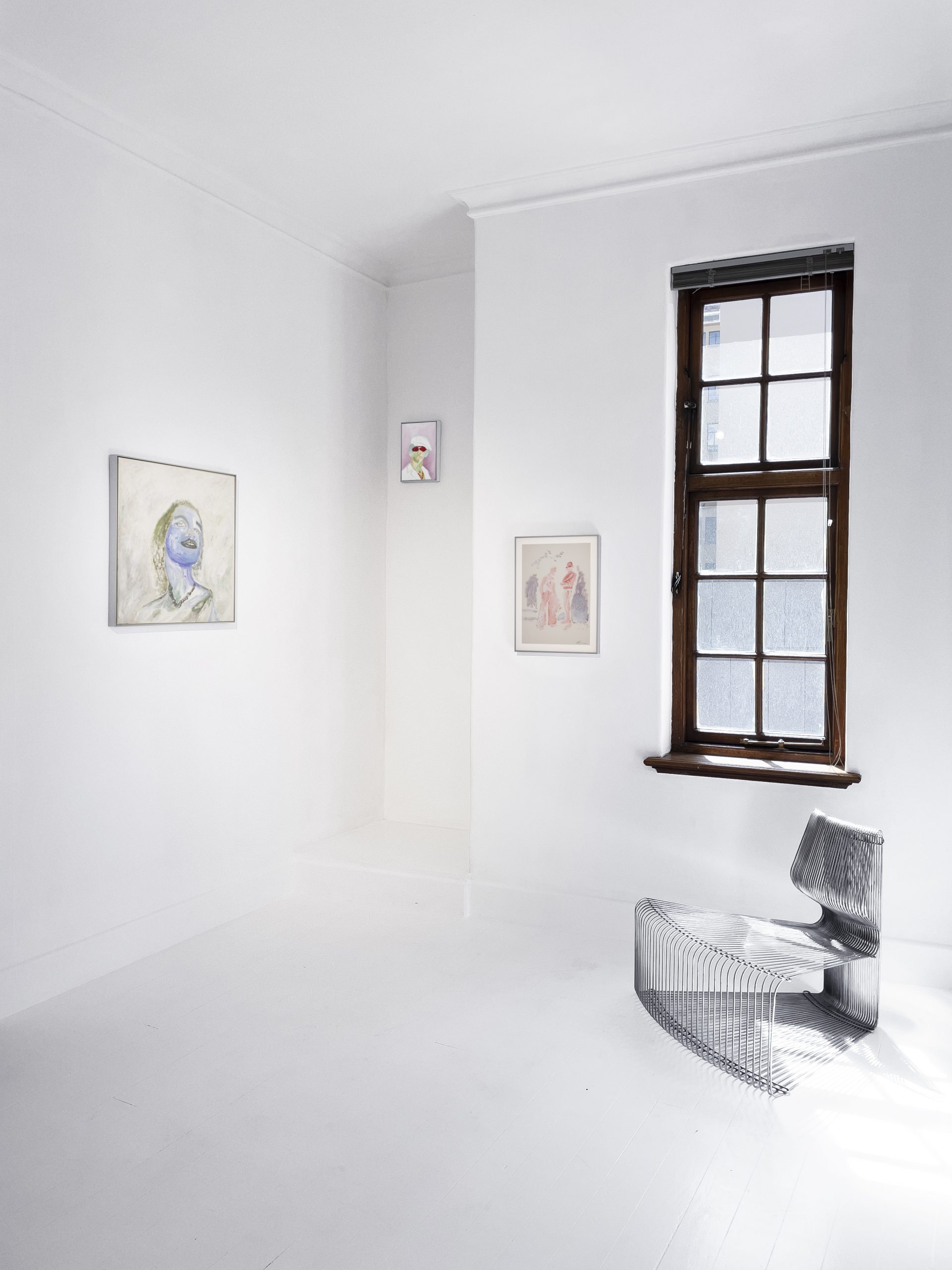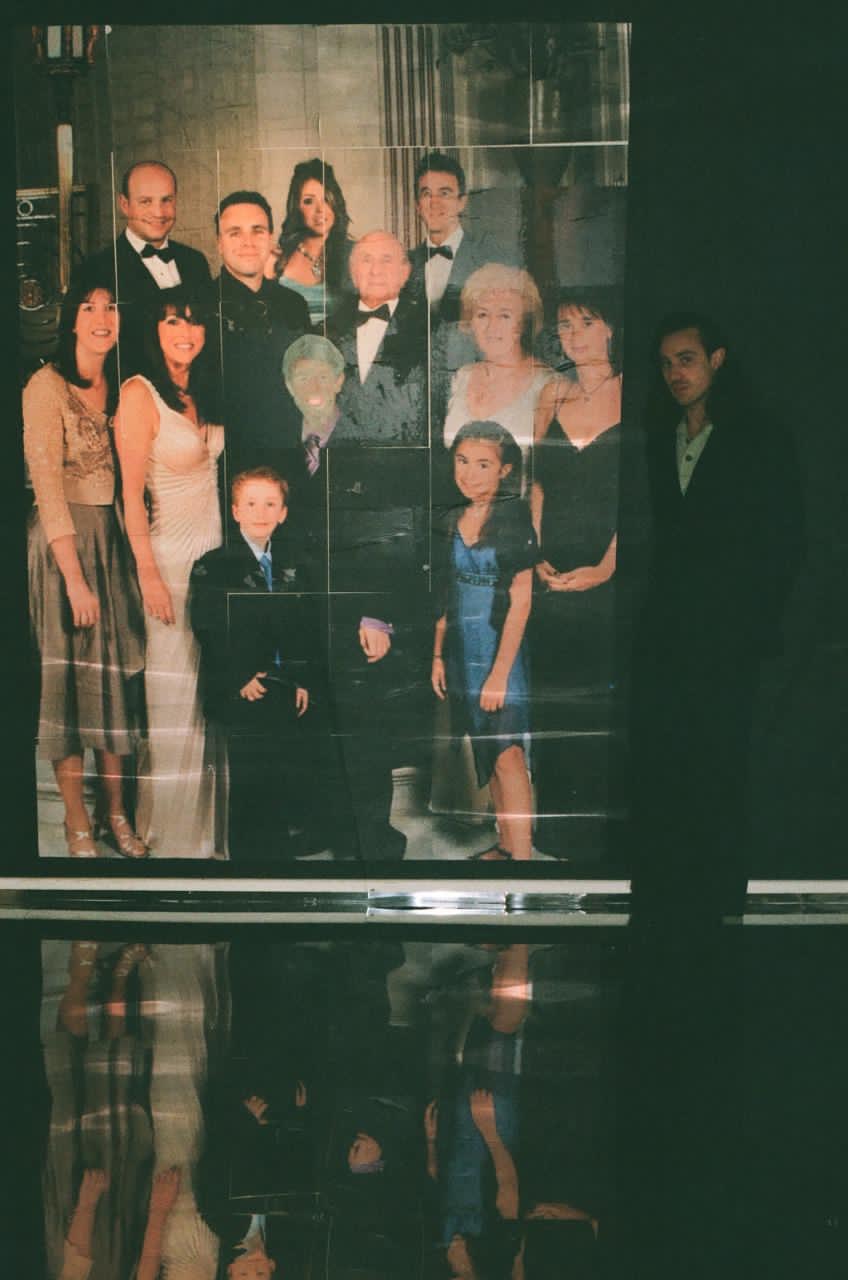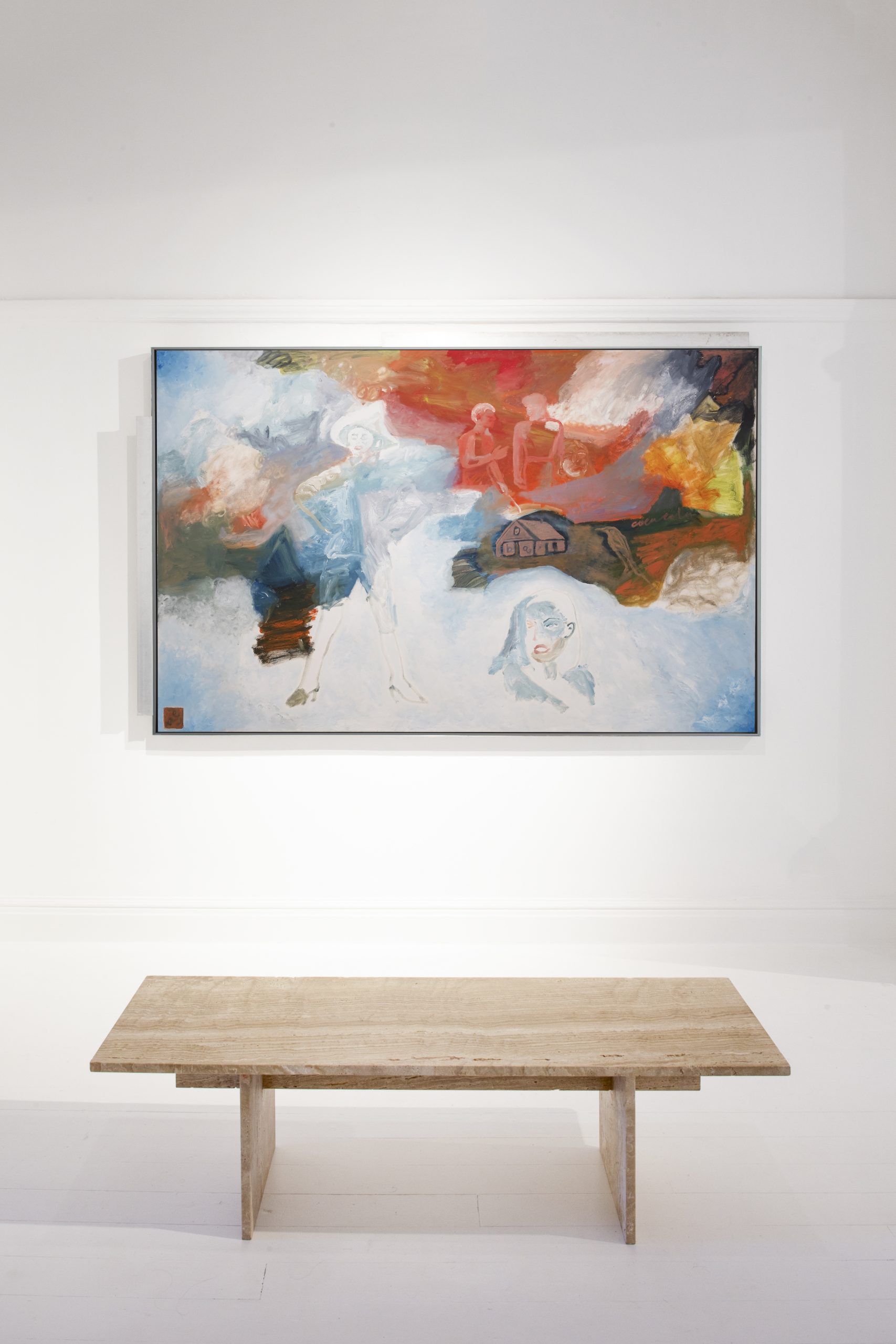 So are you quite visual in your memories, do you tend to associate bygone moments with certain hues?
Alexander James: Absolutely — yes. When I contemplate moments in my life, I don't really account for the setting in its details, but rather, the colours I associate with that time. For example, picturing a time when I travelled, I'll remember and draw on how blue the ocean was. I certainly observe through colour.
How has this residency unfolded, being in Cape Town during such uncertain times? Has creating art been a sort of medicine for you at this time?
Alexander James: I had had a show in London a month before I came down, and ended up arriving here and meeting Rodan and Maybe through some friends. After having not painted for a month — which is really unusual for me — I began to have this sort of creative itch. Rodan had expressed their plans for a residency, and quite organically I ended up being the artist of choice; which I am seriously grateful for. What was so interesting about the experience was working from a totally blank studio. I had no references from my studio in London, no other work to compare the residency too, no unfinished ideas or works loomed over me — so it was really refreshing to be in the epicentre of the city, invigorated by the buzzing of birds, chaos on the streets and really just let go and paint.
I ended up in a sort of frenzy, having painted nearly 60 works including an installation of photographic memories, videos, and installing the swings to observe a painting depicting a memory of my sister and I on swings. I really want the viewer to interact with each piece in some way and swings felt really apt for that particular work. It's always interesting to see how people view my work — whether they stand really close and become quite intimate with it, or whether they stand afar and create some distant perspective on it. I endeavoured to curate the show in such a way that people circulating it would have different interactions.
Do you intend the viewer to interpret the work on their own, or is there a particular lens you would like them to understand the work through?
Alexander James: I think autonomy for the viewer is really important. Of course there are certain things which only I know about the paintings; references, hidden meanings. [However], the beauty of it is that the viewer will always extract their own meaning and have their own response — which I really love because it brings dimensions and depth to the work. The paintings come alive as they are observed and witnessed in multitudes of perspectives.
Upon completing the works, did you experience a sense of maturation as an artist, perhaps a processing of your younger self and experiences?
Alexander James: Definitely. It was strangely fulfilling in that I really began to understand my younger self, and all the ways my life has been informed by people and experiences. I had the opportunity to move through a lot of memories — like my parents' divorce — and note my instinctive feelings in response to these memories. I love that art is a vehicle of expression but also that it can be a mode of investigation and a way to reflect, contemplate and share the past.