"Within this burning planet has always existed another world, and the struggle to realise it," says Nolan Oswald Dennis. 
The logic of colonial cosmology insists on the universality of the Western world: a planet rendered as private property, as social violence, as deliberate crisis. Occupying the same space and time as the colonial planet are other worlds. A planet rendered whole as indigenous land and life; a queer planet rendered just, feminist, socialist; a planet facing south, and east, and waterward. Altogether an ecology of [B]lack planets — a [B]lack cosmography (where [B]lack is a vector that opens toward hidden conditions of space and time).
In trying to find critical and thinking-through-language for Dennis' solo show, Conditions, currently showing at Goodman Gallery, Johannesburg — I find myself going back in thinking time to an article titled History's Counterpoint: Introducing Asher Gamedze's 'Dialectic Soul' by writer and scholar Ntokozo Dladla; stuck between the two worlds of History and Counterpoint.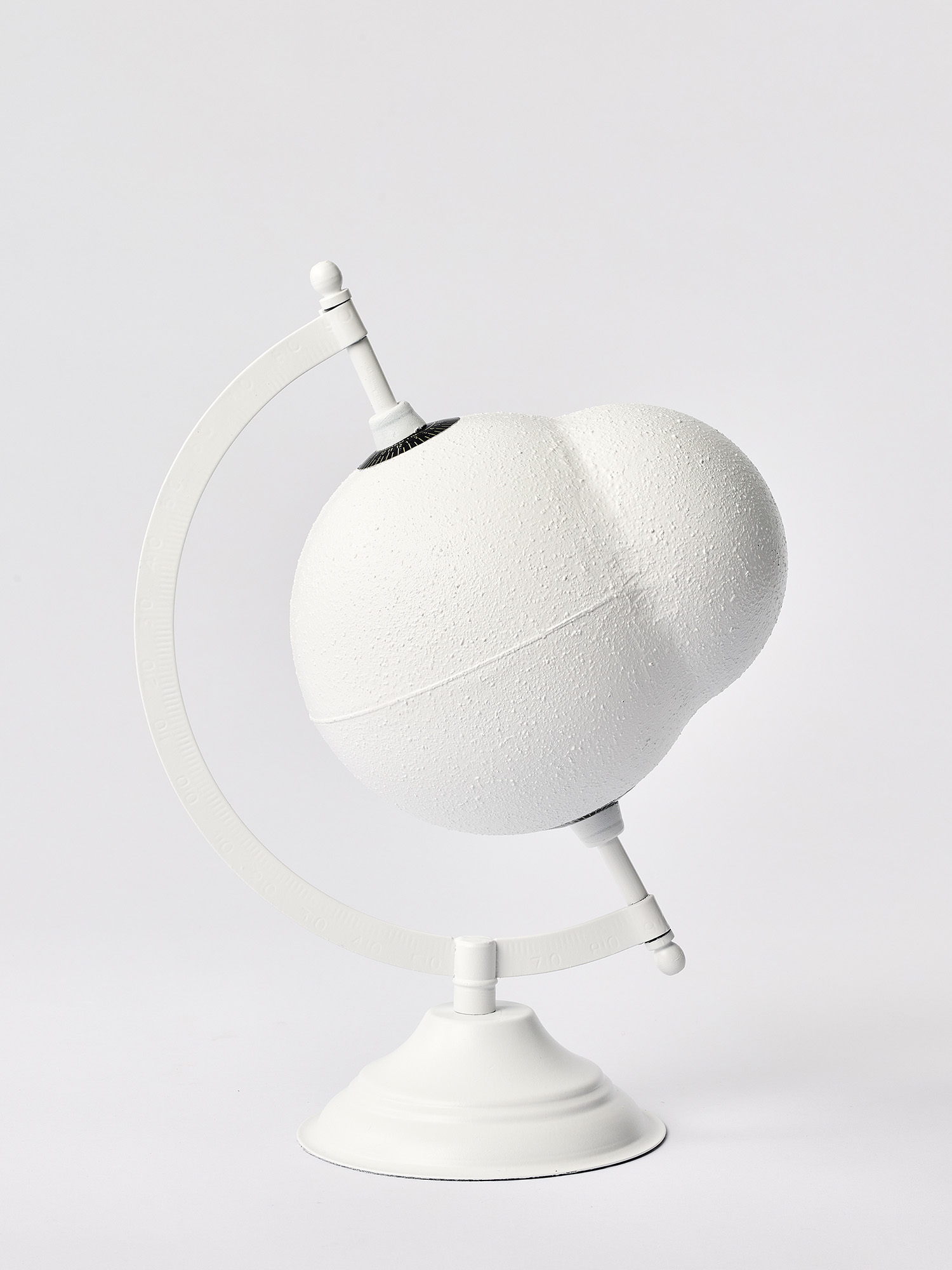 a model for Theia (black), 2021.
Now, when one takes a minute to pause, considering that this thing that is 'the west', is as much a (man made) idea as it is a fact of geography, then what are the Histories and instructions of its making? Who was considered and counted for in its envisioning? Who were the disregarded? What shape does the cosmology of its logic take? And as every action has an opposite and equal reaction, what are the conditions that could rescue us from the belly of this big white Historical Whale? 
The exhibition presents a new series of works centred around the figure of the globe. Incorporating the shape into various configurations, Dennis presents different perspectives on our familiar world as a means toward imagining new possibilities.
The spherical globe is the idealised figure of the planet in Western cosmology: seamless, smooth, unitary and knowable. Counter to this image of the world, Dennis proposes a series of transformations of the sphere — distorting and stretching the model in order to find space for other worlds, other worldly possibilities.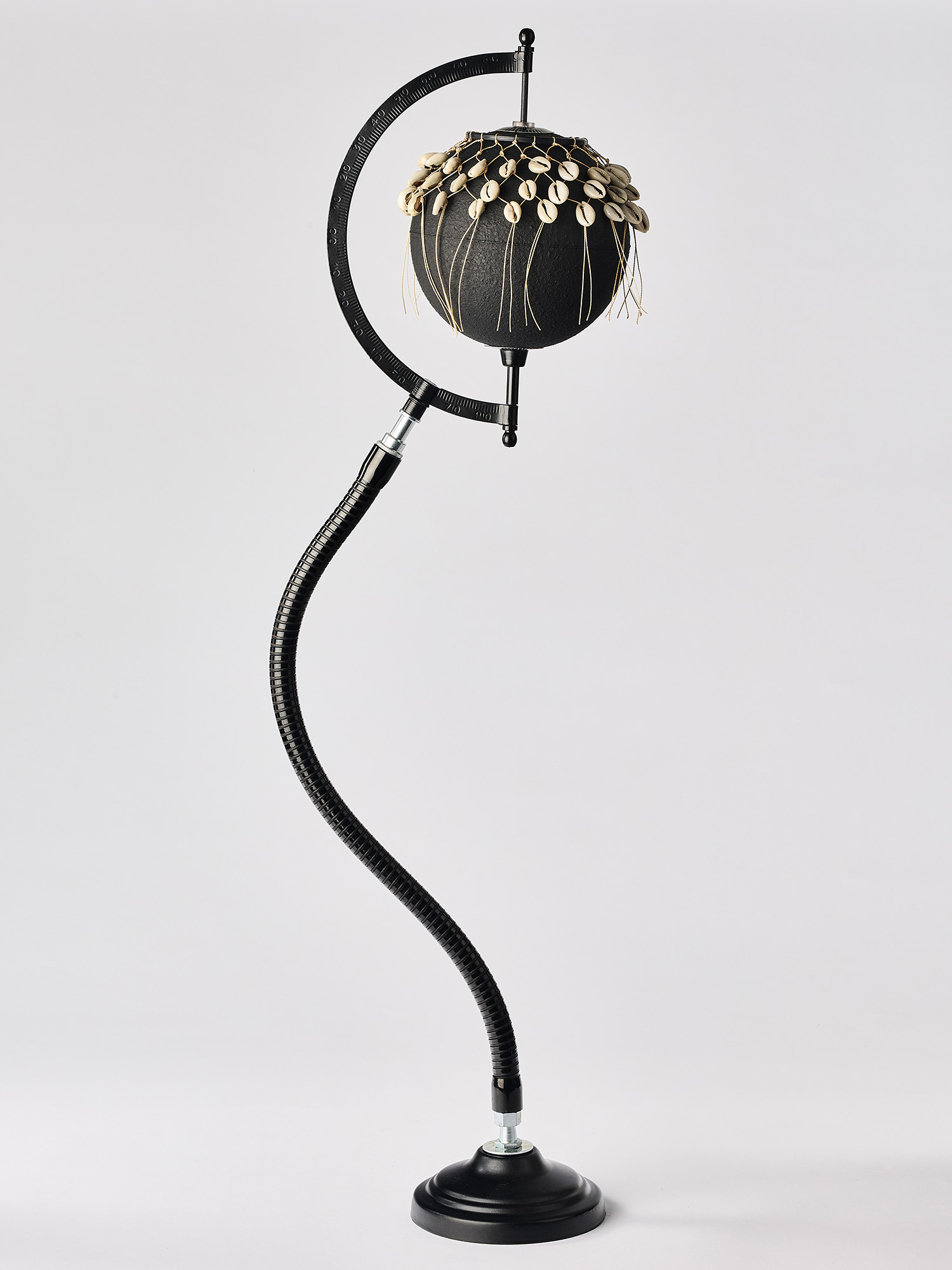 un voile with articulated arm (Former Land), 2021.
Walking through the exhibition at Goodman — particularly the parts held within the Bolton and Jan Smuts Rooms — more than a set of questions and propositions being raised, it felt as though with Conditions, Oswald was working through particular considerations with both official History and a history of the under commons as his companions. It reminded me of when Fred Moten writes in Blackness and Nothingness (Mysticism and the Flesh), that: 
I want to consider exhaustion as a mode or form or way of life, which is to say sociality, thereby marking a relation whose implications constitute, in my view, a fundamental theoretical reason not to believe, as it were, in social death. Like Curtis Mayfield, however, I do plan to stay a believer. This is to say, again like Mayfield, that I plan to stay a [B]lack motherfucker.
Over the course of this essay, we'll have occasion to consider what that means, by way of a discussion of my preference for the terms 'life' and 'optimism' over 'death' and 'pessimism' and in the light of Wilderson's and Sexton's brilliant insistence not only upon the preferential option for blackness but also upon the requirement of the most painstaking and painful attention to our damnation, a term I prefer to 'wretchedness'…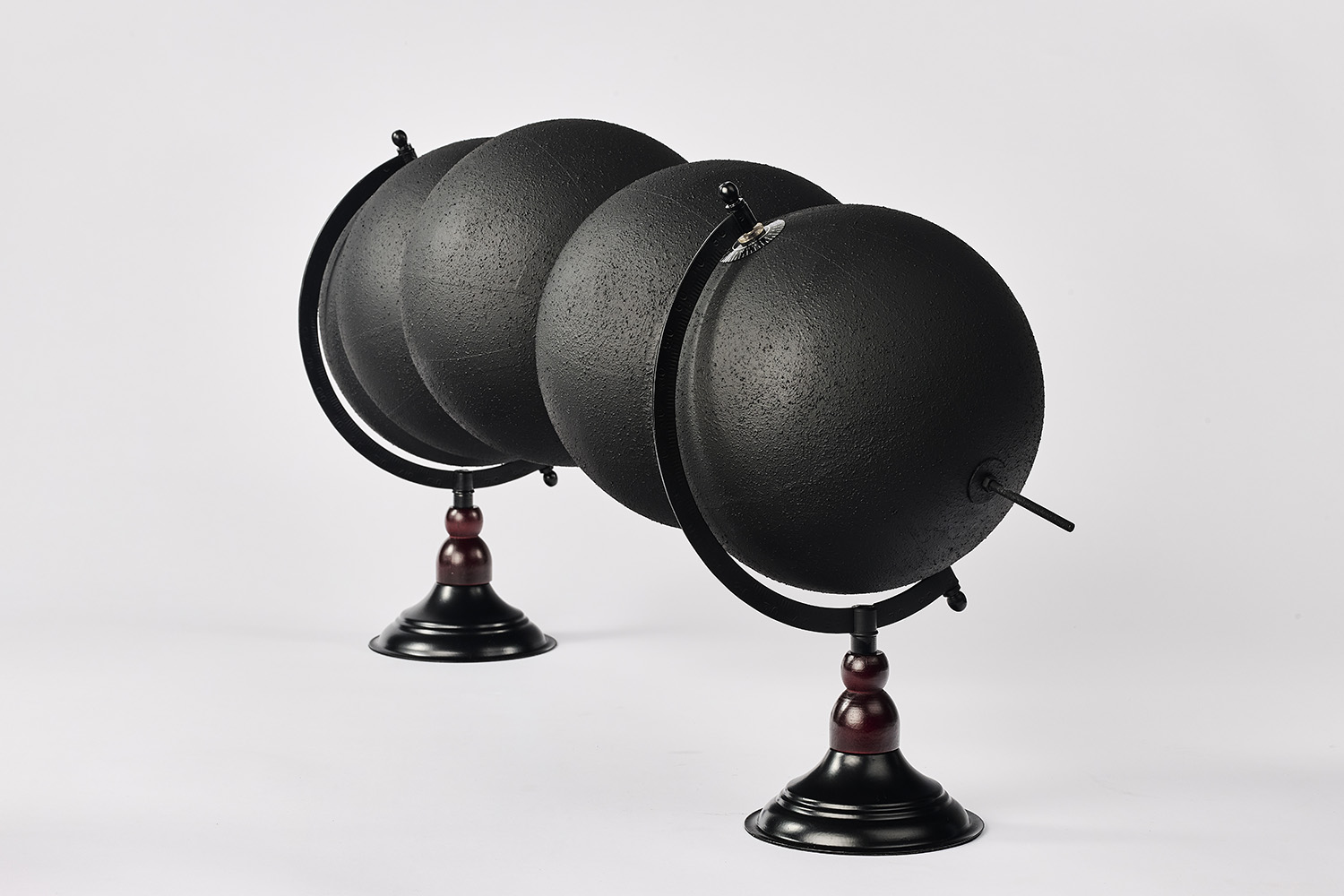 cycliverse model (cosmogony), 2021.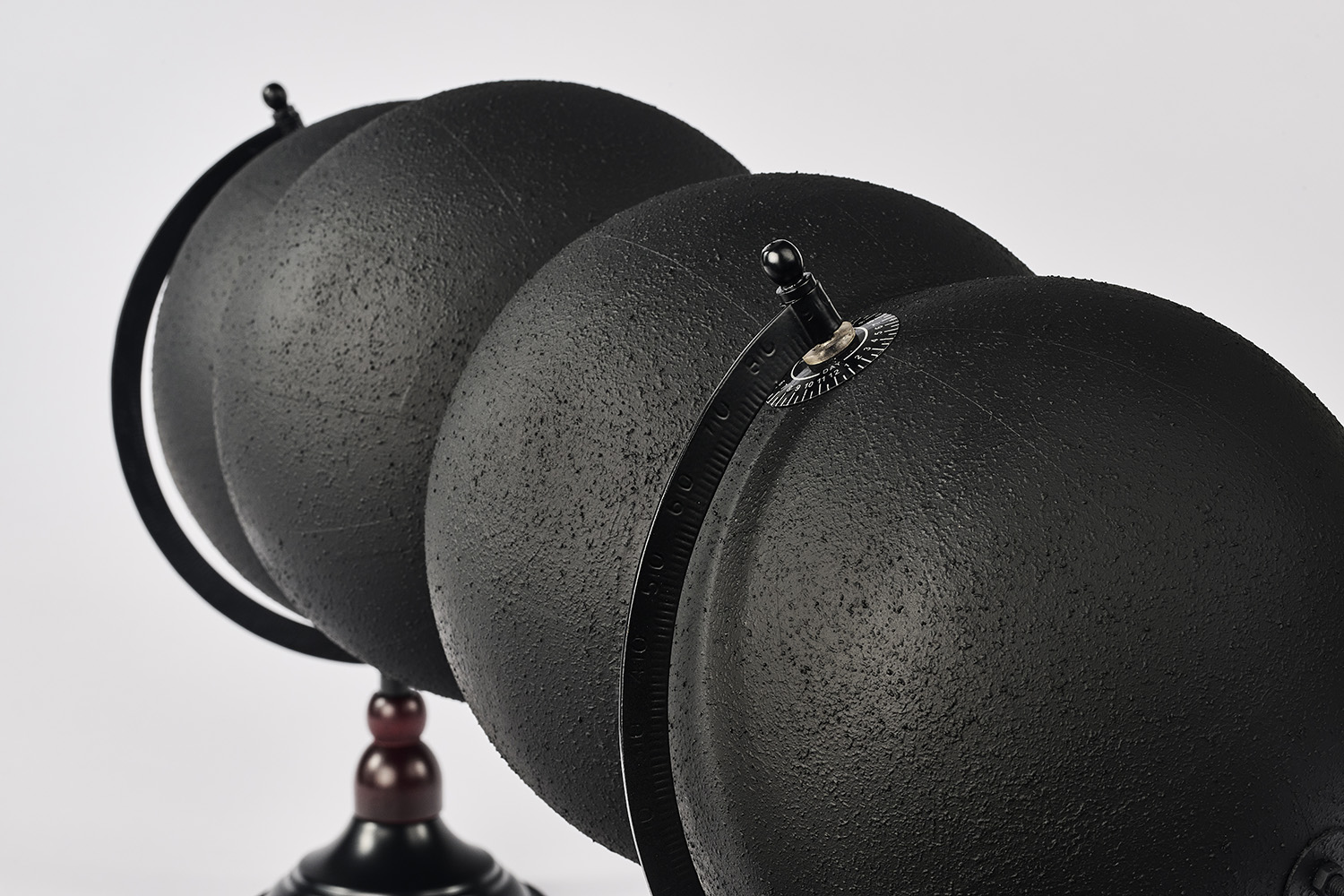 cycliverse model (cosmogony), 2021, (detail).
Where Moten turns away from 'wretchedness' "because wretchedness emerges from a standpoint that is not only not ours, that is not only one we cannot have and ought not want, but that is, in general, held within the logic of im/possibility that delineates what subjects and citizens call the real world." Dennis turns towards it, embracing it, therefore, its cosmology and genealogy of Black Thought as the fertile soil for these other worldly possibilities — garden for fanon, (2012) being the artistic crystallisation of this. 
Garden for fanon — an extension of his ongoing research project, a curriculum for mud, started in 2017 at MIT — looks at soil as a complex model for social and political life on this planet. This is achieved using a bio-technical apparatus that turns texts from the Black liberation archive into soil in collaboration with a community of eisnia foetida earthworms.
For the duration of the exhibition, the worms will consume the cellulose fibre of the books, converting these into flesh, energy, heat and worm castings that fertilise the soil. In doing so, the work acts as a gesture toward "sharing knowledge with soil, worms, and the earth itself, set[ting] up conditions of possibility in which an expanded collective can consider the world otherwise."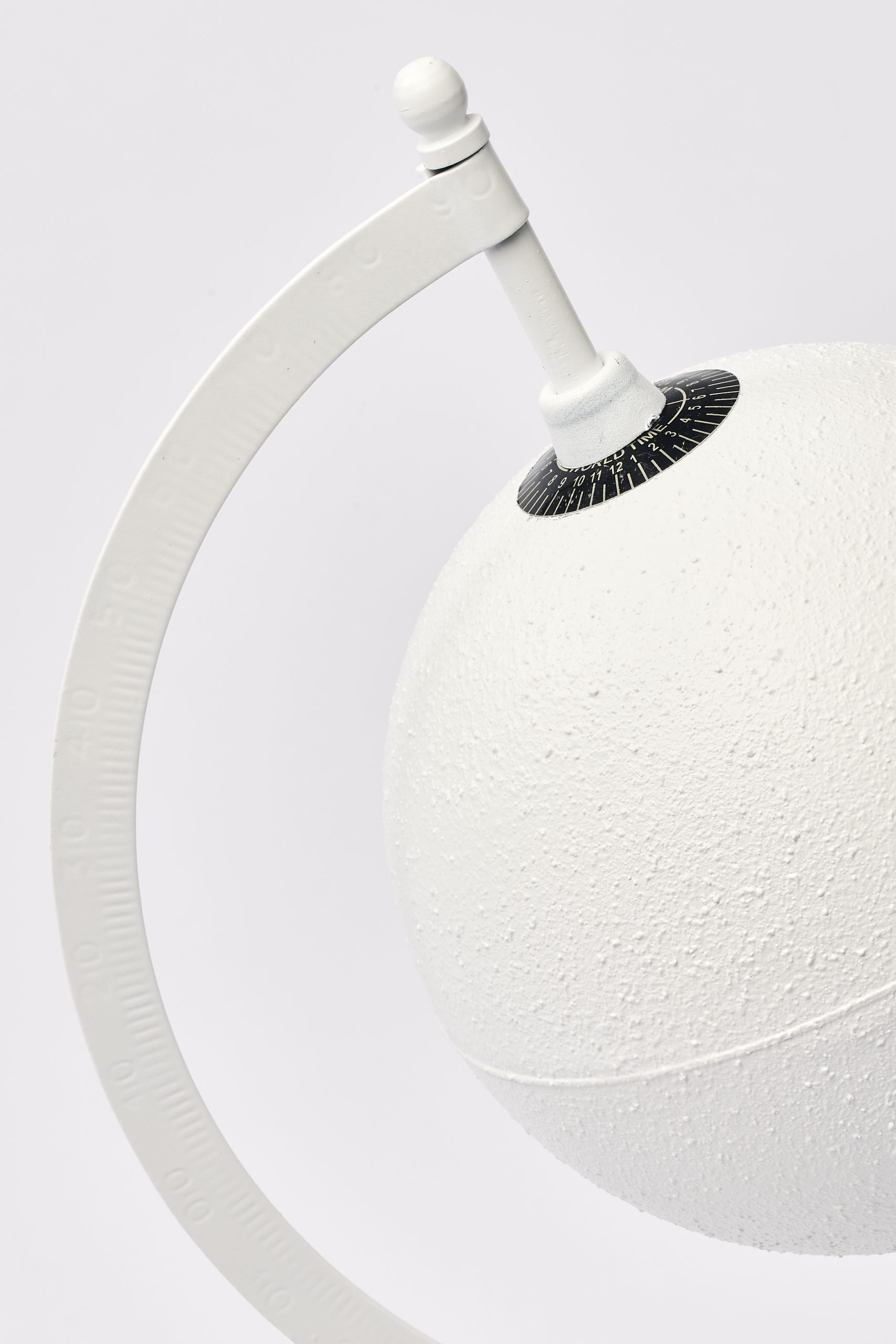 a model for Theia (black), 2021, (detail).
Where the installation in the main room is concerned, it felt somewhat unresolved in comparison to the rest of the show, or rather, should I say, less pleasurable to engage with. However, there was a particular curatorial texture I appreciated about the show, with particular works at times seemingly 'speaking together' to form hieroglyphic words as sentences as ancient knowledge or as instruction towards new possibilities. Particularly the triptych: not here, not us and not yet — mounted on a wall opposite a book with an unfilled image of the South African flag. 
As I came to the end of my Conditions walk/think through at garden for fanon — a laboratory of Black beginnings — I couldn't help but think of Laurie Anderson's Big Science, which was a critical and anxious examination of the United States, particularly the song "O Superman"; its textures of a remembered grief but also, it's something being birthed textures of possibility. 
Conditions is on view at Goodman Gallery Johannesburg until September 11.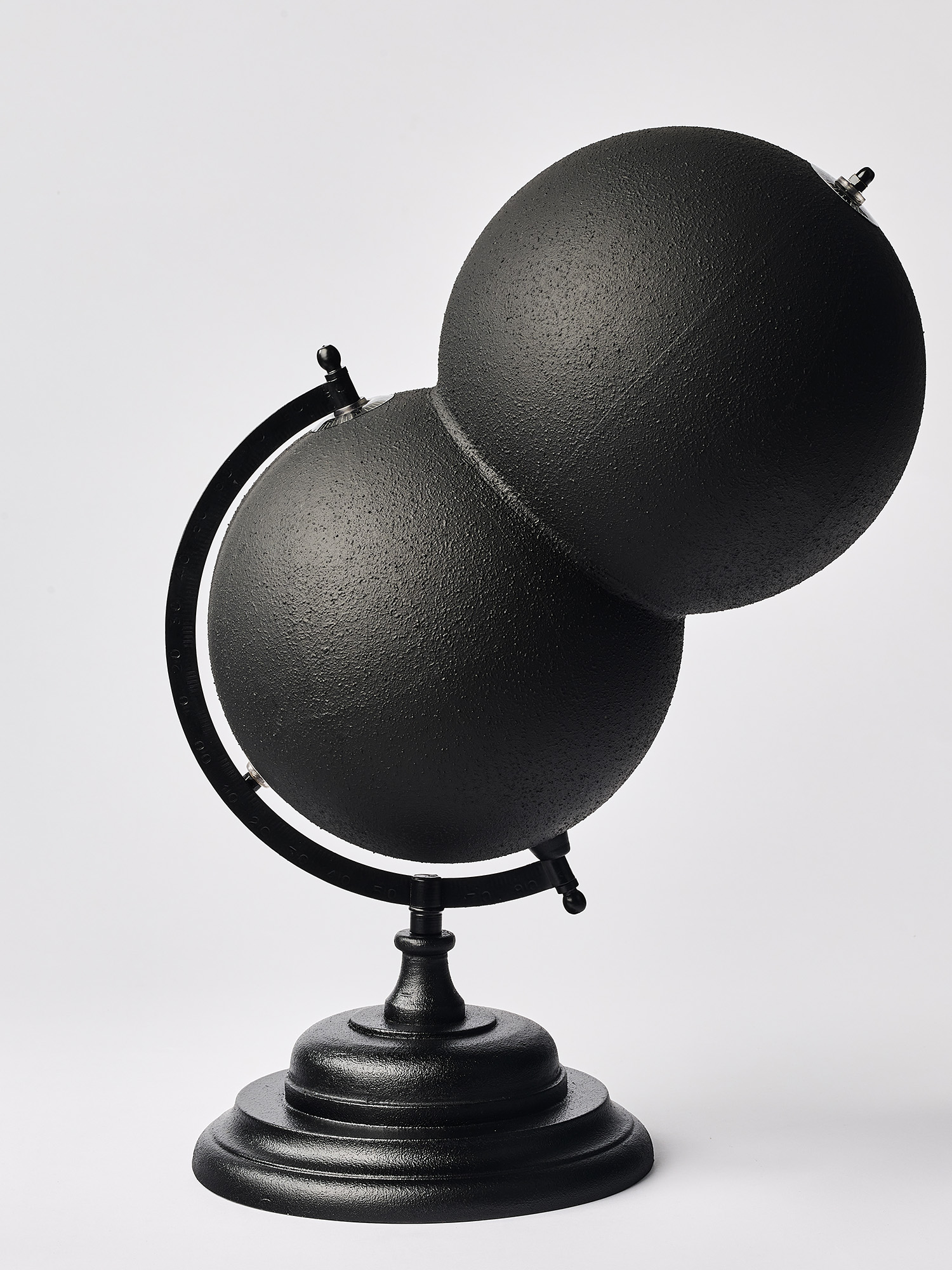 binary model (after Public Enemy), 2021.