Several terms in Brazilian Portuguese originate from the time of slavery—used continuously, each day they become more detached from the meaning of their origins—seeming to fall into oblivion and become other things. They are terminologies that change, but when looked at closely it becomes evident that they continue carrying aspects of their originating essence with and in them. Remembering the origins and histories of words takes great social and linguistic work; to really be aware of what we are talking about. Mulambo is an Angolan term and like several terms, it also originated in the time of slavery. Individuals from Angola who were enslaved and trafficked to Brazil were called Mulambos by the lords of Engenho and Patrões de Fazenda. After the abolition of slavery in the country, the term underwent some changes and nowadays is thought of as baring no references to Angola or the history of slavery in Brazil. However, it is thought of as referencing dirty worn-out clothes, a sleep deprived person with a crumpled face and it also refers to the fans of Flamengo, the Brazilian soccer team in the state of Rio de Janeiro. The term Mulambo, was also chosen by artist João da Motta as his moniker. The artist known as Mulambö, has held several collective and individual exhibitions; Prato de Pedreiro at the Centro Municipal de Arte Hélio Oiticica and Tudo Nosso at MAR (Museum of Art of Rio) both in 2019. In a conversation with me and the Bubblegum Club, Mulambö talks more about his art and reveals more of himself to us, spanning further than reflections on theme, materials, colours and supports presented in his works.
There is no museum in the world like our grandmother's house. All I've talked about is making art for who came before me and who will come after. This feeling of being part of it is what motivates me to work. Whether it's in a samba school parade, in the sea of Praia da Vila in Saquarema, or in a job I do, and always being on the ground is fundamental.
– Mulambö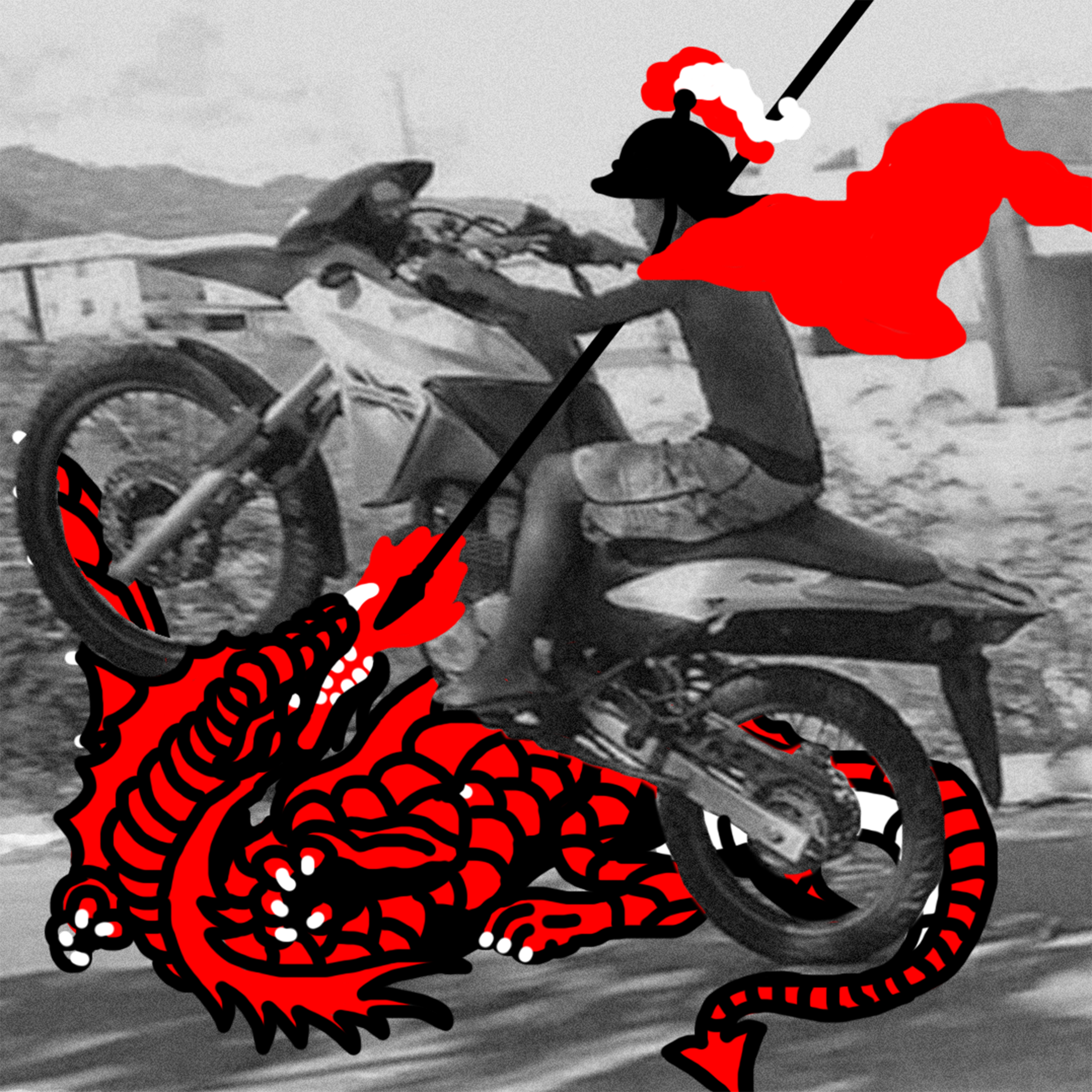 I think one of the things that makes me most curious is your assumed name. Why Mulambö? Where did you come from?
The name comes very naturally. When I was a kid I used to spend the whole day on the street, all dirty from playing and every time I got home I heard that I was crushed—all mulambo—a word that here in Brazil gains a pejorative sense of dirty, ragged, dropped. So that's it, the name is to affirm and subvert this position and take me, Mulambö and everything that this name carries with it. It is to understand that the dirty foot of playing ball and the dirty hand of ink start from the same place.
Your artwork draws a lot of attention to the colours and the support. Colours which reoccur quite frequently (like red) draw attention to ancestry and the support varied in pots, brooms, slippers etc. I think these elements make the final result very objective and direct. Thinking of art as a channel of communication and a form of dialogue, do you think this objectivity of the works reaches your initial idea?
This objectivity is something I seek too much. That's how it all started, I take Mulambö on through a walk home. I made a few stops that didn't fill me up and took me to a place that was geographically, physically, and subjectively distant from me. Then, I go back home to Saquarema and look for this reconnection with me; with mine and with my place to be able to talk about what really did me good—what made me talk with my mouth full. This objectivity, this first contact through the image is fundamental for me precisely for this reason. It's all part of a desire to make art like a sign that reads "Current Danger" that we find on the beach. However, to make it clear through my work, that in this case we are the sea.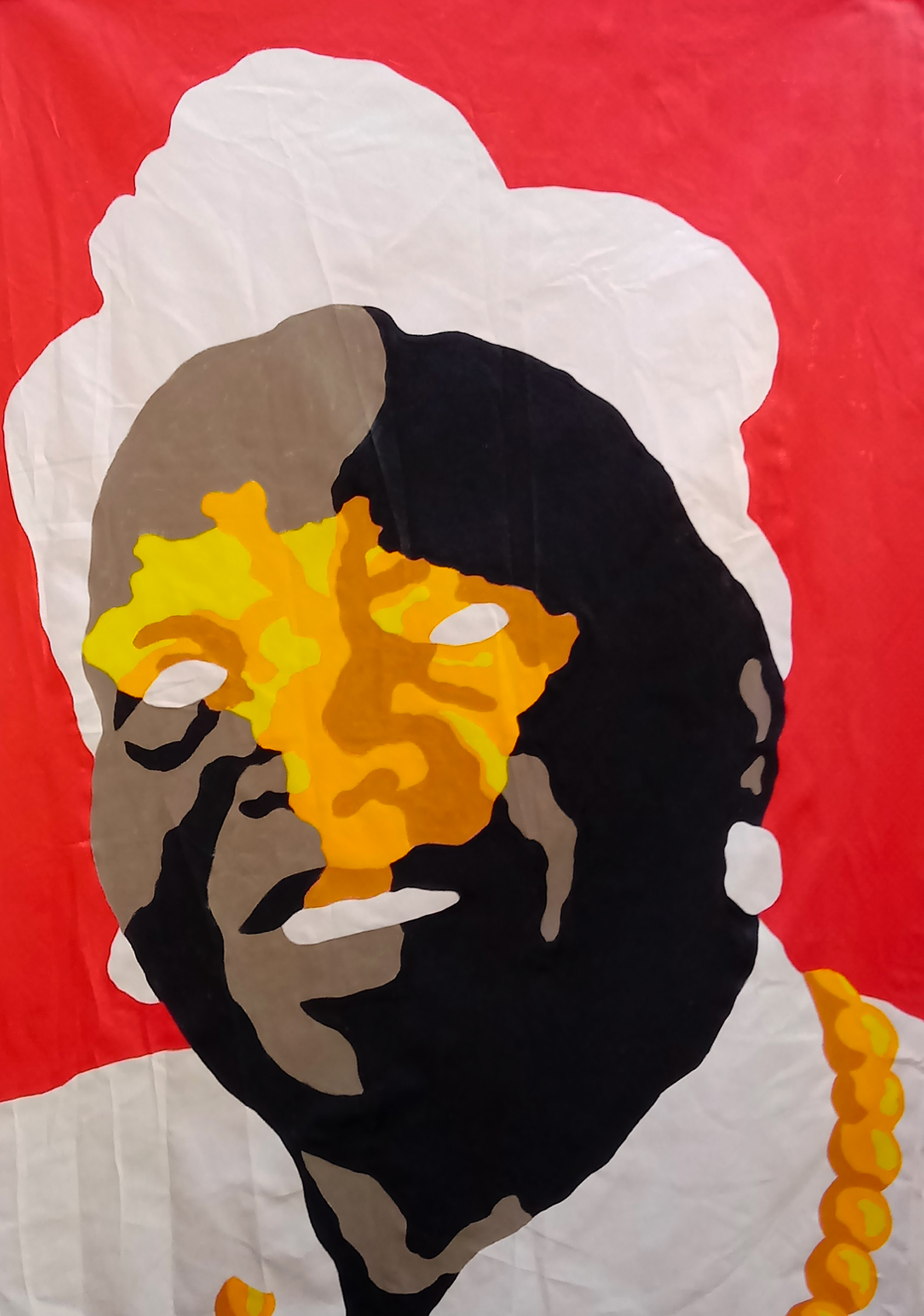 Because it is contemporary art, we know that the artist's support can be everything and even the place. The space on the periphery fits in very well with that. What is it like to portray everyday life in art? In projects and exhibitions like Prato de Pedreiro, As dificuldades de Manter o Pé no Chão e Queria um Pincel, Ganhei uma vassoura, this becomes quite evident.
To talk about our daily life is to talk about us. To use symbols that surround me throughout my construction as a human being in the suburbs of Rio de Janeiro—between Saquarema and São Gonçalo—is to talk about the powers that we encounter and activate every day, but that the structures that surround us try to erase. To be black, to be caiçara, to be peripheral, for example, and to be autobiographical is a form of resistance. We are autobiographical also when we talk about our place because we talk about people like us. This is how we transform broomsticks into tridents; subverting and recreating powers.
As a work that has great autobiographical power, its artistic production also has a great capacity for mirroring. It is possible to see a great Brazilian reality in this work. How do you see it?
For me, this presence is a foundation of my work. My production is about and for this experience because it is what makes me be everyday. It was very important for me, the moment I start to look at my reality and understand it as a power, as a force and especially as a structure—it is in this movement that my work really happens.
Your relationship with the sport is clear. Paintings of people playing soccer, surfboards as support. What is the importance of this language in your personal life and work?
Until about 15, 16 years I really wanted to be a football player and since I grew up in a beach town, known exclusively for surfing that is Saquarema I couldn't help but have these marks very present in my work, because they are very strong in my construction as a person. I'm a sick Flamengo fan too, so these passions and the logics I've learned from football are very powerful to this day. Understand, for example, that for the spearhead to score a goal, the area head has to steal the ball. And since I was playing as an area head I kept trying to disarm the other team so that my forwards can finish. Through this awareness of my place I learned a lot from the sport.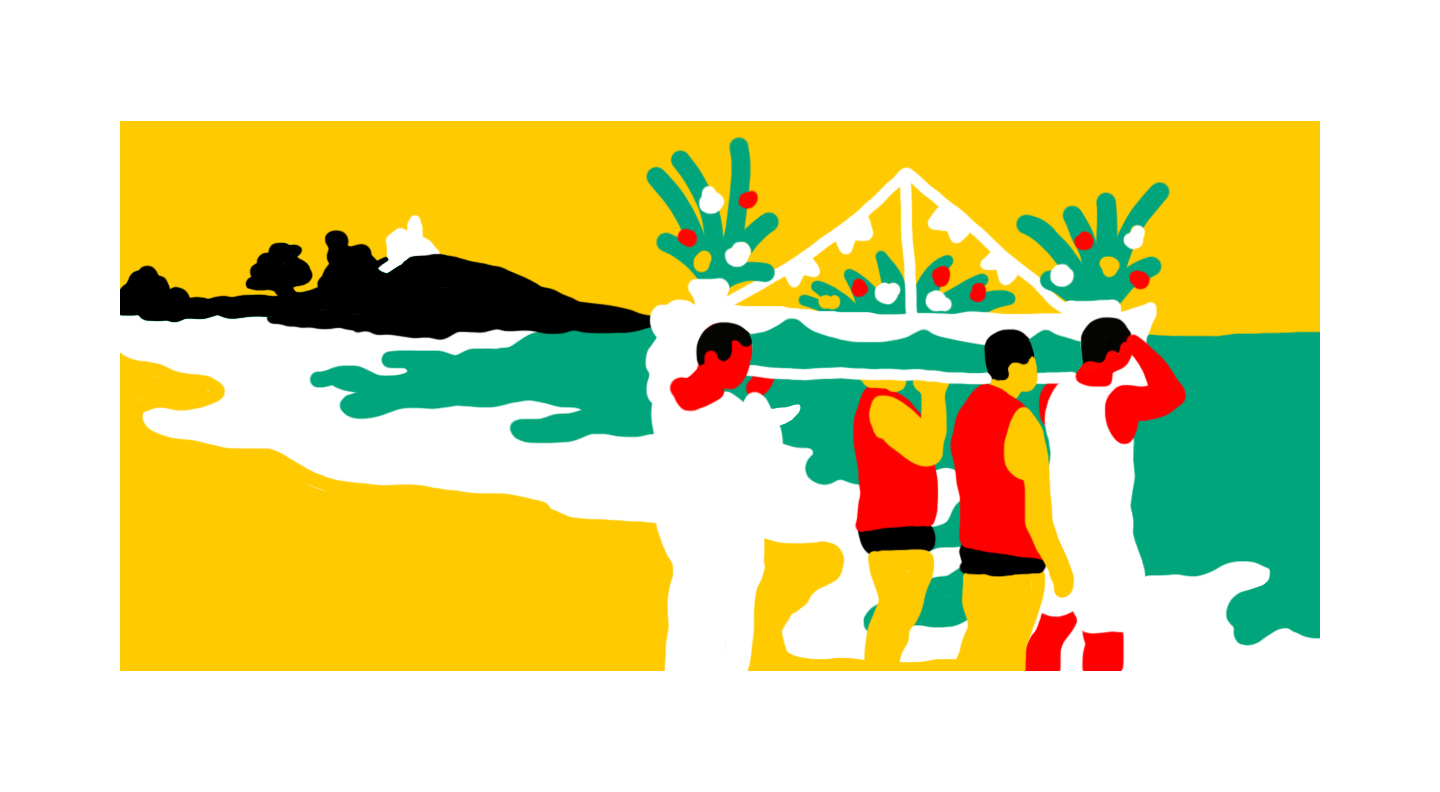 You work with alternative exhibition spaces, such as the internet or decentralised spaces. What is the reception and reciprocity of this way of working? Do you think you would have all this space in a gallery or rather, do you think that this allows you to create a more agile space and channel for dialogue?
The internet gives me a reach that would be very difficult to achieve elsewhere, like reaching someone who has never set foot in an art gallery in his life. My work—beyond the works—themselves; the material object, is what I try to count through the images and symbols that I create and recreate. So, the space where I tell these stories ends up becoming another important element of these plots, whether on Instagram or on the wall of a museum. Today I am represented by a gallery in Rio de Janeiro and I have already held some exhibitions in more hegemonic spaces. But it is very important to recognise all the forces and interests that move these circuits and from there, to draw up survival strategies to deal with these issues. To think about the best way to take advantage of these opportunities because when we are walking, especially in these spaces that are usually far away from us, there are many people like us who are on our side and believe in us. The dialogue that the internet makes possible is different from what a cultural centre in a suburb provides, which in turn is completely different from an experience in a gallery frequented by the figures who legitimise the circuit. To think, for example, of the number of people who look like me in each of these spaces and the very perception that these places have of the things I talk about, is already a new element in the same story that I tell through my work. The way is to go carefully between these universes with full consciousness of where we left from—which in my case—is where I return to.