"Ethereal"
ether·​re·​al | \ i-ˈthir-ē-əl  \
Definition of ethereal
1a: of or relating to the regions beyond the earth
b: CELESTIAL, HEAVENLY
c: UNWORLDLY, SPIRITUAL
2a: lacking material substance : IMMATERIAL, INTANGIBLE
b: marked by unusual delicacy or refinement
c: suggesting the heavens or heaven
True collaboration is the intertwining and weaving of perspectives; creating visions through individual, conscious contact with the etheric realms; what one being harnesses is channeled through their own essence and unique energy, and together in union; magic is created. This is the play of essence and form; creating the uncreated, and diving deep into the unknown parts of who we are vulnerably and with one another. Few bodies of work have ever struck me quite so deeply as the one most recently released by Grete Moeller, photographed and held by Sarah Hugo Hamman; a poignant fusion of their essences laid bare for us, evoking a reclamation of romanticism in a magnificent proportion; both symbolically and in silhouette.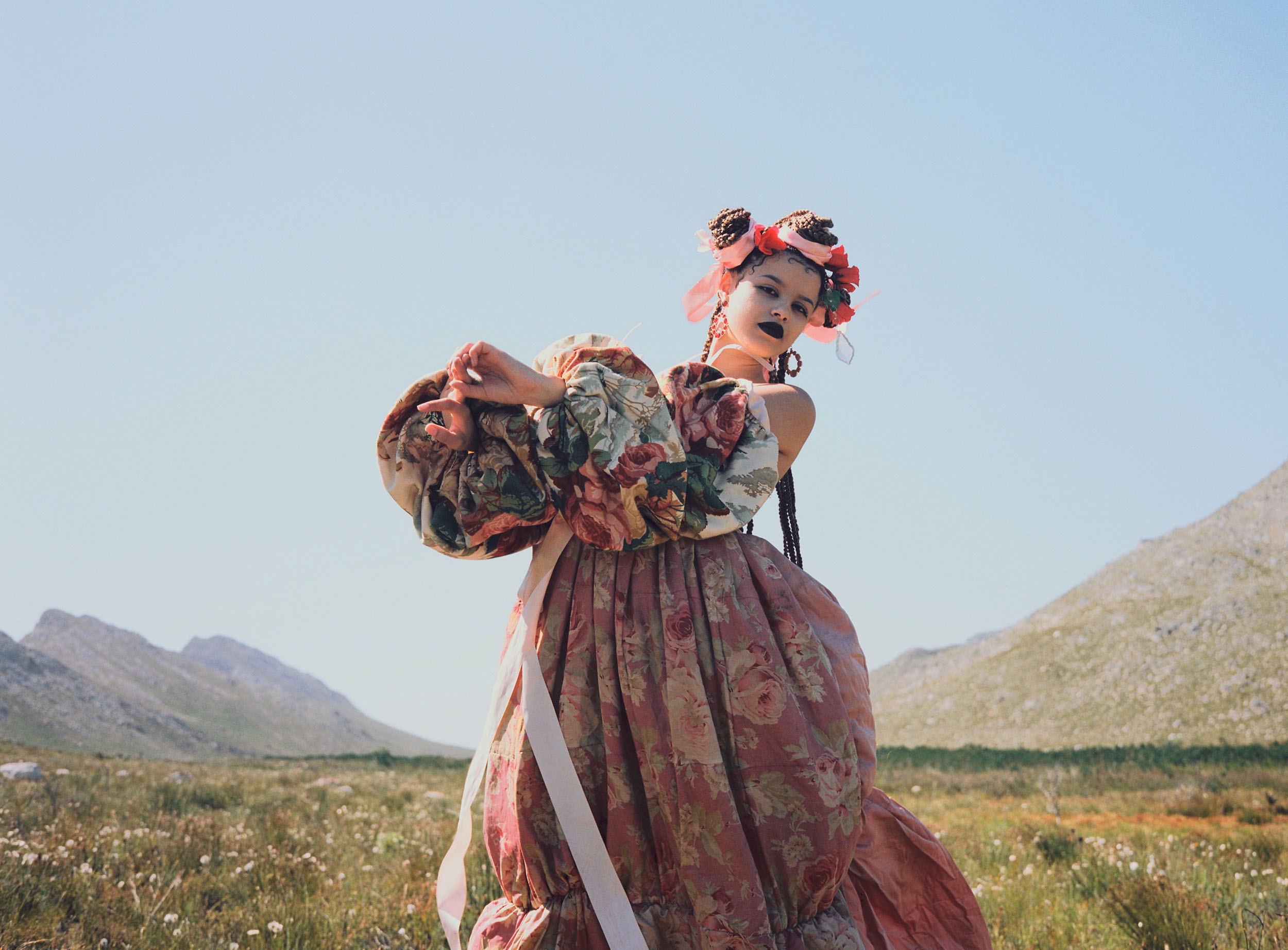 AGNES OF ROME is the patron saint for girls and femininity in the Catholic canon; often depicted in artworks alongside a lamb, venerating her as an angelic, virginal representation of sacrificial customs prominent in Christian traditions. Referencing the martyred womxn of Christianity takes serious commitment and a vision of purity; as much of the feminine lineages of the faith have been shrouded in secrecy, or often neglected and diminished as the only acknowledgement available for recognising the divine feminine; God as the Mother / God as the Womxn. It comes as a beautiful anecdote that this figure would be the cornerstone around which Grete created this collection; serving as a statement for reclaiming the healing of survivors of Gender Based Violence. In the darkest, most twisted hours of our hearts and bodies breaking; Grete uses unique, dramatic tailoring to illustrate resilience, healing, and the innate power within every womxn; drawing into her world a sanctuary of rich reds and pink hues. When Grete invited Sarah Hugo Hamman, a South African visionary, to photograph the collection; two divine powers collided, and an ethereal vision was birthed.
I had the honour of speaking to both Grete and Sarah about their respective creative processes; and then together on their thoughts around this project. I chose to ask 12 questions in total; a prophetic, angelic number in biblical and other spiritual texts; the completed number of the celestial abodes.
GRETE
1. Where and how did you end up studying fashion design in South Africa?
The first time I visited Cape Town was after I graduated from High school in Germany and did one of those 6-month abroad volunteer programs. I lived at a host-family in Parow and worked in a primary school and kindergarten in Athlone.  
After that I always wanted to go back to live in Cape Town, I don't enjoy the German lifestyle and what people call "culture" here.  I applied to the UCT Acting Program, and didn't tell my parents I even applied and only called them when I got accepted that I was going to move on the other side of the globe and lived in a Hostel for a couple of months, where I met a lot of people who very quickly I became very close with and made the place feel like home to me. It was an adventure at the time to do all this by myself, 19 year old me couldn't have felt more alive! Unfortunately I didn't really enjoy the course as much as I hoped, and had a tad lack of discipline at the time as well. I always skipped class to go home, smoke weed and sew crazy outfits for the next party. Unless we had costume workshop… That's when I figured, even though I have many passions and always feel an urge to reinvent myself, and I struggle to commit to one thing, I should maybe give up on the famous-actress-dream and rather consider a career in Fashion instead and switched to that..
2. Your use of couture-level garment construction is a rare, almost dying skillset; what drew you into honing your skill to reflect a nostalgic way of dress making?
I've always had a weakness for historical dress making. My mom taught me how to sew when I was a little girl and I used to practice on her old vintage patterns. My parents also took me on holiday to Italy every single year to see historical landmarks and pretty much every single museum about historical art that exists in Europe. This aesthetic has always been a big part of my life and really carved itself into the way I look at things. The detailing and knowledge about craft and design that existed hundreds of years ago is so fascinating, especially late Italian renaissance art is a true weakness of mine. Last year I did a short course in Milan during my summer break and was taught a completely different approach on dressmaking and creative thinking. It definitely was great extension to what I've learned at my previous educational institution and I was very lucky to have that experience.One of my favourite things to do on a Saturday is to go treasure hunting at antique stores. It's part of quality-me-time and almost therapeutic for me to get a lot of inspiration from the energy around those stores, the peace and quiet, even the smell; it's just magical. Everything I find is unique and it's very likely that nobody will find the same thing. So that's how I started sourcing my fabrics there, it's a method of upcycling that gives the garments a unique touch in their existence and further-on, secures a sustainable eco-friendly production method. Limiting myself to those recourses also forces me to go all out on my creativity and makes me appreciate the product so much more than if I used fabric anyone can get from a fabric store.. the garments have history, they've lived a life and now being turned into beautiful dresses. It's a lot of fun.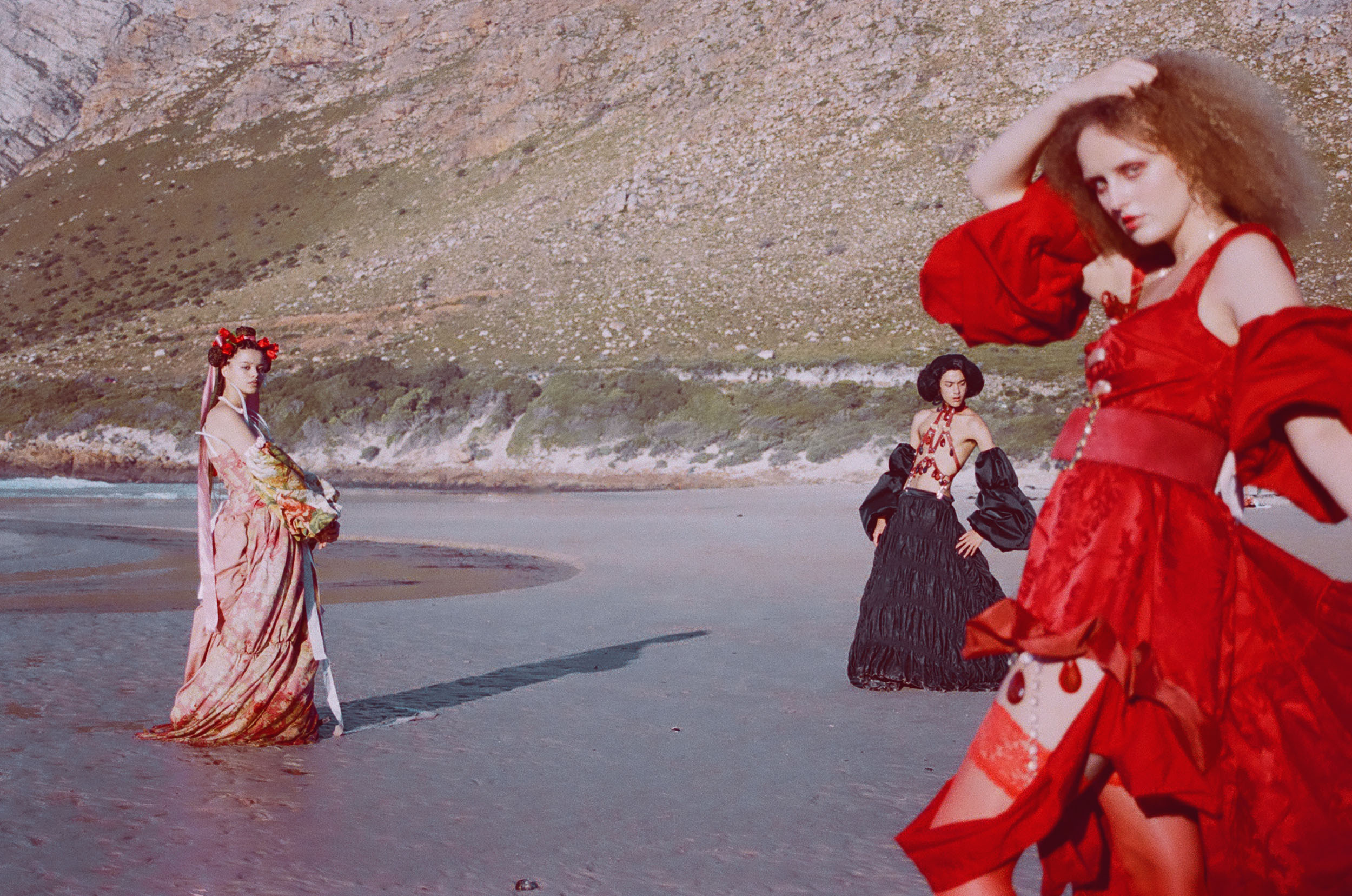 3. What has your journey into photography taught / shown you, and how does it inform your approach as a designer and stylist?
I would never call myself a photographer, basically because I have never even read the instruction manual and I ask other people to load film into my camera because I somehow make a mistake every time. However, I've always had a lot of fun with the creative process itself while shooting an editorial image. I really live for the whole creation of an image, from when I start designing to when I style and direct the model.  As a designer I start the creative process with a vision that comes from emotion and every emotion has a visual. Then you have to be really lucky to find a team that truly gets you and that you can trust. When I started making my collection in London I didn't really know anybody and the photographers I did know were quite unreliable. So, I just started creating editorials all by myself , just me, my little Olympus and the model, somewhere in a field with 2 suitcases full of the garments I had made throughout the night before and some props I bought from a local antique store. I also did a Make Up Diploma a couple of years ago so I had some idea of what I was doing. It was all exhausting as hell but the images turned out even better than I could've ever imagined. That's when I got a lot more attention from Photographers and Stylists who wanted to collaborate. Doing those little productions myself has taught me to be super prepared and about all the little things you really only know when you've done the job yourself. I also know exactly how the designers feel when they lend out their clothing, not everyone in the industry respects you, your name, or your creations and it can be really frustrating. I have also assisted a lot of experienced people by now and I have to say, Styling jobs push all of us to the limit every single time, but you kind of get addicted to the thrill, for the sake of creating. And it's beautiful to share that experience with a team that shares your creative vision and values your craft and effort. 
4. Your design process seems rooted in colour from your mood boards, especially the rich reds and deep pink hues; how does colour inform your vision?
For ANGES OF ROME, the garments had to carry an impression to have come out of a painting. Therefore the colour palette was hold in colours with a nostalgic feel. The story emerged from stories that hold female pain and trauma, and I experienced a lot with red tones that look like period blood at one stage. Creating the illusion of a painting is a great tool to give the world an insight, allowing access to my universe while not making myself too vulnerable. My art emerges as a super personal process and it feels freeing to a point, hence most of my inspiration is rooted in traumatic experiences and hurtful thoughts from myself and the people around me, its about opening up to the world. Making people listen used to make me feel embarrassed at times. Through my designs I want other people to feel what I feel and to understand my perception of Beauty.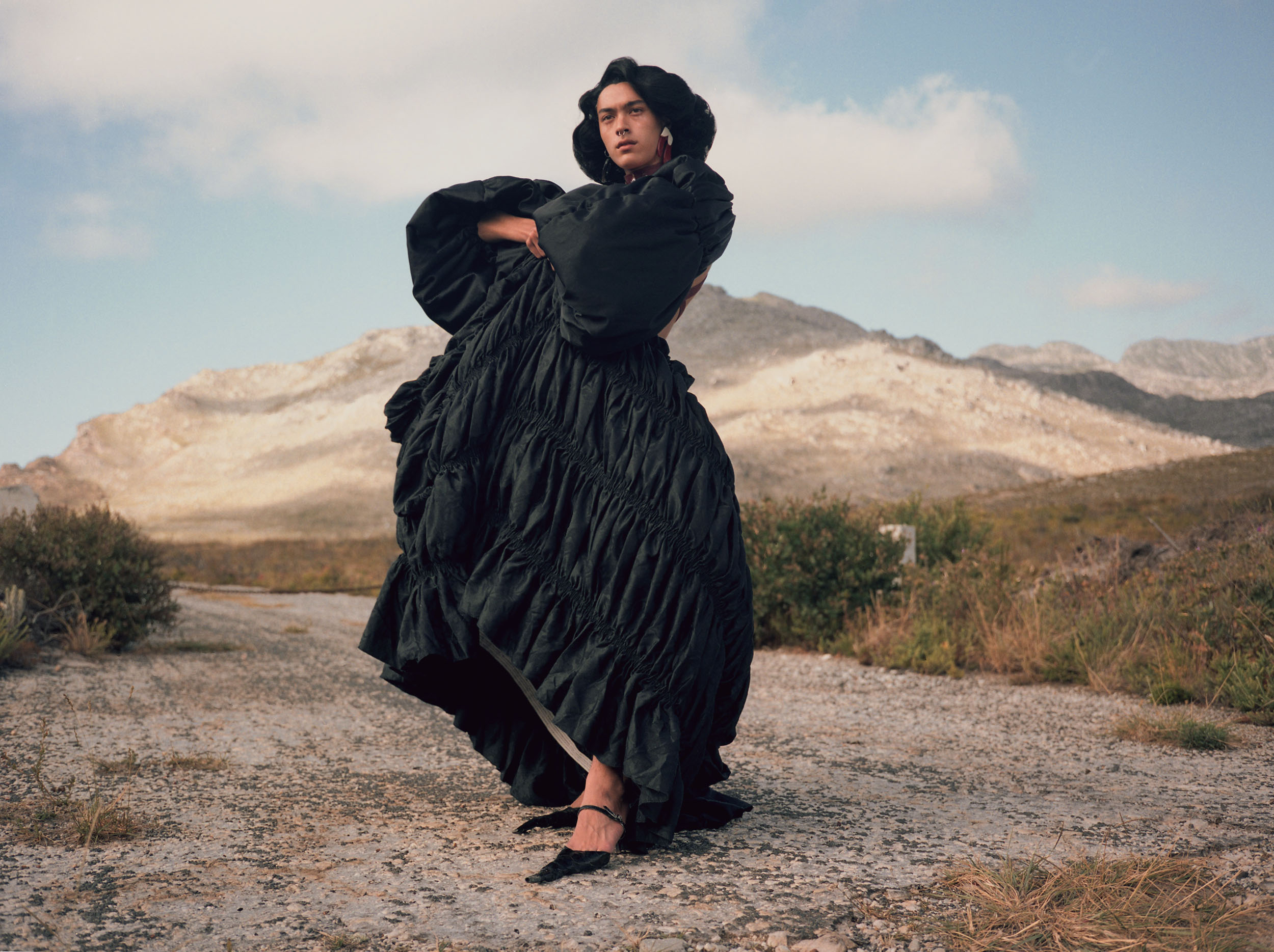 5. There is a depth and drama in your work that is incredibly refreshing; as if by reclaiming dramatic silhouettes, so your work is a statement of reclaiming the dramatisation of the female form; how did clothing become your medium of expression and where do you it envision leading? 
Theatre and performance art played a big part in my life growing up and I learned to express emotion in artistic movement, speech and simply just in the presence of a body. As I mentioned earlier , I believe that every memory comes with an emotion, that comes with a visual [essence or even an essence of scent]. Clothing is a way to express and communicate who we are, how we see the world or to make a political statement (what we put on a woman's body will ALWAYS be political),designing for me serves as a tool to process my feelings. I sometimes need somewhere to throw them on to, that's when I grab my sketchbook and "empty myself, vomit out my feelings". I also find safety in playing dress up, you can become a character like you can in acting class. I have a lot of feelings to give and am often told I am "over the top" with whatever it is I do. I think that's very much linked to the maximalism in my design drive. The over-exaggeration and maximalist design approach are reflected in the silhouette, as well as over-accessorising, [which] is continuous throughout my work. Powerful women that claim their sex are a huge inspiration and part of my personal growth. Femininity as  whole has so many facets and its diversity and history needs to be paid a much bigger tribute. I try to portray visions of femininity within my work at all times and contribute images and facets of femininity that exists a wider spectrum. 
SARAH
1. Your photography holds a certain nostalgic mood, and is very moving – where did this style come about and how?
I am an existentialist with a background in academic fine art and a lifestyle immersed in South African fashion, music, performance and counter-culture. My photographs are an attempt to capture the blurred boundaries between the art space and anarchism. The nostalgia that you see in the images is your own. The layering of my own self expression, collaboration with designers and models and your interpretation, creates new meaning by re-imagining familiar scenes. As a photographer my intention is to capture an immersive experience for the viewer. I aim to represent the contemporary state of collective consciousness. Every element within every image that I create and publish has been designed to evoke emotion through the relationships between the elements within the image: the setting, the styling, texture, colour of the clothing and the way in which these elements inform the viewer's experience of the photograph.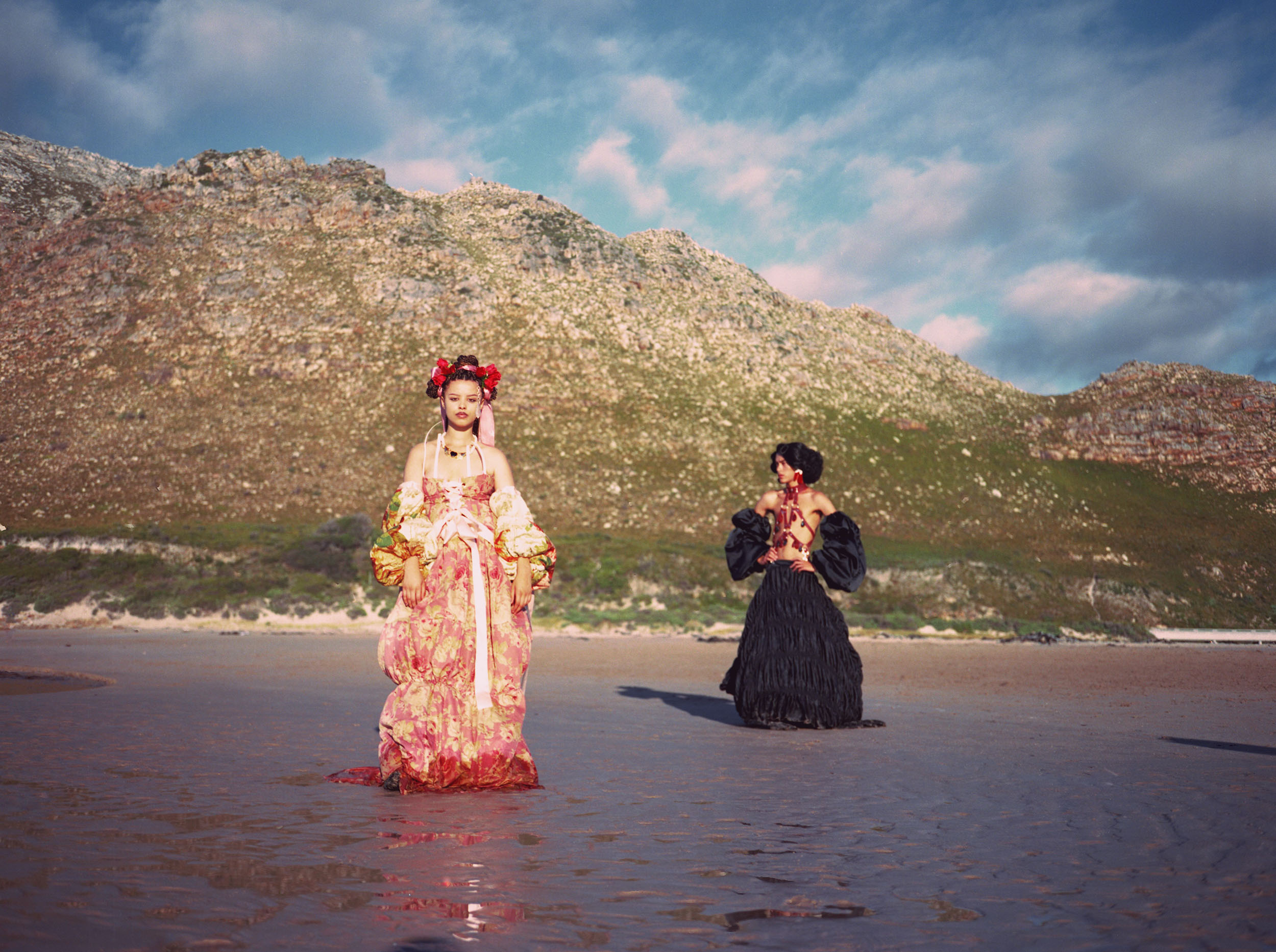 2. "Fashion" can sometimes be such a contrived umbrella term – but you really capture its essence, which is the expression of identity. What are the challenges of translating a unique point of view and mood into fashion portraits and stills? 
I build the expression and the photograph knowing full well that I will have no control over the interpretation thereof. I try to do justice to all of the collaborators within a project. It takes a lot of work for me to trust in my decisions as a fashion photographer- a fact that informs the complexity of the images that I produce. There is lot of pressure sitting just in the word 'unique' I prefer to think of my images as honest. As an artist I try not to focus on the polarities within the creative industries or the "final product". I am actively working on reinterpreting the way in which I understand fashion and the fashion industry. This informs my perspective on fashion= however I do not spend my energy fixating on the words. I try to focus on the work… the image. 
3. What has your journey into photography taught / shown you, and how does it inform your approach as a designer and stylist?
I have learned that my vision is my own and I want to protect the integrity of the work that I create. The photography, styling and design are all crucial elements and in my work none can exist without the other. I believe that as a photographer or image maker if I approach all my subjects with integrity and authenticity the result will be strong. This creates a cohesive visual narrative within my work regardless of the setting in which it is produced. I have yet to do commercial work but I look forward to responding to some post isolation briefs.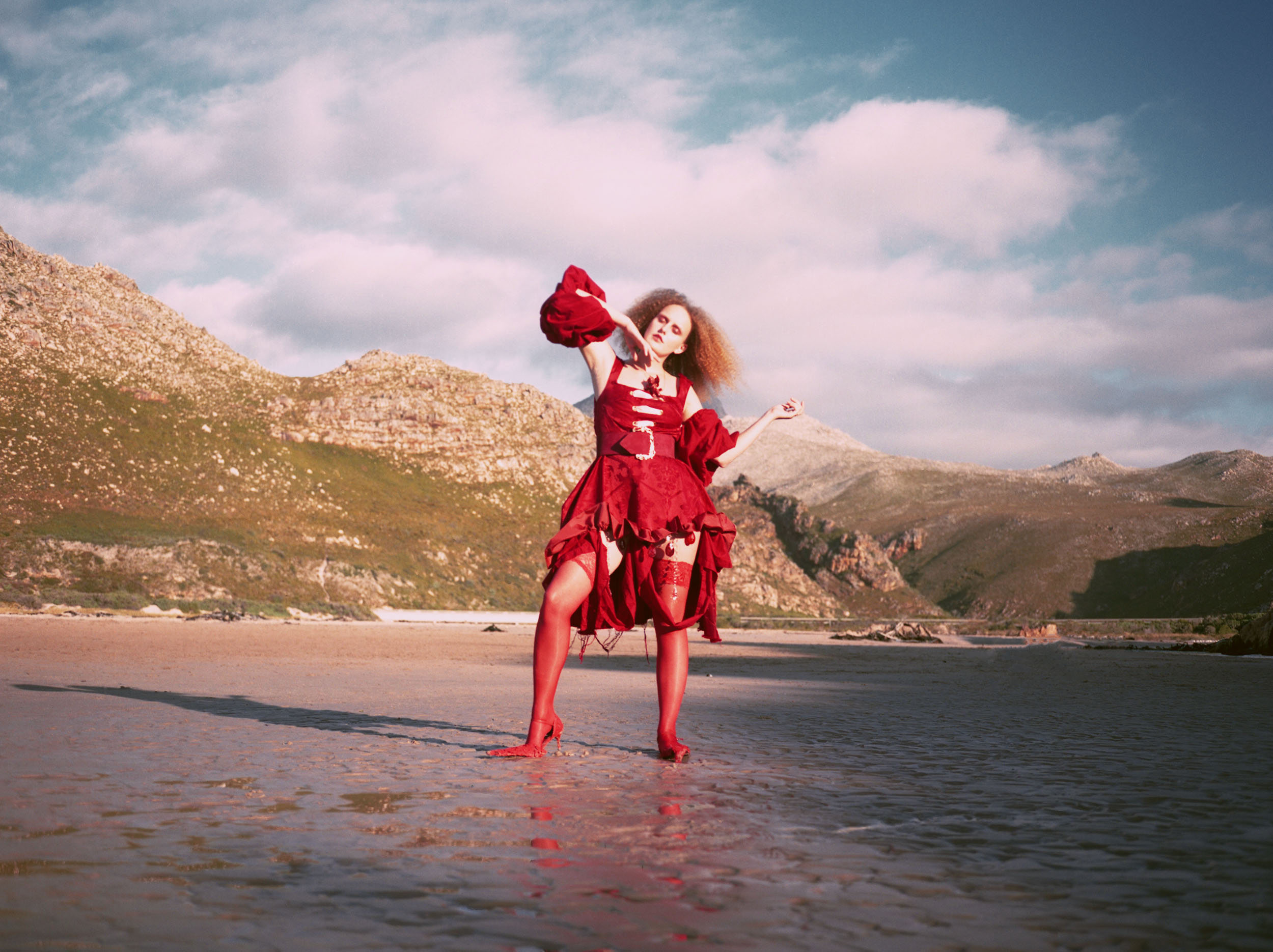 COLLABORATION
1. How did you both find your way into working on this shoot together, and how did it flow into form?
Grete:  I met Sarah when I was living in Cape Town and always admired her work. She modelled for me in First Year, which was super fun – not many people would've been fierce enough to were a Look like the one I did for that – she wore this huge white fur skirt with the harness that I re-made for the AGNES OF ROME Collection. It was so fabulous, she went out on the runway in front of the judges with her Breasts exposed and I made a latex bald cap. It was ridiculously fabulous, and she then trusted me and my vision unlike any other model would with a first year student. 
Sarah: Grete and I have been close friends for a few years now , and have witnessed one another overcome Some hurdles on the way! but we know each other's stories intimately and have built a deep connection in this time. I was first introduced to her work At the end of 2018. I was her model in their End of first year show / final collection piece which I wore for their show. I resonated with what the dress was about and felt it represented my own spirit and on the day, the feeling of wearing that dress, for me , encompassed everything I understood about what her work represented. When Grete messaged me about this project and whether I'd be interested I was in from the get go. I have a huge amount of respect for Grete and her works. I was honoured that she asked me and knew there was no way I could let her down. I knew about the work and I knew the process of getting to this point from all angles so we were on the same page from the start. I trusted her and she trusted me . She included me in anything / everything that was happening in the months before , just so I knew what was going on which I really respected and also helped with my materialisation of the project and it's just worked.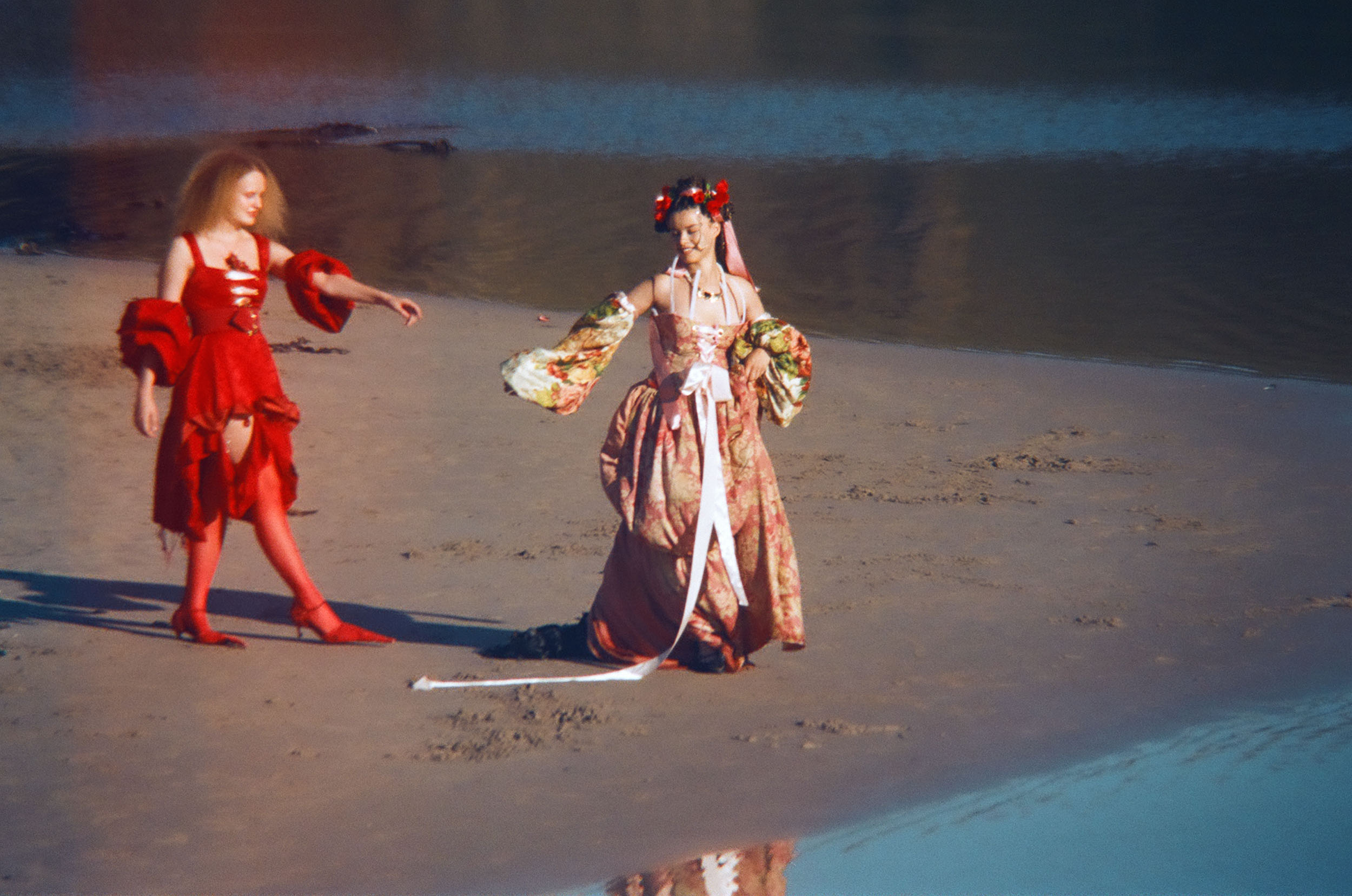 2. With collaboration, a shared vision is key; it seems as though you both complemented each other deeply on this one – do you have any thoughts on creating authenticity together in a collaboration?
Grete: It was always inspiring to me how she pulled off shoots the way she did. When you see a photo of Sarah, you immediately know it's her art. When I decided to shoot AGNES OF ROME in Cape Town, I didn't even have to think about who should be the photographer, it was clear to me from the start Sarah was the one and only I wanted to collaboration on this with and I'm so happy we had this experience together. She gave the whole project so much depth and took it to a whole other level. She really gets my vision, what I'm about and what this collection was about, in short: it was a perfect fit. We went location scouting together, thought about who should wear which look in what setting to get the strong images we were planning to create together and respected each other as equal artistic partners.
Sarah: Giving each person enough room and the right amount [of] guidance and space in order for them to interpret and reinterpret the possible visions that lie within the idea of another. For me, I need to resonate with whatever I'm going to end up creating. In some way or form and obviously [it is] different each time. [I] build the story in my head, the characters [and] the movements. I think authenticity can come through in various ways, and if you can create multiple layers of meaning then maybe the message, the spirit, the energy will be able to transcend through the image and resonate with others as Grete's work had with me.
Ex. When thinking of location / shots / time of day
– 2 songs I thought of for atmosphere / mood:
Avril 14 – Drukqs Aphex
Tommib "Help Buss"
– location: valley before Pringle Bay represents a very important moment in time , a weekend that's speaks to the feelings I wanted to evoke in the images . Along with each individual in Agnes of Roma for me Became a character that was also represented by the spirit of each person on that trip in some way or other , their strength , their resilience , their empowered vulnerability and beauty. s/o PringleBaes
– (long , wide angle shot) ref to scene in Marie Antoinette when she's walking up the stairs.
– Alexander McQueen: highland rape
This is how I built the story up in my own head and how I made it (AGNES OF ROMA) feel authentic and real for me. And it's with all of the above in mind that It came into form through Brandon, Dee And Lilly that day. Make it resonate for you. Then try to bring their, or in this case, Grete's creations, thoughts and vision to life.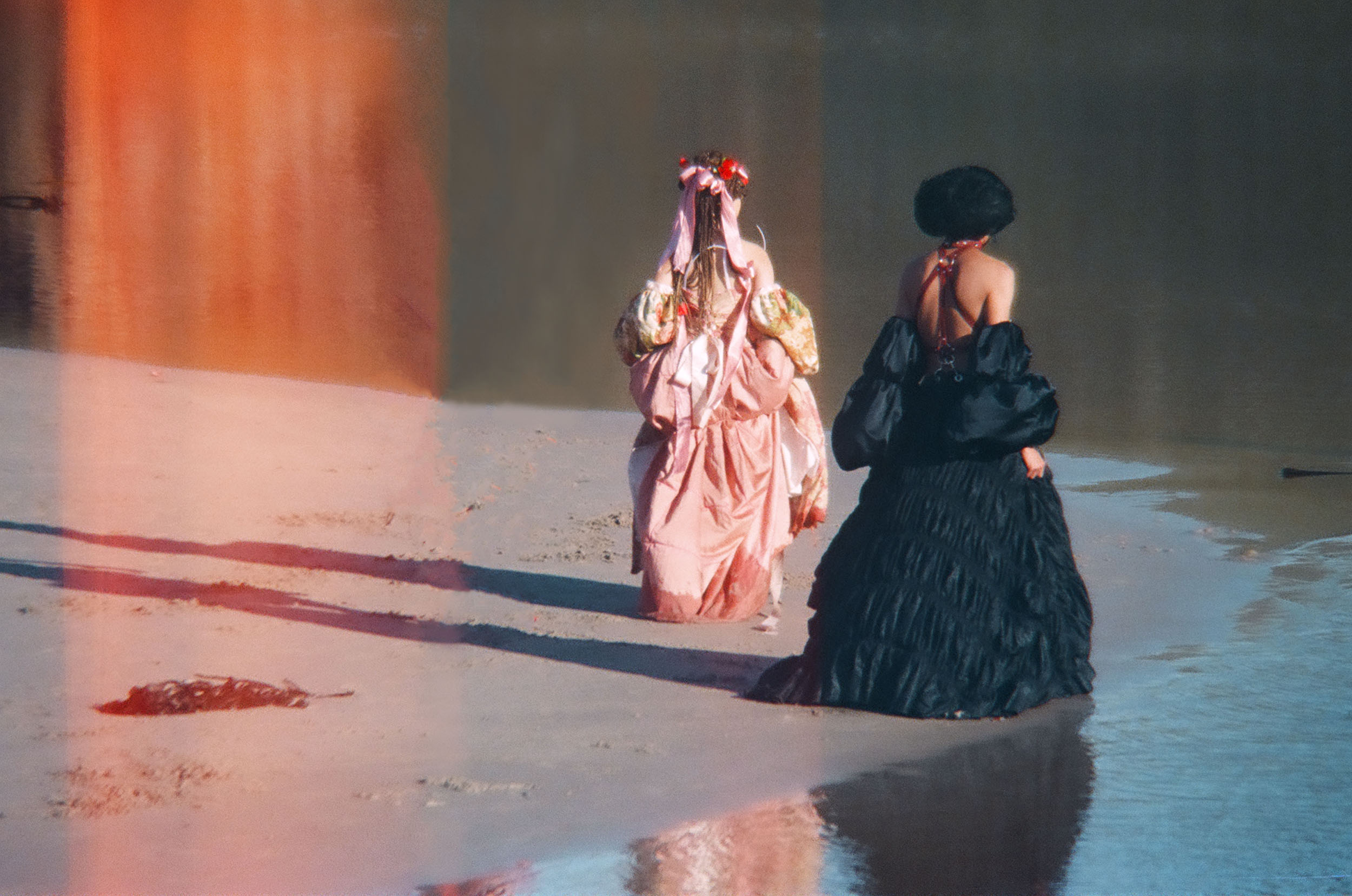 3. The energy of the outcome is apparent in the landscapes, lighting and time of day; really ethereal. How did that serve to demonstrate the voices of GBV survivors whom this collection is inspired by? 
Grete: I believe that the location is one of the biggest composers when it comes to images that are supposed to carry a certain feel, a sense of emotion. My garments need a lot of space in order to connect with the eye rather than a studio backdrop shot. It was essential to the story to find the space that carries a mood in itself , so we thought of places where one feels lost, where humans are in their vulnerable [state of] self, where you allow yourself to be human, where you find yourself consumed by Mother Nature and make peace with yourself and your past. We wanted something that looked surreal, like something you only see in movies. In daily life, traumatic experiences like those from GBV are often overwhelming in the most "normal" situation. As an example, at times I [have] had to leave the gym when a man steps on the treadmill next to me or looks at me a certain way and I feel violated and like space gets taken away from me. PTSD can enable you in those daily "average" situations. Many victims said they had to imagine themselves being at a place far away, where [they] can breathe. This is the setting I wanted to envision the garments in as well. The mountains and that lonely, dreamy beach were perfect for this.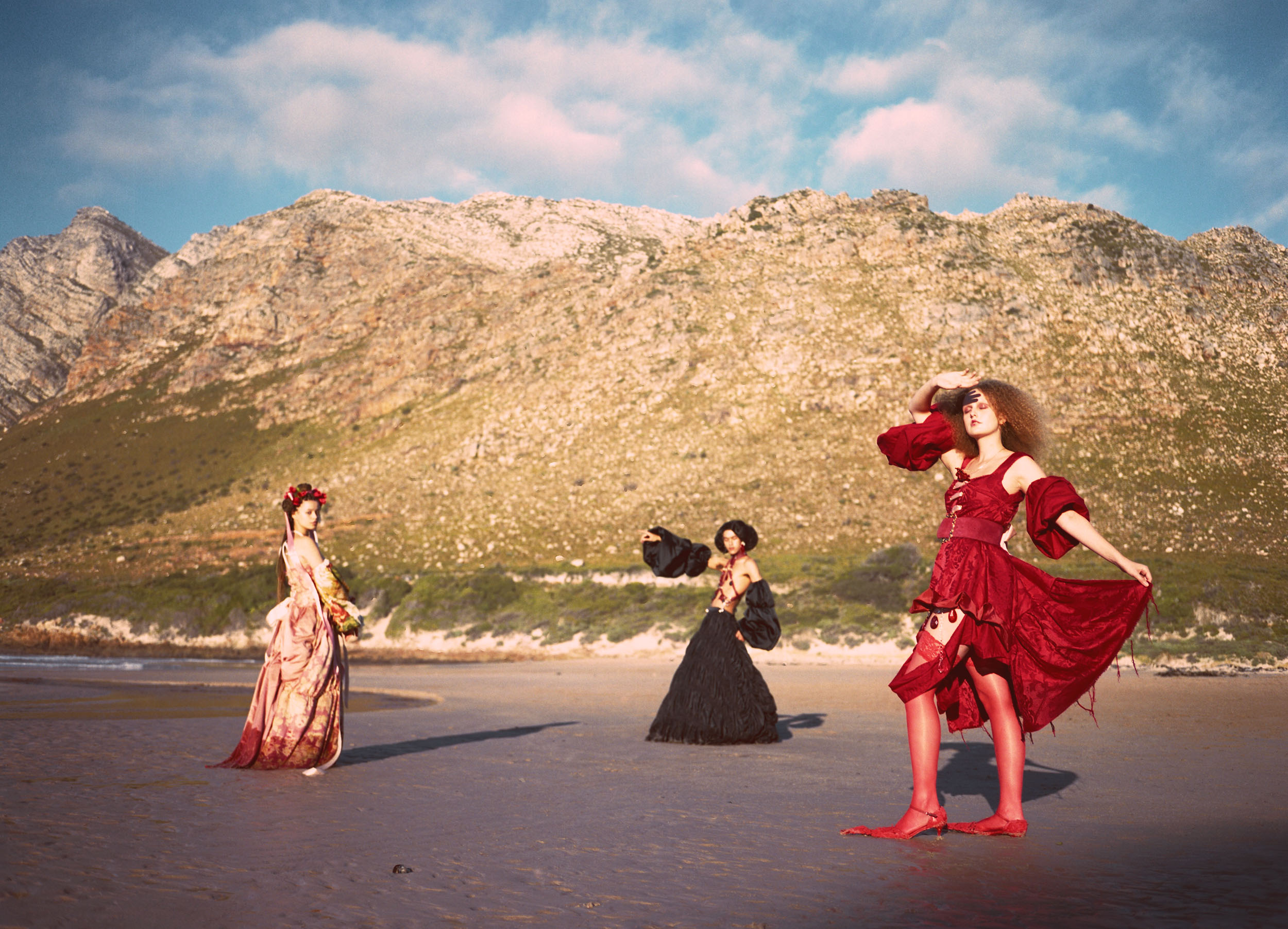 4. Do you think fashion can continue to be a tool for change, and reclaiming spaces? 
Sarah: Yes!
Grete: This was exactly what I did my research about. I give so much of my passion and time to fashion and it has become a coping mechanism for me to express my vulnerability and create images of emotions from past experiences. I wanted to translate voices of victims that [get] forgotten in this fast paced industry into a visual that is so strong you can't turn our head away. One of the victims that I interviewed uses BDSM practices to reclaim her sexuality, which I found extremely interesting and it had big influence on my design aesthetic. I also asked what items make the victims feel safe, what their 'safe space" looks like on bad days, how their relationship with their own body has changed and took this into consideration. The industry has always held great power on the brainwashing of the postmodern society. I want fashion to serve as a medium to contribute towards a reconceptualisation of a wider gender spectrum in society, which could help [combat] mental health issues of said marginalised identities, and [I] believe it is time for the fashion world to make up for their denial, and use their innate power to instigate reconstruction of gender ideas. When I do styling jobs I never style male models in what's commercially gendered as masculine and I also choose not to work with straight cis males, those things are essential to my work with the goal to rewrite what the masculine image should look like in the future, to make women; Trans-women and Non-binary bodies feel less threatened and to give more depth into the meaning of the feminine presentation as well.