While everyone was proudly celebrating the strong womxn in their lives on Women's Day, I sat alone, hiding behind this desk, wrestling with these words, wondering—why exactly? What on earth do we have to celebrate? Many South African womxn, live, work, or are educated in underdeveloped rural or urban areas, relying on male support for economic survival, making them vulnerable to abuse, incest and rape, contributing to the perpetuation of violent cycles. Is it a wonder I have an incredibly hard time reconciling with this so-called 'celebration'?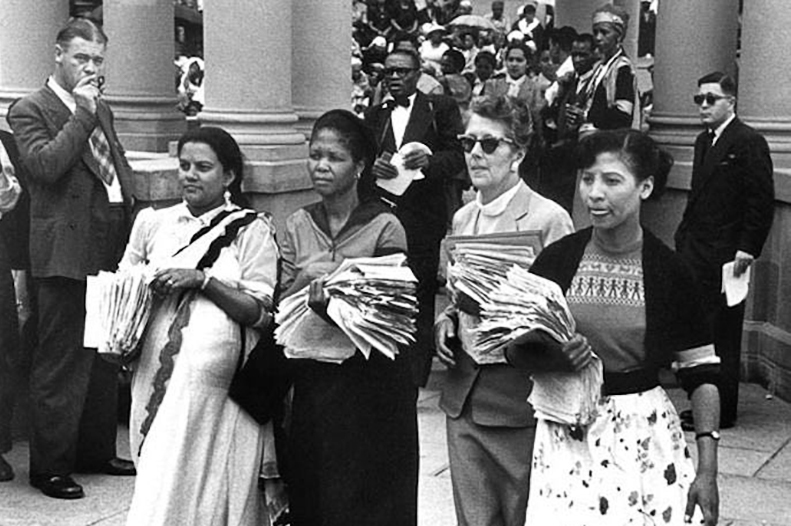 (Pictured left to right) Rahima Moosa, Lilian Ngoyi, Helen Joseph and Sophia Willams De-Buyn led the 1956 Women's March. Image courtesy of publicsectorleaders.co.za
Every August 9th, South Africa's annual National Women's Day honours the historic 1956 Women's March, where over 20,000 womxn gathered at Pretoria's Union Buildings to protest apartheid-era pass laws. Guided by leaders such as Lilian Ngoyi, Helen Joseph, Rahima Moosa and Sophia Willams De-Buyn, the march challenged segregation. Despite its modern focus on addressing issues like domestic violence, unequal pay and education access, Women's Day's impact remains limited. The troubling surge in violence against womxn, including an increase in femme homicides, casts a huge shadow over the day.
It's true that South Africa is blessed with blindingly brilliant womxn. Some historic figures include Sarah Baartman, Princess Magogo, Nokutela Dube, Dr Charlotte Maxeke, Albertina Sisulu, Miriam Makeba and Winnie Madikizela Mandela. The contemporary moment boasts icons like Thandiswa Mazwai, Bonang Matheba, Zozibini Tunzi and Caster Semenya. These womxn (among many others) collectively shape a narrative of empowerment and progress, so it's concerning that the safety of womxn remains such a pressing concern.

Image courtesy of pa.org.za
Gender-based violence (GBV) encompasses physical, emotional, psychological, financial and structural forms, often inflicted by intimate partners, friends, relatives, colleagues, strangers and institutions. The consequences of GBV include injuries, morbidity and death, while indirectly impacting womxn's health through unwanted pregnancies, disorders and STDs. GBV is closely tied to the HIV and AIDS epidemic in sub-Saharan Africa, with limited medical and psychological support exacerbating survivors' trauma. 
Beyond personal harm, the World Bank estimates that GBV could cost up to 3.7% of a country's GDP. Despite its recognition by the World Health Organization as a major public health concern, documenting, reporting and preventing GBV remain significant challenges. South Africa has earned a reputation as the world's GBV capital, recording 10,818 reported rape cases in the first quarter of 2022. In the first quarter of 2023, police statistics revealed 10,512 reported rapes, with 969 womxn murdered. The rate of womxn killed by intimate partners in the country is five times higher than the global average. 
While South African men are fully aware of GBV and are the first to help womxn celebrate Women's Day, it is clear that they are culpable. Activists stress the need for government investment in educating men about gender equality and challenging patriarchal norms. However, leadership responses, like President Cyril Ramaphosa's statement that "GBV is a problem of men", lack meaningful and decisive action. Anti-GBV efforts are pulverised by racial and gender power imbalances and insufficient political will.
The justice and police systems often fault victims, with the South African Police Service bearing immense complicity in this grievous injustice. Reporting rape doesn't guarantee proper help for womxn, as highlighted by Mara Glennie of the crisis hotline TEARS. Offenders often evade consequences, with recurring offences showing a disturbing trend. These patterns of silence and silencing around GBV reporting reveal a problem with uncritical Women's Day observance.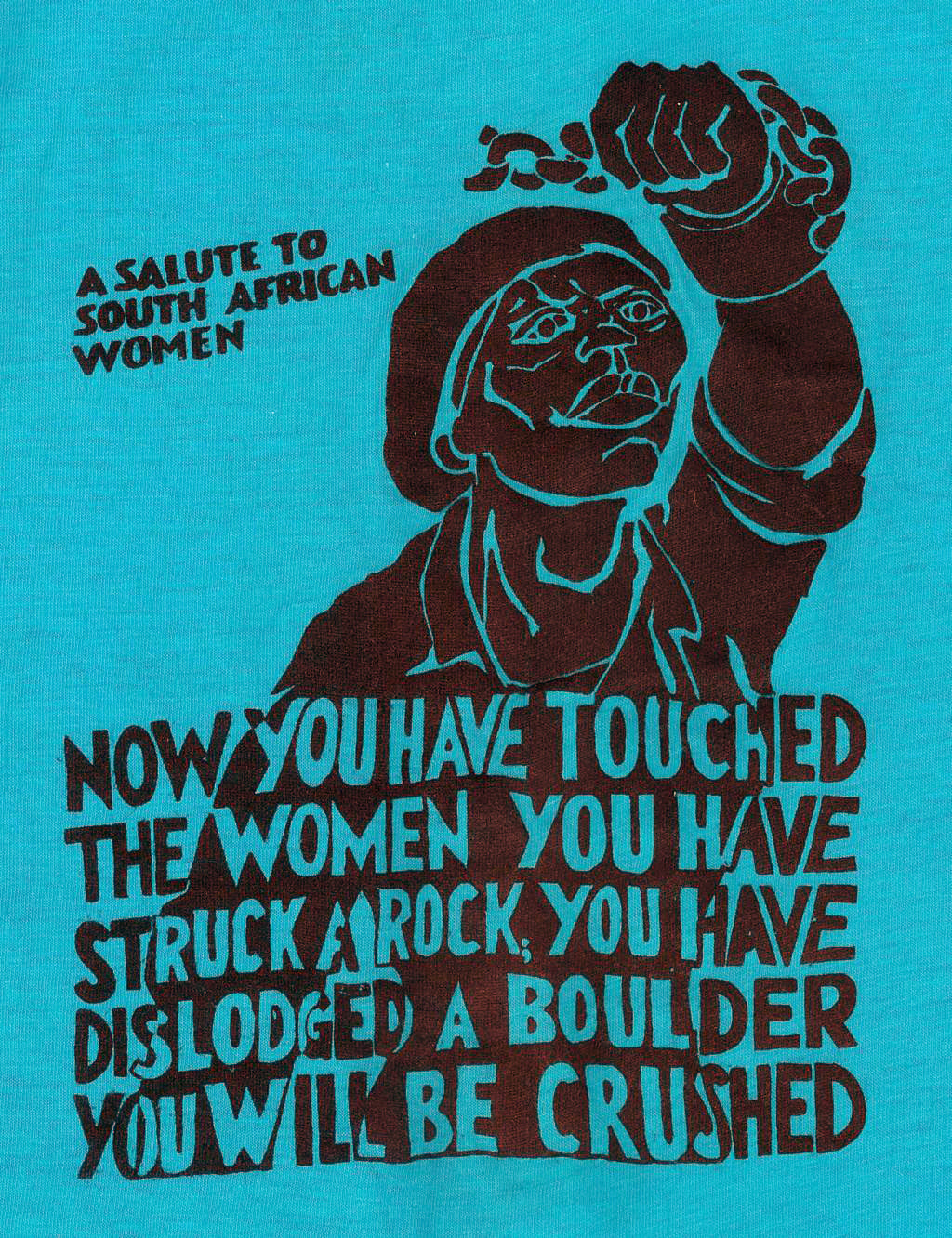 At this juncture, it becomes more generative to look to womxn themselves for culpability. During the Women's March, marchers congregated at the Union Buildings and deified the renowned chant "wathint' abafazi wathint' imbokodo," which encapsulates multiple layers of meaning. While "wathint'" or "ukuthinta" is commonly understood as "to strike," implying a violent action, the term also encompasses a spectrum of softer interactions, including physical, emotional and spiritual touch, or even verbal communion. 
The interplay between the Zulu terms imbokodo nokubhokoda points to a complex blend of pleasure and pain, related to penetration. In this context, the term imbokodo, which can be directly translated as 'rock' results in a cognitive dissonance within the patriarchal framework. Symbolising both a mundanely impenetrable object and Mother Earth herself, the rock metaphor embodies fragility, fertility and finite existence. 
At the core of this complexity is the question of how womxnhood is perceived in South Africa. It is for their resilience that womxn are lauded, not their vulnerability and that can no longer be called a coincidence. Despite their glaring subjugation, they are celebrated for their unwavering strength; and they accept this designation with an unsettling amount of misplaced pride. I argue that depicting South African womxn as impenetrable has fueled violence and unresolved trauma, and ignoring this toxicity makes it harder to confront over time.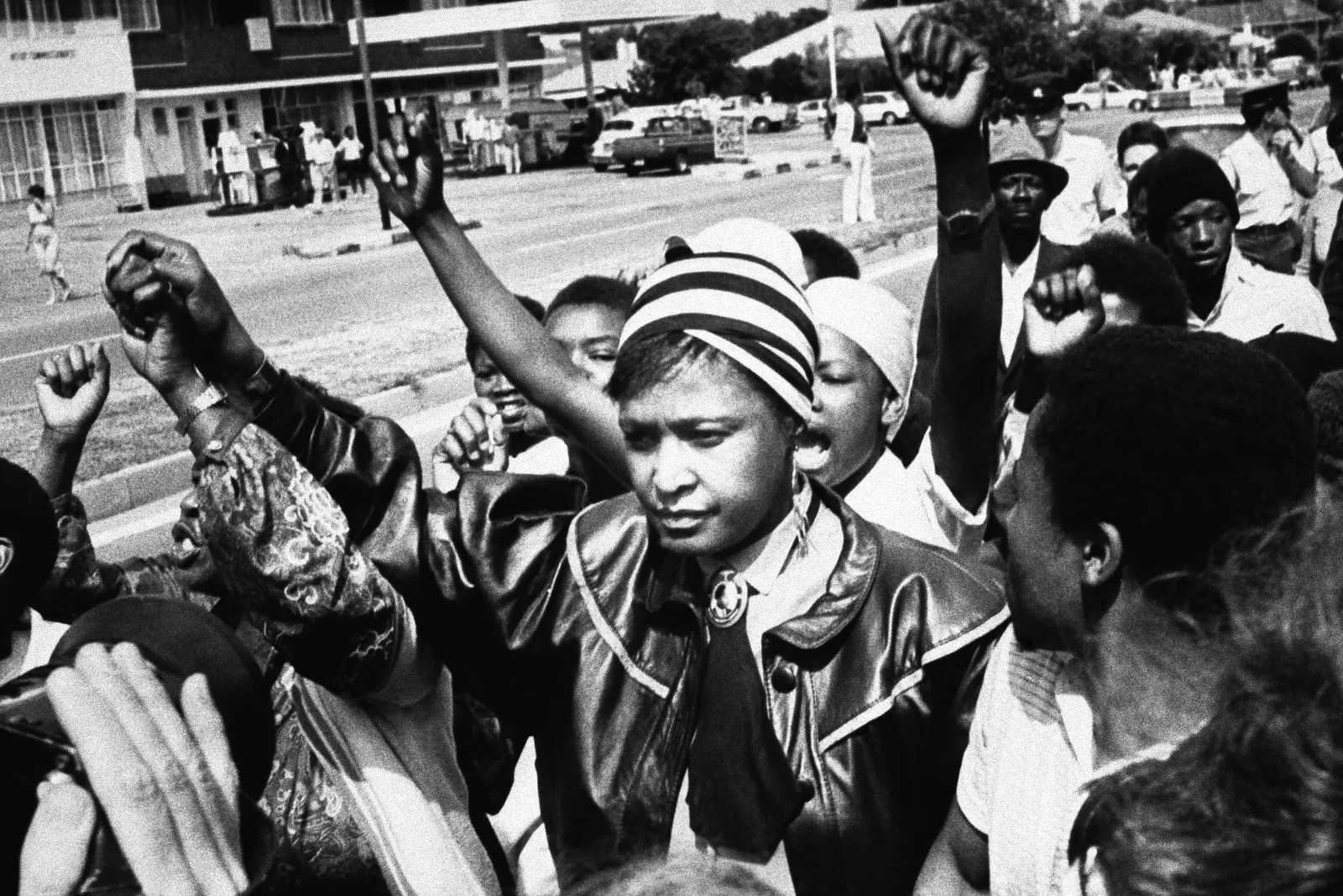 Winnie Mandela is cheered by supporters after appearing in the Krugersdorp Magistrate's court in connection with her arrest for flouting a banning order, which prevents her from living in her Soweto home West of Johannesburg on Jan. 22, 1986. Image courtesy of ASSOCIATED PRESS via Smithsonian Magazine
Winnie Madikizela Mandela once said: "The overwhelming majority of women accept patriarchy unquestioningly and even protect it … So men dominate women through the agency of women themselves." In her paper How The Cult of Femininity and Violent Masculinity Support Endemic Gender-Based Violence In Contemporary South Africa, Pumla Gqola talks about how in the struggle to liberate ourselves from the oppressive machinery of the Apartheid regime, violence became both the onslaught and the self-defence.
While the intention behind it may be pure, adopting the imbokodo distinction normalises the implied occasion of being struck. This persuades womxn to don a hard mask, binding them to a survival instinct that suppresses their yearning for tenderness. But meaningful alternative approaches do exist. There are forms of touch we could excel at—an affectionate touching of hands, lips and bodies. These gentle and impactful forms of touch, and softer meanings for what it means to be a 'rock' offer paths to healing wounds within ourselves, each other and the traumatised times and spaces we are forced to navigate.