With her mother working as a seamstress, Naeelah Jumat, founder and creative director of the South African-based streetwear brand, Socioculture, grew up with an appreciation for the fashion industry. "One of my fondest memories as a young girl is going with my mother to work at the factory," Jumat says. "It's crazy to think back on my younger self wandering around the factory, to now, with me having my own brand."
Fashion has always been an integral part of Naeelah's life; from spending time with her mother at garment factories as a child to learning how to sew in her adolescent years, Jumat took her interests in fashion further to study fashion and design at the Cape Town College of Fashion Design. As part of her graduate project, where she had to conceptualise and design a brand and collection, Jumat was inspired to create Socioculture. "It's kind of the one thing I'll forever be proud of because it's what laid the foundation for me as a designer," Jumat says. 
After graduating, Jumat worked as a stylist before she found herself longing to be back behind the sewing machine. With the pandemic lockdown, Jumat used the extended period of free time to reflect on her career and decided to take her graduate project further into a full-fledged business. She began researching patterns and crafting a brand identity to launch her collection with.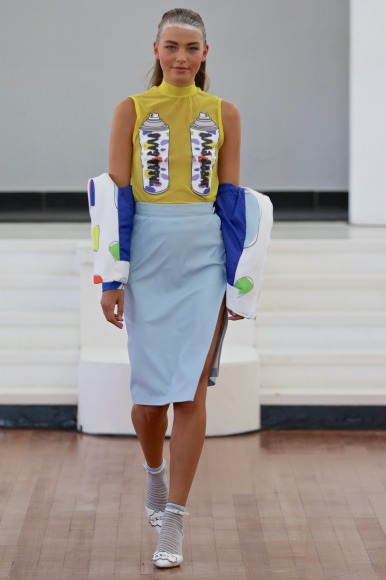 During her grad project, she came across an article on the origins of streetwear and how fashion and culture are interrelated, which inspired the name of the brand. "It's about the social element of fashion, dressing up for fashion week, parties, etc," Jumat explains. 
People-centred fashion is at the heart of Socioculture. Inspired by 90s fashion and pop culture as well as her childhood in the Cape Flats, Socioculture follows the traditional elements of street style, but with a bolder edge. While streetwear is often a male-dominated aesthetic, Jumat defies this stereotype by combining oversized silhouettes with brighter colours, lending itself to a unisex, androgynous style. 
But more than that, Socioculture is about the people who wear the clothes. "Embracing one's individuality and reflecting their personal style, while still being comfortable is always at the forefront of my designs," she adds. 
All of the garments are made entirely by Naeelah herself. Learning most of her skills from her mother who worked at garment factories in Woodstock before they closed down, Naeelah understands the depth and attention-to-detail sewing requires, and opted to make everything herself – forming an intimate relationship with the garments and making each piece a reflection of her craftsmanship.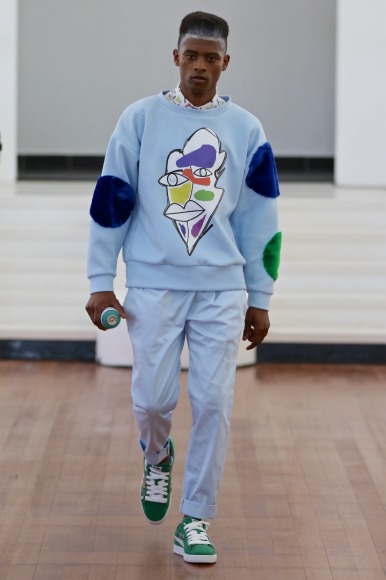 "For me, it all starts with the fabric," Jumat explains. While the traditional process of design often starts with a blank sheet of paper and a pen, Jumat flips this linear structure around and crafts her designs from the fabric she finds. "I am so inspired by textiles. Colours, patterns and textures are where the design process begins for me." Working backwards gives Jumat the opportunity to envision the final product of the garment, and so, create for the person who will someday come to own the piece. 
Socioculture captures the essence of slow, local fashion: high-quality, considered designs with an emphasis on the people who wear the clothes. 
"My entire career is a product of the women around me, the women who inspired me and taught me everything I know today," Naeelah says. "I want my brand to be a continuous reflection of that." She hopes to take her brand to an international market and collaborate with more female designers and artists. 
"I have big dreams for the future of Socioculture, but for now, the small wins are what really counts," says Jumat. 
Socioculture is available at Lemkus online, or you can check out more about the brand and its future projects on Instagram.