As with most collaborations, the curiosity that accompanies creativity led Mongezi Mcelu (aka Bambatha Jones) and Lwazi Madonsela (aka Umsindisiwesiko) to work together. Jones uses digital and analog photography to unpack narratives that revolve around the complexities of being a "born-free" and the preservation of black heritage. Umsindisiwesiko is a fashion designer and stylist with a broad understanding of sneaker culture and currently sits on the panel of a recently launched web sneaker show – Yes Another Sneaker Show.
The two first worked on a project together in December 2018, when Umsindisiwesiko asked Jones to photograph a range of reconstructed denim garments and shoes he had made. Feeling an organic creative connection, the pair worked on two more editorials, and have recently launched their zine
'Iksasa elethu [the future is ours]'. Jones explains that the idea for the zine was inspired by a lack of sincere African heritage and aesthetic qualities being integrated into Western products.
I interviewed Jones to find out more about the zine.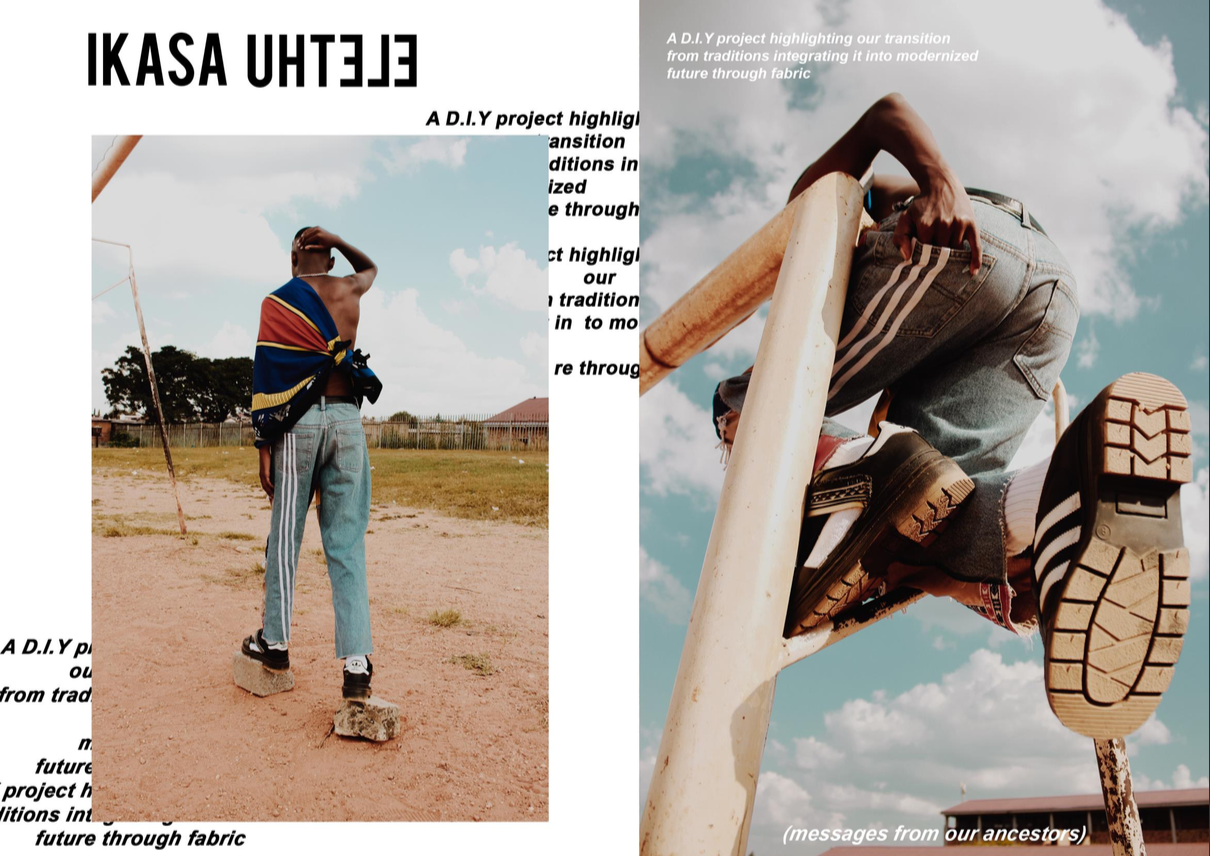 Please share more about the foundational ideas for the project.
Fashion has a significant role to play in our individual identities. We noticed how traditional clothing is phasing out rapidly in urban spaces in South Africa. Cultural garb is only seen fit to be shown off on days like Heritage Day. Almost as if it's something of the past and we have one designated day in the year to exhibit it. The main idea was to create dialogue about where we come from versus where we are going as a black community. Both culturally and economically because oftentimes we find ourselves devoted to buying products that were historically not made for us. Self discovery requires a lot of auditing and introspection and this project became a platform to explore ourselves.
Please share more about the items Lwazi reconstructed. What was the inspiration for each one?
Lwazi took modern items and products, like adidas shoes and Levis denim, and modified them. He chose to work with denim and bleach because they are both easily accessible. This classic D.I.Y. combination lends itself to infinite aesthetic possibilities. He chose to manipulate the [denim with bleach] by distressing and sowing the jeans back together in a way that created a pattern that suggests [cracks in dry soil]. The modification of a classic adidas Superstar transforms it into 'SUPER NGUNI' – parts of the Superstar are cut out and replaced by parts of a traditional Zulu sandal. He then reconstructed a pair of jeans to create a bag.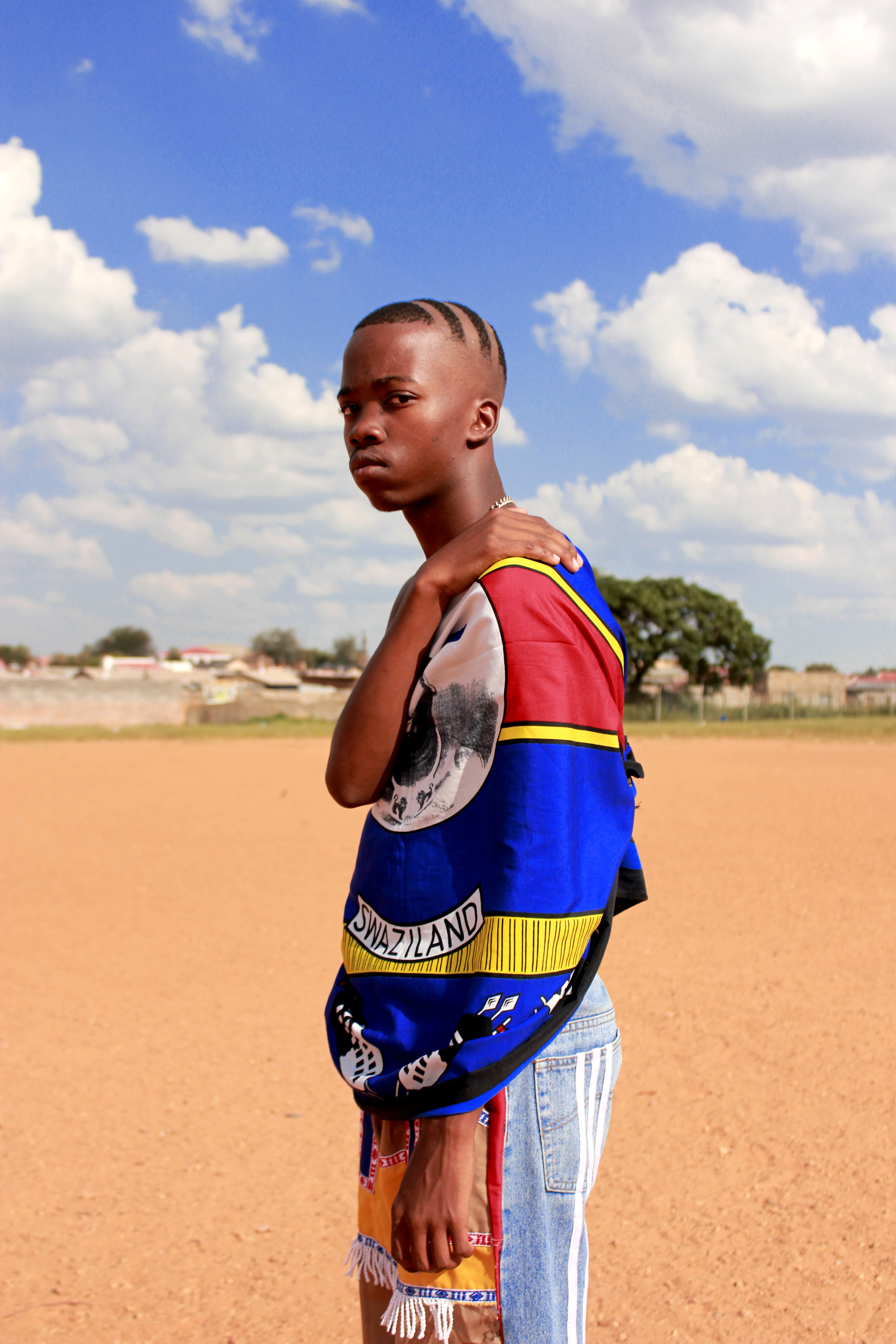 Please share more about the look, feel and styling you wanted to create for the zine?
[I] chose to photograph the subjects in spaces where [I] would typically play as a child. This included spaces such as a soccer field and esgangeni – open plot/dump space. Lwazi merged cultural dress and branded clothing to acknowledge our current state of dress, showing somewhat of a cultural identity crisis. We wanted to create a look that suggested a work-in-progress as this process is an ongoing one.
Why did you choose to use a zine as your medium for your message?
We wanted to create a tangible experience for the user, other than loosely publishing images online. We wanted to create a cohesive feel by incorporating a graphic designer. This way we could present all the editorials as one. It was also a good exercise to see how much content we could make for archival purposes. With the internet constantly flooded with imagery it's getting increasingly difficult to maintain the integrity of the photographic practice and we thought a zine would be a good way to preserve the value of our work. We are also from the township where the internet isn't as easily accessible so we thought that a zine would allow for us to reach a wider audience.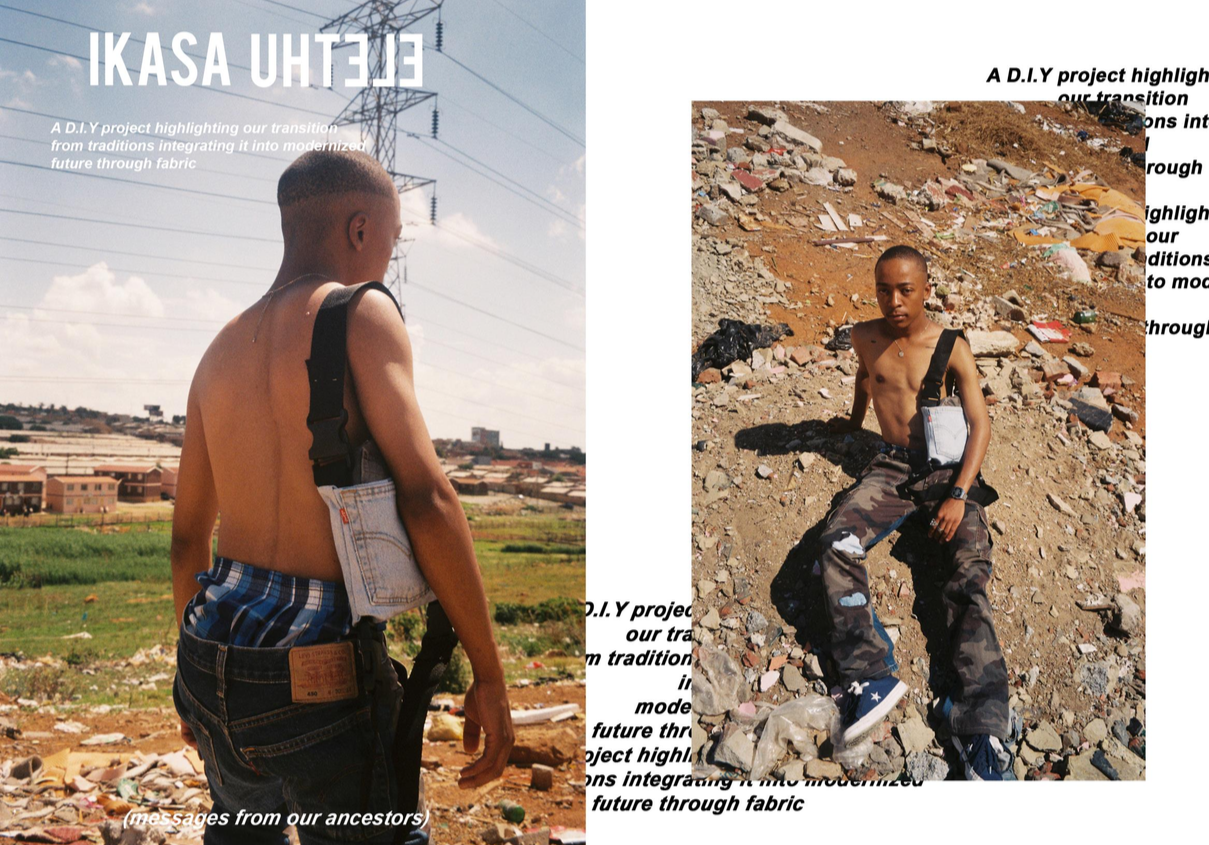 Why do you feel your zine speaks to the cultural mood of young people today?
South Africa is predominantly populated by black youth who are major consumers of this product. We're not suggesting that incorporating African aesthetic will automatically fix the problem because we often see collections with these nuances usually getting harsh feedback due to elements of cultural appropriation. This zine is meant to start healthy dialogue between brands and corporations, to focus their attention on the townships of South Africa where a lot of potential exists. Stimulating the township economy is a way to allow for the space to become a more of a vibrant and fruitful centre of recuperation as many people will not have to rely on the city centre for employment.
'Iksasa elethu [the future is ours]' is available online for viewing.
Credits: