Questioning the lifecycle of the products that we design and consume is paramount to the quest of creating a sustainable and equitable future, furthermore, this questioning is crucial to understanding the expanding interest and actions occurring within the thrifting and vintage spaces throughout the fashion industry. Increasing discernment around promoting the longevity of a garment is one such solution geared towards minimising the disposable nature of our collective consumption. The very nature of this notion within the vintage market place challenges fast fashion, fleeting trends and the obsession with "newness" so rampant within the industry. It feels important to emphasise that vintage business owners are not simply people who buy and resell clothing but rather, they are curators of objects that have been carried through the passage of time — re-invigorated and re-imagined for a space within the lives of contemporary consumers.
TUUH studio and Grow Your Own Funk are two such spaces — initiated by Brigitte and Liza respectively — that exemplify what it means to showcase garments in ways that elicit thoughtfulness and consideration of how and why we are so drawn to fashion. Although their aesthetics are quite polarised, their fundamental approach to personality through fashion is hugely intriguing and refreshing. Together they have launched a capsule collection; Merge, which shows these two sartorial forces uniting in the realm of deconstruction and elevation of thrifted finds through upcycling. What has arisen from this collaboration is a gorgeous array of pieces rooted in anti-fashion sentiments in which the abandoning of rules and play of materials play a vital role. Seeing two highly skilled curators come together in the pursuit of creativity is certainly something quite special and shows that there really are no "fashion conventions" we need abide by, other than the commitment to self-expression and the pursuit of beauty.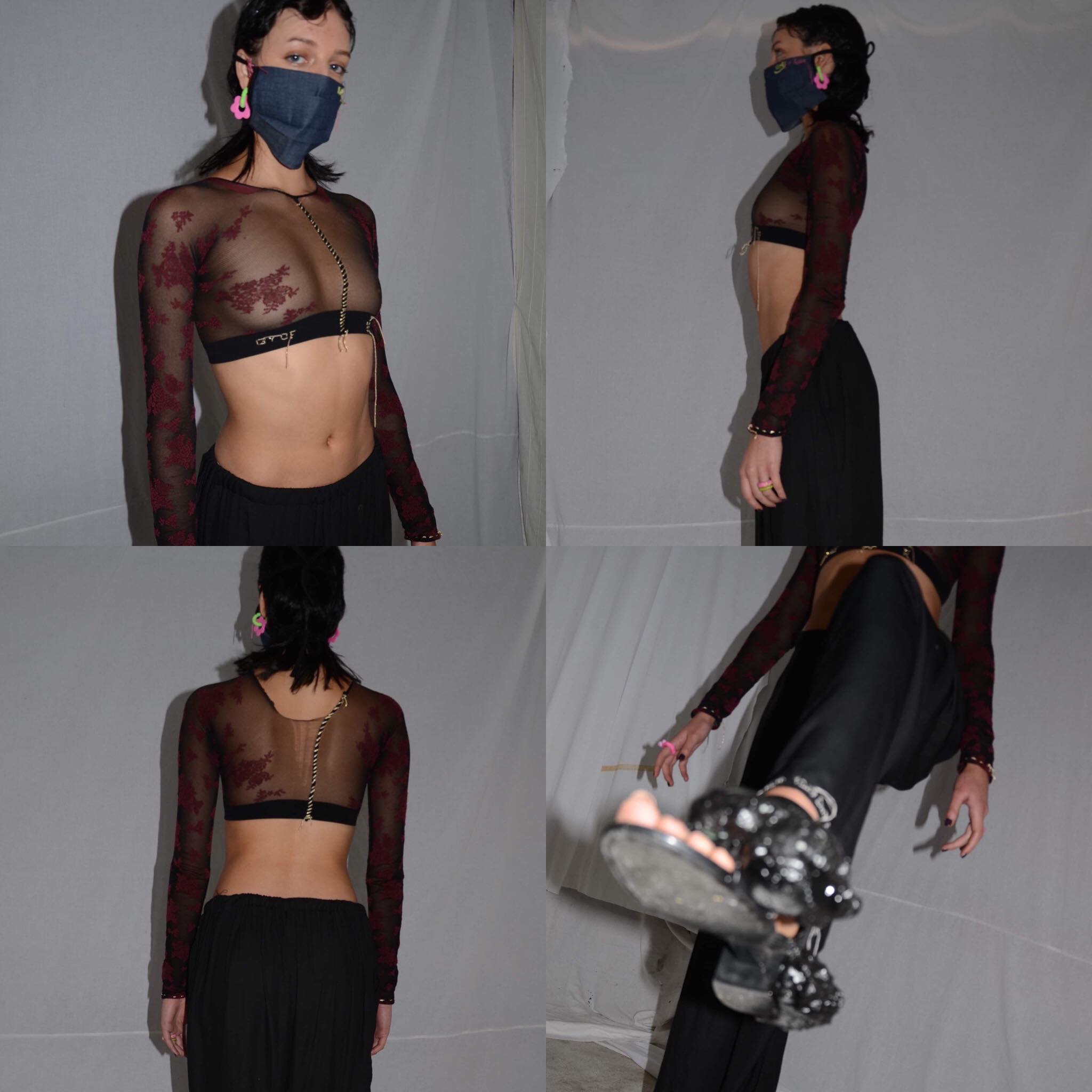 How was the concept of TUUH studio born?
Brigitte: It only just started recently, in September. So, I'm still very much figuring out where I'm going with it. But to answer your question: this year has been such a poignant one for me — and it has just made me aware of the fact that we actually really 'vote' with our money and the way we consume. And so due to the impact of fast fashion on the environment, I made a personal decision to only shop pre-loved and support local businesses/designers. Once I started searching for second hand pages, I was really disappointed by the offering and lack of considered curation. For me, shopping is a luxury and should be treated as such, and so I took things into my own hands — I started curating collections I'd like to buy, consisting of designers I really love. My items tend to be 'investment' pieces, and not trend items. We really do not need a lot of clothes, just the right ones. And we should be encouraged to take our time, save up for pieces we really love and the excitement for [them] will last much longer.
Where did Grow Your Own Funk originate?
Liza: The short version of how GYOF started would probably be the result watching way too much Girl Boss on Netflix. A combination of that, and having to make my own 'pocket money' while studying, a love for vintage fashion and how it transcends the zeitgeist of an era. And of course, to offer a dynamic space for South Africans to negotiate fashion expression in a conscious, mindful and sustainable way. By researching and studying the labels, clothing and styles I find [along with] the eras they are from, I can educate myself and my followers about a garment. Whether it is a fast fashion brand from the 60's like Mary Quant's Ginger, or a hand-made and one of a kind grandma sweaters from who knows when, the items become indispensable to the buyer. [They have] an identity, a story for the buyer to continue and grow their own funk with.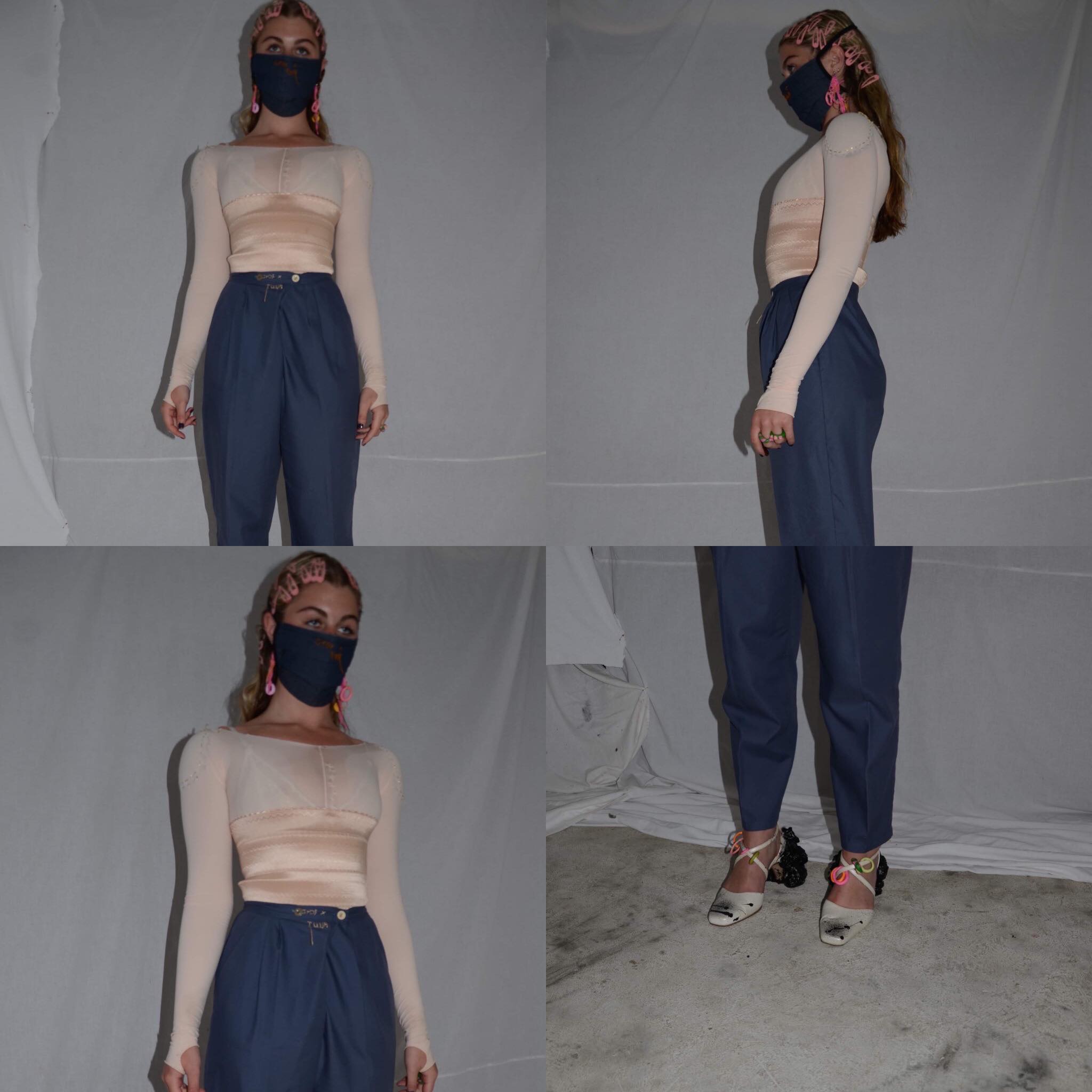 Merge is a collaboration between your two spaces and creative identities; how did this process emerge and unfold?
Brigitte: To be honest, I stumbled upon Liza's page one day and even though our brand aesthetics differ immensely, I had a few items in my wardrobe I wanted to sell on consignment and they fit GYOF quite well and so I reached out. We started having conversations and they're still ongoing. Initially we wanted to do a capsule shoe collection, which then just turned into an entire collection. It all developed very organically, without any time-pressure etc and we just really love spending time together, sharing our passion for fashion!
Liza: It started like most creative ventures do in my case; unexpected and unplanned. Brigitte came to me with clothes she wanted to consign with GYOF. We later met with regards to an idea she had to up-cycle vintage and second hand shoes. From there, Merge snowballed and I am so thankful it did! In a matter of days, Brigitte and I got totally carried away and a few mood boards, Pinterest boards and meetings later we decided to drop a capsule collection. It was so interesting to see how two brands with completely different aesthetics could work together and merge.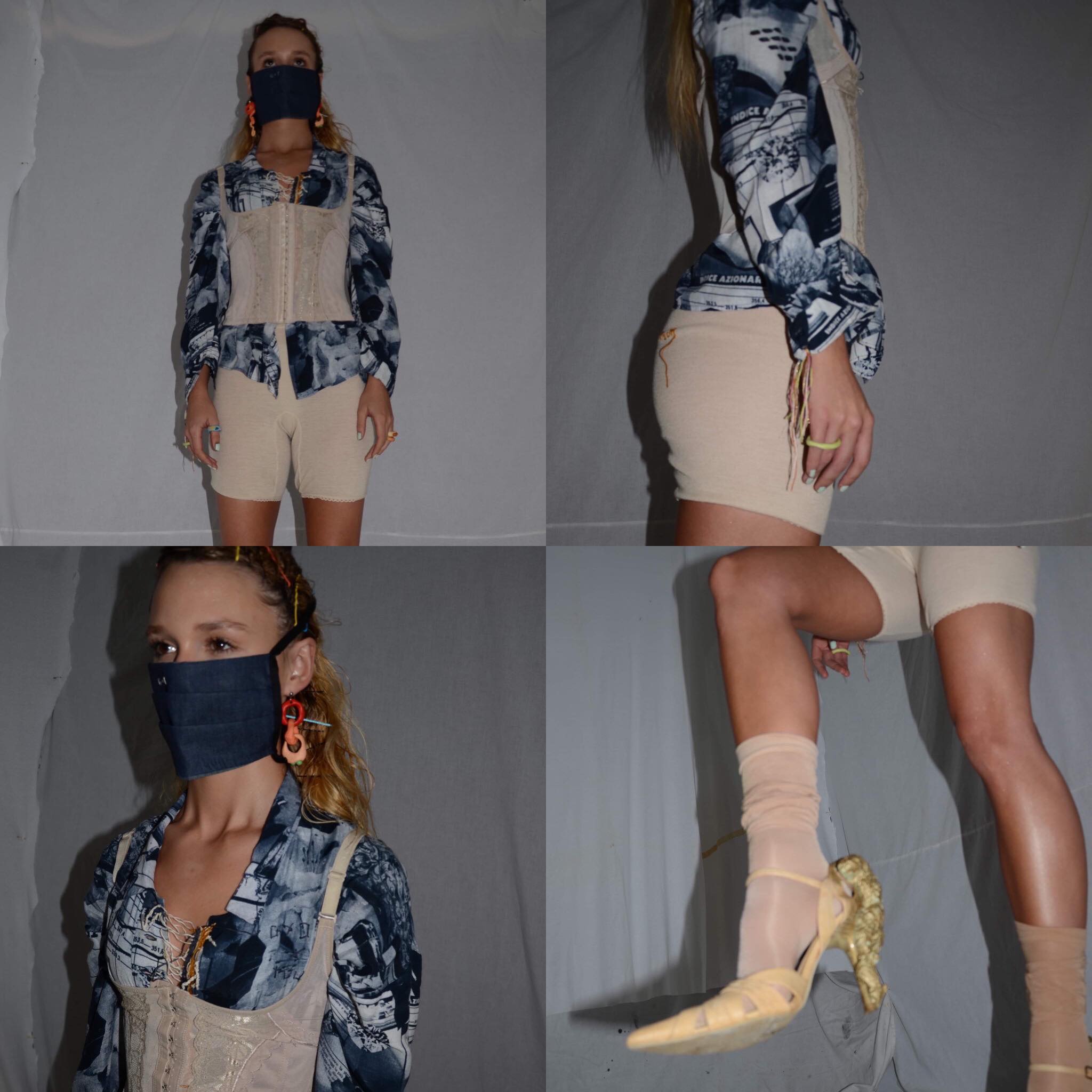 What are some of the key aesthetic elements that you chose to incorporate and play with?
Brigitte: Neither of us are trained designers and we didn't want to create the illusion that we are. So, each item was deconstructed and reconstructed by either Liza or myself and one can see that. The stitching is rough and [imperfect]. With the shoes it was important for us to almost create wearable art — amalgamate different mediums into one item and transform it into something new/different. So, you have rough stitching, paint splatters, expanding foam — all in one collection.
Liza: Vintage gloves, embroidery with thread from charity shops, different textures, knitwear, net, mesh, etc. Different types of stockings up-cycled to body-con crop tops, rough stitching, showing the hemming of clothing and expanding foam on the shoes.
Fluid reimagining in our approach to creative expression is such a crucial medicine for these uncertain times. Did you feel Merge take on a life of its own, and were there any specific outcomes in mind?
Brigitte: Apart from creating a collection that we're both proud of, no real specific outcome no. Yes, it completely took on a life of its own. Liza and I would meet once a week and brainstorm, then go our separate ways and individually work on items for the collection. A week later we would get together again, show each other the pieces we'd created the week before and style around them. Then we'd start the process all over again, until we had an entire collection. It has really been such a beautiful, rewarding, process.
Liza: Yes, for me Merge was filled with happy accidents and finding ways to make them work right then and there on the spot. We both had a rough vision with the project, but the process and what happened in between also had a way of steering us in its own direction. Because we aren't professional seamstresses and fashion designers, we had a naïve approach to working with the different mediums which truly makes the products — that we like to call wearable art —one of a kind and fresh.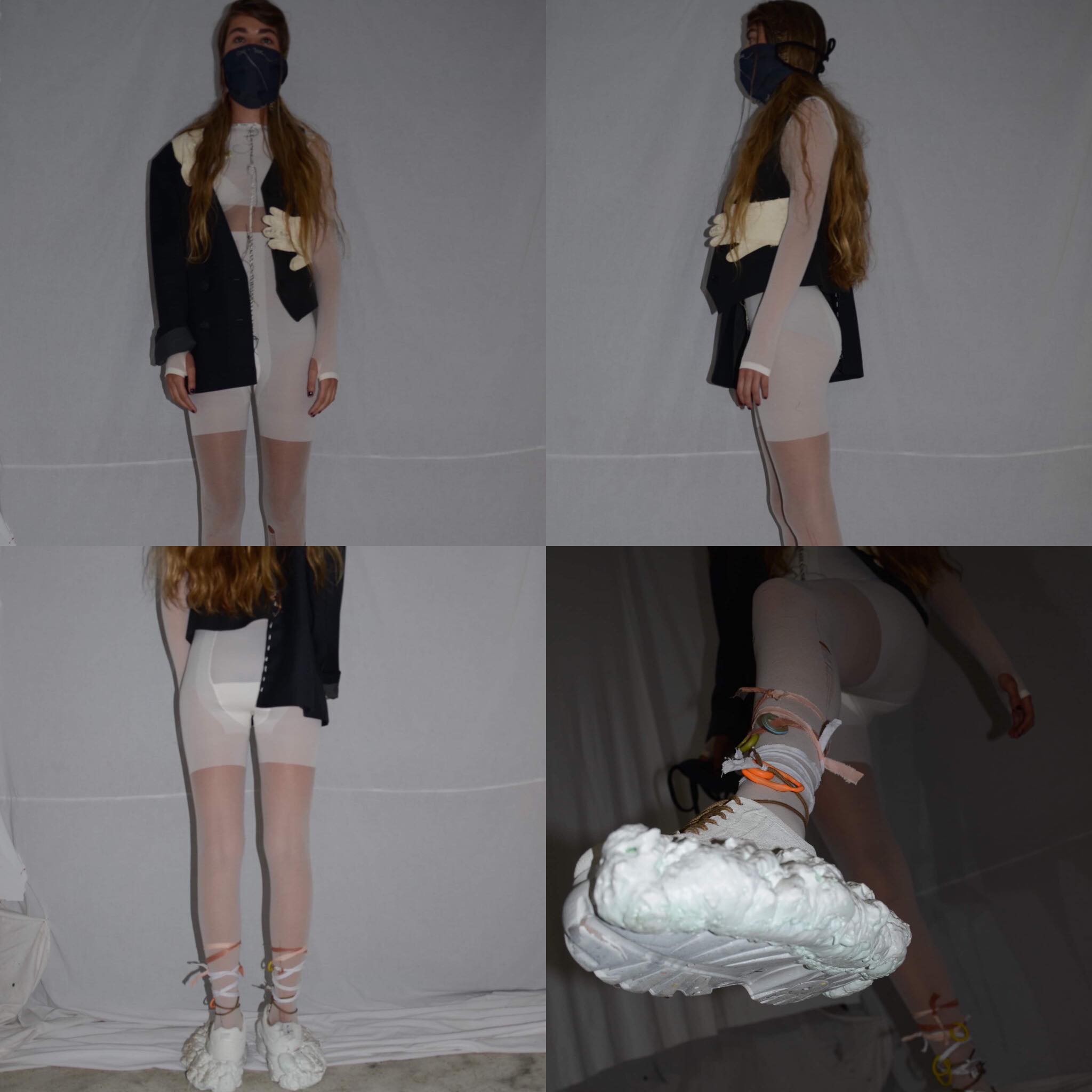 What does Merge stand to communicate in terms of upcycling and the relationship between fashion and sustainability?
Brigitte: I think to draw awareness to the fact that what we deem dispensable/disposable/worthless could in actual fact become indispensable if we were to up-cycle and rethink the way we create value. We need to generally just 'dispose' of less and rather rethink and reassess an item's value before we do so.
Liza: Thrifting is a relatively easy, affordable and exciting way to continue with self-expression and representation through fashion in a mindful and sustainable way. I like to think of it as extending a product's lifecycle. But thrifting can only take a product so far. Eventually, it will start tearing, discolouring, getting stains and those wolletjies that no one in the vintage industry knows the correct English word for. With Merge, we aimed to extend the life of these marginal pieces that have acquired junk status. By cutting, embroidering, expanding foam, painting and combining the pieces with one another. We took them from being disposable items you won't waste R5 on at your local charity shop, to wearable art.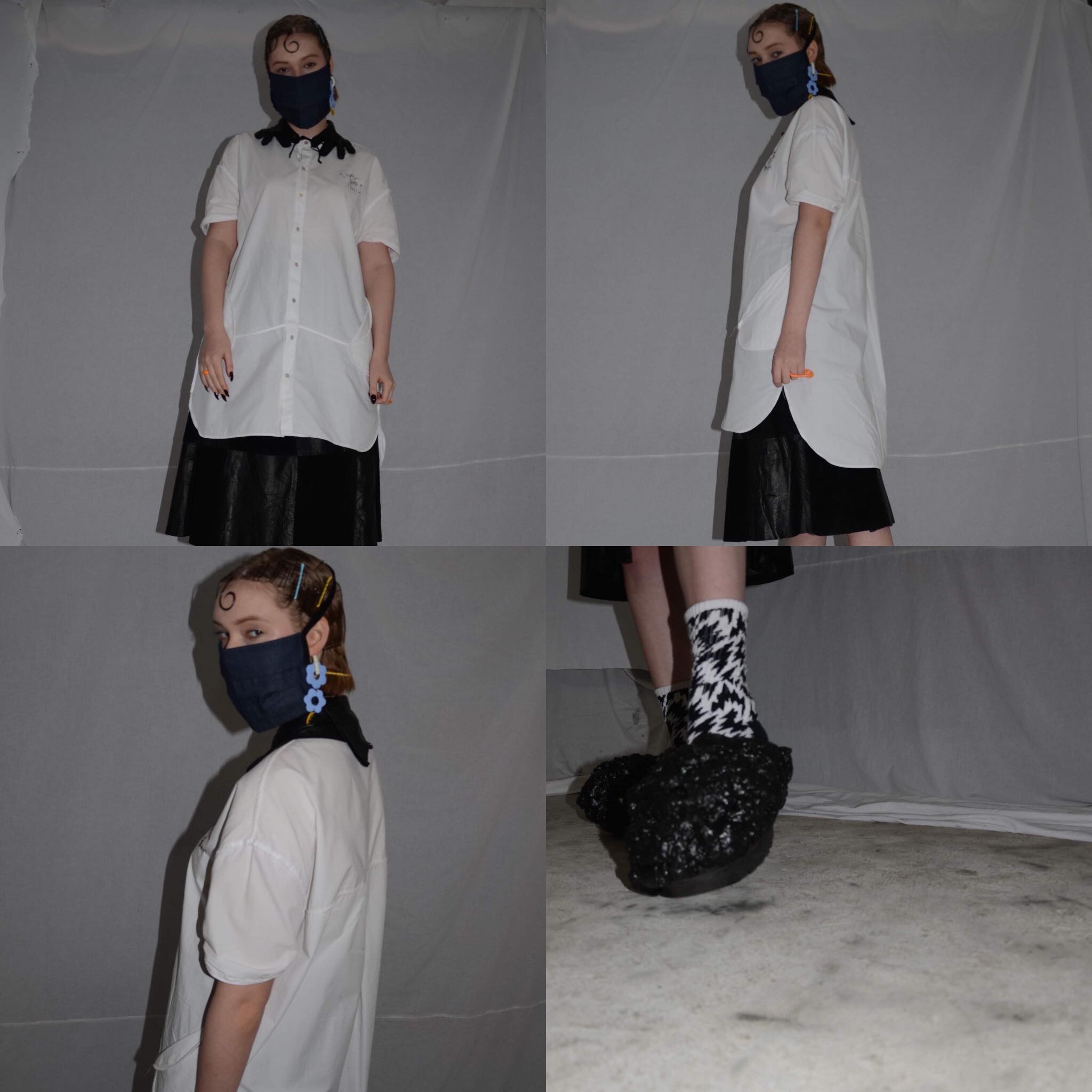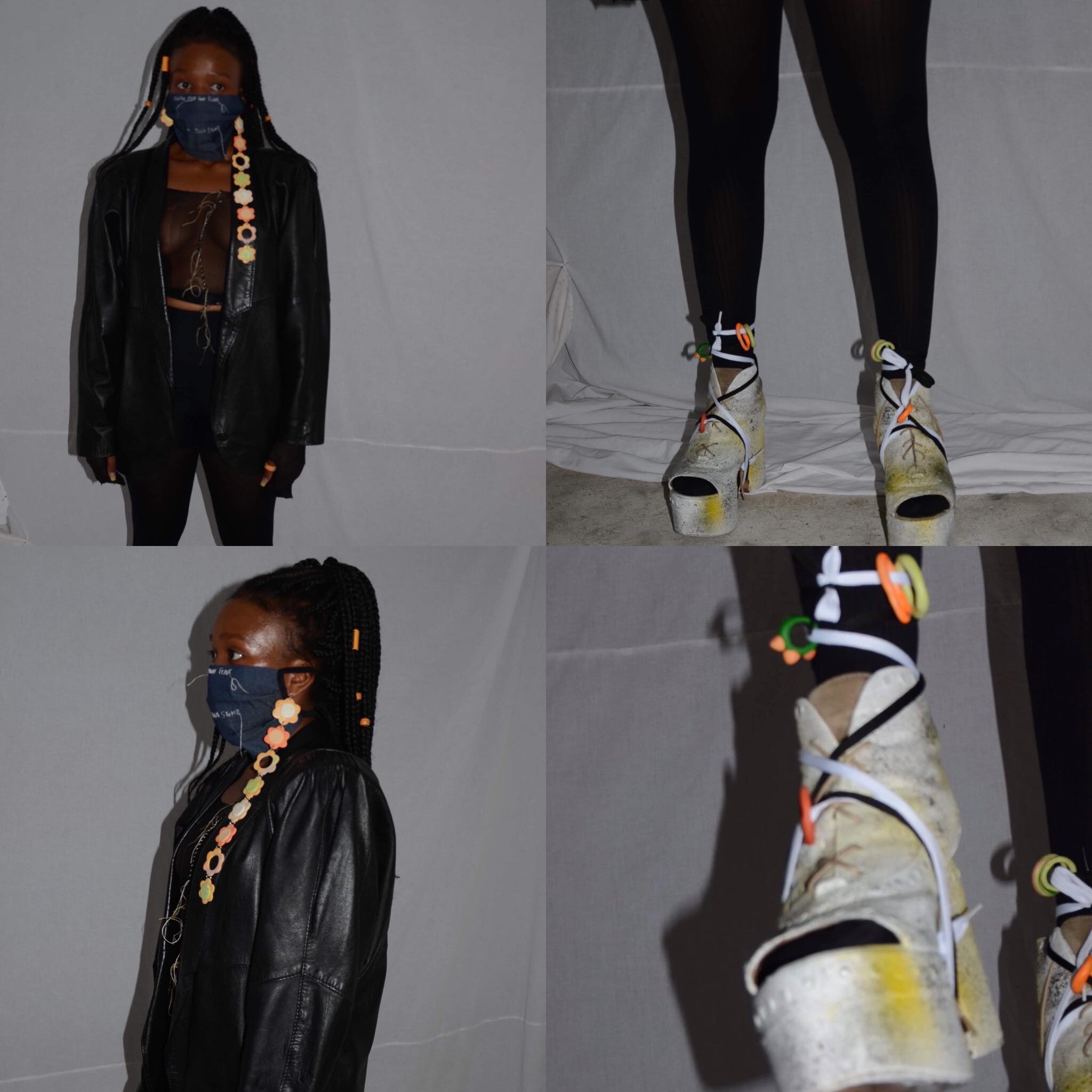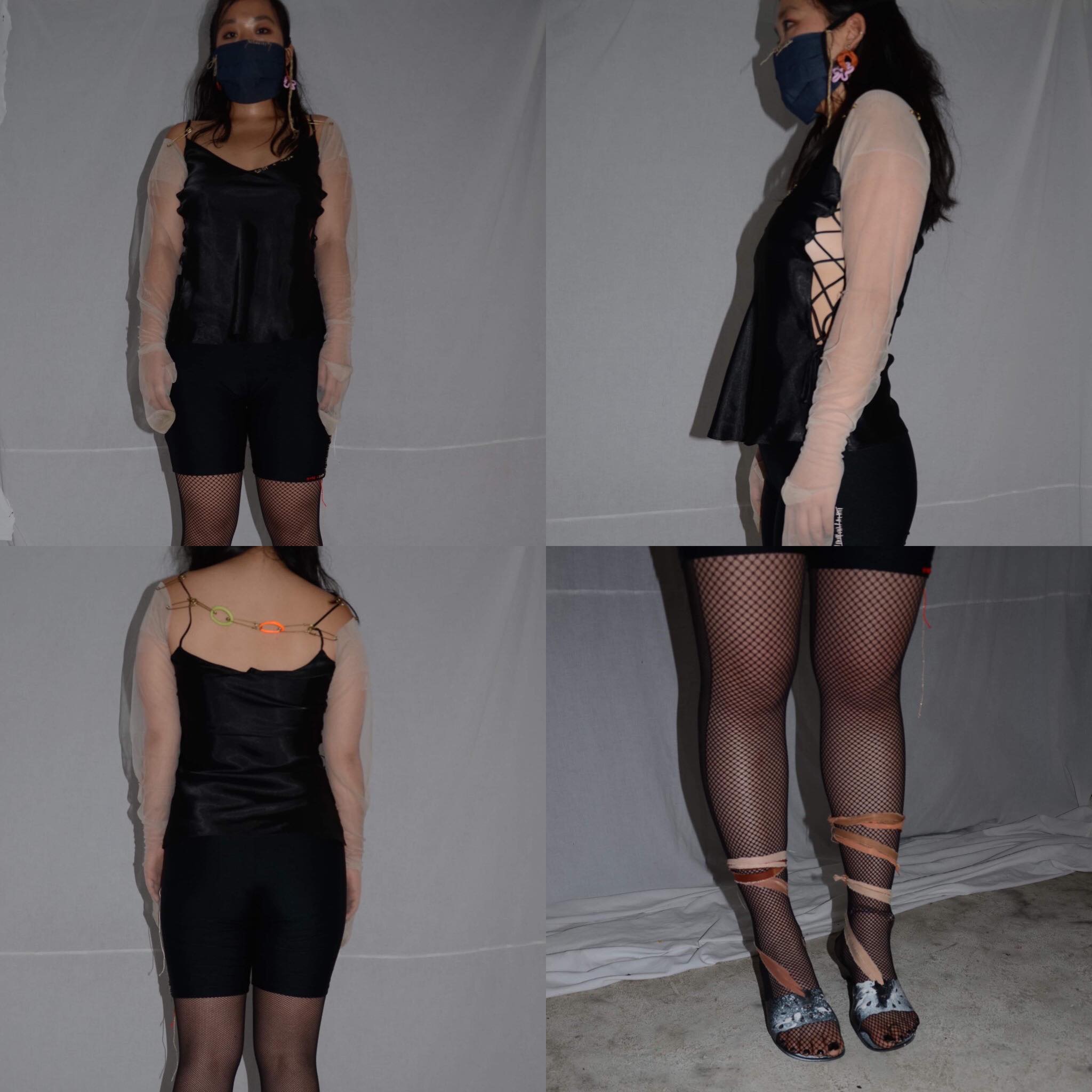 Credits: