I've been told that a dream about a snake could mean toxicity and trouble but it could also mean regeneration and renewal. The snake — cunning, stealthy, quick-witted, brisk — is an image that simultaneously inspires deference and produces fear. For Rich Mnisi, it is an image that began a sensuous body of work that would become an exhibition. He notes,
This started with a nightmare. My mother dreamt of a snake on her back. When she turned to look at it, she saw an intense green creature, frightening and fluid, dangerous and beautiful. My journey started here and led me to Congo's Bushongo mythology and its creator god, Bumba, the god of vomit.
He vomited up the sun, Earth, moon and stars, and then the rest of the natural world from that acidic pain and discomfort. Unlike most of our world's origin stories, this one proposes that the beauty and life of our world could be purged instead of birthed."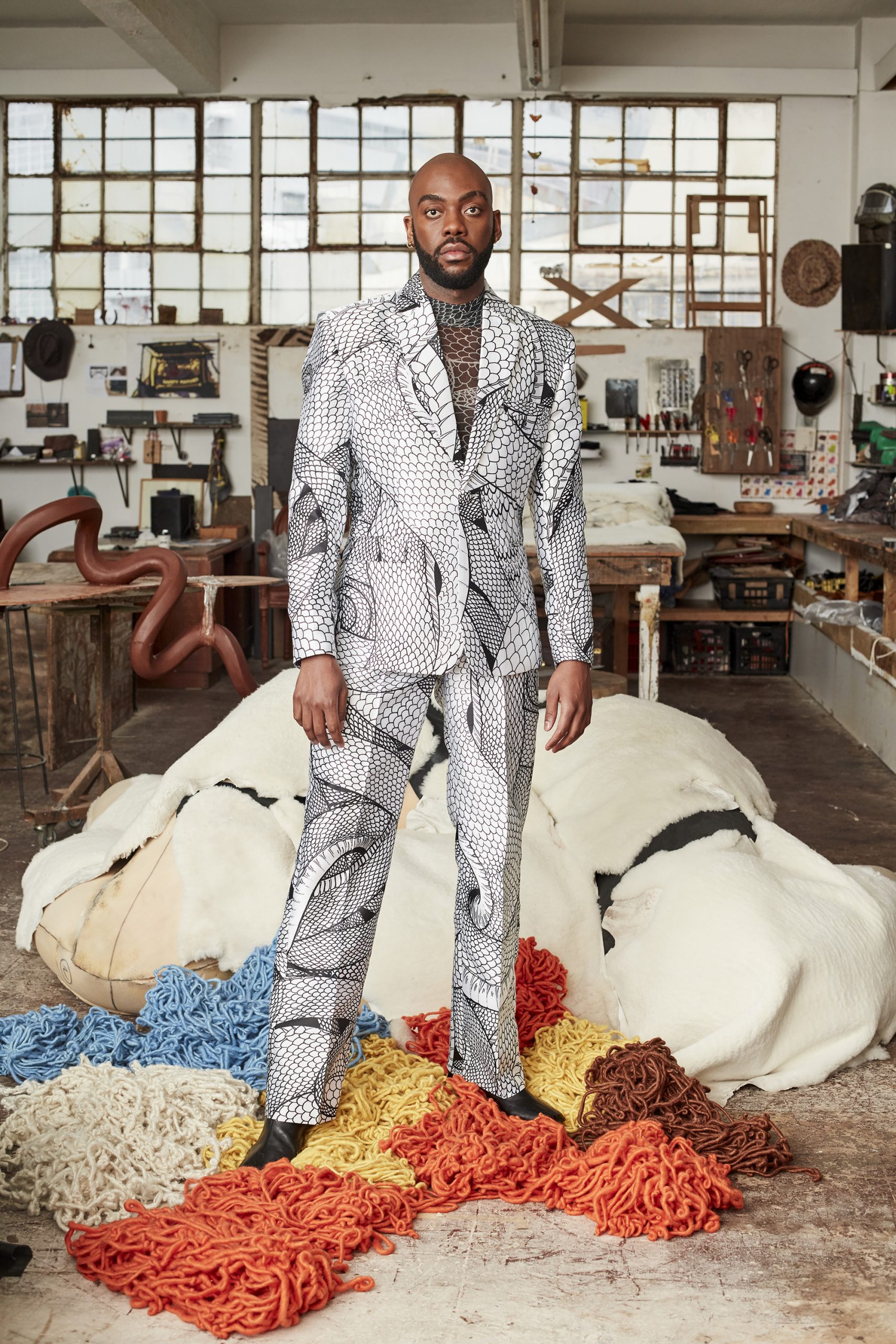 Mnisi's first solo exhibition at Southern Guild, Nyoka, extends his repertoire as a designer to watch. Producing work that is ever spectacular and coalescing various objects —seating, a console, chandelier, rug and other objects— Mnisi presents principles of fluidity and form through the portal of African cosmogony. Skill, careful consideration, collaboration and experimentation meet to bring joyful and complex beauty.
In light of his show, I threw Mnisi a few questions. Below he tells us about how he began designing furniture, what beauty means to him and who he is designing for.
You ventured into furniture design in 2018 (formally) with the two pieces Nwa-Mulamula's Chaise and Nwa-Mulamula's Tears. Can you tell us about what inspired this pivot from only fashion to furniture too? 
Rich Mnisi: In 2018 I was asked to be part of a group show at Southern Guild called Extra Ordinary, and this is when I designed the Nwa-Mulamula's Chaise and Nwa-Mulamula's Tears. They are organic-shaped pieces that are an extension of my NwaMulamula fashion collection, which pays homage to the memory of my late great-grandmother: an ever-present guardian whose teachings have lived on in my family through storytelling, generation after generation.
It's just been a natural progression from that point really as I've broadened my design scope. It's been an exciting new journey to be able to express myself through a new medium.
Your designed objects have communicated a minimal yet soft and approachable aesthetic. Can you tell us what this visual language means to you, why have you been drawn to it? 
Rich Mnisi:Fluidity and form are two things that always inform my work, as they're elements to which I'm naturally drawn: they're an extension of me. I play a lot with shape and proportion, often resulting in pieces that have a distinct flow.
Instinctively, I seem to veer away from the angular, and rather focus on enhancing the ability of a creation to be free-flowing, which gives it an organic substance and makes it more "approachable". Fluidity is also closely linked to inclusivity – a tenet I hold very close to my heart. I aim to create for everyone, beyond gender, race, and geographical lines.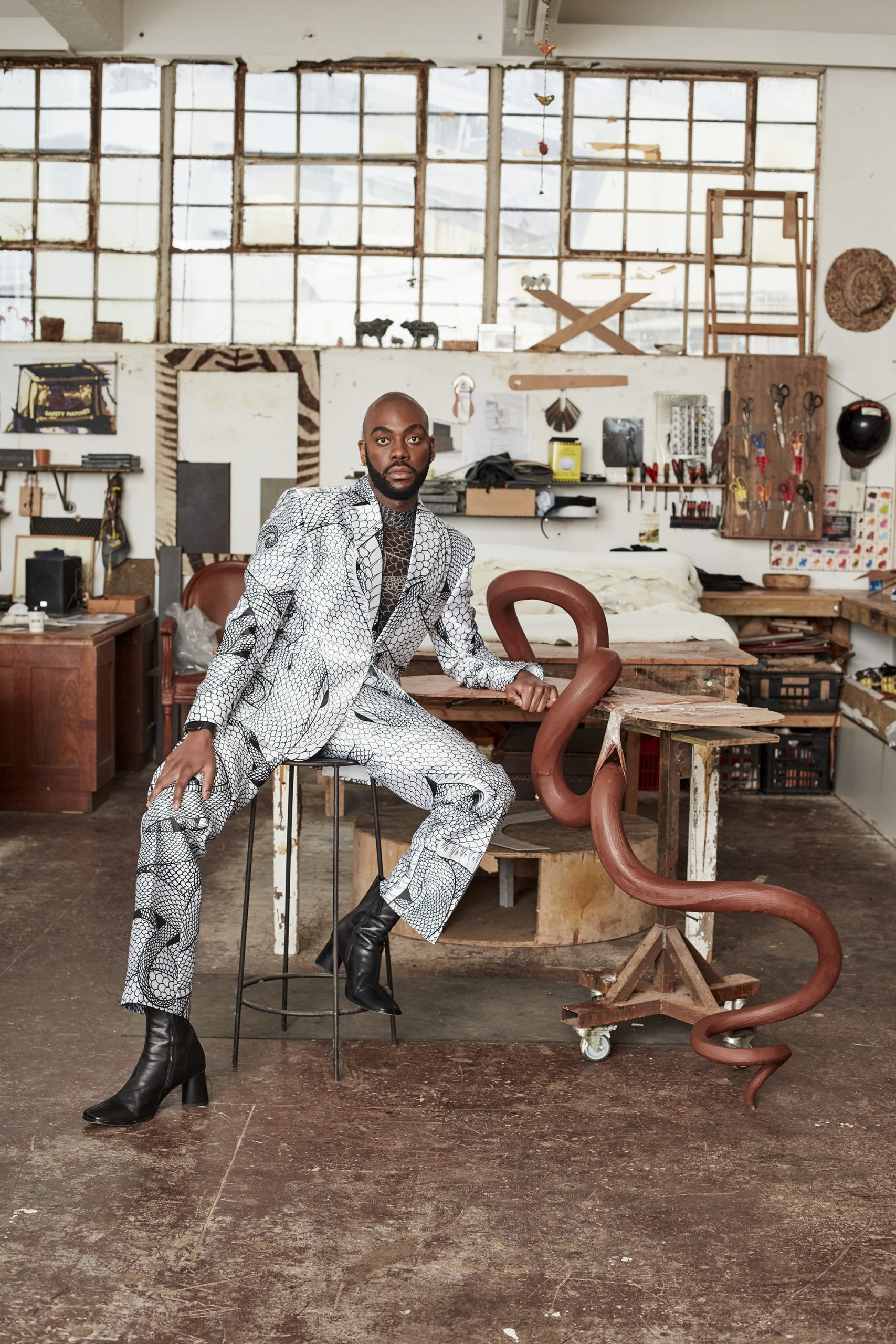 In many cosmogonies, the snake is both a symbol of power and beauty but also quite ominous and insidious too.
Can you tell us what mythology you ascribe to the snake and why you chose to give the show this title; Nyoka? 
Rich Mnisi: Nyoka draws on my family history as well as African mythology while playing with the duality of fear and beauty – perfectly epitomised by the image of the snake. This is what inspired the show's title: 'nyoka' which means 'snake' in Xitsonga. It also has its origins in a dream my mother had when she dreamt of a snake on her back.
The journey began here and led me to Congo's Bushongo mythology and its creator god, Bumba, the god of vomit. To live is really to embrace this duality: to accept that joy and tragedy, light and darkness, dreams and nightmares are all connected, orbiting and defining each other.
The idea of thinking of modernism through the prism of African mythology is quite interesting — if I think about the origins of the chandelier in the medieval period but also maybe as a symbol of opulence and excess (the roaring 20s).
What relationship do you have with each of the pieces in the exhibit, as in what comes through specifically from the object being a chandelier, a rug, or a chaise? 
Rich Mnisi: Exploration. The evolution of our cultures, traditions and African art was halted by colonisation and we were left curious about what could've been. This show is a representation of the exploration of ideas through the lens of an African child, one tapping back into African mythology and picking its fruits.
This comes through particularly in the communal effort in the collaboration that helped realise each of the pieces in the collection.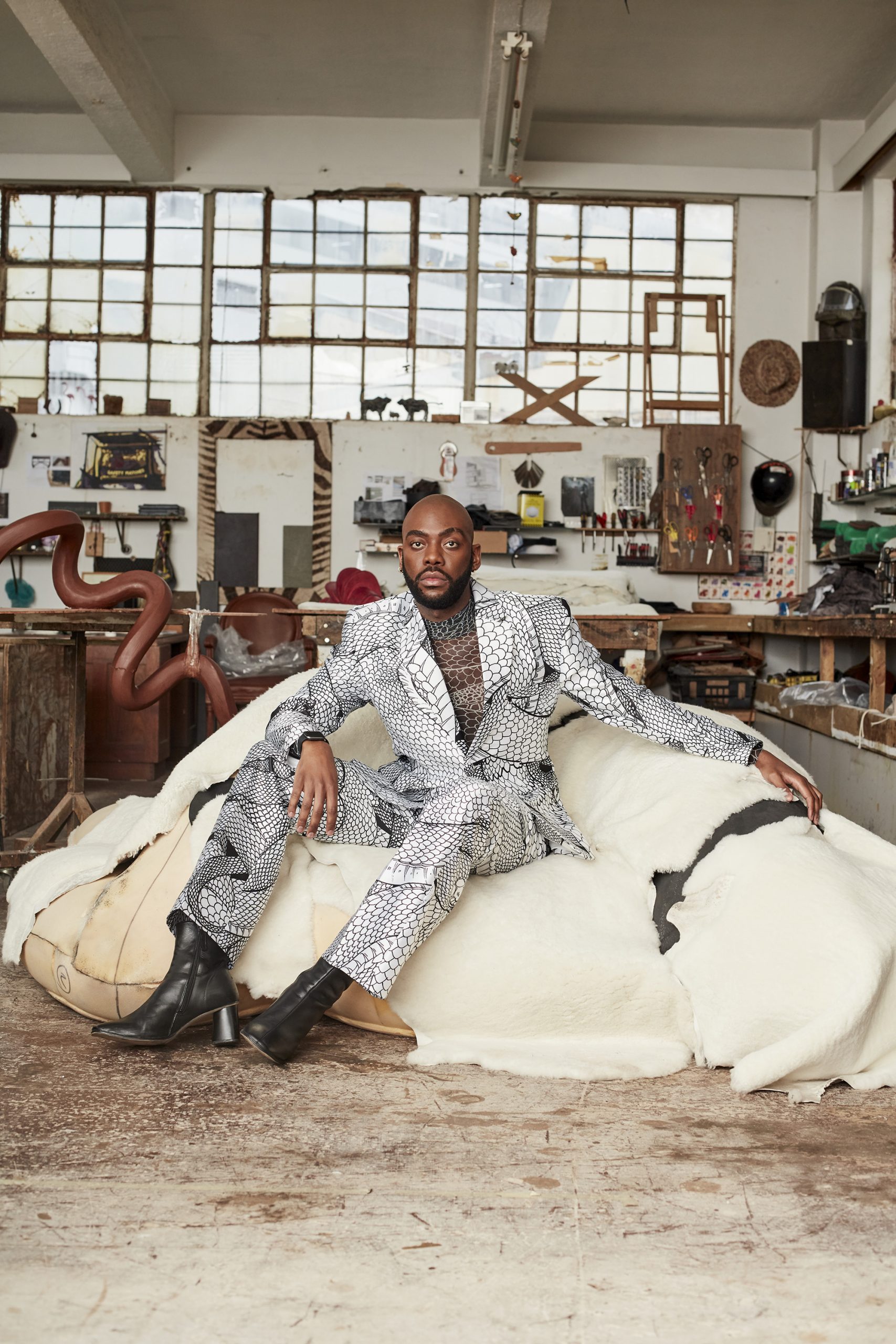 Within your practice and more generally in life, how do you define beauty?
Rich Mnisi: For me, beauty is the concept of sureness: being sure of who you are and being sure of what you're creating. It's this idea of sureness that I believe heavily influences your output.
What was the most difficult part of bringing Nyoka to life and equally, what was the most rewarding? 
Rich Mnisi: I think the hardest part was navigating the technicalities of some of the pieces, especially the chandelier.
The most rewarding part was hands down working with all the amazing artisans that put so much love into each piece – it was such an honour to collaborate with them.
Nyoka is on view at Southern Guild, Cape Town from the 2nd October until February 2022.