In the age of Tik Tok, the formula for making a hit viral record includes: having a catchy and simple hook, a standout melody or beat — preferably one easy to-do dance. "John Vuligate" has all three elements and is one of the biggest records to come out this year. So far, it has amassed over 500 000 streams on Spotify and over two million video plays on YouTube. The song exploded on social media after a video of three friends all wearing black clothes were dancing to the song by a petrol station. "The John Vuligate Challenge" spread on Facebook, YouTube, Twitter, and Instagram, further increasing the popularity of the song and landing it on the charts. Before the song's explosion and prior to the spread of its dance across the country, Mapara A Jazz was just a group whose popularity was limited to Pretoria. The duo consisting of Leonard Malatji and Mano Nephawe started making music in 2007 under the moniker of MaBen10. They first gained popularity in the Pitoli music scene through the Mamelodi township genre of Barcadi music, emulating the likes of DJ Hu Knows, Bujo Mujo, and DJ Mujava. In 2012, they converted to amapiano and changed their name to Mapara A Jazz. The title denotes their infusion of jazz into their songs. "When we were changing from Barcadi music to amapiano, we needed a [new] name to show that we've grown up. After moving from Barcadi, most of the sounds we started experimenting [with] were jazz. And so we added that flavour of jazz into the sound of amapiano", explained Nephawe.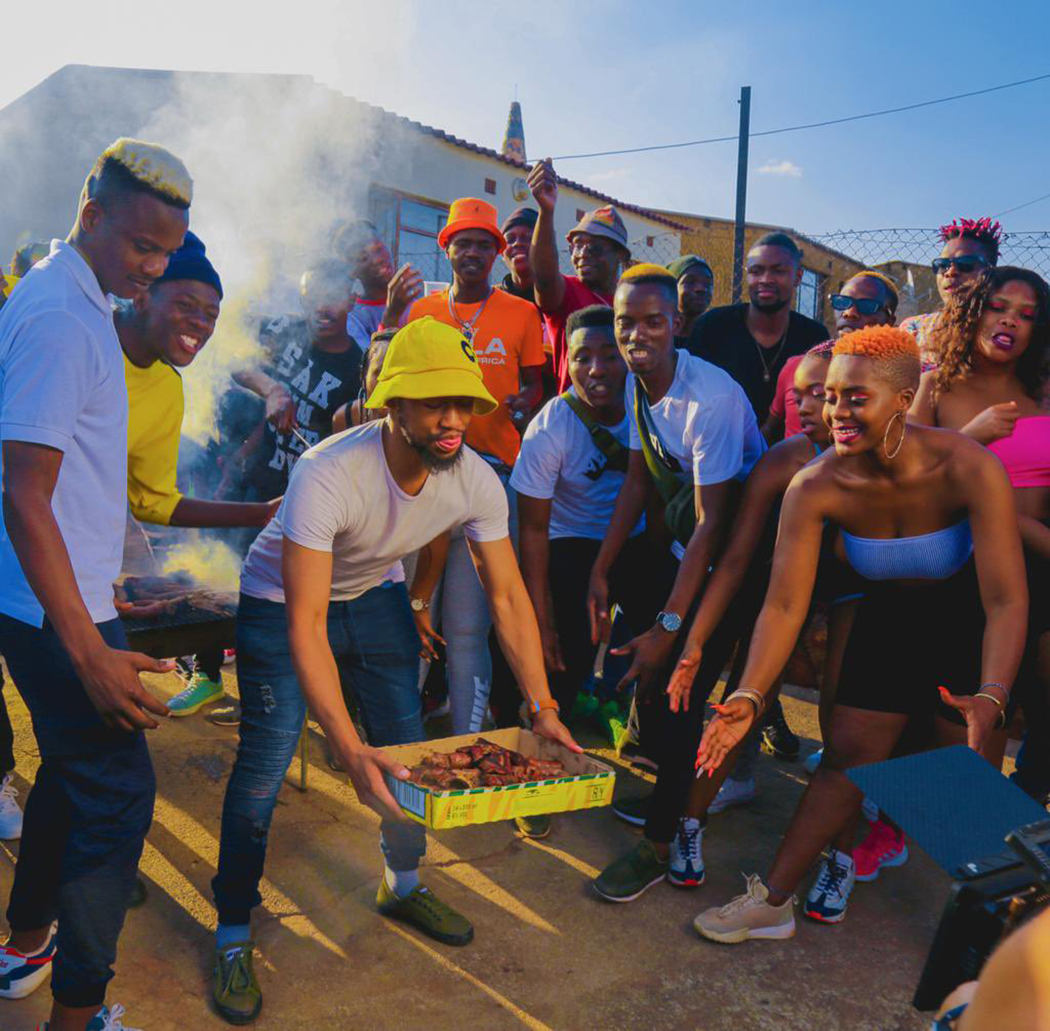 The song "John Vuligate" was made in July of this year through an organic process. After a music video shoot, they went to a studio space and were playing around with some beats while vibing with people. Rhythm City actor and singer Ntosh Gazi happened to be one of those people present, however, he had never met the duo until that day. As the beat for "John Vuligate" was playing, Gazi started riffing off lyrics relating to a conversation that happened earlier about a guy named John who was constantly irritating the group. Gazi, being an animated person with a background in theatre jumped in the booth and kept repeating the chorus and the rest is history. "You know, as a musician, you can feel or hear when a song is powerful," stated Nephawe. "We had faith in it but we didn't know that it would make such waves and we could never [have] imagined what is happening now". Mapara A Jazz had intended to release a different single so they got a group of guys to do a dance to that song, however, when they started promoting "John Vuligate" — they edited the song over the video of the dancers and put that on Tik Tok. The girls at the garage station then copied these guys and from then on, the song soared into the stratosphere. "I think people like the song because it is easy. It's not complicated. It has a simple hook and [it is] easy to sing along to. The dance is easy [too] and anyone can do it; even children are doing it. The song comes together in simplicity," said Nephawe.
Since the success of the song, Mapara A Jazz has released an album named after the hit record. John Vuligate is a 16 track LP that shows a musical versatility that goes beyond their smash hit. The album boasts features from Master KG, Soweto Gospel Choir, and Colano Jazzy Deep amongst others. It has a variety of songs; from party tracks like "Corona" and "Mapipitlane" (a term used to reference a young boy dating an older woman) to more romantic records like "L.O.V.E" and "I do" as well as a spiritual song like "Right Here". "We do not only make music for the clubs. We make music to accommodate everyone; whether people are in their houses, in the car or doing whatever, they should be able to play our music," stated Nephawe.