Mereba has spent her life constantly moving. She was born in Montgomery Alabama, was raised in Pennsylvania and spent her teenage and early adult years in North Carolina, Ethiopia, Pittsburgh and Atlanta. This created a sense of restlessness that would translate beautifully into her music. Her debut album, The Jungle is the Only Way Out, took her from being a small indie artist from the South to an international soul sensation that would travel the world performing. Until the coronavirus halted everything — and for the first time in her life — Mereba was grounded. With everything slowed down, the talented songstress was inspired to create her new EP, AZEB, her first solo project in two years. Mereba states, 
Releasing my debut album was like a milestone for me and things really felt like they were picking up in a positive way. I felt like I was kind of regaining some control over my life which was a whirlwind before releasing my album…I'm a double Virgo so we like to control things in our lives. I felt like I was in control and I could plan my future and then everything shut down. All the plans I had for myself were shifted and erased.
The pandemic forced her to recalibrate on a personal and professional level. The sudden change further deepened her connection to her spiritual side. Mereba adds, 
It was [a] humbling experience because it showed me that God is in control and I'm just a vessel for whatever God has in store for me. Once I got past the initial shock of it all, personally, it was a positive shift for me because it put me back into my body and into reality. You can't control everything, [however], [they are] things that you can control like how you spend your days, what you consume and how you create. That's what I had to focus on in the last year, I was strangely grateful for it in my own way because it just slowed me down.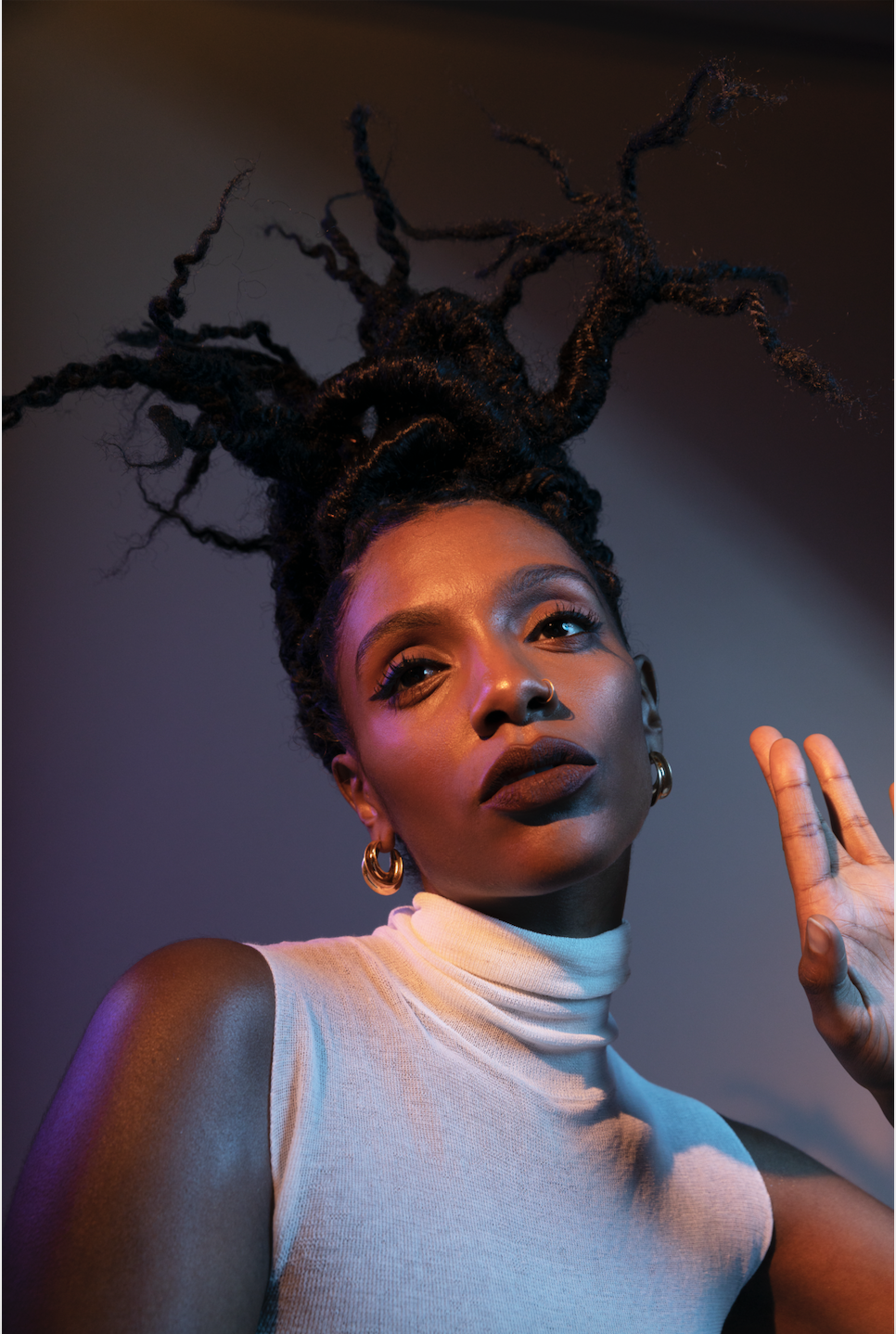 Her new project is named after her Ethiopian middle name which when directly translated means, "where the sun rises" and it aims to signify how Mereba found direction. The EP also taps into the more universal parts of human existence like being in love (under quarantine) and sustaining hope during a period of suffering. Speaking on the name of the EP and the events of last year Mereba explains, 
Essentially, the meaning behind the name is something that people use to help direct travellers. So if somebody is coming through a town or village and they're trying to go to a different place, it's like a landmark in the sky that people use as a guide…When everything happened last year, I started writing songs from my apartment again. I was just on my guitar, kind of like the way I started writing songs years ago. I decided that I wanted to step back from making my next full-length project and [instead] make something that summed up how I was feeling in real time last year. It's just, it's very honest. It's rooted in falling in love and processing what was happening globally, to all of us.
The EP opens with "Aye", a song where Mereba perfectly encapsulates trying to obtain peace during uncertain times. The song starts with a hypnotic 808 and guitar as she melodically sings "Ayy, ayy, it's a war like every day/Defeat spread like a disease/I need peace, I need trees/Got me fucked up/Got my bucks up/With my chucks on/And my blunt tucked". Speaking on the inspiration behind the track, Mereba shares, "For me, the song represents like kind of like what I'm speaking about on — as far as accepting the shift and accepting whatever path God has for me," "Aye" is followed by the lead single of the EP, "Rider" as well as the standout record "Beretta". The songs switch up the tone of the EP as she sings about love, especially a love that speaks to being bonded by Black lineage.
The two themes [in the album] are just like really present in my life. [I wrote about] being in a certain type of relationship that I've never been in and being in that relationship through quarantine which is an intense way to be in a relationship. I also wrote about just being a human on Earth, just like everybody else that's processing [the] world changing in real-time.
"Beretta", features Mereba's signature sing song poetry which was prominent on her previous album. The production was primarily handled by Mereba herslef with assistance from her longtime co-producer Sam Hoffman as well as bandmate Chris James and her friend Chris McClenney. McClenney's instrumentation as well as his vocals are particularly present in the song "Go(l)d". Creating under lockdown presented various challenges for the musician and her collaborators, however, the restrictions made the process of making music simple again which is something Mereba delighted in. The 30 year old shared,
It really was about getting back to basics. I was writing songs at home on my guitar. It was like very fluid and organic because I was at home, on my own without my musical team, and just processing how I was feeling. From that, I think a lot of honest music was born because it was just rooted in like the moment.
'Go(l)d" and "News Come" carry an air of positivity while acknowledging the state of the world. The songs represent how Mereba has re-prioritised things in her life and is on a journey of deepening her relationship with spirituality. The project is an open invitation for listeners to do the same, with Mereba stating,
I hope that the audience understand[s] more about themselves than about me and that's just really the place that I create from. Whatever people take from it about me is cool, but my hope is that my music can kind of be a soundtrack for people's personal evolution. I hope that people take away something about themselves or feel seen or understood with the music.