Coming off the massive success of her debut album, This is Me, which featured her 2017 summer smash hit single, "Maradona", Niniola has catapulted to international stardom. The song would later be interpolated by Beyonce on the Grammy-nominated song, "Find Your Way", that was part of the Lion King: The Gift soundtrack. Now, Niniola returns to the scene with her sophomore effort, Colours and Sounds. As she explains;
The album is called Colours and Sounds because my music is listened to by different people from all over the world – of different colour, creed, race and sexuality. And why sounds? I chose sounds because of the different genres of music that are represented on the album. My root genre of music is house but I still tend towards other genres.
The 13-track offering taps into a diverse sonic landscape of afrobeats, house, R&B, dancehall and amapiano, to deliver a message of love, loss, and dance. "This album displays the growth and journey from my first single "Ibadi" right up to this point. On the cover, I am sitting on a throne with drums and that signifies that I am the queen of afro-house, a queen of music. I am the queen who loves to dance, who loves to sing, and who loves Africa", the 33-year-old states.
The record opens with the song, "Night and Day", that sees her experiment with Jamaican dancehall as she sings to a potential lover. The track is followed by "Innocent – Fagbo" which is a classic textbook afrobeats song. "So Serious" fuses afrobeats with the slow and down drumbeat rhythms of reggae. Both songs are produced by prolific Nigerian producer and songwriter Kel-P, who made two other records; "Boda Sodiq" and "Fantasy" , for the album. Colours and Sounds then meanders into amapiano territory with the lead single "Addicted", as well as with songs like "Look Like Me" and "Oh Sharp". Two of those songs were produced by Johannesburg-based musician Shuffle Musik. Niniola employs this sound as a means to illustrate the strong connection she has to South Africa. "South Africa is home to me. I love South Africa and South Africans because the love I have received from there is enormous and unbelievable. The country has opened doors for me and I wanted to represent that relationship, explained Niniola.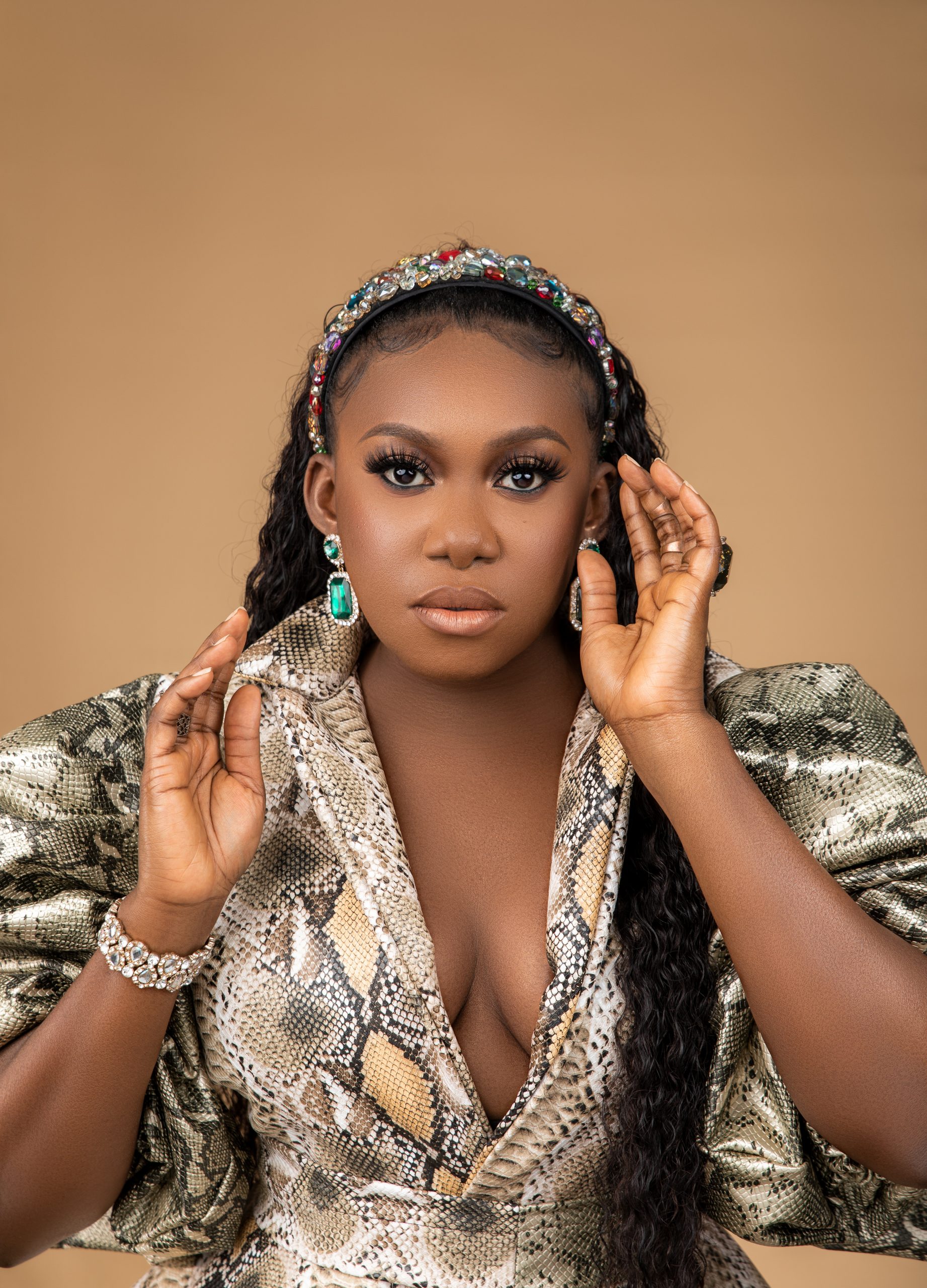 On "Oh Sharp" she features gqom singer Busiswa, who she worked with on the "Magun" remix in 2018. Niniola adds, "Busiswa is always ready to work and she is a queen who is always full of energy. I make music to make people feel good but I also use it as a unifying tool and so I needed a South African woman [on the track] and someone who can deliver and who else but her?". For "Fire", the Lagos-born singer enlists the services of Grammy award-winning producer and music extraordinaire, Timbaland. The connection was made possible through Instagram DM's after the famed American producer had publicly expressed admiration for her music.
I thank God that I'm surrounded by legends. I worked with him [Timbaland] some time last year and we did different songs. He's so nice and so humble. He was there to listen and to talk to me. Same with Femi Kuti; he's always there to give advice and act as a mentor. I just feel very blessed.
Towards the epilogue, the album leans into more sultry songs like "My Body", "Fantasy", and "Omo Rapala" that point to her origins as an afrobeats queen. The collaborations are as diverse as the production — as Niniola recruits the likes of Nigerian singer/songwriter and music producers Kuti and Nonso Amadi as well as Ivorian-British singer and DJ Afro B and Kenyan Afro-pop band Sauti Sol. "I worked with super talented musicians and producers [for this project]. I wanted the album to represent Pan Africanism because I enjoy music from different parts of the continent," said the artist.
The record ends with the upbeat and groovy, "Bana", a Sarz-produced record as her longtime collaborator he is also responsible for the sonics on "Addicted" and "Designer". Over the years, he has developed a deep understanding of Niniola and was instrumental in providing the framework for the project. Niniola wanted to end on that note because the song represents how she feels about where she is in her life and career. "I feel very blessed and I'm so happy. Even though the world is in chaos right now, at least we have music to make us happy and smile" she says.