You probably recall the tension within schools in 2016, when a learner at Pretoria Girls High School was called out for her Afro hairstyle, and its supposed contravention of the school's code of conduct. From what I can remember, it became a huge issue in schools that led to an uproar in student-organised protests. Not only did it raise concerns about the inclusivity of schools' code of conduct, it also aided greater conversations about the repercussions of such regulation on identity. 
Nowadays, African hair has become a wellspring of inspiration, igniting various forms of artistic expression across disciplines. An example of this is a series of artwork created by Visual Artist and Hair Stylist  Lebohang Motaung who creates informed conversations about the politics of Black women's hair through her depictions of hairstyles, colours and varied use of art mediums. Motaung's exposure to established artist mentorship, both locally and abroad, has played a pivotal role in shaping her artistic style.
Her series of artwork titled 'Hairoines' is ultimately a celebration of identity. She aims to inspire women to embrace their true selves, urging them to remain unchanged and unshaken by societal judgments regarding their choices in hairstyling. As a Black woman, Lebohang draws from her personal experiences, navigating the complex landscape of Black hair politics.
Something I noticed for the first time in the artwork is the use of literal synthetic hair as a medium. I think Moatung's employment of synthetic hair as a medium symbolises the versatility and resilience of women, demonstrating that identity is not fixed but can be shaped and reshaped in dynamic ways- each creation tells a story of strength, individuality, and the beauty that arises from embracing one's roots. It is not only aesthetically appealing but also relevant. 
Whether it is in a local or international context, I love that the media nowadays reflects a deeper understanding of the traditions, bonds, conversations, and pressures that women, especially those of African descent, grapple with in relation to their hair.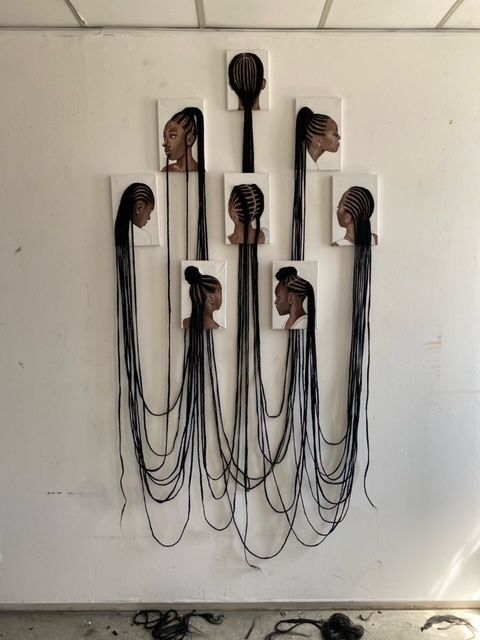 For example, Beyonce's different hair looks from the music videos of her sixth studio album, Lemonade truly underpins the versatility that is African hair. If you have watched the music video for "Sorry", you'll notice three different hairstyles, each epitomising African culture in some way. One particular hairstyle, inspired by traditional styles of the Congo Mangbetu women, was Beyonce's braids shaped into Nefertiti's crown. 
In the music video of "Don't Hurt Yourself" Beyonce shows out in tight cornrows, adorned with edges, which also happens to be the album cover. There were plenty of lyrical moments within the album that celebrated the identity and power of African hair, and its representation of culture. 
And then, of course, there's the 12th song on the album: "Formation". Natural black hairstyles, afros, "nappy hair", perms and cornrows are all depicted in the video, even the chores of the song pay homage to baby hair and afros. Such a portrayal of Black culture cannot be taken as anything less than a message of pride.
In an article with Vogue, Anok Yai mentions that she would prefer to wear her hair in cornrows or as an Afro as opposed to straightening her natural hair due to the damage it caused. Seems like it did not affect her career in any way, as she closed Mugler's SS24 runway show this year, in her natural hair no less. 
From Motaung's artwork to Beyonce's album, each contributes to the conversation about the changing technologies of identity-making in our contemporary society. The logic of these artists' choices in mediums is not only informed by the subject matter of their art but also reinforces the idea of shared experience- and I think African hair is a shared experience.