'The writer counted, in the space of only four minutes, 93 native cyclists riding past the Astra theatre,' wrote a journalist for the Star newspaper in July 1940. Standing almost 80 years later on the same corner of Louis Botha Avenue at the same time and day of the week – 6.30pm on a Monday – it is hard to imagine. The theatre is long gone and not a single cyclist is to be seen on the car-choked thoroughfare.
"How apartheid killed Johannesburg's cycling culture", Njogu Morgan
Johannesburg's H/history is as tricky and dynamic as the city of gold itself. Looking at its sprawling, engulfed in exhaust fumes and far winding highways, it's easy to get stuck in the trap of assuming that the car — and only the car — is part and parcel of the city's past in the same way it remains an integral part of its contemporary realities given Joburg's size. However, there was a time now past where bicycles also featured in Joburg's story of mobility.
By 1900, Johannesburg was known as a true cycling city. Writing in 1903, a newspaper columnist, wrote: 'There are few cities in South Africa or in any other part of the world where a large[r] number of cyclists are to be found as in Johannesburg. Nearly every third inhabitant rides a bicycle, and it may be said of the Johannesburg child that he learns to cycle before he can walk'.
A status symbol and "a fashionable consumer good for the wealthy to tour around on and use for sports", the access to mobility and freedom bicycles gave Black citizens during Apartheid was seen as an unwelcome threat to the white minority — and the rest as they say is history. I don't think I would be remiss in assuming that for a large portion of South Africa's Black millennial generation, our memory-relationship with bicycles is rooted in a more recent pop culture history; the TV series Dynamite Diepkloof Dudes. To this day, its soundtrack and the excitement I felt when watching it remain seared into my subconscious. The teenage drama show — which aired in the 90s — revolved around a group of six boys from Soweto, who loved solving crimes on their bicycles.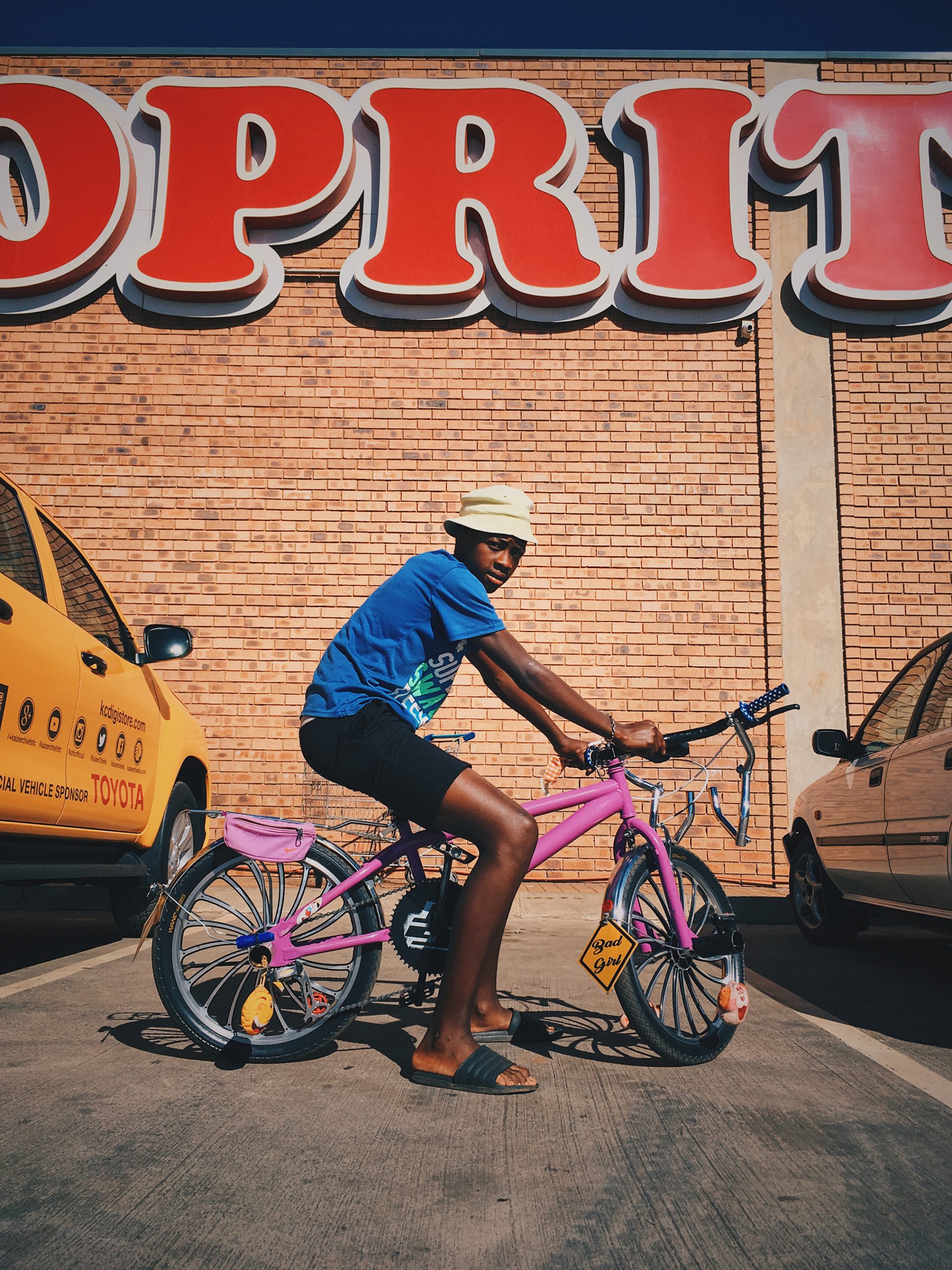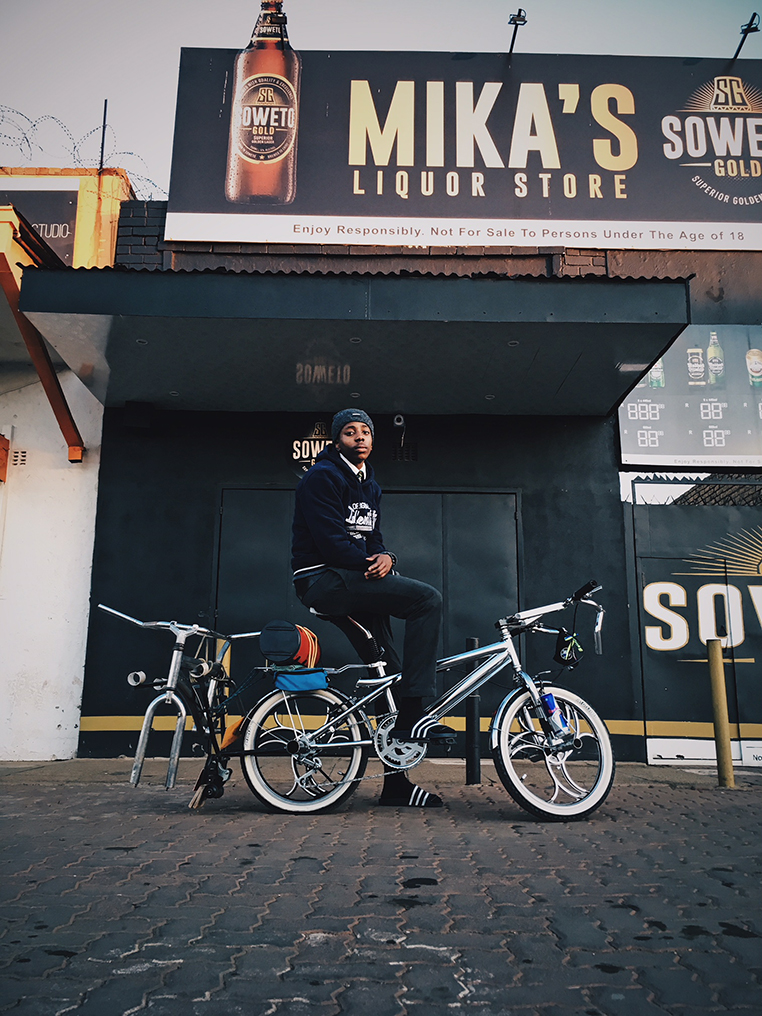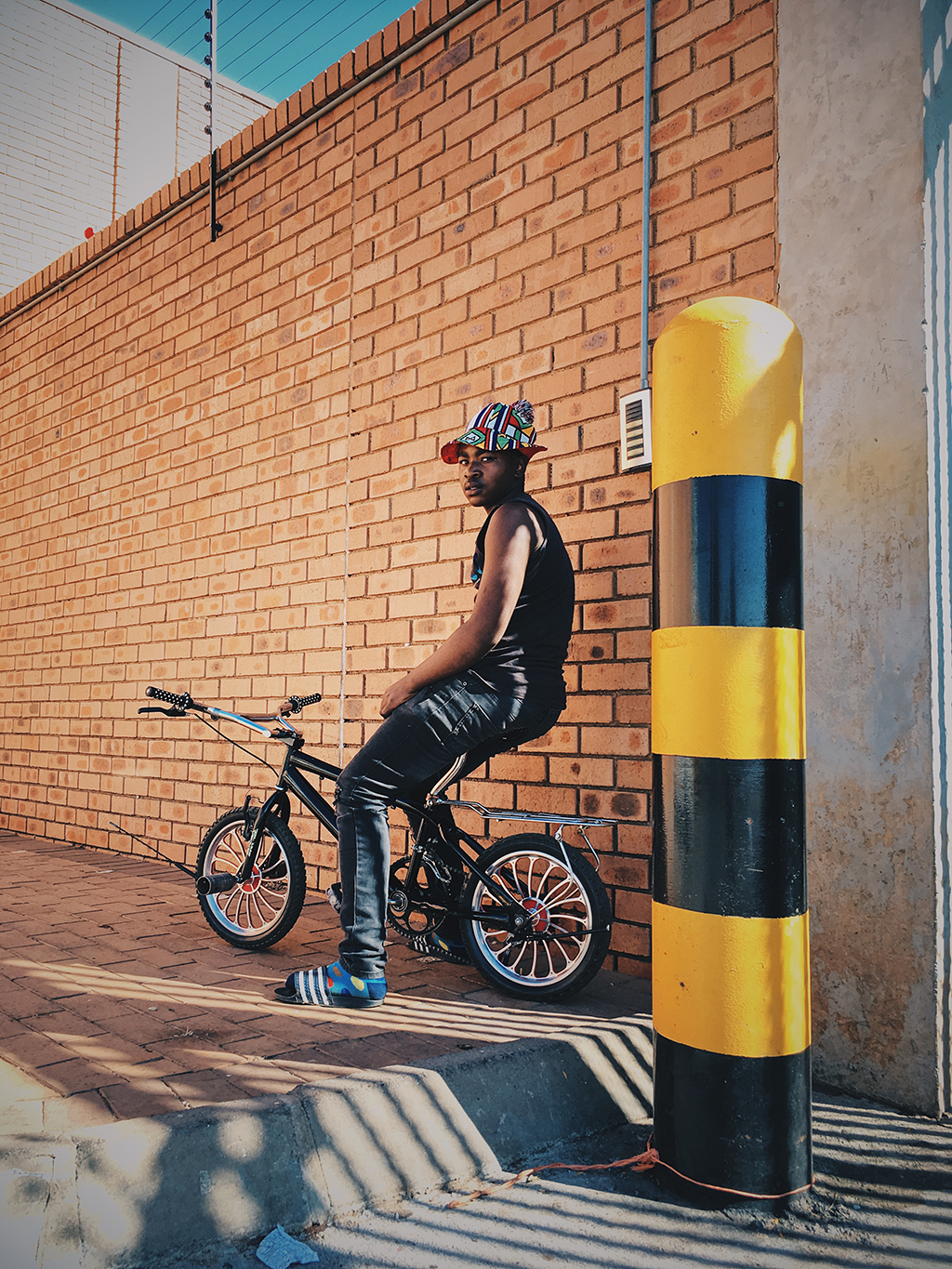 A group of kids from Soweto under the same name, Dynamite Diepkloof Dudes, have picked up this cultural baton, and what has manifested from that is a thriving BMX culture in the township. In 2020 we had the privilege of documenting the creativity that has emerged from his vibrant hybrid subculture in our Bubblegum production Soweto Riders. Dynamite Diepkloof Dudes — The Yanos Edition, is a photographic series by Irvin Irv Khumalo inspired by the group of riders and the TV programme they have named themselves after. "When we shot this series, we thought of a remake of the TV series, Dynamite Diepkloof Dudes, with Amapiano being the main soundtrack for the new TV programme. We imagined kids riding these cool bikes while fighting crime on the streets of Soweto. Now that would be mad dope", expresses Khumalo speaking about the photo series. Shot by Irvin under the IRV Blames JAKE and Robotic Palm Trees creative agencies, the series is conceptualised around the riders who customise their bikes ingesting them with umswenko and creative details. "It's a Soweto lifestyle, you get all types of bikes, VW, BMW, whatever! One is for long distance rides, one is for flexing and one is for spinning" — expressive individuality and freedom is at the very root of the subculture — much like with music, which is perhaps why the riding subculture is so entailed with Amapiano. These riders can be seen cruising the streets of Soweto and bumping the latest tunes. In a city now dominated by cars, it's exciting and refreshing to witness these young riders repurposing the streets, through creativity and imagination in a scene that is a positive force in the community, while also reminding us of Johannesburg's other wheeled histories.