I must have been on Pinterest or Instagram, vacuously perusing a blur of images – when my mindless scrolling was abruptly interrupted with an image that stuck with me for months.
An image of a fresh faced boy in a black netted singlet, gold chains and velvet black drawstring trousers, gently slouched to one side in front of a golden brown bedsheet hung over a familiar washed pink baluster.
For a long while, I wasn't sure why that image had hit me so strongly – maybe it was the soft warmth of the photograph's grade, or the fact that he had the same permanent eye-bags as me, perfectly etched onto his cheekbone, or maybe it was the inescapable inkling that I had seen or even been in the setting of the image before.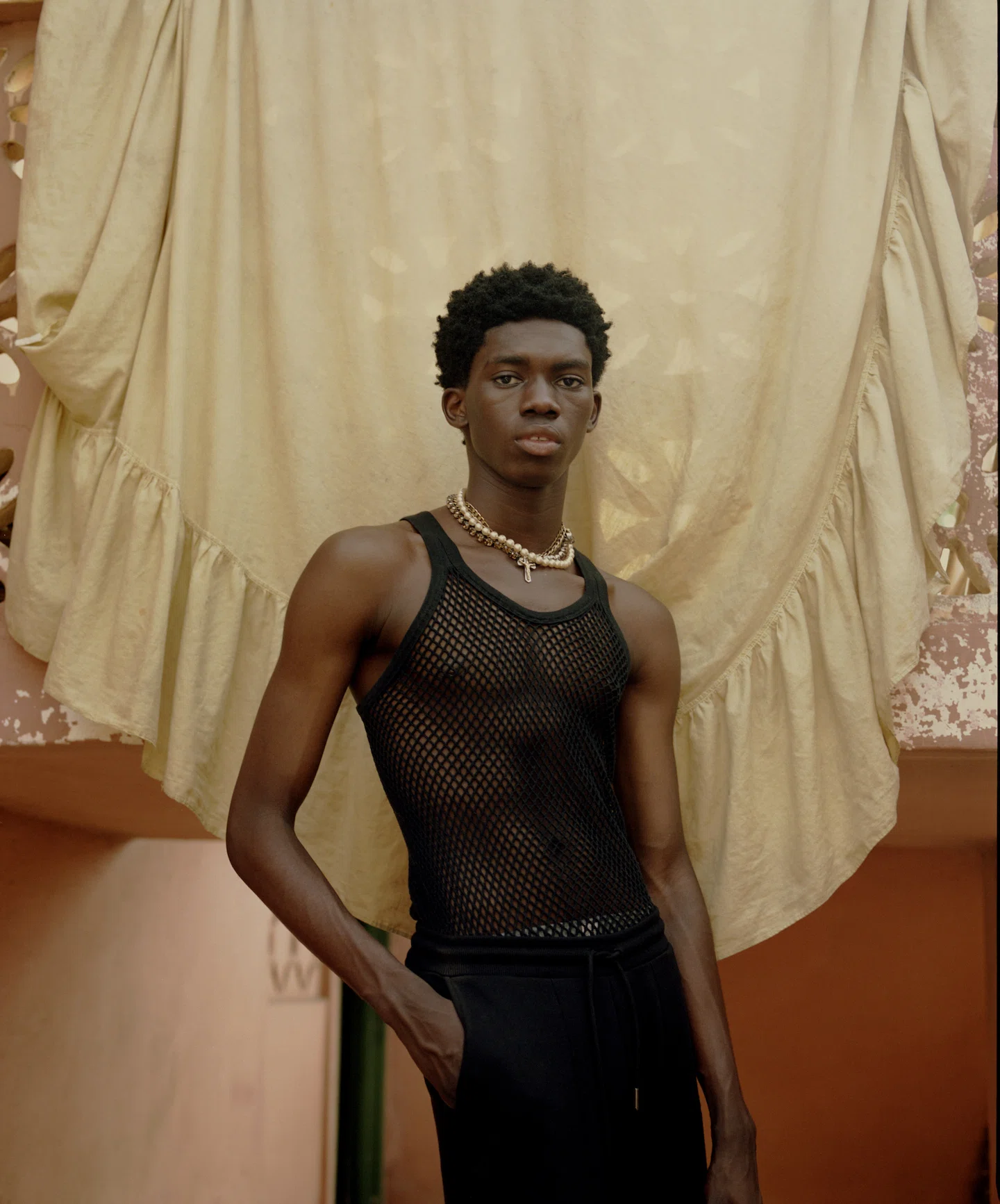 It has been a few months since then and I have since learned of and been fully captured by Kwabena Sekyi Appiah-nti's photo book entitled, Sika Kokoo – or Sika Kɔkɔɔ as it is written with the Akan Alphabet. I now know that the image was of Ghanaian model Ottawa Kwami, who Appiah-nti met in Amsterdam for a shoot they both conducted for the African diaspora brand, Daily Paper.
Directly translated from Twi, Sika Kokoo reads as red money, a visual descriptor of its meaning – Gold. The photo book comes printed on Canson Baryta paper and wrapped in a Ghana Agro-food Company flour canvas – made by the artist, Senakirfa Abraham– with the words, "A Product of Ghana" and an image of a Busua surfer's back.
Altogether, I felt that the book was a hearty dedication to black boys, Ghanaians and the diaspora which tethers us to the truth of the joys and freedoms in blackness, boyhood in a Ghanaian identity.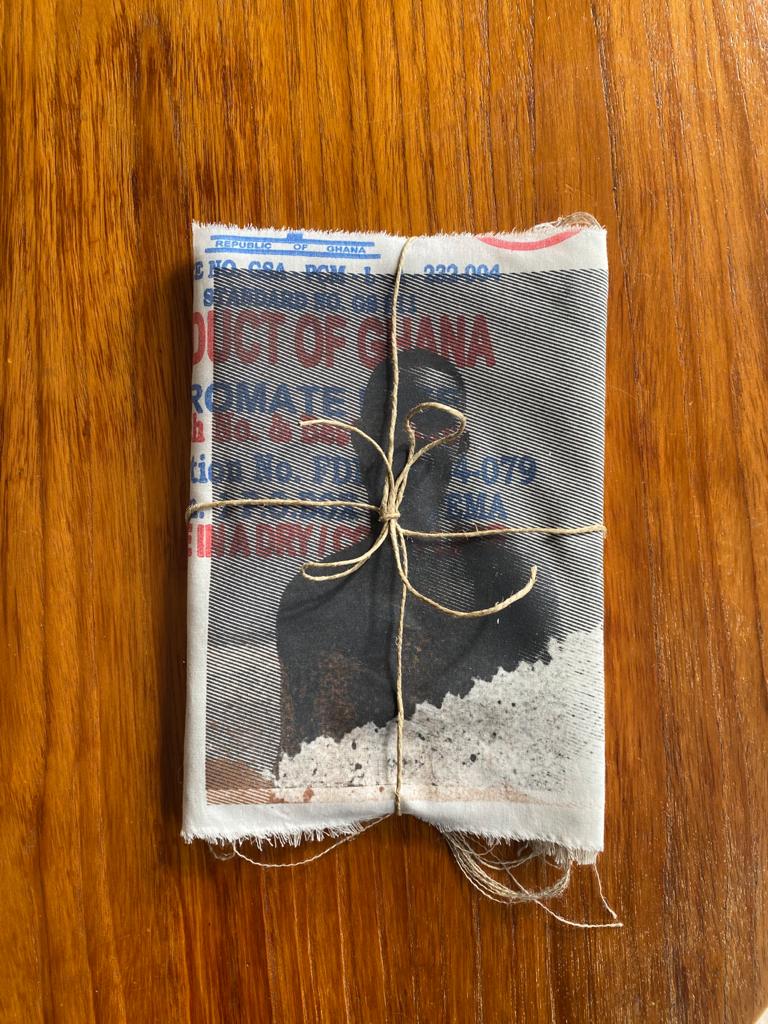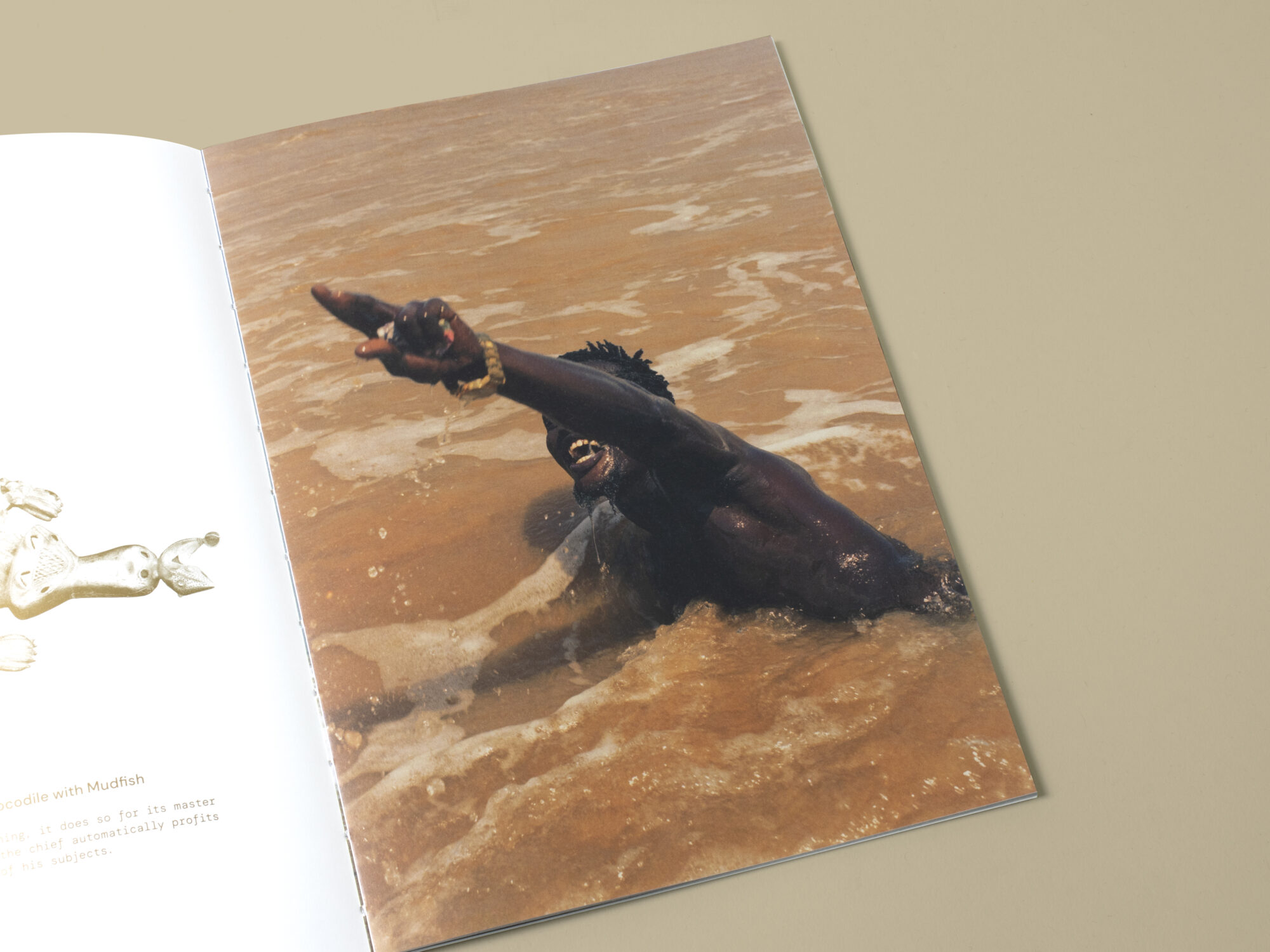 Sika Kokoo and the images it features is an extension of Appiah-nti's Golden Boy series, an ongoing compilation of images from across the globe­ including Brazil, the Netherlands, Suriname, amongst others. It highlights the lightness, playfulness and spontaneity of boyhood.
He specifically captures images that portray young Black men from around the world at rest and at play. The series gets its name from the golden inflections in black skin under sunlight and from the universal relationship black people around the world share with gold.
The photos in the book are interspersed with Ghanaian proverbs and gold-laden pages overlaid with Adinkra symbols as means to showcase how the past is grounded in present day Ghanaian life.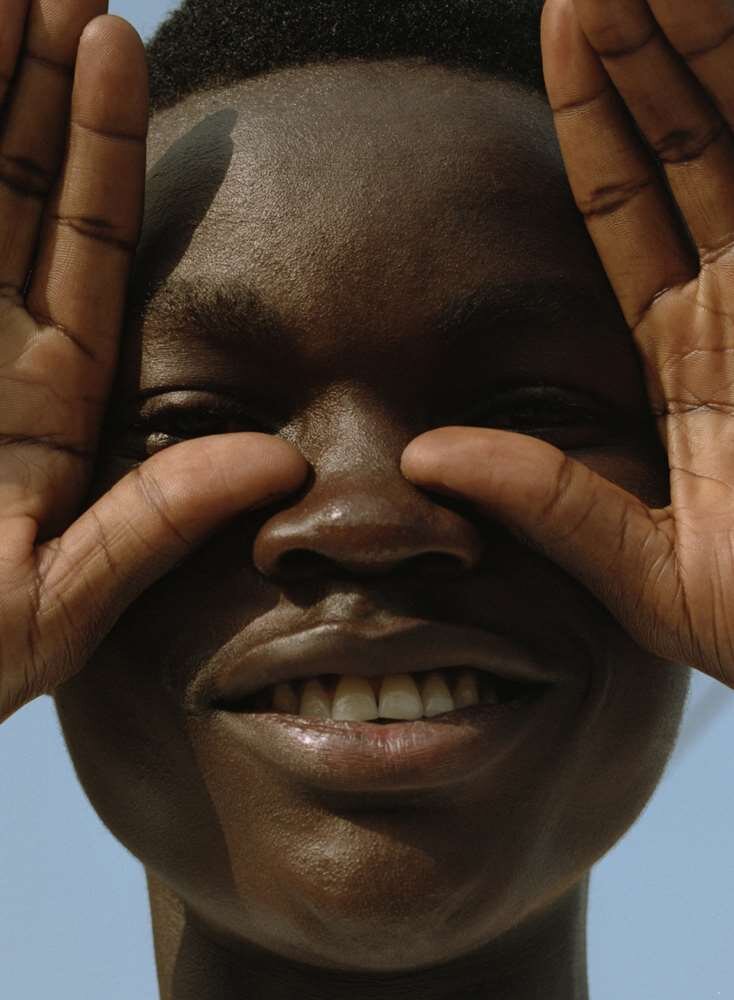 This series is a direct counter to prevailing narratives around blackness and its intersection with boyhood that tends to skew towards negative stereotyping and dangerous pigeonholing.
When African identities are layered onto this narrative, it compounds to distort the visions that young masc African folks can have off themselves. To I-D, Appiah-nti says, "When I was younger there wasn't Instagram, so the only places I saw Africa were on CNN or in books we had at home, but that doesn't really give a good image of contemporary Ghana: how it really is now, what the youth is doing, what the music is doing".
This narrowed outlook on boyhood, that further tapers with the introduction of the African context, creates the illusion that boyhood looks different and perhaps less shiny and beautiful within the continent. In an interview with Wul, Appiah-nti explains that there is nothing especially different about boyhood in the Netherlands as compared with boyhood anywhere saying, "the more I travel, I notice that a lot of youth and youth cultures do and love the same things. Probably because of globalization".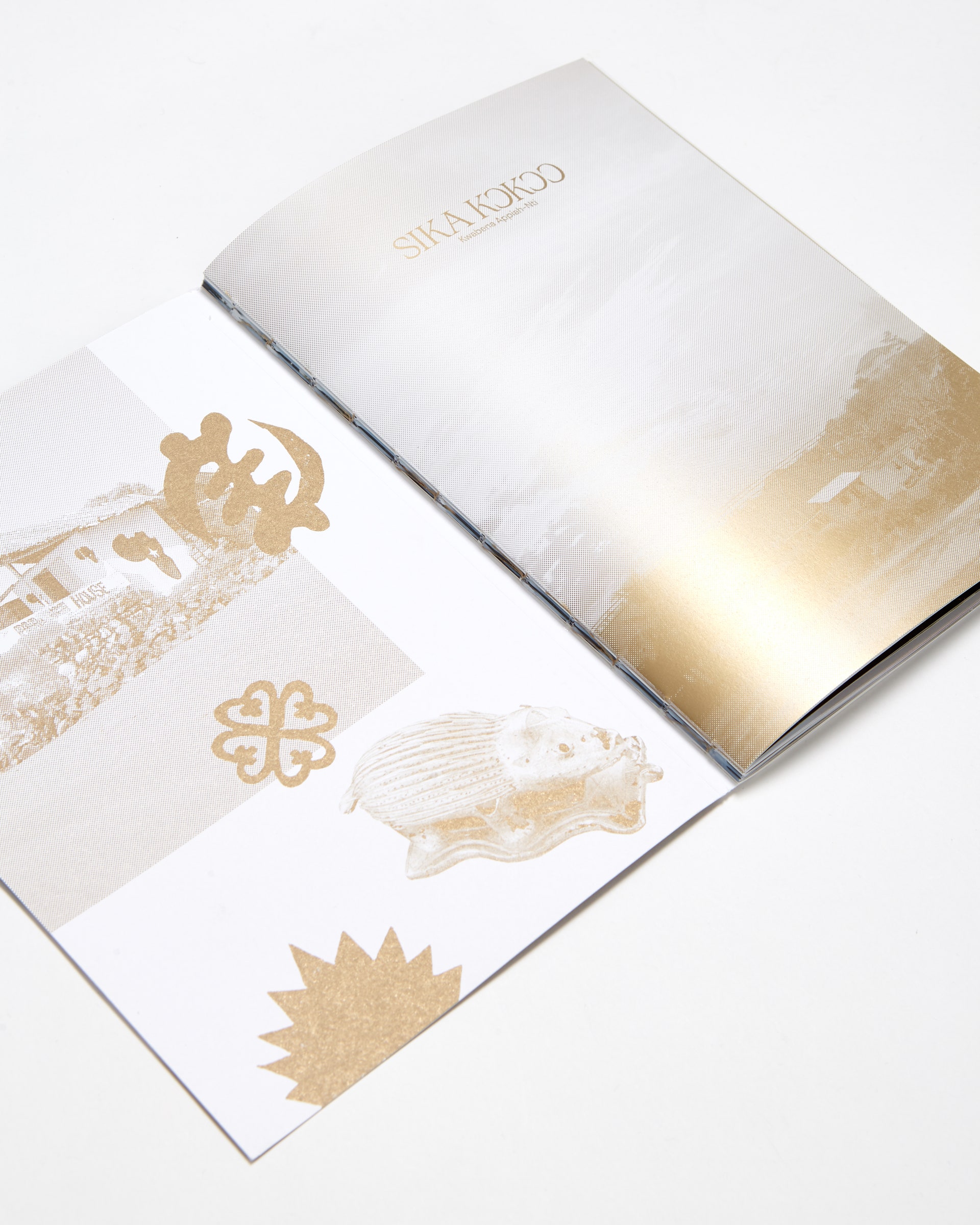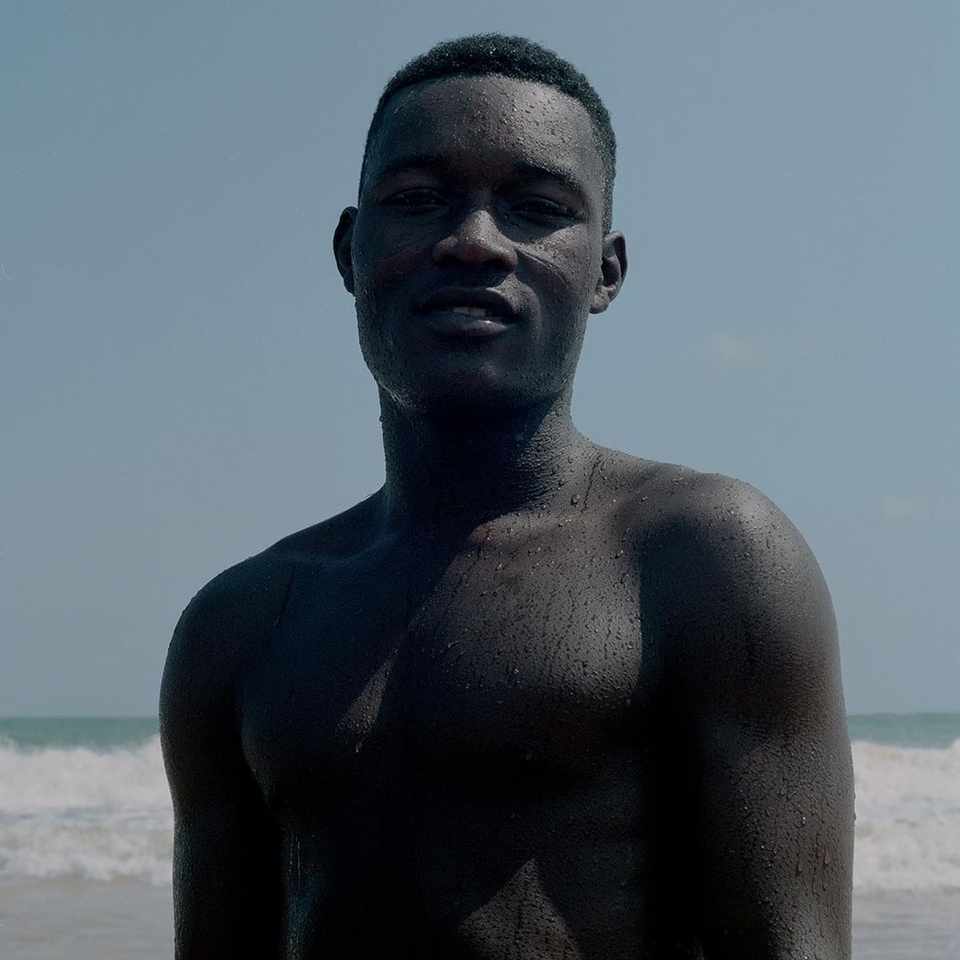 Siko Kokoo appears to be a consideration of these layers, simplifying the complex and dark narratives surrounding black boyhood and African youth to one definite story – the unification of boys, specifically black youth around the world.
In the end, Appiah-nti is working to give the youth beautiful images of themselves to relate to, and through Siko Kokoo, this mission is actualised.
In his work, there is an earnest exploration of his own self through the stories of his subjects, not only does he connect to his Ghanaian heritage through the physical journey back to his fatherland, but also through the capturing of boys like himself, in careless activities, freely exploring the bounds of the interests he shares with them.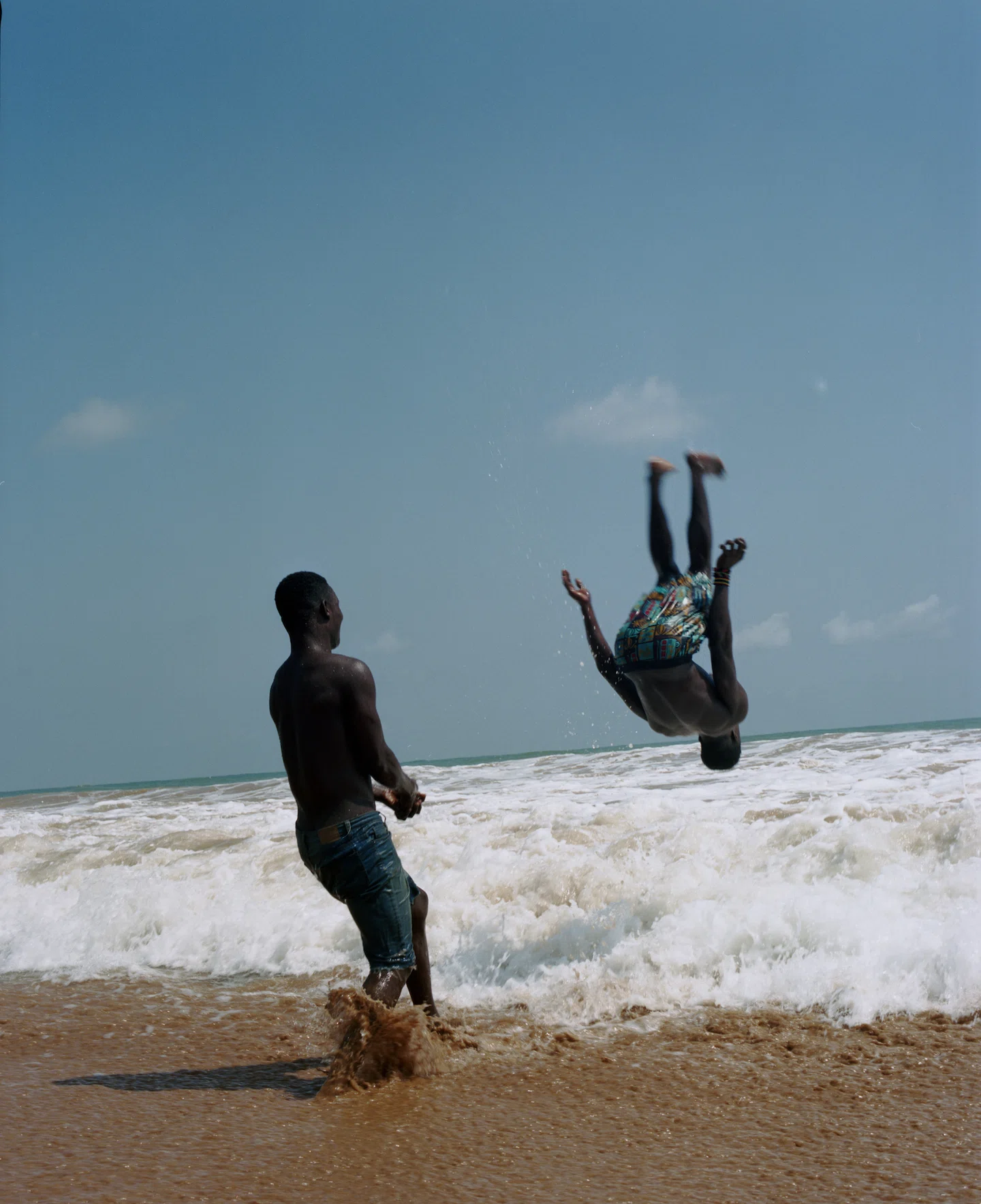 From surfing and  flipping into waves on Busua beach sands, to pulling the front wheel of a motorcycle up into the air as they speed down busy city highways, Appiah-nti captures the gentleness in the thoughtless, rashness of boyhood – a space he has often found himself in, stating to Wul that, he "just love[s] the reckless and youthful feeling you get while documenting bike-life".
The recurring perception I get about the images in Sika Kokoo is that Appiah-nti relates intimately to the subjects of each piece– like the images happened in impromptu, relaxed and natural manner. Like he as the observer – and thus we, by extension – are a part of the joy of each moment.
On his online portfolio, Appiah-nti explains that 'It's about capturing the day to day lives of boys and men through my own gaze, one that may not be commonly shared. Everything I do, all the subjects I choose, have sprinkles of my childhood interests and current fascinations mixed into it'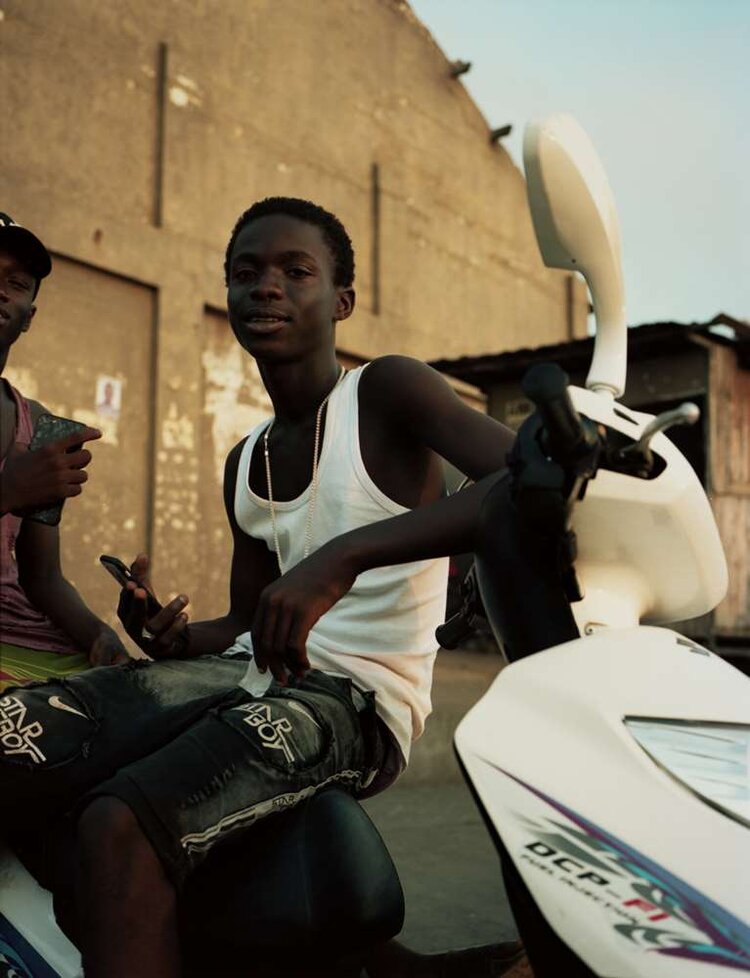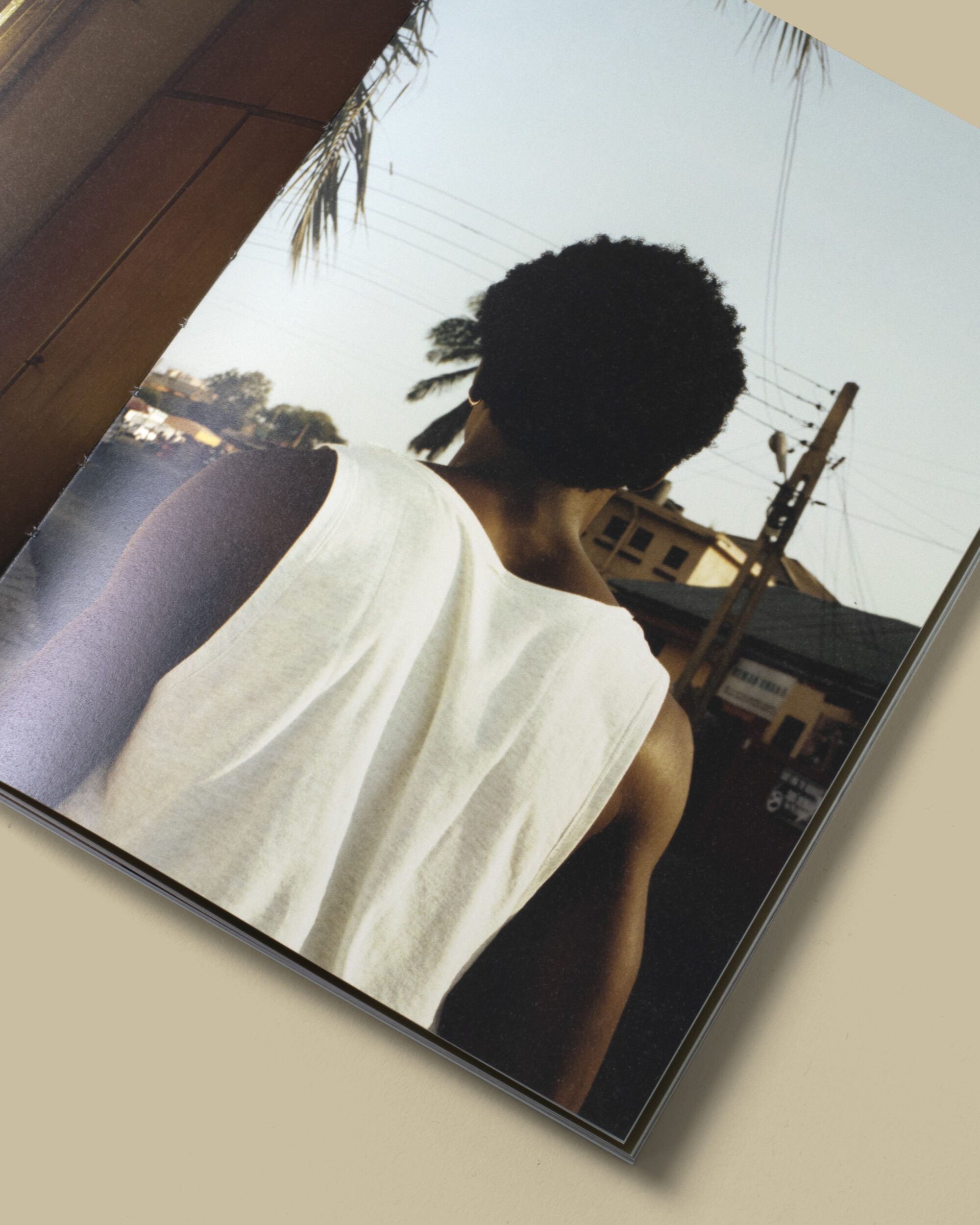 As a Ghanaian that spent the majority of her life outside of her home country, with fading memories of her youth in Accra, I cannot relay the acute sense of delight I experience when I see images of people or artefacts from back home. They tend to hit me fast, bringing with them echoes of memories or wafts of smells I cannot place.
This is a feeling I have gotten used to encountering, but with Sika Kokoo, these feelings were grounded in a reality I immediately found myself in. Even as a femme, I stilI felt a connection to the work– I could still see myself in the subjects and I still found images of a youth like mine that I could refer to. A youth that reminded me of the unassuming beauty in my own black African adolescence.
I can only imagine what euphoria young black, African boys and men may experience from the pages of Sika Kɔkɔɔ.
Order the book here.